Deepavali Facts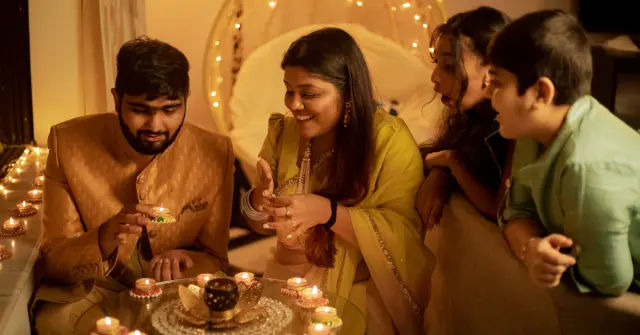 Diwali, also known as the Festival of Lights, is one of the most celebrated festivals in India. It is a five-day festival that celebrates the victory of good over evil. There are many fun facts about Deepavali that most people don't know.
In this blog post, we will discuss the best fun facts about Deepavali that you probably didn't know!
1. Deepavali is celebrated on the darkest night of the Hindu lunisolar calendar.
2. The word "Deepavali" comes from the Sanskrit words "dipa" meaning "light" and "vali" meaning "row or line". Thus, the festival of lights is a celebration of light overcoming darkness.
3. Traditionally, oil lamps (or diyas) are lit on Deepavali night to signify the triumph of good over evil.
4. Homes are decorated with rangoli designs – colourful patterns made with rice flour or sand – during Deepavali. Rangoli designs are believed to bring good luck.
5. New clothes are worn on Deepavali as a symbol of renewal and prosperity.
6. On Deepavali night, Hindus perform the Lakshmi Puja, a worship ceremony dedicated to Lakshmi – the goddess of wealth and prosperity.
7. In South India, Deepavali is also known as Karnataka Diwali as it marks the victory of Lord Krishna over the demon Narakaasura from Karnataka.
8. In North India, Deepavali is associated with the story of Lord Rama's return to his kingdom after defeating the demon king Ravana in Sri Lanka.
9. In Jainism, Deepavali marks the Nirvana (or liberation) of Mahavira – the last Tirthankara (enlightened being).
10. Deepavali is celebrated over five days in some parts of India such as Maharashtra, Gujarat and Southern India. The fifth day – Bhaubij or Bhau-beej – is reserved for sisters who perform puja for their brothers' long life and well-being."Ee bhau-beej mataa raksha karna," they say, which means "protect us on this Bhau-beej."
Deepavali Facts
Deepavali is a truly special festival with a rich history and many traditions. By understanding more about the holiday, we can appreciate its significance and enjoy the celebration even more. So remember, next time you celebrate Deepavali, keep these ten fun facts in mind!
Interested in more articles to read? Check out more of our blog posts down below!