Disinfection Service Singapore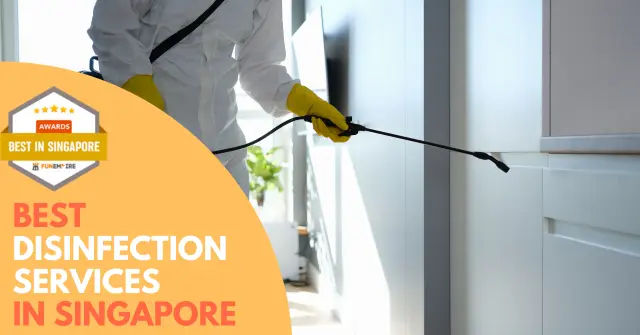 In the wake of increasing health concerns, deep cleaning and disinfection services have gained paramount importance in Singapore, ensuring a safe and hygienic environment for all.
The best disinfection services in Singapore are HVAC Engineering, SureClean, Getz Cleanz, Ikari, and Clean Lab.
When selecting a disinfection service, it's important to take into account the range of essential services provided, pricing options, response time, and customer reviews.
Disinfection services are crucial for public health and safety, ensuring thorough cleaning and pathogen-free environments.
We've compiled a list of top disinfection services in Singapore, highlighting their unique features, competitive pricing, and proven track record. Ensure a hygienic and safe space with confidence.
Quick Summary
Best disinfection services in Singapore are HVAC Engineering, SureClean, Getz Cleanz, Ikari, and Clean Lab.
When choosing a disinfection service, make sure to consider the services offered, pricing, response time, and customer reviews.
Disinfection in Singapore play a critical role in maintaining public health and safety, by ensuring environments are thoroughly cleaned and free from harmful pathogens.
Key Consideration Factors
When choosing a disinfection service, do not forget to consider these important factors:
Services offered: Ensure that the disinfection service offers a wide range of services to cater to your specific needs. This may include deep cleaning, fogging method, and surface sanitization.
Pricing options: Compare prices from different services and opt for the one that offers competitive pricing without compromising on quality.
Response time: In case of emergencies or urgent requests, it's important to choose a disinfection service that offers quick response times and is available 24/7.
Customer reviews: Take the time to read reviews from previous customers to get an idea of their experience with the disinfection service. This can help in making an informed decision.
Best Disinfection Service Singapore
1) HVAC Engineering

HVAC is listed as an approved vendor by NEA (The National Environment Agency) for conducting disinfection works for C+ cases, suspected cases, and cluster decontamination. Their virucide disinfectant, Active Clean, is included in NEA's "List of Disinfectants Products Effective against Coronaviruses".
Their disinfection process and approved methodology are in accordance with the NEA/MOH Guidelines for the "Environmental Cleaning and Disinfection of Areas Exposed to COVID-19 Cases in Non-Healthcare Premises".
Upon completion, they provide a disinfection certificate and a decal to indicate that your premise has been disinfected. Additionally, they offer UV-C Sterilization and Air Purification solutions.
2) SureClean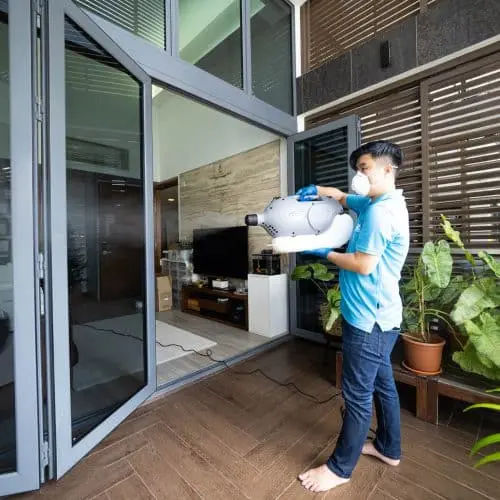 Key Service
Disinfection Cleaning Service
Post Renovation Cleaning
General Weekly Home Cleaning
Move in Move out Cleaning
Website
https://sureclean.com.sg/
Address
10 Bukit Batok Crescent, #14-02 The Spire, Singapore 658079
Phone
69839523 / 68998643
Email
sales@sureclean.com.sg 
Operating Hours
Mon to Fri: 9:00 am – 6:00 pm
Sat: 9:00 am – 2:00 pm
SureClean has established itself as a trusted name in the cleaning industry. Originally recognized as a supplier of cleaning products, they have expanded their offerings to include professional cleaning and disinfection services.
SureClean is highly recommended for cleaning and disinfection, as the products they use are approved by safety authorities as child-safe. They effectively eliminate and control childhood infections in daycare centers or childcare centres, and schools like hand foot mouth disease.
If you have children with severe allergies at home, it's a great choice.
3) Getz Cleanz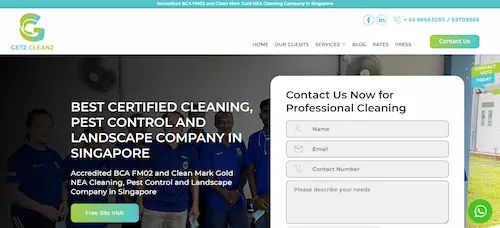 Looking for a dependable office disinfection service provider? Look no further than Getz Cleanz. With their comprehensive range of commercial cleaning services, they are licensed by NEA to offer disinfection in various settings. While their expertise lies in office environments, they also provide disinfection services for homes, cars, and commercial properties like dormitories, schools, and construction sites.
4) Just Clean Lah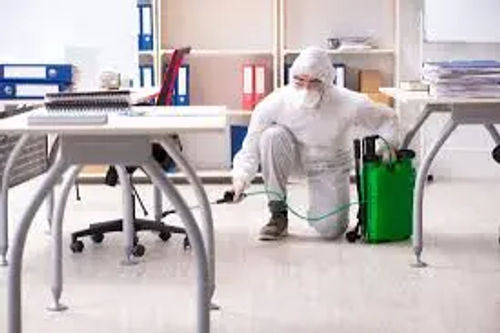 Just Clean Lah lives up to its name by offering straightforward cleaning and disinfection. Although they may be new in the industry, we didn't find them lacking in experience. Additionally, they are a NEA-licensed disinfection service provider capable of performing preventive or immediate COVID disinfection services for entire area exposed to COVID-19.
Their team of cleaning professionals diligently focuses on frequently touched areas, utilizing hospital-grade fogging machines and non toxic disinfectants to effectively target tight spots and hard-to-reach areas.
5) Ikari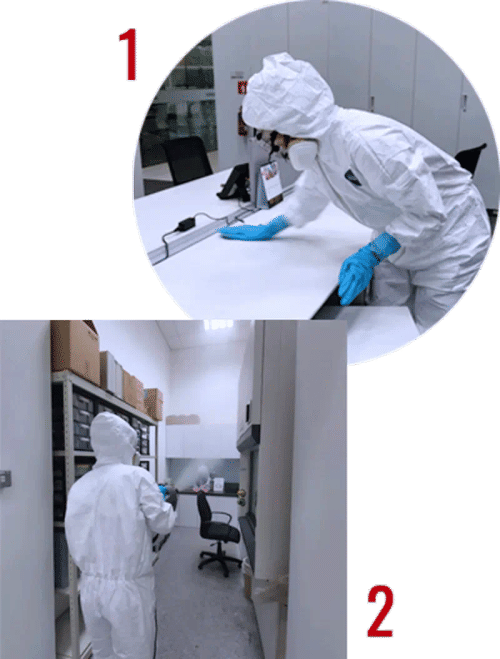 Key Service
Disinfection and pest control
Website
https://ikari.sg/
Address
625 Aljunied Road, #03-07 Aljunied Industrial Complex, Singapore 389836
Phone
(+65) 6743 1313
(+65) 3138 5301
Email
 ask@ikari.sg
Operating Hours
Mon to Fri: 8:30 am – 6:00 pm
Sat: 9:00 am – 1:00 pm
Japanese brands always stand out with their exceptional efficiency in getting the job done. This is precisely what captured our interest in Ikari, a company that has been offering pest control services in Singapore since the 1970s.
To take preventive measures, they perform ULV misting, which is considerably more effective and thorough compared to conventional cleaning techniques. Additionally, you have the choice to upgrade to medical-grade disinfectant products that are imported from Japan, if you desire.
6) Clean Lab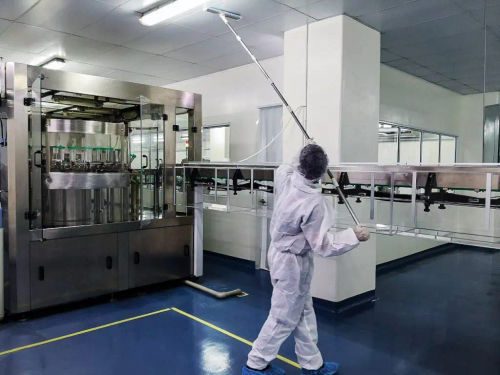 Key Service
Carpet Cleaning, Office Cleaning, Infection Prevention, Disinfection Services, Post Renovation Cleaning, Event Cleaning, Upholstery Cleaning, Mattress Cleaning, Moving In/Out Cleaning
Website
https://cleanlab.com.sg/
Address
25 Kaki Bukit Pl, Singapore 416203
Phone
+65 6741 1522
Email
hello@cleanlab.com.sg
Operating Hours
Mon to Fri: 8:30 am – 6:00 pm
Sat: 8:30 am – 1:00 pm
Clean Lab takes pride in staying ahead of other cleaning businesses, and we have plenty of reasons to concur! Firstly, their cleaning specialists undergo extensive training, totaling 160 hours. Additionally, they conduct weekly meetings to ensure their employees stay up-to-date with the latest cleaning techniques and guidelines.
What sets them apart is their in-house microbiologist, who formulates programs and anti bacterial formulation to address pest infestations and microbial contamination in contaminated surfaces.
7) Arising Cleaning Management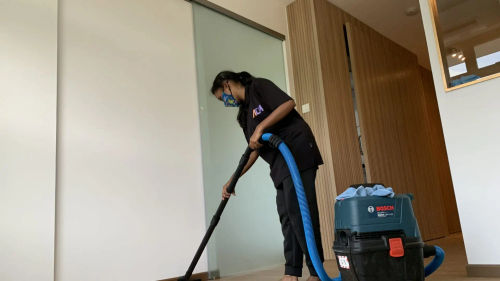 | | |
| --- | --- |
| Key Service | Disinfection Services, Home Cleaning, Office Cleaning, Industrial Cleaning, General Cleaning |
| Website | https://arising.com.sg/ |
| Address | 111 Somerset Rd, #15-18 TripleOne Somerset, Singapore 238164 |
| Phone | 65 8498 1216 |
| Email | sales@arising.com.sg |
Arising Cleaning Management is another cleaning company licensed by NEA that is worth considering. Their team is well-versed in all aspects of cleaning, including equipment handling and disinfection protocols.
They have the authorization to provide disinfection in various residential and commercial establishments such as offices, clinics, schools, manufacturing plants, and more. No matter where you are located in Singapore, they can cater to your needs.
8) De Hygienique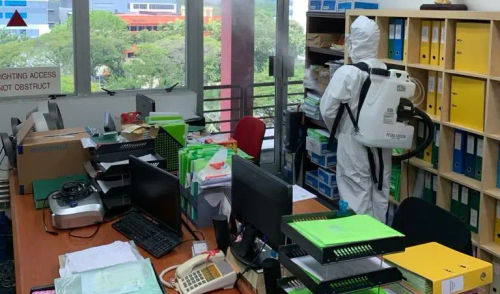 | | |
| --- | --- |
| Key Service | Disinfection services – During a viral outbreak, Post-infection recovery, Post pest termination |
| Website | https://www.dh-asia.com/ |
| Address | 53 Ubi Avenue 1 #03-44 Paya, Ubi Industrial Park, Singapore 408934 |
| Phone | +65 6749 1950 |
| Email | enquiries@dh-asia.com |
| Operating Hours | Monday – Friday 9 AM – 6 PM |
De Hygienique is a licensed company authorized by NEA to provide cleaning and disinfection services to customers throughout Singapore.
This company has gained recognition for their professionalism and punctuality, earning them a well-deserved spot in the industry. Primarily known for their expertise in soft furnishings cleaning, they specialize in the cleaning of indoor furniture such as carpets, sofas, mattresses, chairs, and more.
They understand that there is no universal solution for disinfection, which is why they don't offer predefined packages or rates. Instead, they will gather information about your specific requirements during the consultation. Based on that, they will recommend the appropriate frequency and disinfection methods, such as cold misting or electrostatic fogging.
Disinfection Service Singapore
In conclusion, selecting the right disinfection service for your needs is crucial, especially in these unprecedented times.
The aforementioned companies have proven their competence in providing quality disinfection services, complying with NEA guidelines, and using approved methodologies.
Whether it's for your home, office, or other premises, these providers offer a range of solutions to safeguard your environment against harmful viruses and bacteria.
It is advised to consider factors such as quality, response time, and customer reviews before making your choice.
Frequently Asked Questions (FAQ)
If you have any questions about disinfection services, you can refer to the frequently asked questions (FAQ) about the best Disinfection Services in Singapore below:
What are the best disinfection services in Singapore?
The best disinfection services in Singapore are HVAC Engineering, Helpling's Disinfection Service, SureClean, Getz Cleanz, Ikari, and Clean Lab.
How much does deep cleaning cost in Singapore?
The cost of deep cleaning in Singapore varies depending on the size of the area and specific services needed. It is best to consult with a disinfection service provider for a customized quote.
How much does a cleaner cost in Singapore?
The cost of a cleaner in Singapore can range from $15 to $30 per hour, depending on the type of cleaning service and the size of the area. It is best to inquire with different cleaning companies for their rates and services offered.
What is the cost of sanitize?
The cost of sanitizing services in Singapore can vary depending on the size of the area and specific requirements. Generally, it can range from $100 to $500 for a one-time service, with discounted rates for recurring services. It is recommended to consult with different disinfection service providers for an accurate quote.
What is the difference between cleaning and disinfecting agents?
Some cleaning agents, such as soap and water, are effective in removing dirt and grime from surfaces. However, they may not be sufficient in killing harmful microbes. Disinfecting agents, on the other hand, are specifically designed to eliminate harmful viruses and disease-causing pathogens. It is recommended to use both cleaning and disinfecting agents for thorough surface maintenance and hygiene.
What are the benefits of hiring professional disinfection services in Singapore for deep cleaning?
Hiring professional disinfection in Singapore ensures that your space is thoroughly cleaned and sanitized, eliminating viruses and bacteria. They use chemical disinfectant misting techniques to treat surfaces effectively, providing a safe environment for both residential and commercial properties.
How do professional disinfection services ensure the safety of healthcare facilities during the cleaning process?
Professional disinfection in Singapore follow strict safety measures when cleaning healthcare facilities. They use biohazard waste disposal protocols to handle any potentially contaminated materials and provide detailed service report to document the cleaning process, ensuring compliance with medical standards.
What is the difference between disinfecting services and regular home cleaning services?
Disinfecting services go beyond regular home cleaning by using specialized techniques and chemical non toxic disinfectants to eliminate viruses and bacteria. While regular home cleaning focuses on tidying and removing surface-level dirt, disinfecting services aim to create a sanitized environment by targeting harmful microorganisms.
Can disinfection services treat all types of surfaces?
Yes, professional disinfection in Singapore are equipped to treat various types of surfaces, including countertops, floors, furniture, and even electronic devices. They use appropriate disinfectants, ensuring a thorough sanitization services that covers all treated surface.
How can disinfection services benefit business owners in Singapore?
Professional disinfection are crucial for every business owner in Singapore as they provide a safe environment for employees and customers. Hiring professional services ensures that the space is thoroughly cleaned and sanitized, reducing the risk of viral transmission and promoting a healthy workplace environment.
Additional Useful Articles
If you are looking for other useful guides and articles about disinfection services in Singapore, check them out below: