Drawing Tablets Singapore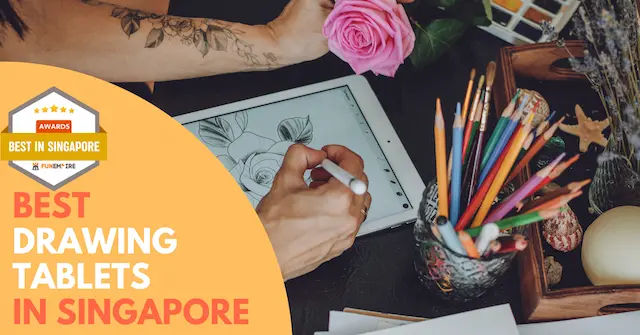 Do you love drawing and sketching? If so, you need to invest in a drawing tablet!
They have become incredibly popular in recent years, and for a good reason. Drawing tablets allow you to create digital art that looks just like the real thing. Not only are they great for artists, but they can also be used for things like photo editing and graphic design.
This blog post will discuss 12 of the best drawing tablets in Singapore! We will be looking at different factors such as price and features so that you can find the perfect drawing tablet for your needs.
So without further ado, let's get started!
1. Wacom Intuos Pro
| | |
| --- | --- |
| Key Features | Redefining the professional standard in creative pen tablets |
| Where to Buy | Click Here |
| Price | $499.00 |
The Wacom Intuos Pro is one of the brand's best-known products and is well-known in the professional world.
It has advanced pen technology that offers high pressure sensitivity and gives you an experience that is seamless, natural, and responsive with no latency. Additionally, since it is not battery-operated, you can draw continuously.
Key Differentiators
Built with high quality materials
Built-in Bluetooth connectivity
Sleek new design
2. Huion Inspiroy H610 Pro
| | |
| --- | --- |
| Key Features | Graphic Drawing Digital Tablet |
| Where to Buy | Click Here |
| Price | $195.66 |
The Huion Inspiroy H610 Pro has more functional keys and thicker borders.
Press and soft keys are the two categories for the keys. All of them are programmable, allowing you to control your shortkey preferences.
It also has a sizable working space, making it Singapore's best drawing tablet for countless inventions, and it has excellent resolution. The pen has excellent pressure sensitivity and is rechargeable.
Key Differentiators
Pen Technology
Battery-Free
Electromagnetic Resonance
3. Parblo A640 V2
| | |
| --- | --- |
| Key Features | Support Windows/ macOS/ Android |
| Where to Buy | Click Here |
| Price | $64.00 |
Because of its great number of capabilities and relatively affordable price, the Parblo A640 V2 is one of the best options for those just starting out in digital art.
This ultra-thin device, which is 6 x 4 inches and portable, can be one of your best friends both inside and outside the home.
The fact that this tablet can connect to Windows, macOS, and Android devices means that it won't matter what medium you like to use. With its USB-C connector, you may quickly and simply connect to any of the aforementioned devices without any hassle or confusion.
Additionally, it includes a sizable active surface for many designs and a stunning resolution. The pen has excellent pressure sensitivity and is rechargeable.
Key Differentiators
USB-C interface
4 customizable express keys
Compatible with most of the drawing software such as Photoshop, SAI, Painter, Illustrator, Clip Studio, Krita, etc. and support palying OSU game
4. Wacom One
The person who wants to test out their first graphics tablet that connects to a Windows PC or Mac should go with this option.
This graphics tablet was made to be portable and is compact and light. With a stylus that supports 2,048 pressure levels, it also offers a realistic pen-on-paper experience. A USB cable that is included will be used to connect this gadget to your computer. The stylus is battery-free and has an active area of 8.5 by 5.31 inches.
Key Differentiators
Free delivery
Local warranty
Financing options
5. Xencelabs Pen Tablet
| | |
| --- | --- |
| Key Features | Drawing Graphic Wireless Tablet |
| Where to Buy | Click Here |
| Price | $494.10 |
The workspace measures 10.33 by 5.8 inches and has a 16:9 aspect ratio on this versatile creative pad. Two distinct battery-free and nearly lag-free stylus pens are supported, and they come in the box. Each stylus can support up to 60 degrees of tilt and 8,192 pressure levels.
The included Xencelabs Quick Keys accessory features a manual dial that allows you to precisely manage things like brush size or zoom as well as colored LED lights.
Key Differentiators
Connectivity: Wireless or USB
Windows, MacOS & Linux Compatible
Bundled with Quick Keys Remote
6. Huion Inspiroy H430P
Try out this $33 device to see if a graphics tablet will help your workflow if you've never used one before. Yes, the $33 price includes both the tablet and the pen. Although you'll have to give up certain features to acquire the price—this graphics tablet weighs just 0.3 pounds and has a small (4.8 by 3 inch) active area—nonetheless, it's useful and capable of doing the job.
A stylus that has 4,096 levels of pressure sensitivity is included with the tablet.
Key Differentiators
Minimum thickness of 6.3mm
Weighs the same as a mobile phone
Ensures you more convenience
7. Apple iPad Pro
The iPad Pro is a fully equipped tablet with a lot of features that works really hard. It has an Internet connection and can be applied to a variety of communications, productivity, entertainment, and creative projects.
This tablet may be used as a drawing tablet that provides fine control when you handwrite, draw, paint, annotate, or depict directly on the screen when combined with the Apple Pencil 2 (available separately) and the appropriate apps. Then, you may save and move your work to any other computer or mobile device.
Key Differentiators
Breakthrough M1 chip performance
Breathtaking XDR display
Blazing‑fast 5G wireless.
8. Samsung Galaxy Tab S8 Ultra
A device that can do pretty much anything an iPad Pro or Microsoft Surface Pro 8 can, including acting as an accurate and feature-rich drawing tablet, is what you get when you combine an outstanding 14.6-inch display with the other components integrated into Samsung's newest and most powerful tablet. Animations can be made in a variety of optional programs in a fluid and detailed manner.
The Samsung S Pen stylus, which is included with the device, is used with the Galaxy Tab S8. Extreme accuracy, almost zero latency, and a genuine on-screen writing and sketching experience are all provided.
Key Differentiators
Available in three different sizes
Auto Framing makes you the center of attention
Multi Window divides your screen
9. Microsoft Surface Pro 8
The Microsoft Surface Pro 8 is the ideal tool for you if you're looking for a mobile device that runs Windows 11 and can function as a tablet (without the keyboard) or as a laptop computer (when a keyboard is connected).
With the correct apps and the Surface Slim Pen 2 (available separately), it's simple to turn the Surface Pro 8 into a very capable, transportable, and precise drawing tablet.
Key Differentiators
10. XP-PEN Artist24 Pro
A built-in, 23.8-inch, 2K QHD (2560 x 1440 pixel resolution) drawing tablet is available. It has 20 programmable shortcut keys that are located on the device's outside borders. Additionally, the gadget has two red dial wheels that let you have more control over zooming and other app-based functionality.
Every major program is compatible with the XP-Pen (including Photoshop and CAD tools). The tilt function of the PA2 stylus is supported up to 60 degrees. This tablet features an adjustable stand, so you may use it while setting it up at the optimum angle on any flat surface.
Key Differentiators
Fuel your creativity
Brilliant color
Blazing graphic
11. Wacom PTH860 Intuos Pro
| | |
| --- | --- |
| Key Features | Tablet with pen and touch |
| Where to Buy | Click Here |
| Price | S$709.00 |
This gadget is a pen-based tablet that is small and multifunctional. It has a complete 12-inch active area, customisable ExpressKeys for quick access to frequent tasks, and a stylus pen without batteries. You can use it with Adobe Premiere Pro, Adobe After Effects or any other program, and you'll enjoy a smooth, lag-free drawing experience.
The Wacom Pro Pen 2 that comes with the tablet is compatible with other Wacom pens, such as the extra Wacom Airbrush Pen. The tablet's slim and light design will be a hit with you, whether you use it on your lap or on your desk.
Key Differentiators
Multi-functional
Express keys
Compatible with other Wacom pens
12. Wacom Cintiq 22
| | |
| --- | --- |
| Key Features | 22″ LCD Graphic Drawing Tablet |
| Where to Buy | Click Here |
| Price | $1,499.00 |
On a 1808p screen, the Wacom Cintiq 22 drawing tablet provides a full HD experience. Both experts and beginners may draw easily and comfortably due to the room's size. For such a high-end drawing tablet, the color gamut should have been higher, but you won't get it unless you upgrade to a Cintiq Pro model.
Key Differentiators
Never need to charge the pen
Comfortable in your hand
Get easy access to your favorite software's shortcuts
Drawing Tablets Singapore
So there you have it, our roundup of the 12 best drawing tablets in Singapore! If you're still undecided, we recommend taking into consideration your specific needs and budget before making a purchase. And of course, don't forget to read reviews from other customers to get an idea of what others think of the tablet before making your final decision.
Happy shopping!
Looking for more interesting reads? Check out more of our blog posts down below: