Dry Cleaning Singapore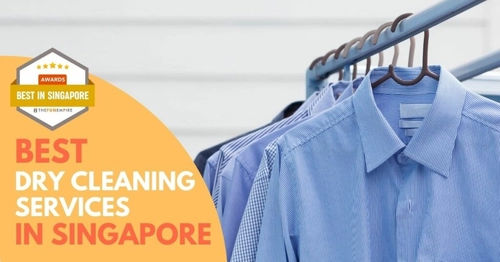 Dry cleaning services are essential, especially for busy professionals in a bustling city like Singapore.
The best dry cleaning services in Singapore include Astoria Dry Cleaning Services, Fresh & Clean Laundry, Cloud Story, and Eazihome.
When selecting a dry cleaning service in Singapore, take into account factors like pricing, location, reputation, and the range of services provided.
In Singapore's humid climate, dry cleaning is highly recommended. It helps prevent clothes from absorbing moisture, thus avoiding damage and unpleasant odors.
Whether you're seeking superior stain removal or meticulous fabric care, these companies have got your needs covered.
Quick Summary
Best dry cleaning services in Singapore include Astoria Dry Cleaning Services, Fresh & Clean Laundry, Cloud Story, and Eazihome.
When choosing a dry cleaning service in Singapore, consider factors such as price, location, reputation, and services offered.
Dry cleaning is ideal in Singapore's humid climate. It prevents clothes from retaining moisture, avoiding damage and unpleasant odors.
Key Consideration Factors
Before getting into the best dry cleaning in Singapore, here are some consideration factors to remember:
Quality of Service: The quality of service provided by a dry cleaner can greatly affect the outcome of your garments. Look for dry cleaners that have a reputation for providing high-quality service, including proper handling and cleaning techniques.
Range of Services: Some dry cleaners may specialize in certain types of clothing or materials, while others offer a wider range of services. Consider what types of garments you need to be cleaned and find a dry cleaner that can accommodate those needs.
Convenience: Location and operating hours can also be important factors to consider when choosing a dry cleaner. Look for a location that is convenient for you to drop off and pick up your items, and check their operating hours to ensure they align with your schedule.
Price Point: Dry cleaning prices can vary greatly depending on the type of garment and level of service required. Consider your budget when selecting a dry cleaner, but don't sacrifice quality for cost savings.
Customer Reviews: Finally, read customer reviews before making a decision on where to take your clothes for dry cleaning. Reviews can provide valuable insight into the quality of service provided by different establishments.
Best Dry Cleaning Singapore
1. Cleaning Compare
Cleaning Compare can connect you to a variety of cleaning firms from all around Singapore. You may compare their rates and services on their website whether you want an independent cleaning service or a trusted franchise.
You won't have to wait long for an estimate. You get a price list and can compare cleaning service rates as soon as you finish their form.
We also appreciate that Cleaning Compare serves as a portal to well-known businesses, so you're likely to locate one with this site whenever you ask "Is there a dry cleaning near me?"
Key Differentiators
Reasonable rates
Helps you look for the best professionals
Gives you a wide range of options
Client Testimonial
"Cleaning Compare helped me find the perfect cleaners for our Singapore office! I didn't know which company to choose because their prices and services all looked the same at first, but when Cleaning Compare drilled down to the differences and details, it made all the difference! Suddenly I could see which cleaner was head and shoulders above the competition! Great comparison site!"
2. Astoria Dry Cleaning Services
Astoria Dry Cleaning Services is a laundry business that has been in operation for over 30 years and has established itself as one of the most reputable dry cleaning businesses in Singapore that serve high-end apparel designers and even government establishments.
Astoria Cleaners offers laundry services, dry clean, pressing, and bag or shoe cleaning and restoration. They employ various special stain remover liquids and steam jet to treat stains effectively depending on the fabric type, demonstrating that they truly provide the finest dry-cleaning in Singapore.
Key Differentiators
Free collection and delivery anywhere
Free return of clothes
Over 30 years of experience in the dry cleaning industry
Client Testimonial
"My experience with them was awesome. accidentally left my jacket with them for 3 months (opps) but they still manage to keep their calm and help me find. Super friendly."
3. Fresh & Clean Laundry
Fresh & Clean Laundry was founded in 2014 and continues to provide high-quality laundry services and dry cleaning to Singaporeans today. They serve a variety of businesses, spas, gyms, hotels, and residences around Singapore.
With their staff of expert cleaners, you may rest assured that your things will be cleaned and maintained to the highest standards. You can trust on their responsible employees to keep your goods clean and neat.
On top of clothing, they dry clean towels, curtains, carpets, and other household items, which is why we included them in our list of the Best Dry Cleaners in Singapore.
Key Differentiators
10% discount for first time customers
Professional laundry services and dry cleaning service, including carpet cleaning services
Affordable pricing
Client Testimonial
"I got them to help with my mums flat after the HIP upgrading works which was really messy.The cleaners were friendly,obliging and were very patient with my 77 year old mothers requests.Would recommend anyone to use Fresh and Cleans services!" – Nanan Wang
4. Cloud Story
If you're having a big event and don't know how to clean or press your clothes correctly, Cloud Story is the place to go. They offer a comprehensive dry cleaning service, because they handle dresses, costumes, and other formalwear.
Carpets, drapes, rugs, and mats are all available for cleaning. They also provide collection kiosks around the island so you can go to the nearest one and leave or pick up your clothing.
One of the finest dry cleaning firms in Singapore, as they also provide ironing for clothing.
Key Differentiators
Speciality in colour preservation of clothing
Business opportunity for laundry agent
Carpet cleaning services are also available
Client Testimonial
"Laundry and dry cleaner store near my house. Since I always finish work after 9pm, their 24 hour drop off and pick up dry cleaning machines and clothes dryer have been a great help. But do noticed that some of the bulky items like comforter can only be picked up during opening hour 9.30am-9pm. They have started their laundry experience / dry cleaning pick up & delivery service.
Love it!!!"
5. Eazihome
Website
https://eazihomelaundry.com/
Address
Buangkok
275D Compassvale Link, Buangkok MRT Exit B, Opposite NTUC FairPrice, Singapore 544277

Bukit Batok
Blk 159 Bukit Batok Street 11, #01-186, Singapore 650159
Phone
+65 9168 6865 | +65 9169 1185
Email
eazihomelaundry@gmail.com
Operating Hours
Open everyday from 10:00AM-7:00PM
Eazihome dry cleaners and laundry services cover both Buangkok and Bukit Batok. They provide a variety of services, such as cleaning various types of clothing and household items.
They also provide customers the option of having their items delivered to their homes, as well as alternatives for those who want them picked up. Their exceptional and cheap services make life simpler for consumers.
Key Differentiators
Affordable prices
Cleans clothing and household items
Pick-up or delivery option
Client Testimonial
"Engaged them for home curtain cleaning and delivery, reasonably priced and hassle-free, can visit home after working hours too. Highly recommended for home owners who are looking to have their curtains cleaned for festive season!"
6. Laundrymart Somerset
You may have your clothing dry cleaned at Laundrymart Somerset any time of the day, all days of the week. For convenient dry cleaning and laundry services, you can utilize their drop-off and pick-up kiosk (with credit card payment).
They also provide a 1-day express service, in which you can drop off and pick up your laundry on the same day. These services are ideal for individuals who don't have the luxury of having time to go about their business frequently.
Laundrymart Somerset is the place to go for fast dry-cleaning in Singapore.
Key Differentiators
On-Site Express Service
24 Hours Kiosk for Drop-Off and Pick-Up
For Urgent Dry Cleaning & Laundry
Client Testimonial
"Didn't expect to find a laundry store in Orchard Road area that wash clothes inside their store. Took me about 2 hours to get clothes wash, dry and fold. Convenient above NTUC in TripleOne Somerset. They also do dry clean. Staff is friendly. Mall a bit quiet but easy to find next to Somerset MRT. "
7. Presto
Presto is a well-known dry cleaning company in Singapore, with many customers remarking on their variety of services including dry cleaning, leather and suede cleaning, stain removal, sewing or mending, garment alteration, and more. They also care for curtain and sofa coverings.
They provide the finest dry cleaning in Singapore, with numerous outlets across the nation. They also offer a quicker turnaround with their same-day delivery or express service.
Key Differentiators
Open daily
Same-day delivery service
Fast turnaround time
Client Testimonial
"Laundry at it´s best. Friendly and attentive stuff. Since 2 years, every week bring laundry to Kallang Leisure. In case of questions, got SMS for proceeding. Very good service! Not the cheapest, not the fastest. Being in interested in quality, this is all what counts for me. Recommended!"
8. KnocKnock
If you're looking for environmentally friendly dry cleaners in Singapore, this is the company to try. KnocKnock is recognized for using an environmentally friendly dry cleaning process that will clean and care for your suits.
Aside from dry cleaning in Singapore, they provide a wide range of services, including as basic as cleaning your sofa, curtains, carpet, mattress, air conditioner, and even general house cleaning.
Pest inspection is just one of the services they provide to protect your home from pests. They've also made it easier for you to obtain their services by developing a mobile app where you may book a collection online and manage the pickup or delivery time through the app whenever and wherever you choose.
Key Differentiators
Special promotions for first orders
Mobile app: for you to book and manage their services through the app
Client Testimonial
"Pretty convenient set of services for anyone living in Singapore.
Much easier to deal with Knock knock than with 6 different providers of A/C cleaning, mattress cleaning, laundry and dry cleaning. Would definitely recommend to get them out"
9. A&B Professional Dry Clean & Laundry
If you're looking for a way to have your clothing cleaned in Singapore that is both simple and painless, A&B Professional Dry Cleaning & Laundry should be at the top of your list.
With the distractions of life, A&B Professional Dry Clean & Laundry understands that having your clothing and housekeeping items washed may be too much stress on a rushed day when you have your other everyday tasks to complete. Your life just got a whole lot easier with their delivery and pick up services!
Your furniture will be washed by one of our drivers and returned to you once they've been squeaky clean. They also perform islandwide pickup and delivery, so there's no need to worry about dry cleaners near you. Now you can save time as you won't have to plan when your things can be cleaned because they'll take care of it all for you!
Key Differentiators
Reasonable Prices, High Quality
Has Occasional Discounts
Client Testimonial
"Good laundry service! Driver very polite!"
10. Dryclyn Express Singapore
| | |
| --- | --- |
| Website | Dryclyn Express Singapore |
| Address | 3 Gul Link, Singapore 629373 |
| Phone | +65 6522 2322 |
| Operating Hours | Check Website For More Information |
Dryclyn Express Singapore is known for understanding the individual demands of each garment, having experience of over 40 years. They will not treat your wool sweaters or cotton shirts the same as other firms because they understand the distinct needs of each fabric, unlike other businesses that handle them the same way.
The organization is managed by someone who is enthusiastic about resolving difficulties and enjoys interacting with individuals. Quality is at the center of everything they do, as their extensive experience in the service sector demonstrates.
They are a laundry service that, with their tagline of "life is too short to do your own laundry," provides convenient pickup collection and delivery services for all cleaning requirements across Singapore. They also operate seven days a week and can be reached on demand.
Key Differentiators
To respond promptly to the customer requirements, Dryclyn Express Singapore operates with five branches across Singapore: Pioneer, Joo Chiat, Caribbean At Keppel Bay, Singapore Post Centre, and The Interlace.
The company operates across the week, including public holidays, and can respond to your dry clean conditions anytime you want. They also provide options for pickup and delivery services.
Established in 1973, the company has an experienced and well-trained staff that understands the cleaning needs of each natural fibers.
Client Testimonial
"have used them to dryclean our curtains and our carpet. They are very responsive and friendly. He even helped us put the carpet in our room (we had to lift the bed to partially put the carpet under the bed). Would definitely recommend!"
11. Mr Dobi Laundry Services
| | |
| --- | --- |
| Key Services | Specialise in carpet cleaning, washing and ironing, curtain cleaning and dry cleaning |
| Website | http://mrdobilaundry.com.sg/ |
| Address | #01-128 Yishun Street 81, Blk 848, Singapore 760848 |
| Phone | 9623 6201 or 9176 4012 |
| Email | mr.dobilaundry@gmail.com |
| Operating Hours | Contact for more information |
Mr Dobi Laundry Services is one of Singapore's oldest and most established laundry and dry cleaning local businesses with a history dating back to the 1940s. They specialize in carpet cleaning, washing, and ironing as well as curtain cleaning and dry cleaning.
Mr Dobi is proud of the use of cutting-edge technology in their operation, so you can rest assured that your items will be well-taken care of in tip top condition. As well, the staff at Mr Dobi are dedicated to their work and aim to provide great service to all of their customers.
Key Differentiators
High quality service with the utmost care
Competitive pricing
Experienced company with a rich heritage
Client Testimonial
My first time using a dry cleaning service. Read the good reviews here and wanted to give it a try. They only accepted cash but I didn't have enough then. The lady boss was so nice and allowed me to pay a 65% down payment. $8 for a large cardigan (fleece material) and $20 each for an overcoat (fleece with padding inside) and an overcoat with hood (a Vince Camuto down)
12. Laundry Shop Singapore
The company's main objective is to excel in the area of innovation and chemical quality, both of which are important. They also emphasize training their workers on a regular basis and effectively so that they may stay up to date with the newest techniques.
They have seasoned workers that are enthusiastic about their job. From the hundreds of positive reviews they've received from previous customers, it's clear that they have knowledgeable employees.
Key Differentiators
Competitive prices
Rapid response rate
Available round the clock
Dry Cleaning Singapore
Dryers are the best way to get your clothes clean and fresh. There is a laundry service for most people in Singapore, from economical services like Laundrymart Somerset to more expensive dry cleaning companies such as Presto and KnocKnock. You can find an environmentally friendly dry cleaner or even one that will have your garments delivered on the same day if you need it! Whatever your needs may be, we hope this article has helped you narrow down which company will suit your needs most.
Before you go, do check out our other articles as well!
Frequently Asked Questions (FAQ)
If you have any questions about dry cleaning in Singapore, you can refer to the frequently asked questions (FAQ) about the best dry cleaning Singapore below:
What are the best dry cleaning services in Singapore?
The best dry cleaning services in Singapore include Astoria Dry Cleaning Services, Fresh & Clean Laundry, Cloud Story, Saree and baju kurong cleaning services, Astoria Cleaning Services, and Eazihome.
What are some of the best dry cleaning services in Singapore that offer leather cleaning?
Several dry cleaning services in Singapore specialize in leather cleaning. These services use advanced technology and specific techniques to ensure your leather items are cleaned without damaging the material. Some of the top-rated companies include Presto Drycleaners, LaundryCares, and Jeeves of Belgravia.
Do these dry cleaning services offer service packages?
Yes, many dry cleaning services in Singapore provide various service packages. These packages are designed to cater to a broad range of customer needs and preferences. They may include services like premium laundry, pick up service, and specific cleaning treatments for different types of clothes and materials.
What is included in the premium laundry service?
Premium laundry service typically includes professional cleaning of your garments using advanced technology and high-quality detergents. This service ensures stubborn stains are removed while preserving the quality and color of your clothes. Some services also offer special treatments for delicate fabrics and designer clothing.
How does the pick-up service work?
Most dry cleaning services in Singapore offer a pick-up service for their customers' convenience. Once you schedule a pick-up, the customer support will collect your dirty laundry from your doorstep. After cleaning, they deliver your fresh and clean clothes back to your home. Some services even offer free pickup for certain service packages.
Are these services suitable for the silver hair generation?
Absolutely! Many dry cleaning services in Singapore are aware of the needs and preferences of the silver hair generation. They offer services like free pickup and delivery, easy-to-use booking systems, and customer support teams ready to assist with any queries or concerns.
How effective are these services in removing stubborn stains?
Thanks to advanced technology and professional cleaning techniques, these dry cleaning services are highly effective in removing stubborn stains. Whether it's a wine stain on your favorite dress or grease on your suit, they can handle it all while ensuring your clothes are not damaged in the process.
What kind of items do these services clean?
Dry cleaning services in Singapore cater to a broad range of items. Besides clothing, they also clean household items like curtains and beddings. Some services even offer specialized cleaning for unique items like soft toys.
How can I contact the customer support team if I have queries or issues?
Most dry cleaning services provide multiple channels to reach their customer support team. You can usually contact them via phone, email, or through their website. They are equipped to answer your queries, resolve any issues, and ensure you have a positive experience with their service.
What service standards can I expect from these dry cleaning services?
These dry cleaning services in Singapore are committed to high service standards. They ensure timely pick-up and delivery, effective cleaning of your items, and excellent customer service. Their goal is to provide a hassle-free and satisfying laundry experience for all their customers.
Additional Useful Articles
If you are looking for other useful guides and articles about best dry cleaning in Singapore, check them out below: