Best Family Reunion Ideas Singapore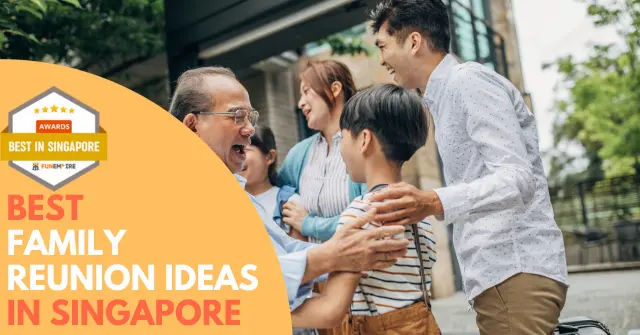 Family reunions are a time-honored tradition, but they can also be a lot of fun! If you're looking for some ideas to make your next family gathering more enjoyable, look no further. We've put together a list of fun ideas that will get everyone in the family excited.
From outdoor activities to indoor games, we have something for everyone. So gather up your family and get ready for some fun!
1. Giant Board Games
Giant-sized and life-sized board games stimulate team play, building an appreciation for teamwork and encouraging camaraderie as you stay together to achieve a common objective. Additionally, these enormous games are ideal for backyard barbecues, family reunions, birthday parties, carnivals, and other large events.
They cater to all types of Giant Board Games events ideal for any age and have the largest assortment of Giant Board Games in the world.
Check out FunEmpire's Giant Board Games here!
2. Ninja Tag
Espionage! Sabotage! Work with your fellow Ninjas to unleash your inner ninja and conquer the world! This is close combat, unlike anything you've ever seen. Utilizing a cutting-edge Ninja dagger, engage in thrilling missions with your coworkers and friends as you combat your way to success!
They also provide a wide variety of Ninja Tag games that were thoughtfully created and are ideal for you.
Explore being a ninja at FunEmpire's Ninja Tag!
3. Trivia Night
Have a trivia night with your family and friends to see who knows the most about everything.
Create teams from members of your family and compete in rounds of trivia contests. To see who knows each other the best, make it all about your family history, or stick to the standard rounds like movies, music, TV, and history.
4. Family Photo Shoot
When else than your upcoming family reunion would be a good time for a family photo shoot?
Hire your favorite photographer to attend the occasion and capture some beautiful, natural, and staged portraits of you all that you may keep forever. Inform your visitors in advance that you'll be having photos taken so they can dress up in their favorite attire.
If you don't have the money, think about having your family member who loves taking pictures serve as the "official" photographer and take amusing candid pictures of your group.
5. Guess that Baby
Laugh and smile as you try to identify who each baby picture belongs to while discussing everyone's finest (and worse) newborn pictures. Place pictures available for visitors to attach to a family tree.
This game can be challenging because most families have some eerie similarities. Add a grainy filter and a black-and-white conversion to all the images to make it even more challenging. People won't be able to determine the photo's age with ease in this method.
6. Family Potluck
Have a family potluck meal and treat your loved ones to timeless cuisine and traditional recipes.
Instruct everyone to prepare and bring their preferred food, whether it is something fresh they invented or was inspired by a family recipe. Make miniature labels with a saying about why each item is important to place next to it, and then tuck them into a delectable buffet arrangement.
7. "Get to Know You" Bingo
Create unique cards with categories like "Find a family member who played baseball in high school," "Find a family member whose favorite dessert is ice cream," "Find two cousins who are their family's eldest," and others, on which players must locate a family member.
8. Message Cups
Have a well-known family proverb? Get it vinyl-engraved on the cups you'll use for meals. If a phrase or slogan doesn't fit you, you may just write "Martin Family Reunion" and the year. These are amusing keepsakes as well.
9. Food Contests
Ignore the several times your mother admonished you to stop messing with your meals. Think about the following: butter sculptures, chipmunk cheeks, pie hurling, watermelon seed spitting, and more.
10. Family Olympics
Having trouble picking only one competition? Plan a variety of activities for the reunion, and keep score on a big board. The winner receives the top reward as well as family bragging rights!
Family Gathering
There are many ways to make your next family gathering more fun. By involving everyone in the planning process, you can ensure that everyone has a good time. You can also try something new, like hosting a themed party or playing games that encourage family bonding. Whatever you do, just be sure to enjoy the time you have with your loved ones.
Interested in more fun articles to read? Check out more of our blog posts down below: