Family Staycation Singapore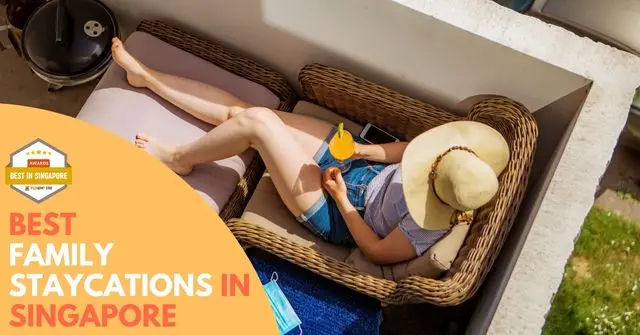 Singapore is a great place to visit, and it's even better when you can take advantage of the amazing family staycation options that are available.
In this blog post, we will share with you our top 10 picks for the best family staycation in Singapore! Whether you're looking for a beachfront resort or a hotel in the heart of the city, we have something for everyone.
So what are you waiting for? Start planning your family's next staycation today!
1. Grand Mercure Singapore Roxy
Grand Mercure Singapore Roxy, which is situated in the historic Katong-Joo Chiat neighborhood, is only a short distance from East Coast Park and 15 minutes drive from Jewel Changi Airport. There are therefore a ton of family-friendly things to try! Without even mentioning how busy Katong is with its hip cafés, well-known neighboring food hubs, and a ton of Instagram-worthy photo locations.
Key Differentiators
Near the airport
Family-friendly activities
IG worthy location
Customer Testimonial
Reasonably sized rooms, with good service. Super convenient to have a facility for in-house covid tests. Not easy to find a taxi given the road construction work right outside.

Mohit
2. Sofitel Singapore City Centre
Who says a family vacation in the city can't be enjoyable? Families are invited to take a tailored tour of Singapore's stunning tapestry of art and culture as part of Sofitel's Discover Tanjong Pagar: Cultural Getaway staycation! With this activity, you may stroll along a trail past intriguing paintings and other pieces of art in the thriving Tanjong Pagar neighborhood.
The staycation package includes limited-edition goods created by well-known local artists, such as a Willim Sim tote bag and a Yip Yew Chong hand-drawn map that allows you to embark on a journey at your own pace and find his wistful street murals of Singapore from long ago throughout the region.
Key Differentiators
Multi-faceted venues
Flourishing culinary scene
Special offers
Customer Testimonial
The concierge service is 5 star. They went above and beyond to help me with last minute bookings and even secured them with expert negotiation and contacts for restaurants and high tea.
Daniel was one particular staff member who was persistent and helped me a lot. He made a huge difference for my family and kids' stay. He was quick and friendly in managing our itinerary on short notice. Thank you so much !

Oli
3. Capitol Kempinski
Look for Capitol Kempinski if you're interested in a posh family vacation in the center of the city so you may be close to family-friendly museums like the National Gallery or the Asian Civilizations Museum. Their Grand Deluxe Rooms are exquisite and appropriate for a family getaway with children.
Additionally, there is a fun Family "Glampkation" package that includes eating rights, a kids' sleeping tent, take-home kids' sleeping bags, a Kempinski tote bag with kids' activities, daily breakfast for up to two parents and two kids, and endless ice cream for the little ones!
Key Differentiators
Great customer service
Near tourist attractions
Family package
Customer Testimonial
Impeccable service with a hospitality team that is ever ready to make guests feel at home. Particularly enjoyed the breakfast spread with their cheese and honey trolley which was awesome.

KK
4. InterContinental Singapore
The fantastic family-friendly staycation package that InterContinental Singapore often offers is sure to elicit squeals of excitement from the little ones.
You'll receive a kids' teepee in your room (required for den games and a unique glamping experience), a movie night in your room with popcorn and a movie of your choice from the hotel's large movie library, as well as a three-course prix-fixe dinner menu for 2 adults, 1 main course, and 2 kids' scoops of the day!
Key Differentiators
Luxury five-star hotel set in the heart of a historic precinct
The flagship hotel of InterContinental Hotels Group (IHG®) in Singapore
Winner of Luxury Heritage Hotel in 2020 and 2021
Customer Testimonial
Extremely beautiful.
Wonderful, classic and classy hotel. Quality rooms, great service, great lobby

Manoj
5. Goodwood Park Hotel
If you don't seek it, you can overlook this stunning hotel. It checks all the boxes for the ideal family staycation in Singapore because it is surrounded by lush gardens and is close to Orchard Road's bustling activity.
The little ones will be impressed by their servings of cookies and milk with turndown. And that's before they notice the free teddy bear that's available, and one bag of vintage activities to keep the kids occupied. All guests receive a complimentary breakfast, so everyone is taken care of. Orchard Road may not be reached after all.
Key Differentiators
Unparalleled Hospitality
Luxurious Accommodation
Renowned Cuisine
Customer Testimonial
Stayed here for a night, to celebrate my anniversary. The hotel had a great ambiance from the outside and even when you are inside. It had a great scent as well as a luxurious feel throughout the hotel.

Raveen
6. The St. Regis Singapore
Don't you just wish you could retreat to opulent lodging after a tiring day of traveling with the family? Who says you can't, though? Your family and I are eager to welcome you to
The St. Regis Singapore! This hotel is the epitome of luxury, complete with regal seats for lounging, sparkling chandeliers, bespoke linens and bedding, and even a butler service available around the clock! Each stunning apartment has a large area with panoramic views of the Botanic Gardens so you may shoot as many shots as you like for Instagram.
Key Differentiators
Timeless elegance
Peerless service
Near Orchard shopping and more
Customer Testimonial
Swimming pool was a letdown, but the room was amazing and up to my standards. The bathroom is the absolute best. Big, spacious and impeccable

Courtney
7. Mandarin Oriental Singapore
Mandarin Oriental Singapore is a fantastic choice if you're looking for pure luxury. You may be sure that you're going to enjoy yourself, and the kids will definitely be astounded! There are all the necessities on hand, including a unique present for youngsters and baby cribs, rollaway beds, and strollers that may be rented!
A separate kids' pool with bubble jet water effects and family cabanas is available. All the sights are right outside your door if you want to go exploring! The hotel also offers special activities for children, including yoga, pizza-making lessons, and classes in eco-friendly art and craft.
Key Differentiators
Spa & Wellness
Explore exclusive offers
Weddings & Events
Customer Testimonial
Lovely hotel with very attentive staff. Booked 2 rooms……view from my daughter's beach view room was even better than my marina bay view room. Definitely worth joining MO fans to access additional benefits

Antoinette
8. Raffles Singapore
Although it's the top item on everyone's wish list, is Raffles Singapore family-friendly? Yes! If you have children with you, don't let that stop you from making a reservation, even though you might wish to enjoy this one alone (and we wouldn't blame you). First off, given how spacious they are, the suites are genuinely ideal for families.
And you can be sure that the service will be excellent; the outstanding Raffles butlers will make even the little ones feel special. The fantastic location is in the middle of the activity and has family-friendly restaurants and attractions right outside the front door.
Key Differentiators
Suite vacay
Bed & Breakfast
Singapore icon
Customer Testimonial
Our stay at Raffles was such a wonderful experience from start to finish! The grounds itself are so beautiful and it's located in a fantastic spot in the city.

Julie
9. Grand Park City Hall
If you're seeking a place to stay close to retail centers, consider this. The luxurious Grand Park City Hall is a short distance from the Capitol Piazza, Suntec City Mall, and a variety of restaurants. The family suite, which has connecting rooms for parents and children, is the ideal vacation. The particularly created children's rooms are outfitted with a bean bag, swing chair, and activity wall.
Key Differentiators
Crystal club lounge
Tablescape restaurant
Mobile check-in
Customer Testimonial
Modern and clean rooms. Excellent location as well. I really enjoyed my stay. Compared to another hotel I stayed at recently (5 star hotel that's old and needs refurbishing), the rooms were clean and the huge bathtub is a plus point

Amanda
10. Orchard Rendezvous Hotel
Families who want to be close to the activity on Orchard Road without actually being among the crowds will love the Orchard Rendezvous Hotel.
From the roomy Family Room to the opulent Family Suite, the hotel offers a variety of room types that have been specifically created and accommodated for families. Families with smaller children will also love their family room's possibilities for a sofa bed or bunk beds!
Key Differentiators
Family-friendly accommodation
A plethora of dining option
Central location with 24/7 entertainment
Customer Testimonial
We stayed at this hotel for our little getaway after covid and it was the best hotel with the most amazing service specially from our best friend Mr.Mario he helped us with absolutely everything to discover the best of Singapore.

Peyman
Family Staycation Singapore
If you're looking for a fun and affordable family staycation in Singapore, consider one of these 10 options. From Sentosa Island to Pulau Ubin, there's something for everyone to enjoy. And with so many great activities and amenities available, you're sure to have a memorable and enjoyable stay. So pack your bags and get ready for some fun-filled family bonding time!
Check out some of our other related articles and guides below: