Foot Reflexology Singapore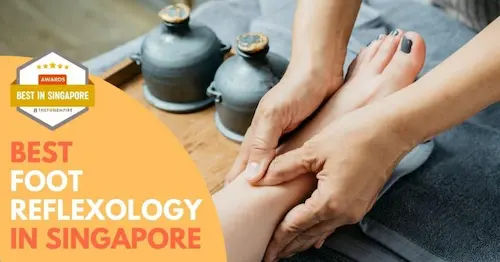 Foot Reflexology is a therapeutic foot massage that has been used for centuries to provide relief from pain and tension.
The best foot reflexology in Singapore include My Foot Reflexology, My Happy Feet, Feet Haven, Pure Relaxology, and Foot Note Reflexology.
When selecting a foot reflexology service in Singapore, take into account elements like expertise, cleanliness, and feedback from customers.
In Singapore, foot reflexology aids in stress reduction, enhances circulation, and fosters overall well-being, thus supporting the healthy lifestyle of its residents.
The following are the best Foot Reflexology places in Singapore you should give a try today!
Quick Summary
Best foot reflexology in Singapore include My Foot Reflexology, My Happy Feet, Feet Haven, Pure Relaxology, and Foot Note Reflexology.
When choosing a foot reflexology in Singapore, consider factors such as experience, hygiene, and customer reviews.
Foot reflexology in Singapore helps to alleviate stress, improve circulation, and promote overall wellness, contributing to the healthy lifestyle of its residents.
Key Consideration Factors
Location: The first factor to consider when choosing a foot reflexology center in Singapore is its location. Ideally, you should choose a center that is conveniently located near your home or office. This will make it easy for you to get to and from your appointments. Additionally, you may want to choose a center that is located in a safe and clean area.
Hours of Operation: Another factor to consider when choosing a foot reflexology center is its hours of operation. You will want to choose a center that is open at times that are convenient for you. For example, if you work full-time, you may want to choose a center that is open in the evenings or on weekends.
Services Offered: When choosing a foot reflexology center, you will also want to consider the types of services that are offered. Some centers only offer basic foot reflexology, while others also offer additional services such as body massage, ear candling, or cupping. If you have specific needs or preferences, just like shoulder massage, foot massage session, reflexology session, herbal foot bath done by experienced masseurs. You will want to choose a reflexology treatment or a foot reflexology centre that offers the services that you are looking for.
Price: Of course, price is another important factor to consider when choosing a foot reflexology center. Prices can vary significantly from one center to another, so it is important to shop around and compare rates before making a final decision. However, it is important to keep in mind that the price should not be the only factor that you consider when making your decision.
Reviews: Finally, one of the best ways to choose a good foot reflexology center is to read online reviews. There are many websites where customers can leave reviews of businesses, and this can be a great way to get an idea of what others think of a particular company. When reading reviews, pay attention to both positive and negative comments in order to get a well-rounded picture of the business.
Best Foot Reflexology Singapore
1. My Foot Reflexology
Key Services
Trained therapists
Pleasant environment
Website
http://www.myfoot.com.sg/myFootReflex.html
Address
1, #03-114 Kim Seng Promenade, Great World City, Singapore 237994
Contact
+65 6738 6235
Operating Hours
Monday – Saturday, 11:30 PM – 10:00 PM
Thanks to its professionally trained and experienced practitioners, My Foot Reflexology has been a leader in the field of foot reflexology and body massage for years.
All of the therapists it employs are blind or visually impaired. This may actually enhance their sensitivity to their job, which is why we've included it among the top locations for Singapore's best foot reflexology.
It has also begun training deaf-mutes, mentally disabled, and physically challenged individuals as a source of income over the years. My Foot Reflexology is also recognized for its relaxing and enjoyable atmosphere, which is why most clients return.
2. My Happy Feet
Key Services
Skilled therapists
Private ambiance
Website
https://www.myhappyfeet.com.sg/
Address
21A Lor Mambong, Singapore 277680
Contact
(65) 6462 0525 | (65) 8588 0318
Operating Hours
Monday – Friday, 11:00 AM – 9:00 PM
My Happy Feet has been providing Singaporeans with both traditional and contemporary foot and body massages for years, having been founded in 2008. Given that it's well-known for its experienced therapists and pleasant ambiance, it's no surprise that it made our list of the top foot reflexology in Singapore.
Another thing we like about My Happy Feet is that it frequently has discounts and promotions, especially for frequent clients. You may choose from its massage packages if you don't want to take advantage of the spa's massages.
3. Feet Haven
Key Services
Discounts and promos
Trained therapists
Website
http://www.feethaven.com/
Address
136 E Coast Rd, Singapore 428821
Contact
+65 6344 7311
Operating Hours
Monday – Sunday, 12:00 PM – 10:00 PM
Due to the high demand, most spas are always fully occupied every day, making it more difficult for walk-in customers to obtain an appointment on the same day. It's fantastic that Feet Haven has launched online booking so that people who want a date and time can be accommodated without having to wait in line.
According to various review websites, it's been dubbed one of Singapore's finest locations for obtaining excellent foot reflexology. What's more, to all clients, discounts and promotions are available for a certain period.
Another thing we appreciate about Feet Haven is that the pricing is fair, especially when compared to other spa services. These are complemented with regular price cuts, allowing you to experience the greatest foot reflexology in your life without spending a fortune.
4. Pure Relaxology
Key Services
Highly skilled masseuse
Comfortable fully reclinable chairs with individual monitor screens and headphones
Website
http://www.purerelaxology.com/
Address
207 Lavender Street S338765
Contact
+65 62982930
Operating Hours
10am – 10:30pm daily (Inclusive of Weekends & Public Holidays)
To balance the body's qi flow, Pure Relaxology's highly trained masseurs use the traditional Ruo Shi method of massage, which energizes meridians and acupoints to restore the circulation of Qi in the body. The circulation of Qi and muscular relaxation are enhanced.
It's based on the idea that imbalances of Qi can cause energy and blood flow blockages in the body. Tuina massage, therefore, promotes the circulation of Qi to help with balance and harmony within the body.
Relaxology specializes in foot reflexology and tuina body massages. They also provide a master-level cupping and gua sha massage to help release extremely tight tension knots and blockages in the body, which helps to restore the body's natural energy flow.
5. Foot Note Reflexology
Key Services
Highly comfortable and accessible location
Personable and professional team
Website
http://footnotereflexology.com.sg
Address
10 PAYA LEBAR ROAD
#04-15 PLQ MALL
SINGAPORE 409057
Contact
+65 8908 0415
Operating Hours
Monday to Sunday, 11AM to 10PM
By focusing on clients' individual requirements, FootNote Reflexology relieves stress. The spa delivers consistent benefits that eliminate discomfort by taking a person-oriented approach to every customer interaction.
If you're feeling run-down due to the fast pace of life, their experienced specialists will assist you in recuperating your energy. To help you unwind after a difficult day, they offer eight completely relaxing reclining foot reflex massage chairs.
It's also worth noting that the FootNote Reflexology crew concentrates on restoring energy and stimulating nerves in order to enhance your body's vitality.
FootNote Reflexology is a foot therapy practice that seeks to cure the pains and stiffness in your feet, back, neck, shoulders, or legs. Now is the best time to visit FootNote Reflexology if you want to get rid of pain and stiffness in your feet, back, neck, shoulders, or legs. Let their excellent energy and skilled staff complete your restoration process.
6. Refresh TCM Wellness
Key Services
Convenient location
Accommodating staff
Detailed diagnosis
Flexible schedules
Website
https://www.yongkangtcm.com/
Address
The Star Vista
#B1-32 1 Vista Exchange Green, Singapore 138617

White Sands
#04-11 61 Pasir Ris, Central Street 3, Singapore 518457

Plaza Singapura
#03-47 68 Orchard Rd, Singapore 238839

Sun Plaza
#03-24 30 Sembawang, Dr, 757713
Contact
+65 9427 3800
Operating Hours
Daily: 10:30am–9pm

Public Holidays: Hours might differ
Refresh TCM Wellness has come a long way since it began as a simple foot reflexology clinic. Having successfully treated over 4 million satisfied customers, they're in a completely different league when it comes to health and wellness, paying close attention to the overall well-being of each patient.
Refresh TCM Wellness, a health service provider that has embraced ancient Chinese medicines and techniques in its practices, has achieved popularity as one of the most sought-after not only in foot reflexology but also in acupuncture, facials, and hot stones.
They are the only facility to have kept ancient ways, which sets them apart from others who have mixed with technology. Since 2003, they have continually proved that the old processes are superior in ensuring the general health of individuals.
7. Fiji Foot Reflexology
Key Services
Holistic approach
Trained therapists
Website
https://www.fijifootreflexology.com/
Address
400 Orchard Rd, #01-19, Singapore 238875
Contact
+65 97527308

+65 62357990
Operating Hours
Monday – Saturday, 10:00 AM – 11:00 PM
If you're searching for a clinic that provides more than just standard body messages, Fiji Foot Reflexology is the place to go. Deep tissue massage, body massage, mani and Pedi, and of course foot reflexology are some of the treatments it provides.
It's one of the few treatments that offer a holistic approach to reducing ailments. It also has a team of 12 certified and licensed therapists on hand to ensure that you leave their clinic feeling revitalized and recharged.
8. Precious Foot Reflexology
Key Services
Competitive rates
Experienced masseuse
Website
https://www.preciousfoot.com.sg/
Address
Blk 443 Clementi Ave 3 #01-71 Singapore 120443

Blk 177 Toa Payoh Central #01-134 Singapore 310177

Blk 130 Jurong Gateway Road #01-217 Singapore 600130
Contact
+65 8363 4703

+65 6354 1911
Operating Hours
Monday – Friday, 10:00 AM – 10:00 PM
"Netflix & Chill" is taken to the next level with Precious Foot Reflexology. Customers may watch their favorite television shows on their iPads while getting a foot reflexology or receiving a message.
For two reasons, we think this is one of the finest places to get the best foot reflexology in Singapore: its trained masseuse who can alleviate any type of bodily discomfort, and its budget-friendly costs.
After a single session with them, you'll feel revitalized and calm in every part of your body, especially your feet.
Customers may also choose from a variety of aromatherapy essential oils that are recognized to stimulate the senses! If you'd like to find out for yourself, stop by any of their clinics!
9. Wan Yang Foot Reflexology
Key Services
Multiple Outlets for convenience
Professional foot reflexology
Address / Contact
@ Tampines Hub
Address: 51 Tampines Ave, 4#B1-25/26
Tel: 63867049

@ Changi Airport Terminal 3
Address: 65 Airport Boulevard, Basement 2 South #B2-05/06
Tel: 6242 6366

@ Katong
Address: 112 East Coast Road, #03-23
Tel: 6348 2609

@ Parkway Parade
Address: 80 Marine Parade Road, #03-09/10
Tel: 6345 6833 or 6342 0369

@ Roxy Square (Main Office)
Address: 50 East Coast Road, #02-64
Tel: 6348 6690

WAN YANG'S LOCATIONS IN THE NORTH:
@ Ang Mo Kio Hub
Address: 53 Ang Mo Kio Ave 3, #B1-63
Tel: 6483 2788

@Thomson Plaza
Address: 301 Upper Thomson Road, #03-42/43
Tel: 6553 2066

WAN YANG'S LOCATIONS IN THE NORTH-EAST:
@ City Square Mall
Address: 180 Kitchener Road (Farrer Park MRT Station), #B2-34
Tel: 6509 3633
Operating Hours
Monday to Sunday
1015AM to 10PM
Since 1989, the Wang family has owned and operated the business. Since then, it has expanded to over 15 outlets across Singapore! You'll almost certainly discover one of these locations close to where you live.
The spa's mission is to provide natural healing and health improvement through massage and foot reflexology. The therapists at this institution also have their own style of foot reflexology, in which they employ stronger strokes over pressure points on the feet than other foot reflexology clinics.
Foot Reflexology Singapore
Foot reflexology is a form of foot massage that uses different techniques to manipulate the feet. It's been around for thousands of years and has many benefits, such as improved blood circulation, lower back pain relief, and stress reduction. Reflexologists can help you get rid of your pains and aches by applying pressure on sensitive parts of the body while massaging your feet with their hands or using tools like wooden sticks or balls made from rubber. If you're looking for some serious relaxation in Singapore then we recommend visiting one of these 9 best foot reflexology places here!
If you enjoyed what you just read, do consider checking out our other articles as well!
Frequently Asked Questions (FAQ)
If you have any questions about Foot Reflexology in Singapore, you can refer to the frequently asked questions (FAQ) about the best Foot Reflexology in Singapore below:
What are the best places for foot reflexology in Singapore?
The best foot reflexology in Singapore include My Foot Reflexology, My Happy Feet, Feet Haven, Pure Relaxology, Royal Thai Spa, Ashi Foot Reflexology, Green Apple Foot Spa, Han Dynasty Spa, Kousei Foot Reflexology, and Foot Note Reflexology.
How does foot reflexology work?
The theory behind foot reflexology is that each point on the feet corresponds to a different organ or system in the body. By applying pressure to these points, it is believed that the corresponding organ or system will be stimulated, which can lead to improved health. There are a lot of foot massages and many foot reflexology offers massage therapy, spa treatment, foot baths with Chinese herbs and energy channel.
What services can I get in a foot reflexology centre?
A foot reflexology centre can offer services such as massage, deep tissue massage, acupressure, shoulder acupressure massage, foot massage, foot reflexology treatment, signature foot reflexology, reflexology massage, massage treatments, back massage, herbal footcare health, tension headaches, Swedish massage, energy work and other forms of healing. Massage is used to reduce stress and tension in the muscles while also increasing circulation. Deep tissue massage helps to target deeper muscle layers and can help with chronic pain relief.
What are the benefits of foot reflexology?
There are a number of potential benefits associated with foot reflexology, including improved circulation, reduced stress, strengthen your immune system, lower blood pressure, enhances sleep quality and relieves from trouble sleeping, relaxes varicose veins, tired feet, improved blood circulation, remove lactic acid buildup, and relief from pain and tension. Additionally, some people believe that foot reflexology can help to improve overall health by stimulating the body's natural healing process.
How can I find a foot massage near me in Singapore?
There are a few ways to find a foot reflexology near me. You can search online for local spas and massage parlour offering foot reflexology or even a full body massage services, as well as asking friends or family who have had experience with this type of treatment. Another great way to locate a foot massage nearby is to use apps such as Google Maps or Yelp. Lastly, you can also use websites such as Groupon and LivingSocial to find discounted deals for foot massage services near you. Happy Reflexing!
How can I make a foot reflexology appointment at the best places in Singapore?
Most spas in Singapore have online platforms where you can book your foot reflexology appointment. You simply need to visit their website, choose the service you want, select a convenient date and time, and confirm your booking. Some may even offer phone bookings for those who prefer a more personal touch.
What are the benefits of regular foot reflexology sessions?
Regular foot reflexology sessions can have numerous benefits. These include improved blood circulation, reduction of stress, alleviation of pain, and enhanced overall wellness. Furthermore, it's a relaxing experience that many look forward to after a long week.
Do any of these spas offer complimentary foot baths?
Yes, several spas in Singapore offer a complimentary foot bath as part of their foot reflexology services. This usually involves herbal foot baths which not only clean and refresh your feet but also prepare them for the massage treatment, enhancing its effectiveness.
Who will be giving foot reflexology?
Foot reflexology is typically given by professional therapists who have undergone extensive training in various massage techniques. They understand the pressure points on the feet and know how to manipulate them to provide relief and promote health.
What can I expect from a foot reflexology session in terms of massage treatment?
A foot reflexology session typically begins with a relaxing foot bath, often using herbal concoctions. Then, the therapist will apply specific massage techniques to the different points on your feet, each corresponding to a particular organ or system in your body. The session usually ends with a gentle foot massage, leaving you feeling refreshed and rejuvenated.
Additional Useful Articles
If you are looking for other useful guides and articles about foot reflexology massage in Singapore, check them out below: