Fridge Repair Singapore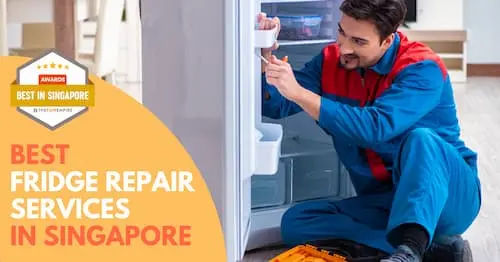 When your refrigerator fails, it's more than just an inconvenience—it can disrupt your daily routine and lead to spoilage of your food.
The best fridge repair services in Singapore include A1 Handyman Singapore, National Home Helper, Cool City, Airwin, and LW Fridge Repair Singapore.
When selecting a refrigerator repair service in Singapore, take into account elements such as expertise, feedback from customers, and pricing.
Fridge repair companies in Singapore often address common issues such as cooling problems, unusual noises, leaks, and malfunctioning thermostats.
So whether you're dealing with a minor issue or a major breakdown, these Fridge Repair Singapore services are here to save the day.
Quick Summary
Best fridge repair services in Singapore include A1 Handyman Singapore, National Home Helper, Cool City, Airwin, and LW Fridge Repair Singapore.
When choosing a fridge repair service in Singapore, consider factors such as experience, customer reviews, and pricing.
The most common problems that fridge repair companies in Singapore fix include issues with cooling, strange noises, leaks, and faulty thermostats.
Best Fridge Repair Singapore
1. A1 Handyman Singapore
A1 Handyman is a professional handyman service that has over ten years of expertise in the business. A1 Handyman is recommended as a one-stop-shop service for all your handyman needs, with over ten years of experience in the field. Whether it's painting, furniture construction, or a plumbing problem, A1 Handyman's experts can provide a high-quality and dependable service.
2. National Home Helper
The company's name, "VantagePoint Property Maintenance," is a reflection of their understanding and expertise in the property maintenance field. They provide clients with one-stop solutions for house repairs, including fridge repair in Singapore that best meets their demands and budget.
3. Cool City
Cool City started service and repair aircon and refrigerator in Penang, Malaysia. After staying in Penang for 5 years, they shifted to Singapore and continued their service for 18 years. They work for both commercial businesses and private homeowners. They offer a warranty on repairs and services based on a client's needs. At Cool City, they pride themselves on being professional and efficient. Their technicians are skilled in repairing both aircon and refrigerators. For air conditioners, they are good in repairing, servicing, installing, and maintaining these machines. They are trained not only in normal aircons but also portable and window casement aircon. For refrigerators, they can repair both commercial and domestic refrigerators.
4. Airwin
Airwin understands a great deal about keeping things cool since it provides, installs, repairs, and maintains refrigerators and air conditioners. It can repair just about any refrigerator or air conditioning system from various well-known manufacturers such as Carrier, LG, Daikin, and Samsung. Airwin offers refrigerator repair services, including fridge motor, switches, thermostats, condensers, fans, and just about any mechanical component of the appliance. To reduce waiting times, this refrigerator repair business also has parts on hand.
5. LW Fridge Repair Singapore
Many refrigerator difficulties, such as thermostat problems, power outages, leaks, and other potential issues are addressed by LG LW Fridge Repair Singapore. They also happen to be one of the country's most experienced fridge repair firms, with years of expertise repairing all makes and models, including Hitachi fridge repair in Singapore. Fast and same-day service is available for those who require it, particularly commercial clients. If you're having trouble with your refrigerator, freezer, or chiller, they've got all the solutions you need.
6. Handyman Singapore: Drilling, Repairing, Assemble, Installation
Handyman Singapore is a one-stop-shop for all of your home repair and installation needs. If you require assistance with plumbing, aircon repair, electrical repairs, carpentry, window or door repair, or any other house issue that necessitates the expertise of a skilled handyman, they are available at all hours.
7. Fridge Fix SG
Fixit SG takes pleasure in its high-quality services, which include the usage of genuine components from the manufacturer. They also provide services for repairing or replacing broken fan coils, defective compressors, faulty PCB boards, stalling starters, defrosting components, malfunctioning thermostats, copper filters, and pipe blockages. They also look for gas leaks and top up the supply. Fridge Fix SG specializes in repairing top-of-the-line refrigerators from Amana, Bosch, Camper, Frigidaire, GE, Samsung, and Whirlpool. They can still reach you with their island-wide service regardless of how distant your location is..
8. Fridge Repair Singapore
Fridge Repair Singapore is your best choice if you find yourself in a crisis and require 24-hour refrigerator repair in Singapore. Fridge Repair Singapore is a team of the refrigerator, freezer, and ice maker repair experts. Their qualified staff has the knowledge and competence to keep your cold storage devices in good working order. In addition to repairs, they provide washing services. They stand out from the competition due to their comprehensive disinfection, thorough repairs, full evaluation, and 24/7 assistance. You'll receive world-class service even during ungodly hours.
9. Fridge Repair by AC SAVIOUR Engineering
Some people believe that they must visit the main manufacturer's facility to have their refrigerator fixed. In fact, there are several less expensive alternatives… And AC SAVIOUR Engineering is one of them when it comes to fixing refrigerators. They provide experienced specialists who can be found in any area once you make an appointment. Repairs for refrigerators from well-known manufacturers such as Daewoo, Mitsubishi, Panasonic, Sanyo, Sharp, Toshiba, Whirlpool, and many more are among their services.
10. LS Handyman Singapore
LS Handyman is a go-to for many people looking for any sort of handyman service in their house or business, from painting to emergency door and sink repairs. This firm has been praised by a variety of satisfied consumers because of an attentive workforce that will go above and beyond to help you.
11. Bright Star
Repair services for those based in an HDB flat, condominium, landed property, school, hospital, warehouse, office, restaurant, shophouse, and factory are available through Bright Star. They can assist you with fast answers if you need them, which is usually within one hour of making a phone call.
12. Fixwerks
They can solve problems like temperature control problems, electronic malfunctions, and other general issues for your refrigerators. They offer a wide range of services divided into different appliance repairs. They may provide the most services out of all of the alternatives on this list. So, if you're having issues with one of your other devices, you can just contact them and they'll get back to you within 48 hours.
13. V Care Aircon & Fridge Services
We believe it's time to make V Care Aircon & Fridge Services your one-stop shop for fridge repairs. In comparison to other firms, they are one of the few that provide the best costs in Singapore, as well as any appliance repairs.
14. Appliance Repair
Appliance Repair has evolved from a modest start to become a well-known handyman firm in Singapore. Appliance Repair offers repair for all types of appliances, including fridges, ovens, dishwashers, washing machines, and TVs, as well as ceiling fans and other home decor items.
15. Yeobuild HomeRepair
Yeobuild HomeRepair was founded in 1980 and has been committed to providing outstanding home repair services ever since. Despite dealing with broad repairs, they may provide appropriate and particular solutions that can restore your refrigerator to full operation. They take into account your requirements, budget, and timetable before beginning any job, ensuring that you receive the greatest possible client experience.
16. Mexif
Mexif's staff is skilled in repairing a variety of home appliances, such as ovens, stoves, wine chillers, and refrigerators. They take no chances and keep you up to date on every step of the process. This helps them to provide good outcomes and exceptional customer service at all times. You may finally say goodbye to your technical difficulties after working with their highly trained staff.
17. Top Hong Traders
Top Hong Traders offers everything you want in a repair professional – dedication, professionalism, and effectiveness. This firm is proud of their quick response time as well as their technical skills in dealing with your refrigerator issues. They may also do maintenance work for both domestic and commercial clients.
18. Tat Hai Repair Center
Tat Hai Repair Center is a repair center that serves almost every part of the island, including residential and commercial buildings. It's been in operation since 1976, making it one of the older repair businesses on Singapore. Tat Hai Repair Center doesn't just provide the finest fridge repair in Singapore; it also provides other services. All sorts of washing machines, clothes dryers, and even air conditioners are handled by its team of specialists. Tat Hai Repair Center is recognized for providing low-cost and cost-effective services. We strongly advise people on a tight budget to consider utilizing its services.
Fridge Repair Singapore
We hope we give you a good idea about what type of service will work well for your needs.
Since you've reached the end, why not check out these interesting articles as well.
Frequently Asked Questions (FAQ)
If you have any questions about fridge repair service in Singapore, you can refer to the frequently asked questions (FAQ) about the best Fridge Repair Services in Singapore below:
What are the best fridge repair services in Singapore?
The best fridge repair services in Singapore include A1 Handyman Singapore, National Home Helper, Cool City, Airwin, and LW Fridge Repair Singapore.
Why is my fridge door not closing properly?
A common issue with fridge doors is a faulty fridge door seal. Over time, seals can wear out and need replacement. It's best to contact professional refrigerator repairing services to ensure the problem is correctly diagnosed and fixed.
How much do fridge repair costs typically amount to in Singapore?
Repair costs vary depending on the issue and the brand of your fridge. Minor repairs like replacing fridge door seals might be cheaper, while more significant issues like faulty compressors can be more expensive. Always request a quote before proceeding with any service.
Can appliance repair services fix both single and double fridge doors?
Yes, professional appliance repair services can handle problems with both single and double fridge doors. Whether it's an issue with the door seal or the hinge, they have the expertise to fix it.
What does quality service in fridge repair entail?
Quality service in fridge repair means timely and efficient service, use of genuine spare parts, transparent pricing, and excellent customer service. It also involves servicing all major brands and types of household appliances.
What are some common issues with major fridge brands?
Common issues that affect major fridge brands include faulty fan coils, problems with the fridge door seal, and compressors not functioning correctly. If your fridge is not cooling properly, it could be due to one of these problems.
What happens when the fan coils in my fridge become faulty?
Faulty fan coils might stop your fridge from cooling properly. The fan helps circulate cold air within the fridge. If it's not working, you might notice some areas of your fridge are warmer than others.
Can a faulty compressor be repaired?
Yes, a faulty compressor can often be fixed by professional refrigerator repairing services. However, depending on the age and condition of your fridge, sometimes it may be more cost-effective to replace the appliance.
How can I maintain my fridge to avoid frequent repairs?
Regular cleaning, proper handling of fridge doors, not overloading the fridge, and timely servicing can help maintain your fridge in good condition and avoid frequent repairs. If you notice any issues such as your fridge not cooling properly, it's best to call in professionals promptly before the problem escalates.
What is the typical timeframe for a fridge repair service?
The duration for fridge repair can greatly vary based on the complexity of the problem at hand. Simple issues like door seal replacements can be resolved in a matter of hours while more complex matters like compressor repairs might take a couple of days. It is advisable to discuss the estimated time frame with your chosen service provider to better plan your schedule.
Additional Useful Articles
If you are looking for other useful guides and articles about Fridge Repair Services in Singapore, check them out below: