Gaming Chair Singapore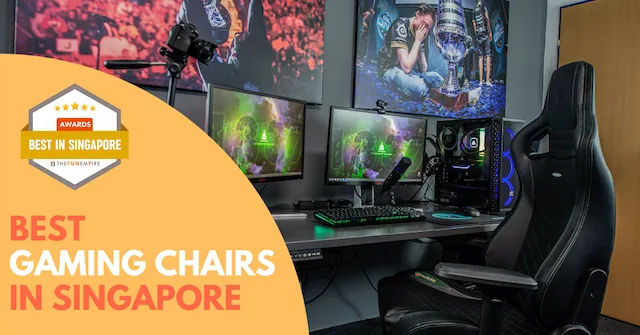 Gaming Chairs in Singapore are gaining huge popularity due to their beautiful aesthetic, ergonomic design and comfort.
If you're looking to find the best gaming chair Singapore that suits your needs, then you've come to the perfect place.
Spending long periods of time gaming without an appropriate gaming chair can lead to back pain or discomfort.
Gaming chairs are designed to provide the optimum posture to the user. In fact, many people buy gaming chairs in Singapore for use beyond gaming.
With the gaming industry becoming more prominent in today's society, many gaming chair brands have emerged in the market. As such, finding the best gaming chair for yourself that's comfortable and equipped with the necessary ergonomic features can be challenging.
Thus, FunEmpire has hand-picked the most comprehensive list of the Best Gaming Chairs in Singapore. We have researched extensively the different gaming chairs in Singapore to recommend you the absolute best of the bunch based on comfort, features, durability and value for money.
With this guide, you will be able to find the best gaming chair singapore that is most suitable for your needs.
Key Consideration Factors
Budget: The first factor to consider when choosing a gaming chair is your budget. Gaming chairs can range in price from around $100 to over $1000, so it's important to know how much you're willing to spend before you start shopping. If you're on a tight budget, there are still plenty of great options available, but you may have to compromise on features or build quality.
Size and Weight: Another important factor to consider is your size and weight. Not all gaming chairs are created equal in terms of size and weight capacity, so it's important to choose one that will be comfortable for you. If you're larger or taller than average, you may want to look for a gaming chair with a higher weight capacity and wider seat. Opt for something with a new level of chair cover and came with boxes, so that you can reuse it and hold your stuff.
Adjustability: Another important factor to consider is adjustability. Most gaming chairs allow you to adjust the height of the seat and the backrest, but some also offer additional features like adjustable armrests and lumbar pillow support. If you have any specific needs in terms of adjustability, make sure to look for a chair that offers the features you need, including those that you would want to have compared to your previous chair, like having an ideal posture is an excellent option too.
Material: The material of the best chair is also an important consideration. The most common materials used in gaming chairs are leather and mesh, but there are also chairs made from fabric or other materials. Each material has its own advantages and disadvantages, so it's important to choose one that will be comfortable for you and that will fit your needs. The best chair is the one you're most comfortable with, suitable for your desk, for this will also save you more money in the long run. Grab it and have these as deciding factors to help you choose. Some of the most well-loved brands are Secretlab Titan Evo Chair and Logitech G.
Warranty: Finally, make sure to check the warranty before purchasing a gaming chair. Most manufacturers offer at least a one-year warranty on their products, but some offer longer warranties for an additional cost. If you're planning on using your gaming chair heavily, it may be worth it to pay a little extra for a longer warranty.
Best Gaming Chair Singapore
1. Secretlab
Secretlab
Frustrated with a long and never-ending search for the perfect gaming chair, Secretlab's founders Ian and Alaric decided to take things into their own hands.
With huge aspirations of creating the best gaming chair for gamers worldwide, top-notch materials and great vision, Secretlab was born.
Secretlab is a company that makes gaming chairs that are great for gaming and working. Their chairs are designed to be comfortable and supportive, and they come in a variety of colours and styles.
If you're looking for an affordable gaming chair that will last for years, Secretlab gaming chair is the best option.
Gaming Chairs For All Your Needs
Secretlab offers a plethora of different gaming chairs that satisfies all your different consumer needs.
With a huge research team and the best technology behind building these chairs, Secretlab gaming chairs are made to be durable, aesthetically pleasing and most importantly, comfortable.
Since gamers will be sitting on the chair for hours to compete with other gamers online, Secretlab' priority is to give every gamer an enjoyable experience.
Some of its best selling gaming chairs in Singapore are the Secretlab Omega and Secretlab Titan models.
They also recently launched their Secretlab TITAN Evo 2022 Series of gaming chairs for their consumers.
The Secretlab TITAN Evo 2022 Series carries the Secretlab Cold Cure Foam for each chair along with a Magnetic Head Pillow that has memory foam with cooling gel so you don't have to worry about comfort!
Their new series also comes with the 4-way L-ADAPT™ Lumbar Support System that you can adjust the however you want according to how you prefer it to be.
Their chairs allow for personalisation and you can customise your chair according to how you like it.
For example, their new Secretlab TITAN Evo 2022 Series lets you take over the aesthetics and make your gaming chair unique. You can even customise it into a Batman inspired gaming chair! This makes it one of the best premium gaming chair in the market.
As a company, Secretlab is always striving to improve the gaming experience for their consumers.
They are constantly innovating and coming up with new ideas to make their chairs even better. This is why they are the best option when comes to choosing the perfect gaming chair.
Price Range
The price range of Secretlab gaming chairs for its quality is reasonably priced around $600 SGD to $800 SGD, depending on which chairs you choose and how you customise it.
There are three sizes for the chairs, from small to extra large, which are priced higher. For customisations, there is an additional fee of $600 to $700.
Why choose Secretlab?
Top-notch quality
Super comfortable and durable
Aesthetically pleasing and allows for customisations
Reasonably priced
Practical and functional
What are you waiting for? Go get your very own customised and comfortable gaming chair Singapore right now!
If you have any questions regarding Secretlab gaming chair Singapore, do contact Secretlab here.
Read our review of the Secretlab TITAN Evo 2022 here!
Key Differentiators
Multi-tilt Mechanism for ultimate adaptability
Each model is engineered to fit different builds (e.g Secretlab Titan is for larger builds)
Variety of upholstery for a chair customised to your liking
Customer Review
An amazing gaming chair, providing sublime fabric comfort… and excellent back support

Forbes
You can refer to the video below on how to install the Secretlab gaming chair:
2. Vertagear
Vertagear is a gaming chair brand that first started out in 2015. It was brought to life by a mixture of computer hardware veterans, furniture specialists, designers and gamers. By combining a full spectrum of our expertise, their aim is to develop products catered to the sensibilities of the gaming community. Design, comfort, functionality and quality – they have it all. These designs will coordinate with your desk too!

Offering a break from the norm, they invest in products that will improve your daily gaming in unobtrusive, hassle-free ways. They believe convenience forge the basis of any consumer-oriented invention, while quality and creativity shape the pillars of innovation.
"Ingenuity never ceases, and neither do we."
Key Differentiators
Focus on quality materials for their gaming chairs
Unique patented RGB kits – the World's first wirelessly operated RGB Gaming Chair
Coffee-fiber (patented) material for their cushions
Customer Review
AMAZING
The best gamer chair I have of the 5 that I count their comfort is better than all the others you have no problems spending hours either playing or working to all my friends and clients I recommend them above other brands that I have such as secret lab omega and titan, asus rog chariot, razer iskur and maingear forma gt and as a plus the RGB system is the best compared to others that do not count or is not customizable, nothing better than the PL4500.
3. Martiangear
Martiangear is a Franco-Singaporean brand, creator of the world's best gaming chairs and gaming cockpits.
Their mission is to unlock human's full potential by giving them access to the galaxy's best equipment to create, work and game!
Their high-end ergonomic chairs and cockpits are extensively designed and engineered to provide the ultimate sitting experience.
Besides our superior products, Martiangear offers the best in class service, with up to 12 years product warranty for our gaming chairs, free next day delivery and assembly and 24/7 local customer service!
If you are looking to purchase one of the best gaming chairs in Singapore, Martiangear is definitely a brand that you need to check out.
Key Differentiators
Elected #1 best gaming chair in Singapore by the tech reviewer community (https://youtu.be/cME8BhnV5GY)
High-end materials and a wider choice of gaming chair to fit every need
The only company in Singapore selling fully automated gaming and work station: The Martiangear Cockpit Pro
Customer Review
Decided to go with the Martiangear Supernova chair after browsing around and reading/watching some reviews. The chair looks very sleek and well built. The warranty coverage is pretty good, one of the better around. Great customer service experience too, the team came responded very promptly and came by on the same day to fix an assembly issue. Really like the freebies that they gave as well! – Eugene Yan
4. APOL
APOL Singapore was founded in 2018 with the intention of providing ergonomic gaming chairs built with the finest craftsmanship. All while being cost-effective. "Engineered to performance, aligned with comfort" is their motto to ensure the highest of standards and durability. Their gaming chairs consist of Sphinx, Kraken and Behemoth. All of which are priced equally but built with different specifications to cater to everyone with various builds.
APOL Singapore strongly believes that one should not pay extra just because they have different needs, after all, comfort is subjective.
Today, APOL Singapore is evolving to become one of the favourite local brands for gaming chairs while constantly trying to refine and better every aspect of the chair to provide the best to their customers.
Customer Review
Behemoth is an amazing beast! Really love the comfort that the size of the chair brings! Allows for great support for your back, especially with the premium lumbar pillow! All in all, great purchase that exceeded all expectations!
5. ErgoTune
ErgoTune was started because they believe ergonomics does not have to be complex, nor does it have to cost extravagantly. Hence, they designed the ErgoTune to be incredibly adjustable across 11 points from head to toe, allowing anyone to achieve the perfect ergonomic fit.

Despite how affordable it is, they haven't compromised on its components either. With a made-in-South Korea hydraulics system and a unique mesh upholstery weaved in Germany, rest assured that the ErgoTune gaming chair will support you for the decades ahead.

"Because you deserve to feel your best every single day of the week."
Key Differentiators
11 points of adjustments to fit you like a glove, so you can get that natural comfort
ATLAS™ Auto Tuning Lumbar Area Support – that calibrates itself automatically to your spine's natural curve
DuraWeave™ Hybrid Mesh Upholstery – super cooling in our weather, yet super durable
Customer Review
ErgoTune chair is a well-designed ergonomic gaming chair. It supports my back well and is very comfortable to sit on it for long hours. The mesh-like material which is used to make the chair body is airy, air can circulate much better compared to leather in our kind of hot and humid weather. The adjustments of chair height, arm-rests etc are easy. All in all, it is a value-for-mony product.
– Elsa N.
6. Royale Ergonomics
Royale Ergonomics is founded by a pair of brothers who aims to build the world's best gaming chair.
They build their gaming chairs on the same foundation and fundamentals as automotive seats. They commit to this by using automotive-grade upholstery, steel, and foam.
Their gaming chairs are also BIFMA 5.1 tested for durability also ISO 9001 certified. Additionally, they are manufactured in accordance with ISO/TS 16949, a quality management standard for the automotive industry.
At Royale Ergonomics, they want to bring the confidence that consumers have in their cars to the gaming chair industry. Because they strive to rid the bad reputation that gaming chairs, they conduct through thorough testing, educating consumers on what makes a good chair and through their products.
Key Differentiators
Customisable chairs managed through production in their very own factory. They manufacture the gaming chairs to BIFMA (furniture certification) and ISO standards (quality management and automotive).
Their chairs are partly manufactured by them, they own and manage the factory that does the upholstery.
Unlike other chair brands, they do not outsource the manufacturing, packing or assembly of the chair to a factory in China.
Customer Review
Like what many other have said, this is a very comfortable chair. You can sit on it for hours without feeling any fatigue. The ergonomics of the chair, together with the lumbar support, certainly helps in maintaining a good sitting posture. And to be able to have a hand in the design of the chair through customized logos adds to the overall appeal of having the chair. Keep up the good work! – Kim Ann Tay
7. Kane X
Kane X is backed by FortyTwo Pte Ltd, a furniture company who decided to make a line of gaming furniture.
The Kane X team comprises of gaming enthusiasts and experienced craftsmen with vast knowledge in furniture.
The company's 10+ years of ergonomic seating and desking experience has the power to keep you comfortable as you get through the gaming grind to get the win.
With vast experience in the furniture industry and customer support, the Kane X team look forward to delight customers from the gaming segment.
The KaneX Nemesis is of the eye-catching gaming chairs in Singapore that feels as good as it looks.
One of its most popular products, the Kane X Nemesis, is a beautiful, spacious gaming chair Singapore that will make you feel like royalty.
Its Premium PU leather finish provides a great feel to the chair. This gaming chair also uses high-density cold cure cut foam, which absorbs pressure and distributes weight evenly.
It has good ergonomics and it is able to provide great support in the lumbar area. Despite the high price tag, this is one of the best gaming chairs in Singapore.
Key Differentiators
Good ergonomics with great looking design
High Quality Core Materials such as Premium PU Leather and High Density Cold Cure Cut Foam
Sturdy and Stable Base – heavy duty electroplated carbon-black aluminium base provides great stability, support and high weight capacity
Adjustable features such as padded armrest with levers positioned for optimal performance.
"Relatively easy to fix as there weren't many parts. Problem faced were the screws were aligned to the holes that were designated. Wasted about 1 hour trying to align them perfectly..yes they had to be perfectly aligned as all four holes had to be perfectly fitted if not you can't fix the arm of the chair. I was truly perspiring when I was done fixing. There was a scratch on the chair itself of abt 3 cm when it arrive but I decided to just fix the chair nonetheless as I can't wait for another delivery time etc. Overall pretty good chair for the price."

– Justin c.
8. BLACKWOLF
BLACKWOLF Racing Academy was established in 2019 to provide a training environment for both professional race drivers and eSports competitors.
With a background in motorsport and e-racing, BLACKWOLF has now focused their business on creating gaming chairs. This is where their experience has contributed to the performance and design of the newly created gaming chair series.
The brand new series consists of three different lines: BLACKWOLF Pack, BLACKWOLF Alpha Series, and BLACKWOLF Legend. The BLACKWOLF Legend series is the most premium range.
The company has appointed The Reject Shop as the official distributor of its gaming chairs in Singapore.
If you're looking for some of the best gaming chairs in Singapore, you can definitely consider getting one from BLACKWOLF.
Key Differentiators
Fantastic build quality using the finest core materials and solid steel frame structure for great weight capacity
Memory foam head rest and lumbar support pillow are included free with purchase of each gaming chair in Singapore
Rocking function with locking system and rocking pressure adjustor
Great ergonomic features available such as its 3D Ergonomic backrest and wider armrests for maximum comfort
9. UMD Gaming Chair
UMD Gaming Chair is a Singapore-based company that manufactures and distributes gaming chairs in Singapore.
UMD Gaming Chairs are designed with ergonomics in mind, so you can sit comfortably while playing games during your long gaming sessions or watching movies.
Its gaming chairs also feature high quality PU Leather and a chrome coated steel frame leg base for support. It has a maximum weight capacity of 130kg, which is fantastic for a gaming chair singapore.
Key Differentiators
Reclinable gaming chair up to 180 degrees
360 degrees rotation / rocking function
Integrated lumbar support cushion and neck cushion for maximum comfort
If you're looking for some great deals on high quality gaming chairs, then stop by at UMD Gaming Chairs today!
"Nice and cozy environment me and my brother went to look tables and chairs. Price reasonable,although their website is down. Limited tables and chairs hopefully they will expand and more tables,chairs, coffee table, TV rack and etc….Nice customer service greetings."

– Yee
10. Herman Miller
The Herman Miller company was founded in 1923 by D.J. De Pree, a Dutch immigrant who grew up as the son of an antiques dealer and collector in Holland.
Their success is greatly attributed to its innovative designs, such as the iconic Aeron Chair. Especially that these designs can be utilized as office chairs too.
The Herman Miller Aeron Chair is one of the best gaming chair singapore. The seat has a smooth adjustment to your position, ensuring maximum comfort during your gaming experience, and will perfectly coordinate with your desk too! The Harmonic Tilt feature supports the way you naturally move, for a smooth and balanced backrest recline.
This gaming chair in Singapore is also made of smooth, comfortable fabric and has a lightweight graphite frame. The seat has a weight capacity of up to 136 kg, and its seat base can be adjusted to your preferred height.
In addition, its adjustable lumbar support also provides you with good ergonomics features that provide steady support to your lower back and spinal area.
One of the most iconic features of the Herman Miller Aeron chair is its mesh backrest that gives your breathability and comfort when you're sitting down for your long gaming session.
Key Differentiators
Breathable fabric that keeps you cool and comfortable for your intense gaming sessions
Highly durable graphite frame to ensure long-lasting quality even with heavy usage
Adjustable PostureFit SL pads provide lumbar support and stabilize the base of the spine
Impressive 12-Year Warranty that covers virtually everything – including electrical components, casters, pneumatic cylinders, tilts and all moving mechanisms
11. Tesoro
Tesoro's design and manufacturing processes have a foundation on delivering quality, features, design and prices that are unparalleled. Our products are designed using innovative engineering practices to offer users a great experience without compromising quality. By breaking free of the usual patterns and norms, Tesoro is able to bring innovation to unheard levels.
The Tesoro Zone Balance is a well-rounded gaming chair for people who are getting their very first or second gaming chair. This chair comes at a very affordable price of only $299 and will provide you with a very comfortable yet affordable gaming experience.
The gaming chair is made of quality materials such as a steel frame for high durability, PU caster wheels and upholstery that uses good quality faux leather. It is ergonomically designed to give you good back support and includes head and lumbar support cushions for added comfort on your neck and lumbar areas.
The Tesoro Zone Balance also has adjustable features such as 3D adjustable armrests and an adjustable backrest up to 180 degrees for comprehensive spinal support. It uses a Class-4 gas spring for its seat height adjustment. This gaming chair's weight capacity is at 120kg, which is comparable to other more expensive gaming chairs singapore.
Overall, this gaming chair comes at a reasonable price point yet comes packed with good ergonomic design and sturdy steel frame for durability to provide a comfortable gaming experience for you. If you are looking for a value for money gaming chair, this is a good option that you can consider before you shop.
Key Differentiators
Strong steel frame material with 120kg weight capacity
Good quality PU leather used for the upholstery and cold foam padding for the seat base
Incorporates good ergonomic design with adjustable armrest, backrest and headrest
"So is happy with the chair for work and game. Need 2 person and lots of time to assemble"

– purpleflower22
12. Fantech Alpha GC-183
Fantech is a company based in the Philippines (founded in 2009) that designs and sells a wide variety of gaming products such as gaming chairs, keyboards, headphones and many more,
The Fantech Alpha GC-183 is one of the most popular gaming chairs in the gaming world. It comes at a reasonable price point and provides you with a good value for your money.
The chair has an adjustable seat height, armrests that can be adjusted up to 180 degrees and tilt tension control. It also includes padded headrest and lumbar pillow cushions for added comfort while sitting in the chair.
The PU leather upholstery material used on this chair will keep you cool during long hours of intense gaming sessions due to its breathability characteristic and it's easy to clean as well!
Overall, if you're looking for a good quality yet affordable gaming chair, then the Fantech Alpha GC-183 is worth considering.
Key Differentiators
Durable PU Wheels, PU Leather and Full-Length Tilt Mechanism
Class 4 Hydraulic pistons for added stability and safety
Multi-functional tilt mechanism and strong nylon plastic base
13. Respawn
RESPAWN fuses years of ergonomic expertise with gaming to allow everyone to sit at the pinnacle of gaming furniture. RESPAWN is led by a team of furniture industry gamers. Because we are gamers ourselves, we know what gamers need and continue to innovate to meet those needs.
One of the company's signature chairs is the RESPAWN-110, a premium gaming chair with great quality finishing combined with its appealing design and look. It is an all-around solid gaming chair no matter your gaming experience.
This chair is designed for long-time use, whether you work from home or are an avid gamer. It includes a footrest that can be extended to provide additional support while working and a headrest pillow that adjusts to your desired height. Adjust the height of your chair to find a comfortable position, with seating that reclines between 90° and 155°, coupled with infinite locking positions.
RESPAWN-110 has a weight capacity of up to 125kg, and also offers a padded armrest that is adjustable to your preferred level of comfort. The gaming chair also comes with an adjustable lumbar pillow and headrest pillow to suit every gamer's needs.
Key Differentiators
130° reclining control with infinite angle lock
Quality PU Leather with padded armrests and extendable footrest
Adjustable lumbar and headrest pillow included
14. DXRacer
Founded in 2001, DXRacer is a pioneer in gaming chairs. As the leading premium brand of gaming chairs, DXRacer is world-renowned and has been the most trusted name with more than 6 million users worldwide. DXRacer constantly strives for quality and a design that gamers and race car drivers alike can appreciate.
The DXRacer Formula Series is definitely one of the best gaming chairs in Singapore. This gaming chair includes elements of racing design which make it more appealing to gamers.
The PU leather used on this chair will keep you cool during long hours of intense gaming sessions and it's easy to clean as well!
It also has a special curvaceous design with a PU leather upholstery that creates a comfortable and ergonomic sitting experience. This functional gaming chair features seat height adjustment, tilt tension, tilt lock and a 135 degree reclining seat. The seat features a high density memory foam to provide maximum comfort.
This gaming chair also includes a removable head pillow and lumbar pillow for added support and comfort during long hours of competition or gaming session. Its recommended weight capacity is about 95kg so its perfect for gamers in Singapore.
Standing with its glory, overall, the DXRacer Formula Series provides a very comfortable gaming experience at an affordable price point. It has so many great features and also has a 2-year warranty for accessories and a life-time warranty for the frame.
Key Differentiators
Multi tilt mechanism where the backrest can be positioned at any angle from 90 to 135 degrees
High quality breathable fabric
Certified Class 4 Hydraulics for strength
"Sit better. Work harder. Game longer."

– Songren Lim
15. Noblechairs
Noblechairs has global leading gaming chairs that are comfortable, highly ergonomic and aesthetically pleasing.
Inspired by the most exclusive cars in the world, noblechairs combines the latest ergonomics and sports-inspired design for the demanding individual.
The company aims to provide users worldwide with high quality gaming chairs at affordable prices. One of its recommended gaming chair is none other than the Noblechair Hero.
This is a premium gaming and office chair that incorporates high quality real or PU leather (depending on your choice), comfortable high density cold foam upholstery and superior ergonomics.
This gaming chair has an integrated adjustable lumbar support that provides quick and easy adjustability to enable the Hero chair to be customized to the exact requirements of the individual user.
The HERO Series is the largest gaming chair released by Noblechairs with its enlarged backrest and seat area.
The backrest has not only been expanded and been made longer, the seat surface and armrests are both larger too, thereby ensuring they remain in proportion with the rest of the chair.
The memory foam headrest is then combined with the thick cold foam upholstery to make for a unique, all-encompassing comfort.
This chair also has elegant aesthetics and natural curve to give it a really slick look. The HERO has a high quality steel frame to ensure durability and provides a weight support of up to 150kg.
Key Differentiators
Multi functional tilt mechanism where the backrest can be positioned at any angle from 90 to 135 degrees
High quality breathable fabric
Certified Class 4 Hydraulics for strength
16. Nitro Concepts S300 Gaming Chair
Nitro Concepts is a provider of ergonomic and designer office chairs at affordable prices. The team puts a strong emphasis on design, ergonomics as well as functionality. Its chairs are available in a wide variety of different colour combinations, allowing you to choose one that best fits your personality and style.
Thanks to their perfect comfort, hobby gamers and pro-gamers alike can unleash their skills and full potential in maximum comfort.
One of the most popular gaming chairs in Singapore is the Nitro S300 due to its plethora of great features and affordable price point.
This gaming chair Singapore is ergonomic and comfortable for gamers of all types, with adjustable technology targeting different body parts to provide the highest level of comfort. This allows the user to remain comfortable during long hours of gaming sessions.
The Nitro S300 offers a 3D armrest, which can be adjusted to your preferred comfort. With adjustability options for the rocking backrest, for the overall chair height, and for the armrests (which move up and down, forward and backwards, and turn sideways), Nitro brings meaningful options for everybody and makes the S300 the top-of-the-range-model.
Each chair is designed in Germany by their in-house experts and constructed using high-quality materials to ensure durability. The weight capacity of
Overall, the Nitro S300 is one of the best gaming chairs in Singapore to consider. The best thing is that the price is affordable yet it gives you many top quality features that will give you the maximum comfort during your gaming session.
Key Differentiators
Unlimited customization (i.e. armrests, backrests, chair height, etc) that will make it a perfect fit for every user
Top-notch rocking mechanism and comfortable cold foam upholstery
Fresh design and clean
"Quality is great! Experimented with a few chairs before finally landing on this! Fabric is great and comfortable! There were minor scratches that I found on the metal parts but they are not visible as these are under the chair, so they don't bother me. Overall, worth the money! Very happy with purchase! Highly recommend! "

– Shaik D.
17. OSIM
As the world's leading massage chair manufacturer, OSIM offers a range of massage chairs that suit all lifestyles. It has leveraged its over 25 years of experience in the industry to create the uThrone, the world's first gaming massage chair.
The uThrone possesses the patented V-Grip Massage Technology and even immersive built-in Bluetooth speakers to enhance your gaming experience.
This chair also allows you to recline up to 145 degrees, and has a completely adjustable back and lumbar support to fit your frame.
Overall, the uThrone has really unique features such as its massage technology, but the price point is on the higher end.
Key Differentiators
Patented V-Grip Massage Technology
Immersive built-in Bluetooth speakers
High quality as indicated by the numerous quality certifications it has achieved such as BIMFA standard and BOKEN certification.
"Went to take a look at their Osim uThrone at their IMM outlet. Was attended to by a sales associate Minnie. Bubbly personality and attentive without being pushy. Gave us lots of information!"

– Roland Seh
18. SADES
SADES specializes in the production of high quality chairs for gamers, designed to provide maximum comfort and support during long hours of intense gameplay.
The SADES Pegasus is one such example, and it has many great features which make it stand out from other models. The chair's ergonomic design ensures that your back remains supported while you game, reducing the risk of injury or discomfort from prolonged use.
It also boasts an adjustable headrest which can be adjusted according to your preferences; this allows you to play without feeling any strain on your neck or back.
As one of the best gaming chairs in Singapore, the Pegasus has 4D armrests that moves up and down, forwards and backwards as well as sideways, allowing you to find a position that suits you best.
In addition, the chair has a high quality aluminium base which provides the strength and durability needed to ensure this gaming chair remains functional for years to come.
Another great thing about the SADES Pegasus is its soft PU leather, high backrest, reasonable size and detachable headrest and lumbar cushion. The maximum weight capacity of SADES Pegasus is 180kg.
Key Differentiators
4D armrests that are easily adjustable to suit your preferred customizations
Sturdy 5-Star aluminum base that has the max load of 1300kg, making it more durable and long-lasting as compared to its nylon-based counterpart
Ease of assembly with key components already pre-installed. You just need to follow the simple instructions to assemble this gaming chair
19. ASUS
ASUS is a highly popular Taiwanese multinational computer hardware and electronics company that manufactures desktops, laptops, notebooks, netbooks, mobile phones (including smart phones), monitors and video cards.
Unsurprisingly, they have also expanded into the popular market of gaming chairs in Singapore. The ROG Chariot Core Gaming Chair is inspired by the racing car style and incorporates many great features such as memory foam lumbar support, 4D armrests, tilt mechanism and durable Class 4 Gas Lift for high quality seat height adjustment.
ROG Chariot Gaming Chair evokes the style and sensation of taking the driving seat of high-end racing car, with integrated Aura RGB illumination for pole-position aesthetics.
You can check out the following installation video of the ROG Chariot Gaming Chair:
With high-density foam headrest, memory-foam lumbar support, breathable PU leather, 4D-adjustable armrests, lockable tilt mechanism and highly-durable components, Chariot Core cossets you in safe, comfortable style – and empowers you to project your own personality in any gaming arena.
If you're looking for some of the best gaming chairs in Singapore, the Chariot Core is definitely something that you need to consider.
Key Differentiators
4D Adjustable armrests with a 145° recline for the backrest
Highly ergonomic design with memory foam lumbar support
Nice aesthetic design inspired by popular racing car styles
"Professional and very customer centric. Had minor tweaking (stripped screw removal for driveway) on an out of warranty system and the service I got was quick."

– Shuhul Kaul
20. VHive Evo Gaming Chair
As one of the more affordable gaming chairs in Singapore, the VHIVE Evo gaming chair is a good option if you want an amazing gaming experience without breaking the bank. The chair comes with adjustable features to allow for customisation. It also uses a breathable mesh fabric construction which doesn't trap heat in and keeps you comfortable.
The VHIVE Evo gaming chair has a maximum weight capacity of 80kg. The wheels also have the Safety Break Castor, an internal brake feature that prevents it from moving on its own when not in use. This is a great safety feature for users.
Key Differentiators:
Affordable pricing yet stylish design
Chrome base and safety break nylon castors
Head and armrest adjustment mechanism
21. Cooler Master Caliber R2
The Cooler Master Caliber R2 Gaming Chair is made from a high-quality, modifiable material such as PU leather and can comfortably support you for hours on end. When you need some time to recharge, all you have to do is recline the seat to your desired level for maximum comfort.
This chair features breathable PU leather and layer foam, coupled with soft-padded 2D armrests with omni directional adjustments. It has a larger headrest and lumbar pillow (as compared to other gaming chairs), and allows the user to recline between 90 – 180 degrees. The Cooler Master Caliber R2 also has a Class 4 gas lift for its seat height adjustment, and a solid and strong metal base with 60mm casters.
Key Differentiators:
Durable and strong frame that is built to last and can perform under all conditions. It has a maximum load of 150kg.
High quality materials used, such as the perforated breathable premium PU to increase ventilation and circulation to help reduce heat build-up.
Fitted with a fully cast steel base sporting 5 smooth rolling race style casters.
22. Playseat L33T Gaming Chair
A gaming chair for all gamers, the Playseat L33T Gaming Chair is ergonomically designed to keep you comfortable while playing any type of game. This chair is crafted with the perfect combination of soft yet sturdy foam to provide comfort for your back during your long gaming sessions.
The Playseat L33T Gaming Chair is beneficial for gamers because it offers a reclining backrest with 2 different positions. The chair can be in an upright position to provide support during the gaming session, or it can be reclined backwards into a flat, relaxing position.
The armrests on these gaming chairs are highly adjustable, allowing you to position them upwards and downwards, left to right, and forwards and backwards. This gaming chair even has a high-quality gas lift system for optimal height alignment, giving you the flexibility of raising or lowering your seat base for the best comfort.
Key Differentiators:
Perfect mixed foam: soft enough to help you last hours of gaming, while being sturdy enough to provide good support to your back and lumbar areeas.
Patented and unique lightweight metal foot design that have extra large wheels for smooth rolling as well as a sturdy rim as the footrest
Unique and patented belt hole design combined with its frame well designed and prepared for any future upgrades to the chair.
23. JIJI.SG
When you're looking for the best gaming chairs in Singapore, there's no shortage of options. But Jiji offers something different to other companies: a wide range gaming chairs in Singapore at very affordable prices.
The PEGASI Gaming Chair with Leg Rest is one gaming chair in Singapore that you can consider. This chair features a comfortable PU leather and Nylon foot rest. It has an SGS certified air bar for its chair hydraulic system.
Its modern and sophisticated appearance offer a professional look that will suit both your home and office. Its design includes smooth contours and adjustable seat settings that allow for all-day comfort. This product also has a 1-year warranty to give you the peace of mind if you decide to purchase.
If you want great value without sacrificing too much on style or comfort, the PEGASI Gaming Chair from JIJI is a good option.
Key Differentiators:
Affordable pricing with nice design and aesthetics
Leg rest feature incorporated into the chair
Headrest pillow and Lumbar pillow provided to give neck, back and lumbar support
"Jiji repaired my broken chair at ZERO cost, even though it was veering outside of the warranty period. The new chair is flawless and has given me no trouble at all. We've also bought two computer tables from them as well as another chair in a different colour, all deliveries have been smooth and on-time, and customer support is always pleasant and responsive. 5/5 strong recommend."

– Bishmer Sekaran
24. X Rocker Pro Series H3 Gaming Chair
The X Rocker Pro H3 Gaming Chair is perfect for the hardcore gamer. Play all day on this durable and ergonomic gaming chair, complete with vibration from the built in speakers and a headrest for maximum comfort. This video game rocker features durable upholstery grade vinyl that is easily cleaned and will withstand intense gaming. Users can connect with multiple chairs for the ultimate experience.
The Pro Series H3 includes vibration motors that will sync with your audio's bass tones to create an amazingly powerful full-body sensation keeping you entertained for hours.
This gaming chair in Singapore features a durable upholstery grade vinyl material that can be cleaned easily and will be able to withstand heavy gaming usage.
It is also compatible with a variety of gaming consoles such as Xbox, PlayStation, Nintendo Wii, and more. This is one of the more unique gaming chairs in Singapore can take a look at!
Key Differentiators:
Four forward-facing speakers, audio force modulation technology, and ported power subwoofers into the open space inside the chair for full immersion in your game, movie, or music.
Additional vibration motors that sync with your audio's bass tones
Able to connect with multiple chairs so other X-Rockers can join in multi-game mode
25. FLOGUOR 360 Degree Swivel Gaming Floor Chair
This 6-position adjustable lazy sofa is designed for small spaces. It is easy to use when chatting or playing games, and can be used for a vareity of occasions.
Because it is adjustable, it can be flattened easily for storage or transport. You can also easily adjust this chair into different positions – use it as a floor sitting chair at 90 degrees to game or work, or at a flatter angle when chilling to watch movies.
This gaming chair in Singapore uses a high density sponge and soft surface fabric that provides good durability and comfort. You will also not need to assemble any parts – just open the packaging after purchasing it and you can start using it immediately! It's a great choice if you are looking for a gaming chair in Singapore that is inexpensive and comfortable.
Key Differentiators
Easily adjustable settings
Can be used for both long gaming sessions and work sessions
Machine washable design, featuring a zipper design that does not affect the aesthetics and is easy to change and clean
"My son love this chair so much! It's great for gaming, watching TV, or just relaxing! Loves that it reclines and folds down. And there is no need to install, you can use it immediately after you receiving it. Great purchase!!"

– Cynthia
26. AUKEY GC-A01
The AUKEY GC-A01 aims to provide the most comfortable gaming experience possible, combining excellent quality and comfort design.
The chair is designed with an ergonomic structure that includes a body-hugging backrest, reinforced steel frame, and additional headrest to improve your posture and relieve any strain on your spine.
The chair has excellent lumbar support and dense formed seat cushions to ensure that there is a perfect balance between comfort and support.
With its comprehensive set of ergonomic attributes, it's hard to believe that the gaming chair is only $290 or less! You may also make use of it as an office chair for the sake of convenience and efficiency.
Key Differentiators
Ergonomic Design
Multiple Function
Premium Materials
"Absolutely exceeded all expectations. More than reasonably priced for the quality. Admins are very kind and customer service was top notch. Delivery was received really fast and was heavily padded so no damga9 was done to the chair during delivery. Overall great experience and will definitely recommend it"

Devansh
27. Razer Iskur Gaming-Chair
We're eager to introduce you to the Razer Iskur Gaming Chair, which is both comfortable and aesthetically pleasing.
You will not be leaving your seat anytime soon while sitting on the extremely comfy Razer Iskur Gaming Chair.
It also has an attractive design and slim profile, which make it ideal for long gaming sessions on the go.
The ergonomic lumbar support included with Razer Iskur includes an adjustable curve to perfectly fit your spine. This can assist in providing highly effective back support when playing for extended periods of time.
It also includes an adjustable buckle that makes it much more comfortable to use.
Furthermore, its multi-layered synthetic leather is extremely resilient. Not to mention the firm cushions that may mold to suit any form.
This makes the Razer Iskur Gaming Chair one of the most popular gaming chair and office chair in Singapore.
Key Differentiators
Fully sculpted lumbar support
Multi-layered synthetic leather
High density foam cushions
"The Iskur feels a lot better than some others under 200-300.00ish gaming chair. The lumbar support is superb and the chair feel very sturdy except for the height adjustment handle. The height adjustment handle is very loose. I had to pull the handle like 2-3cm before I can feel the tension. Otherwise I think Iskur is a good investment for the long run."

Alan Wong
28. ErgoEdge ErgoTune Supreme
The gaming chair market is now increasingly diversified, with many different designs, styles, and manufacturers available. Ergotune is one of the latest entrants to this crowded industry that's looking to impress with a more understated design. The Ergotune Supreme won't look out of place in your most kitted-out gaming setup, with its bright colors and sleek design. Its lightweight nature, breathable mesh fabric, and sweat-wicking polyester make it ideal for use in hot and humid climates.
Key Differentiators
11 adjustment points
Fits wide range of body types
Built to last 12+ years
"This chair has been nothing but amazing. At first, it seems quite confusing. However, after some time, it gets easier and you will find that this chair really helps you with your posture. At the same time, it really is cooling. I have not sweat in this Singapore weather even after sitting long hours. Its really great and I love everything about it."

MUHAMMAD H.
29. Anda Seat Assassin Series
The Assassin series from Anda Seat is a solid choice for individuals who want a firmer seat. The gaming chair features a full-steel frame with tension support bands and 2-layer high-density memory foam that molds to your body while providing solid stability.
The high-backed chair features a race car seat design, with the PVC leather covering noted for durability, stain and scratch resistance. It has twin 2D adjustable armrests (up and down), adjustable seat height, and a backrest recline of up to 160 degrees.
Key Differentiators
Adjustable lumbar support and neck pillows
PVC leather covering
"value for money. seat is comfortable and wide. not suitable for those who prefers a snugged fit. courier communication is excellent as mentioned by other buyers. very polite customer service who checks and notify the delivery. delivery within 2 days."

WINSTON O.
30. Arozzi Mezzo V2 Gaming Chair
When you're sitting down, it doesn't necessarily mean you're resting; not when you've been playing for five hours. Fortunately, taking a quick stretch between games is simple with the Mezzo V2 gaming chair's full 165-degree recline angle. Twitchy gamers will like the built-in 12 degree spring tilt, which is excellent for soothing away the anxiety while you wait to respawn.
Arozzi's entry chair, for extra comfort, has padded armrests that can be adjusted up and down with the press of a button, lumbar and headrest pillows, moulded foam filling, and adjustable seat height all finished in soft-touch PU leather for a pleasant feel.
Key Differentiators
Upgraded intermediate ergonomic chair
New aesthetics
More soft foam for extra comfort
"The online ordering process was easy, all information and receipts emailed in good time and the order arrived on time."

Gerardine K.
31. DXRacer Pink Paw Print Conventional Gaming Chair
This gaming chair is ideal for gamers with smaller frames. Its small stature is complemented by a lovely and colorful design. The DXRacer Pink Paw Print Conventional gaming chair is also one of the most inexpensive chairs on our list, making it a great option for budget-conscious shoppers. The steel frame and high-density foam filling make it a surprisingly comfortable and supportive chair.
Key Differentiators
Stain resistant PVC leather
3D adjustable armrests
135 degree angle adjuster
"I'm WFH so having a comfortable chair means the world to me. For a very long time I had a knock-off and it led to severe neck and shoulder pain. It's been a few days of having this chair, and already I've noticed a huge difference. I spend hours and hours of researching, about to spend waaaaaaaaaaaay too much on an 'ergonomic' chair, but I'm so happy I went with this instead; not to mention it's pink, hello? Anyways. 100p recommended if you're not entirely sure if this is the one for you. It fits my body perfectly, I'm 5'4 and 160lb."

Julia Endress
32. HF Type A 4D Gaming Chair
This gaming chair has an ergonomic design and a durable construction that can support a weight of up to 80 kg. It can assist you in avoiding back pain and other problems, such as soreness, after long gaming sessions.
The seat and backrest are both adjustable to ensure that you're always comfortable while gaming.
The HF Type A 4D gaming chair also features a built-in lumbar support pillow and a headrest pillow. These two pillows can be adjusted to provide you with the perfect degree of support.
The gaming chair also has an adjustable seat height, so you can always find the perfect position for gaming.
What's great is it's affordable pricing and value for money, making it one of the more affordable gaming chairs in Singapore.
Key Differentiators
Able to transform into a reclining chair
PU Leather with Foam Cushion
Ergonomic design sturdy and durable
"love the chair!! its super comfy. the chair came already assembled and the seller also notified one day before delivery. prior to delivery, the delivery man also called me in advance. really recommend this seller!"

j*****h
33. AKRacing Opal
If you're searching for the greatest gaming chairs with a minimalist design, the AKRacing Opal gaming chair is definitely worth considering.
The AKRacing Opal gaming chair is modest and elegant, despite the fact that some of the greatest gaming chairs are flashy in color and feature unusual features.
The AKRacing Opal gaming chair's cold-moulded foam full 180-degree reclining tilt provides both comfort and elegance.
This causes it to be a great chair for taking breaks throughout long hours of gaming, which is why it's one of the finest gaming chairs in Singapore!
Key Differentiators
High-quality materials
3D Adjustable Armrest
Class-4 gas lift
"Product received as described, delivery fast , tested the chair very happy with my purchase , friendly seller. Highly recommend"

t*****1
34. Armaggeddon Starship IV
Do you worry that your favorite gaming chair in Singapore will get out of shape with time? Give the Armaggeddon Starship IV a shot, since it makes use of its unique weapon — cold-cure foam. Don't be persuaded by its reputation as a low-cost gaming chair in Singapore. The Starship IV doesn't hold back when it comes to exceeding your expectations for comfort and ergonomics. Cold-cure foam is moulded to a unique form and has twice the density of ordinary foam. This support and compressive strength will be enhanced by including it in the backrest and seat cushion of the Starship IV.
Key Differentiators
Premium PU Leather | Natural Styling
Premium Upholstery
Cold Cure Moulded High Density Foam
"Received chair promptly although there's some issues but seller and CS got it settled for me very fast, just within 1 working day. Seller is very helpful and responsible too Kudo to both seller and CS, will definitely recommend to friends. And not forgetting the free box of masks, thanks seller☺️"

faith_isa
Gaming Chair Singapore
Do you now have an idea as to which brand of gaming chair Singapore to get? I sure hope that our guide on the Best Gaming Chairs in Singapore has helped you purchase a better chair to support your gamer back.
Since choosing the right gaming chairs help to reduce the risks of future complications, you should take it as good investment.
Selecting one of the best gaming chairs in Singapore from our comprehensive list will provide you with the great comfort and useful ergonomic features for both your gaming and work needs.
Want more interesting topics to read? Check out some of our other interesting and useful articles below:
Frequently Asked Questions (FAQ)
If you have any questions about gaming chairs in Singapore, you can refer to the frequently asked questions (FAQ) about the best gaming chairs in Singapore below:
Additional Useful Articles
If you are looking for other useful guides and articles about gaming chairs in Singapore, check them out below: