Gas Stove Singapore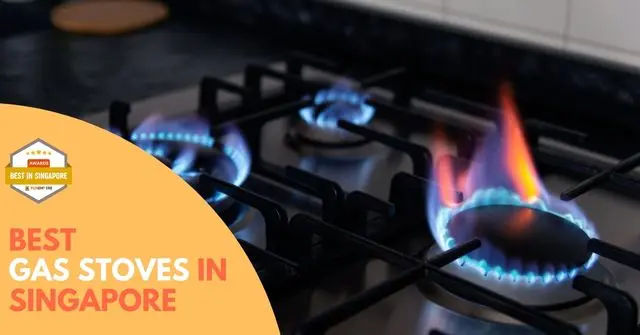 Looking for the best gas stove in Singapore? Look no further!
We've compiled a list of the 10 best gas stoves on the market right now. Also, we will discuss some of the best gas stoves on the market and why you should consider buying one. Whether you're looking for a budget option or something more high-end, we've got you covered. Keep reading to learn more about these amazing appliances and find the perfect one for your home!
We'll also provide a buyer's guide to help you choose the right gas stove for your home!
Best Gas Stove Singapore
1. Aerogaz AZ-983SF
The stainless steel Aerogaz AZ-983SF cooker hob is a highly specialized appliance that can work for your home cooking needs. It has two burners with a 9.0kW gas consumption and a piezoelectric ignition.
This durable gas stove is ideal for both household and commercial use. You may now swiftly prepare your food with its significant gas input, which is perfect if you're in a hurry. It also fits in your kitchen perfectly and doesn't take up a lot of space.
Key Differentiators
Gas Type: G30 ( LPG )
Rated Pressure: 28mbar
Gas Consumption: ∑Qn 9.6kW.700g.h
Dimension: W170 x L370 x H120mm
2. Elba EGC836WH
| | |
| --- | --- |
| Key Features | Standing Cooker |
| Where to Buy | Click Here |
| Price | S$939 |
We've found the greatest gas stove in Singapore if you already have a gas range that you love but would like to update. Along with being a fantastic gas stove, the Elba EGC836WH also has a 37-liter gas oven with remarkable heat capabilities.
The Elba EGC836WH gas range is the best offer on the market if you're seeking for a gas stove with an oven. This large stove with three gas burners functioned flawlessly and was very easy to use. Your cooking task will be simple thanks to the stovetop's 10 Levels of temperature settings and heat range of up to 285 C.
Key Differentiators
1 Triple ring burner 3.50 kW
1 Rapid burner 3.00 kW
1 Semi-rapid burner 1.75 kW
With flame failure safety device
3. Tecno TTCF8SV
With this Tecno model, you can purchase a premium two-burner gas stove for a very affordable price. The Tecno TTCF8SV demonstrates that you don't require a large budget to buy the top gas stove in Singapore.
The polished stainless steel body of this potent double burner gas stove makes it easier to clean off oil and other food residues. Even though it is the least expensive brand on our list, it is unquestionably more rust-resistant.
Key Differentiators
5 point pan/ wok support
Individual drip tray
One star burner support
Instant ignition safety valve
4. Rinnai RB-2GI
| | |
| --- | --- |
| Key Features | BURNER TEMPERED GLASS HOB |
| Where to Buy | Click Here |
| Price | $800.00 |
The Rinnai RB-2GI is a superb 2-burner gas stove that you can get in Singapore. Among its characteristics are accurate flame control, powerful, customizable, and even heating, and the ideal environment for preparing your favorite foods.
Comparing the Inner Flame burner to conventional gas hobs, which only reach a 40% heat efficiency, the Inner Flame burner uses less gas and cooks food faster. More energy can be saved by warming the cookware from the core first and avoiding heat loss.
Key Differentiators
SAFETY DEVICE
INNER FLAME
DIMENSION: W780 X D466 X H66MM
5. Elba Elio65-445D1
Due to its amazing offers, the Elba Elio 65-445D1 would make an excellent kitchen partner. It includes a single triple-ring burner with a gas input of 3.65kW, two semi-rapid burners with gas inputs of 1.75kW each, and an auxiliary burner with a gas input of 1kW, giving it a total of four powerful burners for simultaneously cooking many dishes.
Because it can run at a high capacity while frequently costing below than half as much as 5-burner gas stoves, this 4-burner gas stove stands out from the competitors. Its stainless steel construction attests to its sturdy design and capacity to serve your family for a very long time.
Key Differentiators
Electric ignition
With flame failure devices
Easy to reach front controls
6. Bertazzoni RI64C61BX
| | |
| --- | --- |
| Key Features | Free Standing Cooker |
| Where to Buy | Click Here |
| Price | $3,856.00 |
The stainless steel countertop of the Bertazzoni RI64C61BX single-oven cooker features a high-performance triple-ring burner with high precision from low simmer to maximum output. If you're looking for a free-standing gas stove, this is the best one currently available.
Your kitchen will have a dependable, classic modern look with this gas stove. The classic, clean lines and assured elegance reflect the ease of use and superior engineering. Nine fan-assisted modes are available on the electric oven, which is quite useful when cooking. The triple-glass oven door provides a lot of inside area that may be removed.
Key Differentiators
Single-oven cooker
Stainless steel
High performance
Customer Testimonial
Brought this as a surprise for my wife and she love this very much. This stand alone cooker and hood is a must have in the Kitchen. It blends in with my kitchen very well.

M
7. Brandt TG1783XPB/XLB
| | |
| --- | --- |
| Key Features | 3 ZONES GAS HOB |
| Where to Buy | Click Here |
| Price | SGD 510.00 |
Because of its gleaming stainless steel surface, the Brandt TG1783XPB/XLB is the greatest gas stove in Singapore that you can get and can survive all of your culinary activities.
Three different gas burners, including one extra gas burner for delicate cooking or small pans, are part of this hob's equipment. One hand is all that is needed to operate an electronic ignition, making it convenient and easy. There is no need for lighters or matches.
Key Differentiators
Cooking with convenience
Easy to use
Safe cooking
8. Frigidaire Gallery GCRG3060A
The Frigidaire Gallery GCRG3060A's construction feels almost as strong as that of the most popular gas stoves in the island, and it also boasts a third oven rack and a number pad for simpler oven control. Since the Frigidaire cooktop's second-strongest burner isn't very powerful and is located in the rear row, we don't think it is as adaptable, though some people might prefer this layout to keep hot pots away from kids.
Key Differentiators
Make healthier and delicious meals with Air Fry
Faster, more even baking results with True Convection
SpaceWise® Triple Expandable element
9. GE Adora JGB735
The Adora's cooktop is about as nice as it gets for a little over $1,000. It contains a pair of power burners that are larger than you often see, both of which are placed in the front row where they are simple to access and have continuous grates covering them. The oven has enough space to accommodate a large 15-by-20-inch baking stone or a heavy 26-pound turkey without difficulty. For faster, crispier, more uniform cooking, it also offers a convection function and a high-heat cleaning option.
Key Differentiators
No Preheat Air Fry
Edge-to-edge cooktop
Integrated griddle
10. LSGL6337F Smart Slide-In Gas Range
| | |
| --- | --- |
| Key Features | 30 Inch Smart Slide-in Gas Range with 5 Sealed Burners |
| Where to Buy | Click Here |
| Price | $2,495.00 |
With added features like air fry, air sous vide, and even an InstaView window that lets you tap twice and see what's cooking inside without opening the door, this smart, feature-rich gas range is an improvement over the now-discontinued previous winner, the LG LSG4511ST. Like its predecessor, this 30-inch LG range has a spacious ProBake convection oven.
This range comprises knobs that are simple to use (and see) and a slanted panel with a digital display. Also, consumers particularly enjoy LG's "smart diagnosis" feature, which sends data directly to the LG Customer Information Center from your phone and allows for stress-free troubleshooting.
Key Differentiators
EasyClean Technology
Probake Convection
InstaView
Air Fry
Gas Stove Singapore
So there you have it, our best gas stoves in Singapore! We hope that this article has been helpful in your search for the perfect stove for your kitchen. Gas stoves offer a number of advantages over electric stoves, including more precise temperature control and faster cooking times. However, they can also be more expensive to purchase and install.
Ultimately, the best stove for your kitchen will be the one that meets your specific needs and budget. Thanks for reading!
Interested in more articles to read? Check out more of our fun articles down below:
Frequently Asked Questions
Additional Useful Articles
If you are looking for other useful guides and articles about Best Gas Stoves in Singapore, check them out below: