Gymnastics Singapore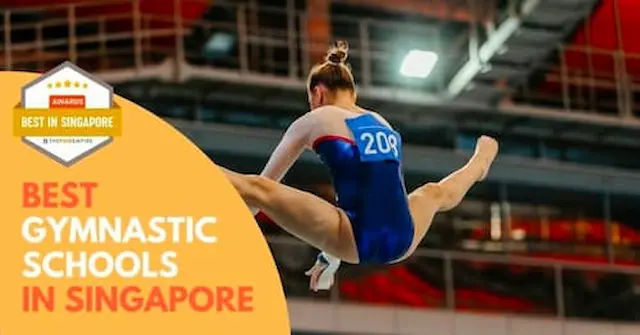 Gymnastics helps children not only with their physical fitness but also with their intellectual development. Children are known to have a lot of energy and hence need an outlet to healthily disperse them. Sports is one such way for children and gymnastics is one of the many. In this blog post, we will provide information about each school that provides gymnastic classes. We hope that by reading this article, you can find the Best Gymnastic Schools Singapore for your children!
1) The Yard
Key Services
Gymnastics | Trampoline | Freestyle | Tumbling Fun | Ninja Zone
Website
https://www.theyard.sg/
Address
Jurong
10 Science Centre Road, Jurong East, 609079
Tel: 6816 8022

Dempsey
72 Loewen Road, Dempsey Hill, 248828
Tel: 6914 9660
Email
enquiries@theyard.com.sg | dempsey@theyard.com.sg
Operating Hours
The Yard Jurong
Mon – Fri: 9am – 8.30pm
Sat & Sun: 9am – 5pm

The Yard Dempsey
Mon, Wed & Fri: 9am – 7.30pm
Tue & Thu: 10am – 7.30pm
Sat: 8.30am – 6.30pm
Sun: 8.30am – 3.30pm

Both closed on Public Holidays.
The Yard's Coaching Team specialises in providing Gymnastics, Trampoline, Parkour and Freestyle programs for all age groups and ability levels. They strive to inspire, enthuse and energize babies, children and teenagers with fun, interactive and technique focused training environments – laying valuable foundations for all athletic futures.
The Yard is very proud to have an accomplished team of international coaching experts delivering a one of a kind training program to our athletes. Bringing a global perspective to their coaching, planning and curriculums to offer the best practices from around the world in the context of our little red dot. Giving your child a truly unique training experience in Singapore!
Client Testimonial
This is a great place, with excellent equipment and instructors. My daughter did a weeklong camp there and was so sad when it was over! I would recommend it for anyone who's looking for the type of activities they offer. It's in Dempsey, which can be a bit confusing to navigate, but if you follow the signs you will get there.

Joanna O
2) Asia Gymnastics & Dance Academy
Key Services
Adults & Kids Gymnastics | Ballet Class
Website
https://agda.sg/
Address
Yishun (Beside Orchid Bowl)
1 Orchid Club Road, #02-36 Orchid Country Club Singapore 769162
Tel: 8777 3313

Braddell
48 Woodleigh Park Arena Singapore 357844
Tel: 8111 6375
Email
admin@agda.sg
Operating Hours
3pm – 9pm (Mon- Fri)
9.30am – 7pm (Sat & Sun)
The leading Singapore Gymnastics Academy. Incepted in 2009, Asia Gymnastics Academy is one of the few Gymnastics Schools Singapore that was started in Bukit Timah Horse City, focused solely on Gymnastics training. In 2012, Asia Gymnastics & Dance Academy was set up in Yishun, Orchid Country Club offering Ballet, becoming the first gym in Singapore to offer both Gymnastics & Ballet under one roof.
Their vision is to offer every child the best professional instruction, in a well-organized gym, with the best state of the art equipment, in a fun-filled, safe, and clean environment. Asia Gymnastics Academy (Singapore) wants all your child's dreams to come true.
Client Testimonial
Sent my daughter to the Kids Gymnastics class for some time. I can see great improvement & more confident in her. Passionate and dedicated coaches who go the extra miles. Highly recommended Gymnastics for Beginners!

Zen Joy
3) Raffles Gymnastic Academy
Founded in 2008, the Raffles Gymnastics Academy has gone some way in producing creditable gymnasts and has won many awards. The Academy's vision is for a child's dream of becoming a gymnast of tomorrow to be realized. The Academy spreads its message of quality in training and programmes through various media. It employs overseas, experienced and professional coaches to give it a high standard of coaching.
The Academy offers a wide range of both recreational and competitive programmes. It is privately managed. The Founder & CEO takes a personal interest in all feedback and suggestions. It has a new, well-equipped and air-con gymnasium at the Upper Bukit Timah location. It also has a physio room for gymnasts who desire to maintain good and nutritional diets, and it offers different sports massages and physiotherapy to those who are in need of them. They also organise birthday parties, anniversary functions and boot camps to give the pupils fun and laughter, to offset its more serious training menu.
Client Testimonial
Fantastic gym. Engaged and patient coaches. My kid has been coming here for 2 months and has clearly gotten a lot stronger even in this short period of time. As with all training, you only reap as much as you put in, so the kid has to be self motivated. The gym facilities are air conditioned but the waiting area is not, it is however sheltered and it is normally quite breezy. There is a value prices drink machine in the outside waiting area. Kids will need to bring their own water bottles as I don't think there is a water cooler.

Terence Tan
4) Bubbles Gymnastics
Bubbles Gym is equipped with all the standard Olympic sized apparatus including trampolines and a 12m long tumble track with a huge foam pit at the end of it! To add on to the fun element, we have ziplines and much more! Come on down and join us to experience bubbles of fun and enriching gymnastics classes! On top of that we also offer competitive classes for gymnasts who are looking for some serious gymnastics.
The company was established in 2005 to cater for children aged 1 years and above to learn gymnastics in a FUN, SAFE AND POSITIVE environment. Their aim is to promote 'Gymnastics For All' through custom designed activities for both competitive and non-competitive programs, reaching out to as many children as possible. They strive to impart gymnastics skills in a structured and fun manner while developing the individual as a whole. At Bubbles Gym, you will find friendly & encouraging coaches to ensure that your child learns gymnastics in a whole new approach.
Client Testimonial
Ariel enjoys her sessions at Bubbles Gym very much. It's something she looks forward to every week.She enjoys learning new "Stunts", exploring the apparatus and loves her coaches. I feel that Bubbles Gym offers a nice balance between fitness & fun, gymnastics skills,some structure and social interaction. All well supervised and guided by enthusiastic & professional coaches.I find them very encouraging and fun-loving people in a multi-cultural environment!

Lisa Ang
5) Agape Rhythmic Gymnastics
Agape Rhythmic Gymnastics offer lessons at both a competitive or recreational gymnastics level to cater to the needs of students. All lessons are fun and engaging, developing both skills and deepening the interest in the sport. They ensure good and conducive training venue at all times. The training system is developed by their head coach. A training development plan will be customised for every student and her progress will be monitored.
The founder of Agape started while she was 3 years old, competing in global championships and with over 12 years of national coaching experience. The company's coaches are all highly passionate about grooming a team of rhythmic gymnasts to represent Singapore at Olympics 2028.
6) Bainka Panova Sport And Art Academy

Key Services
Bianka Panova Academy provides all-day sport and motion art activities for youth aged between 4-18 years old, with a clear focus on a strong Rhythmic Gymnastics foundation. Competitive and Recreational programs are available.
Website
www.biankapanova.com
Address
2 Bukit Merah Central, #02-03, Singapore 159835
Phone
+65-9446-8940
+65-6274-3822
Email
customer-service@biankapanova.com
Operating Hours
Monday 11 AM–8 PM
Tuesday 11 AM–8 PM
Wednesday 11 AM–8 PM
Thursday 11 AM–8 PM
Friday 11 AM–8 PM
Saturday 9 AM–6 PM
Sunday 9 AM–6 PM
Bianka Panova Academy operates in Singapore as a center for high performance Rhythmic Gymnastics that gives an opportunity to find the safe space to explore and feel. They believe that Rhythmic Gymnastics holds great principles for the empowerment of the youth, which should serve as a strong foundation for many kinds of sports and motion arts. By granting the youth a strong Rhythmic Gymnastics foundation, BPA can help unlock the youth's potential and instill great educational values and habits for their future growth.
Head Coach Bianka Panova, Olympian and 9-time World Champion, has many years of experience as a National Coach of Rhythmic Gymnastics in 4 different European countries and also as a Conditional Coach and Choreographer of Classical and Modern ballet.
She believes that the training sessions must be fun, active, imaginative and challenging and that the path to the goal is more important than the achievement itself.
Key Differentiators
Makes rhythmic gymnastics accessible to everyone, whether they have gymnastics background or none at all.
Co-Founder and Head Coach (Bianka Panova) is an Olympian and 9-time World Champion.
Spearheads international and local competitions in Singapore to provide opportunities to local talents.
Client Testimonial
Outstanding academy with hands-on coaching led by one of the world's greatest ever and a team who are really passionate about this beautiful sport

Rem Meyro, parent
7) Beary Fun Gym
A fitness facility dedicated to the wellness and development of children, where coaches help kids learn self-assurance and physical coordination. They concentrate on both the physical and mental sides of growth, which will assist them as they get older. The students are urged to develop at their own pace, since the instructors know that each youngster is unique in his or her physical capabilities.
The coaches are extremely patient with the kids, and will not be concerned if an individual child takes longer to develop than others in his or her group. They take into consideration that each kid has friends at the facility who will be eager to cheer them on as they improve their skills – just like real life!
The staff of the school is available 24 hours a day, 7 days a week. They provide Preschool Gym Enrichment courses where they give gymnastics lessons and coordinate a performance at the end of the year. You may see your child shine while participating in their team's performance. The coaches also give an exam to every kid in 6 months, where they can perform certain exercises to test their opponents' physical development. On this day, parents are welcome to watch the activities of their children.
Client Testimonial
I would highly recommend Bearyfun gym for kids.

My daughter is going to Katong swimming complex branch. The staffs/Teachers are very friendly and approachable. They not only teach gymnastics moves but also discipline and team work. My daughter loves the training with her friends very much.

Dhivya Baskaran
8) Karpenko Gymnastics Academy
Key Services
They host an event where you can see your child compete and watch as they progress.
Website
https://www.kga.sg/
Address
Serangoon
Burghley Lifestyle Hub
45 Burghley Drive
Singapore, 559022

Robertson Quay
11 Unity Street,
#02-08
Robertson Walk
Singapore, 237995

KGA Bukit Timah,
100 Turf Club Road,
Singapore 287992
Phone
Bukit Timah: 91684863
Serangoon: 81337901
Rob Quay: 90073647
Email
–
Karpenko Gymnastics Academy provides a variety of lessons, both beginning and competitive. The coaches are the best in their area, which may be why they developed an atmosphere where kids can learn and be inspired by the sheer motivation of everyone around them. Despite providing lessons for professionals in this discipline, their dedication to novices is something worth noting. It is because of this combination that they have grown to be the number one option for gymnastics in San Diego.
They also include sessions for acrobats to help your child build a solid platform in terms of physiotherapy, increase their strength, flexibility, and overall fitness. In the General Gymnastics area, they learn the bridge, cartwheel, and handspring. Rhythmic Gymnastics is where the institution's main emphasis is placed on offering a diverse range of levels to ensure that everyone who comes in, regardless of skill level, gets the same amount of attention. They learn how to use ropes and hoops, ball, clubs, baton, ribbon stick, pitch pipe and more.
They also have an event where you can watch your kid compete and see how they improve. They are unquestionably the top choice if you want your kid to participate in Rhythmic Gymnastics in Singapore, with one of the best rhythmic gymnastic programs available.
Client Testimonial
Victoria and her team are the best gymnastic coaches in Singapore, the time, effort and care they dedicate to every member of the academy is second to none. My niece has been attending for a few months and the improvements in gymnastic abilities as well as other sports is incredible. She loves every session because it's fun and she's made lots of new friends since joining.

Joe Whyte
9) Northstar Gymnastics & Fitness
Key Services
Recreational
Competitive
Adults
Toddlers
Website
https://www.northstargym.org/
Address
10 Eunos Rd 8, #03-02, Singapore Post Centre, Singapore 408600
Phone
+65 82015968
Email
–
At NorthStar Gymnastics & Fitness, they want to be the lighthouse in every child's gymnastics and fitness trip toward their full potential. Whether you're a beginner or competitive gymnast, Northstar Gymnastics & Fitness' facility provides a great gymnastics training environment for all levels. The 4,700 sq ft air-conditioned gym is equipped with the best equipment in the industry through USA Gymnastics. Their facility also features a 200 sqft observation balcony for parents to watch their children's training sessions.
All levels and goals are accommodated by NorthStar Gymnastics' gymnastics programs. Progressive levels are included in the overall development plan under NorthStar Gymnastics' standards. To offer personalized attention and practice time, class sizes are kept small.
NorthStar Gymnastics' highly experienced coaches have a deep knowledge of gymnastics and a strong background in competitive gymnastics. They are experts in the physical, mental, and emotional development of children. Every coach at NorthStar Gymnastics & Fitness is CPR/First Aid certified to ensure your child's safety.
Client Testimonial
The best coaches in NorthStar Gymnastics! New and awesome equipments for kids and adult for gymnastics or parties It's great to join their lessons with flexible schedule and monthly plan.

MeiFang Walcott
10) Releve Gym Singapore
| | |
| --- | --- |
| Key Services | These specialised classes make sure that your child will be able to choose the best option for their performances and have higher chances of winning |
| Website | https://www.relevegymsingapore.com/ |
| Address | 8 Jalan Kilang Barat #01-01 159351 Singapore, Singapore |
| Phone | +65 9832 7883 |
| Email | – |
Miss Cherrie Kwek, an ex-national gymnast, established the Releve Gymnastic Acadamy. The backbone of excellent gymnastics is a ballet lesson at Releve Gym. Their ballet lessons are geared towards kids 4-6 years old, ensuring that they reach their full potential as they get older. The Jazz classes that are aimed for 6-12 year olds are gaining considerable interest, especially after the success of Miss Cherrie Kwek's students at international dance competitions.
The development programs have numerous types of classes at various levels, including Rhythmic Gymnastics. Many levels are offered within the Development Programs, with specialised classes such as Freehand, Rope, Ball, and Ribbon being taught. As their skill improves, students learn new varieties of equipment. If they complete the appropriate level in their Development Program, they are rewarded with a certificate.
The goal of these specialized courses is to guarantee that your youngster has the best possible option for their performances and has a better chance of winning. They also provide opportunities to perform on the world stage, allowing students to get firsthand experience of an international level and competitions.
11) Prime Gymnastics Club
Key Services
Men Artistic Gymnastics
Women Artistics Gymnastics
Developmental Gymnastics
Adult Gymnastics
Website
https://www.primegym.com/
Address
Prime Gymnastics Club, 17A Lorong 7 #01-190 Toa Payoh, Singapore 311017
Phone
+65 67732901
Email
–
The mission of Overlook Gymnastics Club is to provide excellent gymnastics training to anybody, regardless of age or ability, and the club was founded in 1987 as a non-profit organization. They have encouraged youngsters from all abilities to pursue their ambitions of becoming world-class athletes.
As one of the few clubs in Singapore that can develop gymnasts from beginner to elite competitive levels, they are proud of our gymnasts who have been chosen to join the Singapore Gymnastics National Team and who have represented Singapore at major international competitions including the South East Asian Games (SEA Games), Asian Junior Championships, Pacific Rim Championships, and ASEAN Youth Games.
The club is directed by an elected management team that includes parent volunteers, full- and part-time administrative personnel, and a fantastic group of highly qualified and experienced coaches. Their three-story club has facilities to allow them to offer a variety of stimulating recreational activities for toddlers, youngsters, teens, parents, and adults. They operate successful Women's Artistic and Rhythmic Gymnastics (WAG & RG) programs for girls of all ages.
The Club also has one of Singapore's largest gymnastics events on the calendar every year – the Prime Gymnastics International Invitational Competition. Many local and international clubs and schools compete in this major event.
Client Testimonial
Non-profit organization. True gymnastics training ground (not the play-play, jump-jump playground kind) spanning the gamut from 18 months to adults. The facility is quite run-down as it is located within an old community facility. 3 levels in total. Mixed quality of coaches, some great, some non-commital. Can seem a little bit chaotic at times in terms of administration.

Seok L
12) Alpha Gymnastics
| | |
| --- | --- |
| Key Services | They have four competitive programs for the kids |
| Website | https://www.alphagymasia.com/ |
| Address | Block 750 #01-13B Chai Chee Rd, ESR BizPark @ Chai Chee, Singapore 469000 |
| Phone | +65 9754 3866 |
| Email | – |
Alpha Gymnastics provides a variety of gymnastic classes, and their recreational programs include a range of activities. Rompers, jumpers, gymstars, and bigstars are some of the names for their various kinds of classes. With complicated daily chores, each class helps your youngster level up his or her strengths and flexibility. It's a slow but steady process, but it's a lot of fun.
The gymnastics facility includes a state-of-the-art training center, four competitive programs for children, and a variety of extra amenities that may be used to offer additional instruction. They have a slow technique to getting into the advanced program where they will become Olympic apparatuses like the balance beam, uneven and parallel bars, and even floor exercises. This method ensures that kids are safe and having fun with the group classes.
Client Testimonial
Good gym experience for kids. Varied activities. Teachers are competent and attentive such as teacher Fay

Aaron Tong
Gymnastics Singapore
Gymnastics is a great way for children to stay fit, have fun and learn. Gymnastic Schools in Singapore will help your child develop skills that they can use their whole life. We hope this article has helped you find the perfect Gymnastics School in Singapore!
Do email us at media@thefunempire.sg if you wish to be featured in our articles!
What are Gymnastic Schools in Singapore?
Gymnastic schools are schools dedicated to teaching gymnastics and fitness classes for both recreational and competitive gymnastic training.
What is Competitive Gymnastics?
Competitive gymnastics is a sport of gymnasts who compete with each other following rules and perform gymnastic elements on various apparatuses like floor, bars etc. during the competition.u003cbru003eu003cbru003eThere are two types of competitive gymnastics: artistic gymnastics and rhythmic gymnastics.
What is Recreational Gymnastics?
Recreational gymnastics is a fun way to keep fit and healthy, gymnastics teach participants discipline, cooperation, fair play and sportsmanship.u003cbru003e
Are Gymnastics suitable for kids in Singapore?
Many gymnastics schools in Singapore have discovered the immense joy that gymnastics can bring for kids in Singapore. Gymnastics are very helpful in the way that it helps develop kids' muscles, body control, discipline, fair play and more. All these qualities will be useful later on in their lives. So gymnastics are definitely suitable for kids in Singapore!