Hotels with Private Pool Singapore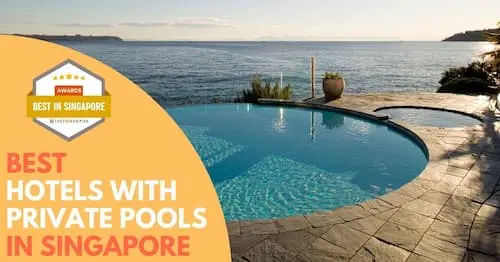 Singapore is a city of luxury and opulence, with a wide range of sumptuous hotels that offer ultimate privacy and relaxation through private pools.
The best hotels with private pool in Singapore include Capella Singapore, Singapore Marriott Tang Plaza Hotel, Resorts World Sentosa, and Shangri-La Hotel Singapore.
When selecting a hotel in Singapore that offers a private pool, take into account factors like the hotel's location, price range, available amenities, and room size.
Luxury hotels in Singapore with private pools provide a range of lavish amenities, including spas, fitness centers, and exquisite dining choices.
If you're looking for a relaxing vacation in a beautiful setting, then one of these hotels is perfect for you!
Quick Summary
Best hotels with private pool in Singapore include Capella Singapore, Singapore Marriott Tang Plaza Hotel, Resorts World Sentosa, and Shangri-La Hotel Singapore.
When choosing a hotel with private pool in Singapore, consider factors such as location, price range, amenities, and room size.
Many hotels in Singapore with private pools offer luxurious amenities like spas, gyms, and fine dining options.
1. Capella Singapore
This five-star luxury hotel is located in the midst of the rainforests on Sentosa Island, where it features interesting architecture, a distinctive form, and world-class facilities. The beachfront location and numerous services add to the enjoyment of your staycation here.
The five-star Capella Singapore is a luxury hotel that combines modern design with Asian elegance in its facilities and architecture. The hotel features a stunning spa, three outdoor pools, two restaurants serving Mediterranean and Cantonese cuisines, as well as a bar. All ages have access to the pool for free.
Guests can opt for one of the hotel's rooms, villas, or suites, with select units boasting a private pool too.
Key Differentiators
5-star hotel
No.2 Best Hotel Brand in the World Travel + Leisure World's Best Awards
Island escape
Client Testimonial
Its our second staycation with our 2 dogs at the pool villa. We were glad we chose Capella to celebrate their birthdays this year. We love the hospitality that was extended to our dogs- the balloons, the birthday cake as well

Joanne Chen
2. Singapore Marriott Tang Plaza Hotel
The Singapore Marriott Tang Plaza Hotel, which features 5 stars, is located on Orchard Road in the center of Singapore's shopping and entertainment center. The hotel offers several reasons for guests to stay on the premises, including an outdoor swimming pool surrounded by cabanas, a 24-hour fitness center, five restauants and bars, and a spa facility.
Every room is elegantly decorated and offers a high-tech bathroom with a spacious walk-in shower.
Key Differentiators
Amenities & Services
Food & Beverages
Maximize the Success of Your Event
Client Testimonial
Attended my friend's wedding on Saturday, I was very impressed with Leo's service. He was very friendly, helpful as well as attentive ! He is such a gem in Marriot ! Thank you so much !

Elaine Tan
3. Resorts World Sentosa
The five-star Resorts World Sentosa is located on Singapore's Sentosa island and offers a variety of luxurious villas with private pools and a spacious shared pool with sun loungers that are open all year and welcome visitors of all ages.
The luxurious accommodation at Resorts World Sentosa is ideal for corporate travel, business stays, and leisure travel. Each villa has forest or water views, an iHome system, soft beds with duck-feather pillows, and a Nespresso. A rain shower is included in each ensuite bathroom.
Key Differentiators
Attractions
Hotels
Restaurants
Client Testimonial
Wonderful place.
I recommend packing your own water to avoid theme park beverage prices. Plenty of other activities and food in here to spend your money on.
Staff seem happy. Atmosphere and cleanliness is at the highest level.
I recommend trying Universal Studios Singapore. Specifically the Transformers ride

Jay
4. Shangri-La Hotel Singapore
Shangri-La Hotel Singapore's luxury getaways are beyond compare. Even though it is a short drive from Singapore's entertainment and shopping hotspot Orchard Road, the secluded pool staycation is surrounded by acres of tropical gardens that provide peace, quiet, and rejuvenation to guests.
Their rooms have a different atmosphere, depending on which wing of the hotel they're in. They all include free Wi-Fi, a flat-screen TV, a minibar, and a coffeemaker, but their styles vary by wing. Two tennis courts, a fitness center, and two outdoor pools with sun beds for adults.
Key Differentiators
Dedicated indoor and outdoor family facilities
3 distinctive wings
11 diverse dining concepts
Client Testimonial
We had a very pleasant afternoon at the waterfall. The food was excellent and we were well taken care off by the service staff. They were attentive and prompt, always ready to help us with anything we need. We got a nice birthday cake.

Chester Lim
5. Siloso Beach Resort
The Two-Bedroom Villa with Pool is the ideal private getaway for any special occasion that you're celebrating, as it offers the largest space at Siloso Beach Resort. Between the living room and second bedroom, each villa has its own outdoor pool, a huge four-poster bed, and living room divider panels.
Unlike the other vacation homes, the Two-Bedroom Villa with Pool at Siloso Beach Resort has a unique design that was inspired by the natural terrain of the property. You'll notice that trees will grow through the floors of bedrooms, bathrooms, living areas, and even constructed glass walls in villas to preserve them from harm.
The fact that this is a lovely resort with a lot of family-friendly activities makes it even more appealing.
Key Differentiators
Founded in 2006
Eco resort
Overlooking the breath-taking South China Sea
Client Testimonial
It's a hidden gem. The rooms are ok with nice green view and the beach. I love the whole natural setting of this resort. The pool is natural spring water, the surrounding is so beautiful, the sound of waterfall, such a good break

Zara O
6. Crowne Plaza Changi Airport Hotel
Crowne Plaza Changi Airport Hotel, voted the World's Best Airport Hotel, is a hotel you should consider if you're planning a staycation. The Pool Terrace room is one of the most lavish rooms, with beautiful garden views and a gorgeous tropical pool right at your floor-to-ceiling patio door.
You'll get a big workstation and a huge bathroom with premium amenities in all Pool Access rooms, which will allow you to completely unwind. Exclusive Club Lounge access and privileges are also included if you stay in one of these rooms.
Key Differentiators
Distinguished design
Unforgettable service
Warm and trusted experiences
Client Testimonial
Very nice ambience.
Outstanding standard service.
Giving 5 star hotel facilities.

Javith Netzone
7. Lloyd's Inn
Lloyd's Inn has lately gained popularity for its simple rooms in monochrome hues that can quickly soothe anyone. The subtle wood tones provide the impression of a comfortable hotel room.
There are also private rooms with outside tubs where you may enjoy the sun while relaxing in your bubble bath. It's not quite the same, but it's a nice break for many people.
Key Differentiators
SG Clean certified hotel
34-room boutique hotel
Five-minute walk away from Orchard Road
Client Testimonial
Stayed at Lloyd's Inn for my belated birthday celebration and they gifted me some chocolates! We stayed at the Garden room. The room was cosy and comfortable. We had our mini garden with a swing chair too.

Melanis Tai
8. Amara Sanctuary Resort Sentosa
Amara Sanctuary Resort Sentosa is like a resort, with a villa-style stay that includes your own private plunge pool and patio.
The rooms include a separate living area, which allows you to entertain your friends before going off to bed on your own.
If you believe a villa is too big for you to live in, the Couple Suite might be an option. It doesn't have its own private plunge pool, but it does give direct access to the swimming pool once you open your balcony doors, making it a relatively decent alternative to other typical hotel rooms.
Key Differentiators
Contemporary luxury resort
140 5-star rooms, suites, villas, and a mansion
Unique environments
Client Testimonial
Although there is some negative reviews, personally I feel that it's almost perfect. The skypool is great and the surrounding is peaceful and serene. There seems to be less human traffic around the area.

Chok Ing Chye
9. Orchid Country Club
9-hole golf courses and an Olympic-size swimming pool are available at Orchid Country Club, which is located in Northern Singapore and provides resort-style accommodation. Food may be eaten at any of the four in-house restaurants or consumed at the bar.
Key Differentiators
Premier Golf & Country Club
Industry leader in hospitality
Rich heritage and culture
Client Testimonial
I always thought that it's quite hard to come in here but with the convenience of private hired car. Coming here is pretty easy and convenience. Golf range is huge and many great facilities. I will come here on a Sunday for my golf session followed by high tea buffet at the restaurant. Good place to spend on a Sunday.

Eileen Tan
10. Villa Samadhi Singapore by Samadhi
This luxury hotel with a private pool in Singapore has elegant rooms with free Wi-Fi, cable television, air conditioning, and a coffeemaker and is situated close enough to city attractions yet far enough away from the bustle of Singapore that guests may relax away from the city.
On-site, guests will find a bar and restaurant, as well as room service if they so desire. Daily housekeeping, daily breakfast, and an outdoor plunge pool are among the other services provided.
Key Differentiators
Savour time
Discover an unforgettable experience
Brings their guests into a state of meditative consciousness
Client Testimonial
Priya at Villa Samadhi Singapore made our stay special. She was very friendly, went above and beyond to make sure our free breakfast was served to us in bed due to us having jet lag.

Hai Shiang Tng
Hotels with Private Pool Singapore
Singapore hotels with private pools offer the perfect escape for a relaxing vacation, romantic getaway, or family trip. Choose from one of these hotels and enjoy your stay in Singapore!
Have you been to one of these hotels? Share your experience with us by leaving a comment down below!
Looking for more interesting articles to read? Check out more of our blog posts here:
Frequently Asked Questions (FAQ)
If you have any questions about hotels with private pool in Singapore, you can refer to the frequently asked questions (FAQ) about the best Hotels with Private Pool In Singapore below:
What are the best hotels with private pools in Singapore?
The best hotels with private pool in Singapore include Capella Singapore, Singapore Marriott Tang Plaza Hotel, Resorts World Sentosa, Sofitel Singapore Sentosa Resort & Spa, Singapore Sentosa Resort Spa, and Shangri-La Hotel Singapore.
What are some private pool rooms in Singapore?
Private pool rooms offer a luxurious and intimate experience for guests. Some of the top hotels with private pool rooms in Singapore include the Grand Park City Hall, Capella Singapore, and W Singapore Sentosa Cove.
Which hotel offers the best one-bedroom suites with a private swimming pool in Singapore?
For a one-bedroom suite with your very own private pool, consider booking at the Grand Park City Hall. Their suites are spacious and include a separate living room, making it the perfect choice for a romantic getaway or a relaxing solo trip.
How can I enjoy my own personal pool in Singapore?
You can enjoy your own personal pool by booking a private pool hotel in Singapore. Most of these hotels offer pool rooms where you can relax and unwind without any disturbances.
Are there any hotels in Singapore that offer rooms with their own plunge pool?
Yes, several hotels in Singapore offer rooms with their own plunge pool. These include the Grand Park City Hall, Marina Bay Sands, and the Capella Singapore. It's a luxurious amenity that offers privacy and relaxation.
What amenities can I expect in a private pool room?
A private pool room typically comes with a separate living room, comfortable bedding, modern bathroom facilities, and of course, your very own private pool. Some may also offer additional amenities like a private terrace, dedicated butler service, and more.
Is the Grand Park City Hall a good option for private pool rooms?
Absolutely! The Grand Park City Hall is known for its luxurious private pool rooms. Guests can enjoy a swim in their own personal pool, relax in the separate living room, and retire to their comfortable bedroom.
Can I find a hotel with a private pool in the room itself in Singapore?
Yes, you can. Hotels such as Grand Park City Hall offer pool rooms where the private pool is part of the room itself. This means you can step right into your own personal pool as soon as you wake up!
What makes a hotel with a private pool special?
Hotels with a private pool offer an exclusive and luxurious experience to their guests. Having your own personal pool provides a sense of privacy and allows you to relax at your own pace, without having to share the space with other guests.
Are private pool hotels in Singapore expensive?
The price can vary depending on the hotel and the type of room you choose. However, considering the luxury and privacy that a private pool room offers, it is generally priced higher than standard hotel rooms. It's always best to check the hotel's official website or contact them directly for the most accurate rates.
Additional Useful Articles
If you are looking for other useful guides and articles about Hotels with Private Pool In Singapore, check them out below: