Interior Designer Singapore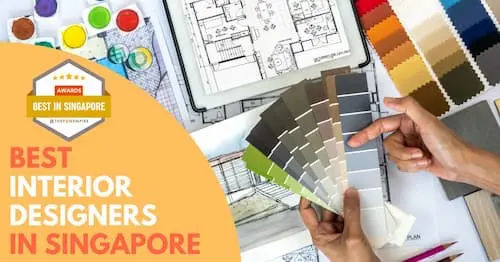 When it comes to transforming spaces into stylish, functional, and comfortable havens, these talented interior designers in Singapore lead the way.
The best interior designers in Singapore include RenoNerds, The Interior Lab, Monoloft, Letz Interior, and Space Atelier.
When choosing an interior designer in Singapore, consider factors such as budget, style preferences, and check for past projects.
Hiring an interior designer in Singapore is crucial for their expertise in transforming spaces, enhancing your home's value and livability.
In this list, we provide a glimpse into the creativity and skill of the best interior designers in Singapore.
Best Interior Design Singapore
1. RenoNerds
Renonerds is amongst the top 3 interior design platforms in Singapore that specializes in helping homeowners and businesses find trustworthy and exclusive designers. They feature a wide range of boutique interior design firms that cater to a variety of styles – you can easily find familiar Scandinavian designs, a catalogue of unique rustic interior designs, or even eclectic interior styles that cater to your distinct needs. They have a flair for finding and bringing out contemporary, modern and vintage design works in Singapore. As a result, customers can be rest assured that they will find a firm that can highlight their individual styles and create a living space they are comfortable with. RenoNerds excels and raises the bar when it comes to customer satisfaction and creating aesthetic artistry.
Key Differentiator
Personalised interior design platform
Reputable and established interior designers with track record
Caters to an extensive assortment of design styles with transparent pricing, fast turnaround and great service
2. The Interior Lab
Presently, The Interior Lab sits amongst the top 20 interior design firm in Singapore. As an established interior design atelier for both residential and commercial properties, The Interior Lab is renowned for its expansive portfolio as well as high-quality projects. They have a flair for rustic artistry, vintage motifs as well as contemporary lines. As a result, The Interior Lab raises the bar when it comes to integrating various design elements to reflect your distinct personality as well as preference. Their top priority is their client's sensibilities as well as comfort.
Key Differentiator
Firstly, Personalise Design Layout
Secondly, Customised Interior Design Solutions
Thirdly, Hassle-free Renovation (One-Stop Service)
Client Testimonial
As first-time homeowners, we were initially quite lost. Following the mainstream, we decided to meet some interior designers and compare some quotes. We have decided to engage The Interior Lab (TIL) for the renovation works as the onset impression/feeling received from their interior designer was different from the others that we've met. Our interior designer gave us his idea as well as design for the house after briefly mention on what we want.

He also helps us a lot by filtering off unnecessary ideas or opinions (since it can be quite overwhelming) thus, helping us to make decisions easier. We trust his judgment and opinion (especially when it comes to the colour palette) & the house design turns out great! Justin has followed up with us timely as and when there should be updates.

Overall, we are very happy homeowners & satisfied with the quality of the works rendered to us. Thanks to our interior designer and his awesome team of workers, especially during this challenging covid period, ensuring all things run smooth and within the timeline.

Casey Chin
3. Monoloft
Established since 2007, Monoloft is a multidisciplinary practice combining sustainable architecture, interior furnishing and experience design in Singapore.
Their turnkey service starts with a walkthrough of the potential site. This walkthrough includes feasibility studies, contract negotiation, space planning, furniture and fixture design as well as construction administration. They understand how difficult the construction process can be. As a result, they provide efficient project management which helps clients minimize the build-out period as well as reduce costs.
They believe in personalised services, regardless of the scale of each project. Their main goal is to create a cosy, absolutely gorgeous, as well as practical home within every homeowner's means.
Key Differentiators
Firstly, unlike most interior design firms, they don't offer renovation packages. Every home will have a different space that requires a specific approach to layout. At Monoloft, they believe in personalised services, taking the time to build a dream home that truly fits your lifestyle as well as requirements.
Secondly, they believe in design to express, not to impress. Style varies very often and a designer can be led by the current trend. For them, it's important to act in the homeowners' interests and design a home that reflects their lifestyle as well as taste. A good design should offer comfortable, functional, as well as practical solutions that fluidly join each room and corner into a cohesive whole.
Thirdly, regardless of the scale of each project, they objectively look at cost/benefit analysis of what our homeowners/clients want over their needs. Only then can they get the most of their design dollars.
Client Testimonial
My Punggol flat had a complete "overhaul". I am very satisfied with the work done. Completed within stipulated time in spite of Covid-19. Costs for additional work were started up front, so there were no surprise charges. Requests were attended to promptly. No delaying tactics.

Michael Lim, Homeowner
4. Letz Interior
Presently, they specialise in all kind of renovation .
Key Differentiator
Firstly, providing their lifetime warranty
Secondly, to provide their best service to all our clients
Thirdly, guide clients on how to create their dream space within their budget
Client Testimonial
Gylen and his team did an awesome job with our house renovation. He never fails to update us on the works that he will be starting and also when finished he will be sent us the completed work with pictures. Whenever he is unsure, he asks us before continuing the works. Gylen ensures that the work is done well and not half-past six jobs. He is willing to accommodate how we exactly want it to be. A Very good and trustable ID that you can rely on. Thank you so much Gylen!

Laks Gal
5. Space Atelier
Established in 2014, SPACE ATELIER PTE LTD, is a creative practice that operates within the field of interior design. Their designing process involves rigorous inquiry into the needs as well as challenges unique to each project. As a result, they deliver tailored-made solutions & craft spaces to reflect the unique quality of their client's individuality, tastes as well as lifestyle.
Presently, their work experience covers a wide spectrum of interior design projects. For instance, these include residential HDBs, prestigious condominiums, landed houses, commercial retail as well as office spaces.
Key Differentiators
Firstly, deliver the highest level of personalised service
Secondly, be inspired every day
Thirdly, keep evolving
Client Testimonial
Good follow up on the whole project. Satisfied with the final project as well as worth on the money spent. Definitely will recommend more people and friends to approach Space Atelier and the ID for house renovation. From 3D drawing till the end, well communication with me to understand what I need and provide continuously update with photos on the work progress. This is very impressive for me. I never met this service before in my past renovation.

Client
6. Aestherior
Presently, they are an Interior design boutique delivering exquisite design as well build services in interior design. Established with a passion as well as a commitment to developing exhilarating designs, we also differentiate ourselves with a focus on fine detailing work. Aestherior strives to provide clients with exquisite designs, customised accent pieces as well as personalised services to create eternal spaces. We take pride in delivering quality results while strictly observing our client's budget and timeline.
Key Differentiator
Firstly, CaseTrust accreditated
Secondly, Certified Designers
Thirdly, Transparent Pricing with no hidden cost
Client Testimonial
My husband and I would like to express our deepest gratitude and appreciation to the teams from Aestherior who has assisted us in our house renovation. Aestherior Pte Ltd is very professional and definitely one of the trustworthy designing firms in Singapore. Not only the designer aims to have the design resembling the owner's personality, but it is also practical. The renovation process was great, I felt that the teams did an excellent job handling the project. They were able to listen to what I've requested and create a design that speaks wonders.

All the renovation was done within our budget and most importantly, there are ZERO additional charges (except for items which we added in ourselves). I love the way that I only need minimal supervision on the project! It is definitely an ID that I would recommend!

Client
7. Weiken
Weiken's portfolio exudes a sophisticated and elegant elegance. Many of Weiken's previous works seem like ideal holiday dwellings! Check out their portfolio if you want to live in a hotel or showroom that looks like an exquisite hotel or showroom.
Key Differentiators
They give a two-year warranty for home renovation repairs.
They take on both commercial and residential projects.
Client Testimonial
Both my wife had a pleasant experience with Weiken and I had decided to engage my ID, Hazlin from Tampines 1 branch to do up my renovation works for my resale unit. Compared to others that I have met, She is able to understand us and was able to help us achieve what we envisioned for our home become a reality and maybe even better than what we had originally in mind. I was very impressed with how professional and highly responsive she is to attend to any of my concerns/queries.

Overall, The experience was excellent and I would highly recommend Hazlin to my friends

Mohamad Syarafuddin
8. Starry Homestead
Starry Homestead is notable for its warm designs and strong internet presence. They go above and beyond as a CaseTrust and RCMA certified interior design firm by providing customers with a one-year warranty on their work as well as insured payments. They also post photos of their actual remodeling projects to compare against their 3D ideas, which appear to be similar, proving that they value the quality of their work.
Key Differentiators
Takes care of every step of your home renovation
Offers 1 year warranty
Shows the comparison between the actual renovation output versus the 3D design
Client Testimonial
Highly recommend our designer, Aaron Ng. He was our designer for our previous residence and he did such a good job that we approached him again for our current residence. He understood the hard renovation deadline imposed by the expiry of our rental lease. In addition, there were challenges posed by Covid in terms of manpower and supply of materials. By proposing workarounds and creative solutioning, we managed to move in on schedule. Aaron also has a strong network of contractors' contacts, well-supported by Starry Homestead's in-house contractors, who have all proven to be very reliable and responsive.

Jan Nee Ng
9. Charlotte's Carpentry
Their aim is straightforward: to create imaginative, stylish places that are both practical and functional as a team of over a decade of experience in the interior design industry. The crew is particularly diligent about quality and design, especially since carpentry is one of their specialties.
Key Differentiators
One-stop solution for home renovation projects and design to homeowners.
Over a decade of experience in the interior design industry.
Creative, unique spaces that are both practical and useful.
Client Testimonial
We worked with Mariana from Charlotte carpentry on this unique project. We loved that she took the time to go through every detail with us as we wanted something a bit different. She was extremely patient and even spent half a day with us when we went tile shopping. Despite our many changes. Mariana really helped us through the process to create this home. Highly recommended and we are very happy with the outcome.

Sherman Chia
10. The Scientist
The Scientist's design team, 'Analytical, creative, explorative, inquisitive and persistent,' are defined by these characteristics. Their aim is to turn their innovative, artistic designs into a pleasant, comfy living environment for customers.
11. Mr. Shopper Studio
Ken and Kate are the creators of Mr. Shopper Studio, which was founded in 2014. Ken and Kate have combined their decade-long experience in remodeling and soft furnishings to create and convert more than 100 properties into stunning places. Their portfolio features attractive homes that feature a hint of luxury.
Key Differentiators
Decade of experience in soft furnishings and interior styling
Received numerous accolades and recognitions
Interior Personality Analysis™ methodology
Client Testimonial
We are very pleased to have chosen Mr Shopper Studio for our home renovation. Liz, JJ and team really went above and beyond to guide us through the process, especially guiding us first-time home owners. From design (Liz nailed exactly what we had in mind!) to actual renovation, everything was done very professionally and the house was handed over to us right on time. We love our new home thanks to this team and we are also getting great reviews from our friends and family. Highly recommend! 🙂

Arthi Premkumar
12. The Alchemist Design
The Alchemist Design uses a seemingly magical procedure to convert your space into something exquisite. The Alchemist Design takes pleasure in offering bespoke design solutions for individuals and businesses alike, from concept development to completion. The Alchemist Design has exquisite, useful designs for any space. Whether you're looking to remodel your kitchen or your workplace with visually appealing yet practical ideas, The Alchemist Design can provide beautiful, functional solutions.
Key Differentiators
They have two showrooms and a carpentry factory in Singapore.
CaseTrust & Bizsafe accredited
BCA registered contractor
Client Testimonial
My family and I had a really pleasant and enjoyable renovation experience with our ID Jasmine. She was the most responsive one among all of the IDs I contacted, and was very prompt in her work. She answered all our questions as soon as we asked, and made good design decision for us when we needed her to. It was a seamless process with no delays . On top of that, a cheerful personality and getting along with my 2 year old definitely made it fun! Thanks Alchemists and Jasmine!

Seah Li-wei
13. 9 Creation
9 Creation is an interior design company that serves a wide range of customers with varied needs. They strive to give each project its own one-of-a-kind environment, which captures the essence and spirit of the individual. In the realm of interior design, each person's demands and desires are most important. The firm made their name by combining interior design and house furnishing into a comprehensive and contemporary lifestyle.
Key Differentiators
With years of experience in residential and commercial spaces
They provide free 3D visualization drawings upon visiting their showroom
Customised solutions to meet specific needs
Client Testimonial
Throughout the renovation journey, we were very impressed with Kent's project management skills and expertise. Despite various restrictions due to COVID-19, he has managed to complete our renovation within 2 months without any compromise on quality and workmanship. He made the effort to handle various issues on-site and constantly keep up updated so that we do not have to go down to inspect the renovation progress very often. He was also very patient in answering all our questions as first-time homeowners. One thing that stood out is that he remembered every detail and requirement we mentioned to him without much reminders. We are very pleased with the results and have no regrets in putting our trust in Kent for our renovation. Highly recommended! Thanks Kent!

Jean Lee
14. Juz Interior
Juz Interior is well-known for creating practical yet appealing homes. They offer a comprehensive range of remodeling services, including bespoke design, visualisation drawings, project management, in-house carpentry work, and interior decorating. Their designers use the most up-to-date technology to create stunning changes to your rooms.
Key Differentiators
All consultations are free and non-obligatory
Provide a full spectrum of renovation services
They also have a blog where they offer outstanding value-added information for your renovation concerns
Client Testimonial
Jacqueline is our ID and made our home a very comfortable and practical for us to stay. She made sure that what we want is met and she is very responsive to all our needs. We like the bomb shelter where Jacqueline created space for us to keep our small things and hid the bomb shelter by creating false wall. Nicely done

rebecca navidad
15. Fuse Concept
Since 2001, Fuse Concept has been designing houses that are lovely. Their creative talent for transforming a room into a space filled with personality and uniqueness distinguishes them. The designs of their interior designers are anything but uncomplicated, according to their credo "simplicity is quality." You'll find remarkable, one-of-a-kind, and extraordinary designs in their portfolio that will bring a wow to your design.
Key Differentiators
Provides quality design consultation and turnkey project management to residential and commercial projects.
Precision is key as their designers have a keen eye for detail; focusing on the smallest of details from the initial stages of drafting detailed construction drawings to the thorough execution on site.
They ensure that their designers and team of in-house tradesmen will work hand in hand with you to execute the ideal end result.
Client Testimonial
Working with ID Eddie Tay from Fuse on the reno of my condo unit in has been a great experience. My place is about 80% complete. Right from the start, Eddie is approachable and patient. He understood my ideas and translated it skillfully into paper design incorporating the cost-effectiveness, good taste, quality materials and clever suggestions on lay-out, use of light, etc. He is very easy to talk to and patient. Throughout the works, he manages the project well, and everything went smooth according to schedule as far as general covid slowdowns would permit. As far as I can see, the actual outcome is of high quality and I am very satisfied. Whenever we run into unexpected challenges, Eddie has been able to patiently and resourcefully find solutions to overcome them. Strongly recommended!!!

Kelvin Ma
16. Habit
The design approach of Habit leans towards the modern industrialist, with darker and more dramatic tones. Their more whimsical projects in Highlight Residences and Seng Poh Road, however, indicate flexibility as well. Their designs have been called a breath of fresh air for interior designers in Singapore due to their unique approach and inventive ideas.
17. Free Space Intent
2 decades of experience in house remodeling is what Free Space Intent has. Established in 1999, their design concept revolves around the idea of "free space," which means they prefer a creative, unique, and flowing method to expressing oneself in a room rather than being confined to one theme or style.
Key Differentiators
Have worked with a large variety of private and corporate clients, creating a wide range of residential spaces, bars/lounges, restaurants, retail outlets, and office spaces.
Their down-to-earth approach is clearly marked by clean lines, muted shades and clever space planning to suit the cosmopolitan lifestyle.
Creates urban retreats that soothe the senses and rejuvenate the tired soul.
Client Testimonial
Throughout the project, since our first discussion about 2 months prior to getting our keys to the resale unit, Leon has always been very clear about the timeline and needs of the family. He gave valuable suggestions, based on our preferred style, to ensure that the space can be well utilised for a family of 6. He was always patient with our questions/indecisiveness and gave us time to discuss the options.

We were also grateful for Perlinda, the project manager from FSI, who constantly gave us updates throughout the renovation process and followed up closely on our feedback.

Since we bought a resale unit, there were definitely hiccups and unforeseen inherited issues with the interior. Thankfully, Leon and Perlinda always offered options and and timely solutions to help us meet our timeline and stayed true to the style and vibe that we envisioned.

The design and eventual finished space exceeds our expectations, despite the tight timeline and budget. Leon has designed a space that our entire family are enjoying immensely and would continue to love for years to come.

Candice Wu
18. Swiss Interior
Swiss Interior is a leader in Singapore when it comes to offering high-quality interior design services, with ten years of expertise. Their client support is simply exceptional: You will be under their care and protection for the rest of your life. That means their service won't stop when they deliver the job to you. Swiss Interior is with you every step of the way for each stage of your home reno, from concept to completion to after-sale services.
Key Differentiators
They offer a variety of renovation packages that cater to a range of needs and budgets, with no hidden cost.
Before designing your dream house, their talented team will sincerely listen first to your needs, goals, and design preferences, just to make sure that their designs meet your expectations.
Also offers kitchen and bathroom packages for your space, which will help you save costs in case you are only planning to renovate specific sections of your dream home.
Client Testimonial
We chose Swiss Interior partly due to word of mouth and another being able to observe the workmanship on our relative's house. After receiving good inputs from them, we decided to approach this ID. Alex, who responded to most of our queries was keen to address our concerns with regards to our planned renovation. After choosing to go with Swiss Interior, we were then informed that Ray would be facilitating our renovation.

At first we were quite concerned as we did not speak to Ray initially before choosing to go with this ID but in the end, Ray was pleasant in handling our project. Everything was completed without much issues. Ray ensured that our kitchen looked and functioned the way we wanted it to be, and are very pleased with his service.

Ahmad Faris Norman
19. Fifth Avenue
Fifth Interior Avenue is a group of young, creative, and passionate designers that designs your ideal house concept and then makes it real. Fifth Avenue is an excellent source of fresh ideas for innovative solutions, with the goal of providing end-to-end interior design services. Their method is apparent in their rigorous approach, which covers space analysis, design concept development for innovative and cost-saving solutions, expert building, and exceptional after-sales service.
Key Differentiators
HDB Licensed Renovation Contractor and Nippon Paint Exclusive Partner Accreditations
They also feature house tour videos, which provide a one-of-a-kind look into their exceptional portfolio.
Client Testimonial
My contractor Austin is simply amazing. For the past four months, I intensively interacted with him in regard to the renovation of my new home. He is sincere, hard-working, careful, and considerate. We had lots of good communications, and his ideas of design often impressed me. With his help, it is such a pleasure to see the designs matched well with my expectations. Whenever I had new requests, he would respond immediately and gave me his opinions. The quality assurance of his work is high. I am very happy to have such a professional expert as my contractor.

Qiushi Feng
20. Elysian Design
Elysian Design & Renovation specializes in residential and commercial interior design and remodeling services. They put a lot of effort into the craftsmanship, practicality, and price of their work to provide clients with a high degree of satisfaction.
Key Differentiators
They cater to the needs of their clients, from the inception, installation to decoration.
Emphasis on aesthetics, design practicality and workmanship ensures a high level of client satisfaction.
Multiple awards
Client Testimonial
The design sense and the quality of execution is really top notch. I would recommend them to all my colleagues, friends and family… Thank you!!

Monalisha Mohanty
21. Design Intervention
The champions of creativity and individuality are Nikki Hunt and Andrea Savage, the creators of Design Intervention. They're experts in bringing personality to a project by utilizing visual language to communicate their clients' interests and objectives. In true Design Intervention style, they create works to their client's exact passions and style. They mix poised seduction, romantic charm, and Chinese heritage to create the ideal retreat from today's fast-paced world.
Key Differentiators
They employ the transformative power of design to affect mood, influence behaviour and improve health.
Multiple award-winning firm
Client Testimonial
The number one best interior design in Singapore. From renovation and restoration or new build home design. I highly Recommended this team, i've also read their blogs it's so informative.

Hanaddi Rey Mamba
22. Superfat Design – Interior Designers Singapore
Superfat Design is a multi-disciplinary interior and architectural design consultancy with a specialty in visual arts, photography, sustainability, and contextualism. They take great pleasure in combining the demands of their clients with regard for context and empathy for the built environment to produce a design that is uniquely suited to each client's needs.
Key Differentiators
The studio works on a variety of cross disciplinary projects, from aspirational homes and showflats to gallery exhibitions and retail concepts.
23. DB Studio
They fueled their enthusiasm for interior design by creating designs and constructing homes and businesses for friends and family long before DB Studio was founded. After five years of pleased patronage, the DB Studio business was established in 2014. Now, they exist only to create interior design that fits every element of their client's demands.
Client Testimonial
Spoke to an ID, Amanda at DB Studio. She was really professional and responsive. The quote she gave me was extremely comprehensive compared to other IDs that i met up with. I didn't end up using an ID for my reno, but will come back to DB in the future if I ever need an ID.

Gen Ong
24. Neu Konceptz
Neu Konceptz is a firm that creates homes close to your heart. They have a deep understanding of houses and homeowners. Their highly-trained interior designers are ready to assist you with professionalism and provide a pleasant house for you and your family members.
Key Differentiators
Founders were recipients of International Design Awards.
Designing and building interiors that are driven by sustainability, purpose and aesthetics.
Client Testimonial
Engaged Neu Konceptz back in 2019 for your flat. The work is truly impressive and love every details. Jack and team were very efficient in rectifying problems as well. Highly recommend. thank you for giving us a dream home.

Meredithv Lau
25. Aiden T
Aiden T is a top award-winning firm that specializes in residential and commercial design. Arjan (founder of Aiden T) developed a variety of projects, including landed property, condominiums, flats, spas, restaurants, hotels, retail stores, and offices.
Key Differentiators
Award-winning
Specializes in residential projects with modern traditional flair.
With a preference of neutrals, interest and dimension is created by thoughtful use of material and accents in a cohesive and timeless style.
Client Testimonial
We scoured the internet and had many meetings with various designers for a full renovation on our resale unit. Arjan's style really stood out as clean and timeless but far from boring.

Loved how he was the only one who thought out of the box in a practical manner with regards to space remodeling and it worked perfectly (despite our reservations in the beginning).

He also strikes a rare and nice balance between providing recommendations and adhering to your requirements. Working with him was an enjoyable experience, much to our surprise – assumed we would be pulling out hairs at the end of a big project like this!

Arjan also has a very interesting approach to budgeting, we think this works much better than the usual way and helps give a more positive experience to customers overall. Would definitely use this ID company again in future

Tiffany Ooi
26. Vivre Creating Design
Vivre Creating Design, inspired to create attractive and high-end homes in Singapore, specializes in providing individualized interior designs that fit your lifestyle. That's why at Vivre, they make certain that every detail is concerned with your demands.
Client Testimonial
Patience with Excellent service and detailed explanation from Ms Serene.

Timpoh Chan
27. Ciseern
Ciseern by Designer Furnishings Pte Ltd, which was founded in 1997, is a market leader in Singapore's interior design industry. As a creative interior design firm that is well-known for its aesthetic interior design style, they have served many clients as a dependable partner. Ciseern is one of Singapore's best interior design firm, with a stellar track record based on trust and credibility that has helped it become one of the region's top interior designers.
Key Differentiators
More than 20 years of experience
Known for their aesthetically pleasing home interior design concept
Award-winning
Client Testimonial
When we decided to renovate our new house, immediately we thought of engaging Colin of Ciseern for a second time. Colin listens and understands our needs and was able to translate our ideas into a realistic plan. He and his partner Julian were responsive and responsible making sure we are satisfied with the progress of the work done. They are a pleasure to work with. Overall, we are very pleased with their service and expertise provided by them. Colin's design, materials and color scheme are outstanding. It's another great experience with Colin and Julian. Highly recommended!!

kwokmei raymond
28. Prestige Global Designs
Prestige Global Designs is a multi-award-winning interior design firm in Singapore that specializes in providing opulent interiors for houses, show suites, hotels, and offices. The designs are tailored to individual needs, including creative planning for maximum spatial usability.
Key Differentiators
Award-winning
Offers luxurious designs customized to individual requirements, and ingenious planning for maximum spatial functionality.
Client Testimonial
I am glad to have engaged the services of Prestige Global to renovate my 4 bedroom flat

I am very pleased with your professionalism in achieving an opulent appeal, evoking a feel of glamour yet creating a completely stimulating environment to live in. Your consistent attention to this renovation work and completing it as scheduled is an excellent case in point.

I am very satisfied with the renovation works done and have no hesitation in recommending your company to my friends or anyone who is looking for a reliable renovation contractor to do the job.

I wish you and your company many more prosperous years in the business.

Cynthia Loh
29. Architology
Architology is a design firm that works with its clients design based on their distinct levels of design requirements. It processes each request differently and provides design solutions that are tailored to each situation according to the values of boldness, elegance, purity, and livability.
Interior Design Singapore
With their vast experience in the interior designing industry, the companies listed are more than capable to conceptualise a design that suits your preferences and needs. If you know of any local interior designers in the city that everyone needs to know about, do drop us an email here so we can feature them!
Since you have made it to the end, why don't you check out our other fun as well as awesome articles!
Frequently Asked Questions (FAQ)
If you have any questions about interior designers in Singapore, you can refer to the frequently asked questions (FAQ) about the best interior designers in Singapore below:
Additional Useful Articles
If you are looking for other useful guides and articles about interior design in Singapore, check them out below: