Karaoke Singapore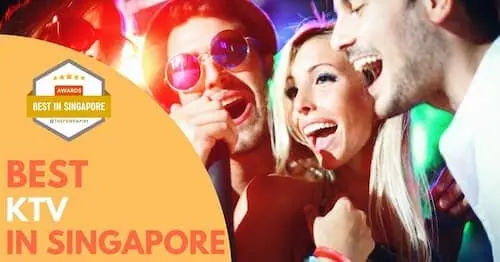 Singapore is a great place to visit, and even better if you like to sing karaoke or are karaoke lover!
The best Karaoke places in Singapore are Teo Heng KTV, Cash Studio, Have Fun Karaoke, Candy K-Bar, and Ten Dollar Club.
When selecting a Karaoke venue in Singapore, take into account factors like the location, pricing, service quality, ambiance, and customer reviews.
Karaoke is widely embraced in Singapore, with a multitude of karaoke venues scattered throughout the city, satisfying the locals' passion for singing.
So what are you waiting for? Start singing your heart out at one of these amazing karaoke venues, you surely won't forget!
Quick Summary
Best Karaoke places in Singapore are Teo Heng KTV, Cash Studio, Have Fun Karaoke, Candy K-Bar, and Ten Dollar Club.
When choosing a Karaoke place in Singapore, consider factors such as location, price, quality of service, atmosphere, and reviews.
Karaoke is immensely popular in Singapore, with numerous karaoke establishments spread across the city catering to its residents' love for singing.
Key Consideration Factors
Location: The first consideration factor when choosing Karaoke Singapore is the location. You want to make sure that the karaoke bar is located in a safe and convenient area. You also want to make sure that the karaoke spot is located near public transportation so you and your friend can easily get to and from the bar.
Prices: The second consideration factor when choosing Karaoke Singapore is the prices. You want to make sure that the karaoke spot offers reasonable prices for their services. You also want to make sure that the karaoke spot offers discounts or promotions so you can save money on your karaoke experience.
Services: The third consideration factor when choosing Karaoke Singapore is the superb service. You want to make sure that the karaoke spot offers a variety of services such as private rooms, food and drink service, and a variety of music genres. You also want to make sure that the karaoke spot has a good sound system so you can enjoy your karaoke experience and have a good time.
Atmosphere: The fourth consideration factor when choosing Karaoke Singapore is the atmosphere. You want to make sure that the karaoke spot has a relaxed and fun environment and is a good place. You also want to make sure that the staff at the karaoke spot are friendly and helpful so you can have a great time at the karaoke bar.
Reviews: The fifth consideration factor when choosing Karaoke Singapore is reviews. You want to read reviews of different karaoke bars in Singapore so you can get an idea of what other people think of them. Reading reviews will help you narrow down your choices and choose a karaoke spot, how long are they open during weekends, do they sell alcohol, do they have promo, darts, and many more, that will offer you a great experience.
Best Karaoke Singapore
1. Teo Heng KTV
Key Services
Karaoke bar
Address
Suntec City, #03-380/381/382
3 Temasek Blvd, Suntec City, Singapore 038983

Causeway Point, #05-01
1 Woodlands Square, Singapore 738099

JCube, #03-14/15/16
2 Jurong East Central 1, Singapore 609731

The Star Vista, #01-23/28
1 Vista Exchange Green, The Star Vista, Singapore 138617
Website
https://ktvteoheng.com.sg/
Phone
6884 6266 (Suntec City Outlet)
6760 0345 (Causeway Point Outlet)
6734 6300 (JCube)
6775 1500 (The Star Vista)
Operating Hours
Monday – Friday / Sun & Holiday:
12PM–1AM
Saturday & Holiday Eve:
12PM- 2AM

Note: Suntec and Star Vista outlets will be operating from
12pm to 2am on Friday, Saturday, Public Holiday and Eve.
Teo Heng KTV Studio is one of the most popular KTV joints in Singapore, and it's not hard to see why.
Teo Heng Sun Tec is a well loved place for it is patronized by their customers, loved ones, close teams and many more. Teo Heng KTV Studio has a branch in Suntec City Mall too with improve facilities, equipment, and business. Teo Heng aims to provide customers with an excellent time and have memorable parts with their colleagues.
Also, the KTV does not charge by the number of people, but rather by the size of the rooms. With four outlets located around Singapore for you to choose from, Teo Heng KTV Studio is definitely one of the best KTV studios in Singapore!
Rates:
Happy Hours (12PM-7PM): Small Room – $12/H, Medium Room – $14/H, Large Room – $16/H
Peak Hours (After 7PM): Small Room – $18/H, Medium Room – $20/H, Large Room – $24/H
Key Differentiators
No extra charges, room rates only

Free Wifi provided
Professional Sound System
Customer Testimonial
So thankful that they are still opened~_~ Everything is the same (minus the microphones and addition of a table) so it feels nostalgic. Also, they now have board games!
Went on a weekday evening; not much crowd. Price is low, staff is friendly, what more can we ask for?

Clara Lim
2. Cash Studio
Key Services
Karaoke spot
Address
Cuppage Plaza
5 Koek Road
B2-09 to 20, Singapore 228796

Prinsep Street
72 Prinsep Street, Singapore 188671

Clarke Quay Central
6 Eu Tong Sen Street
#03-57 & #03-58
Singapore 059817

Dijitsun Mall @ Bedok
445 Bedok North Street 1,
03-03, Singapore 469661
Website
https://cashstudio.com.sg/
Phone
6533 0090 (Cuppage Plaza)
6336 6696 (Prinsep Street)
6238 8198 (Clarke Quay Central)
6244 4162 (Dijitsun Mall @ Bedok)
Email
admin@cashstudio.com.sg
Operating Hours
12pm till late daily
Cash Studio features Daiichi Kosho Amusement (DAM) media systems, which originated in the golden age and are still well regarded because of their genuine quality and authentic sound.
The machines come with a selection of Japanese song karaoke and are designed and programmed in Japan, giving singers worldwide access to a large number of Japanese tunes.
Cash Studio also has membership programs, and also adds a special touch to each member's birthday by providing free sparkling juice as a gift.
Rates differ for each outlet and prices are per pax and per 2 hours! Check out their rates here.
Key Differentiators
Stage Mic & Equipment
Vibrant family friendly karaoke (funky disco vibe)
Spacious & Comfortable Room
Customer Testimonial
Small and cosy karaoke that had one screen on each side of the three walls so everyone around the table could see clearly from every direction. They also had a standing microphone for those who want to pretend it's your mini concert. Also family karaoke located in a convenient area that had bars and supper options nearby. Their customer service philosophy is also great!

Pamela Aw Yong
3. Have Fun Karaoke
Key Services
Multi-faceted entertainment hub
Address
Outlets
Website
https://www.havefunkaraoke.com/
Phone
8909 1123
Email
customerservice@havefunkaraoke.com
Operating Hours
313 Somerset
12PM – 5:30AM Daily

Downtown East
11AM – 11:59PM Daily

SAFRA Toa Payoh
11AM – 12:30AM (Mon – Fri & Sun)
11AM – 1:30AM (Sat & PH Eve)

SAFRA Yishun
2PM – 11PM (Mon – Fri & Sun)
2PM – 3AM (Sat & PH Eve)
The first themed karaoke spot in Singapore, Have Fun Karaoke. There are 28 different themed KTV rooms to select from, such as Old Cinema, Street Racing, and All Pink Palace.
HaveFun Karaoke has more to offer than just karaoke fun. Apart from belting out your heart, you may also play various drinking games such as Drinking Roulette and high-tech Beer Pong.
There are also a number of other amenities accessible, such as dart machines, basketball machines, pool tables, board games, and a private movie theater.
The VIP Suite, can hold up to 60 people for private parties. It includes a stage, dart machine, interactive pool table, and a voice-changing standing microphone.
Rates:
Varies depending on the outlet, check out their rates here!
Key Differentiators
Karaoke
Live Band Performance
Private Movie Screening
Play Board Games
Customer Testimonial
Staffs were very friendly and helpful. The room was quite comfortable. With 3 projectors projecting on 3 sides of the room, you can sing in comfort while facing any direction. You can also use the mini stage for your performance.
Song selection can be done on a small monitor or from your phone using the HAVE FUN app.

Lim Rick
4. Party World KTV
The rooms at Party World KTV are spacious and adorably decorated room, with the best audio system, huge LCD displays, and LED warm light technology.
At the same time, Party World KTV has multiple outlets all around Singapore!
Rates:
Rates are different for the outlets, check them out here!
Key Differentiators
Affordable
Multiple locations
New releases
5. Ten Dollar Club
Key Services
Karaoke spot
Address
Balestier:
31 Ah Hood Road #01-05
Home team NS – JOM Club Balestier
Singapore 329979

Downtown East:
60 Pasir Ris Drive 3
Aranda Country Club, 3rd Floor
Singapore 519497

Khatib:
2 Yishun Walk, #04-07
HomeTeamNS Khatib, Singapore 767944

Jurong Safra:
333 Boon Lay Way, Singapore 649848

Punggol Safra:
9 Sentul Cres, Singapore 828654
Website
Facebook
Phone
6970 8908 / 6970 9808
Operating Hours
2pm – 10pm (Tuesday – Friday)
12pm – 10pm (Saturday – Sunday)
*Closed on Mondays
This is the place to go if you're looking for a fun sing-along with your buddies – it won't break the bank. You'll receive the basic karaoke kit as well as free-flowing hot and cold drinks for as low as $18 per session.
You can even bring outside food with you in the event that all of this singing makes you hungry!
Rates:
$10 per pax between 2-7pm (min. three people per room), 7-10pm and 10pm-1am (min. four people per room)
Key Differentiators
Affordable
Multiple Locations
Soon to reopen
Customer Testimonial
nice karaoke place. can use your phone to browse and reserve song list. can bring outside food. unli drinks.

Marc Paul Malajos
6. Skinny's Lounge
This Skinny's Lounge can be found at the end of Boat Quay. It's open until 3 a.m. on Wednesdays and Fridays, so you'll know where to go when you don't want a nice evening to end. Also, Skinny's serves decent classic cocktails with some interesting frills.
Although, there's only one KTV room at Skinny's, so book ahead of time to ensure your spot.
Rates:
A group minimum spend of $200 secures you the whole room for an hour
Key Differentiators
Serving great simple drinks
Updated beats and playlist
Known for their cocktail drinks
Customer Testimonial
Absolutely wonderful service. They were warm and accommodating, and their drinks were so deliciously decietful. You drink and drink coz it's so good, only to realise you're drunk af the next morning
BUT you know you've had fun and had the time of your life.
MUST VISIT!
MARGHERITA PIZZA MUST TRY!

Patricia Robles
7. Ziggy's
| | |
| --- | --- |
| Key Services | Karaoke Room, Lounge Rooms & Cocktail Bar |
| Address | #01-27 Robertson Walk, 11 Unity St, Singapore 237995 |
| Website | https://www.ziggys.com.sg/ |
| Phone | +65 6235 5400 |
| Email | info@ziggys.com.sg |
| Operating Hours | Monday to Saturday: 5PM–1AM |
Do you want to party with the entire VIP experience? Count us in! This Singapore KTV establishment offers you a lavish party with private rooms, suites, late-night dining choices, and a full-fledged bar with handcrafted cocktails.
The deluxe and VIP rooms accommodate up to 10 people and include a variety of party games, percussion instruments, in-room phone chargers, a champagne pong table, and over 100,000 songs to select from., which makes them perfectly fit for gatherings. They also have a lot of Chinese songs you can choose from!
Rates:
Karaoke Fees are an additional $10/pax, check out the room prices here!
Key Differentiators
Curated selection of wines, sakes and spirits
Handcrafted cocktails
Perfect venue for special events
Customer Testimonial
My new favourite place for karaoke. Finally found a karaoke I can go to because I actually enjoy the surroundings instead of just tolerating the place because friends want to sing. Whereas private club karaokes can be nice but songs aren't updated and service is slow, and commercial karaokes have new songs but service is bad and drinks are rip off, this place is best of both worlds. Attentive service and also very updated songs, English and Chinese.

Mario Chan
8. K.Star
Key Services
Karaoke spot
Address
Locations
Website
https://kstar.com.sg/
Phone
(65) 9171 1588 (Orchard Central)
(65) 9171 1588) (Plaza Singapura)
Operating Hours
Daily: 12PM – 6AM (Orchard Central)
Daily: 12PM – 3AM (Plaza Singapura)
K. Star is Singapore's first themed karaoke studio, with 25 themed rooms that are uniquely decorated with even a faux bakery, animals, etc. It is designed to fit gatherings of six people or more. Rooms (including the mini rooms) are priced on an hourly basis, but for the best value deal, get the drinks package that includes three hours of free karaoke time.
Don't miss out on this place to chill and hangout with your friends during weekend night! Also, be sure to make your reservations on time to avoid to guess if they still have unoccupied rooms left left or if you want to get either of the two large VIP rooms.
Rates:
Rates for their rooms are different for the outlets, check them out here!
Key Differentiators
Catered to any and every occasion
Give you a space to sing
First-ever and best themed karaoke bar
Customer Testimonial
Wow, the owner of this place is extremely creative. Great place to hang out . Can't wait to sing.

Gerard Lai
9. Kommune
| | |
| --- | --- |
| Key Services | KTV Singapore, Karaoke Singapore |
| Address | Orchard Gateway, 277 Orchard Rd, #03-18, Singapore 238858 |
| Website | https://82soho.com/ |
| Phone | +65 8112 0480 |
| Email | be@82soho.com |
| Operating Hours | Daily: 11:30AM–11PM |
Do you like K-pop? This karaoke spot is for you if you enjoy K-pop. It was referred to as a place where grownups can bring out their inner child – just think Korean karaoke, PlayStation 5 consoles reserved just for adults, computer gaming lounges, and an enticing selection of board games.
Rates:
Kosy Room: [Mon-Thu] $15/H & $10/Room (Happy Hours 11:30AM – 3PM)
[Fri-Sun, PH Eve & PH] $20/H
Klub Room: [Mon-Thu] $22/H
[Fri-Sun, PH Eve & PH] $28/H
Key Differentiators
Multi-entertainment habitat
Private Parties
Two distinct entertainment areas
Customer Testimonial
My boyfriend and I visited Kommune at 8.30 PM on a Sunday. It has an upbeat and playful mood and the room was cosy and comfortable for 2, and the board games were new. I particularly liked how they used plastic sleeves to protect the cards. They have great customer service and the price is very affordable like the jewel music box. Will definitely be back again.

Olivia
10. Candy K-Bar
| | |
| --- | --- |
| Key Services | KTV Singapore, Karaoke Singapore |
| Address | TripleOne Somerset #02-07/08/09, 111 Somerset Road, Singapore 238164 |
| Website | http://www.candykbar.com/ |
| Phone | +65 8879 4922 / 8879 4922 (WhatsApp) |
| Operating Hours | Daily: 12PM – 12AM |
Candy K bar family karaoke studio is located in TripleOne Somerset. With 18 themed karaoke rooms and a wide variety of bar bites offerings, this is the ideal place for you to sing along to Mandopop hits with your friends while enjoying skewers and beer towers! What's more, this KTV also offers a 1-for-1 promotion on all food and beverage items that are ordered before 5pm.
Rates:
Starting from $9.90 per pax for weekday karaoke sessions from 12pm – 7pm.
Key Differentiators
18 Themed Karaoke Rooms
Food and beverage promotions
Conveniently located in town
Customer Testimonial
Nice and comfortable ambience.

Amazing service.

Value for money

Chris Ong
Karaoke Singapore
Singapore is a wonderful country to visit, and it's especially lovely if you enjoy karaoke! There are several Karaoke Singapore places to select from, but we've put up a list of the 10 greatest KTV locations in Singapore for you.
Whether you're searching for a more luxurious experience, something more budget-friendly green karaoke culture, or someplace to have a family karaoke night, each karaoke joint has its own unique feature to offer!
Looking for more interesting articles to read? Check out more of our blog posts down below!
Frequently Asked Questions (FAQ)
If you have any questions about karaoke in Singapore, you can refer to the frequently asked questions (FAQ) about the best karaoke in Singapore below:
What are the best Karaoke places in Singapore?
The best Karaoke places in Singapore are Teo Heng KTV, Cash Studio, Have Fun Karaoke, Candy K-Bar, and Ten Dollar Club.
What Is A KTV Singapore?
A KTV in Singapore is a type of karaoke spot that offers private karaoke themed rooms where friends and families can sing their favorite songs and host their own private karaoke sessions. Karaoke places usually have a lot to offer, like a large number of songs to choose from, drinks and snacks, and other ways to have fun, like board games or video game consoles. Karaoke outlets or karaoke studios in Singapore are the perfect place for parties, special events, or just a fun night out with friends.
How Do I Find The Best KTV Singapore?
There are many factors you should take into consideration when choosing the best karaoke joint for your upcoming karaoke sessions. Some of the most important things to look for when considering karaoke joints include the selection of songs, a decent price menu especially the liquors, late-night dining options, dining deals, entertainment options, service quality, a private cinema deluxe room, three-hour session set options with one free drink, deluxe and VIP suites, the highest quality and latest karaoke system, long opening hours, language options like Mandarin, and more. You can search online for "KTV near me," as Singapore has a lot of KTVS scattered all around so you can easily get the address. There are a lot of great KTVs like Club Jewel Music Box by Ten Dollar, Teo Heng KTV, K. Star Karaoke, Party World KTV, and K. Star Orchard Central, and there are many great places to sing Karaoke too, like in Lucky Chinatown, Orchard Central, Woodlands Civic Centre, Liang Court, Yishun, and many more!
Why Are Karaoke Rooms Referred To As 'KTV'?
Karaoke themed rooms are often referred to as 'KTV' because the term 'KTV' is short for 'karaoke television' with music videos and microphones. In other words, karaoke joints are places where you can sing your heart out with your favorite songs in a karaoke party room while watching the lyrics on a television screen.
What Are The Different Types Of KTV Joints In Singapore?
There are two different types of karaoke joints in Singapore: private karaoke themed rooms and public karaoke spots.
Private Karaoke Rooms: Private karaoke themed rooms are usually located in hotels or other commercial buildings. These places typically offer a more premium karaoke experience, with a wider selection of songs and amenities like drinks and snacks.
Public Karaoke Bars: Public karaoke spots are usually located in shopping malls, restaurants or other public spaces. These places may offer a more limited selection of songs and services, but they typically have lower prices and tend to be much busier, making them the perfect choice for large groups or parties. Some KTV joints like the K Star Orchard Central also offer different types of themed rooms, such as a VIP room or thematic room and even party suites.
How Are KTVs in Singapore Charged?
KTVs in Singapore are typically charged per hour. The price usually includes the use of the karaoke room, a microphone and speakers, and a TV screen with lyrics. Most places also include a set of songbooks from which you can choose your songs. Some places may also offer additional services like drinks and snacks, or other entertainment options like board games or video game consoles. These services are typically charged separately. Packages are also available at certain KTV studios, such as three-hour packages or free flow happy hour food and beverage packages.
What Happens In A Karaoke Room?
A karaoke entertainment room is a private space where you can sing your heart out to your favorite songs with friends or family. These rooms are typically equipped with a microphone, speakers, and a TV screen that displays the lyrics of the free flow hot songs.
Do I need to bring my own food and drinks to karaoke bars in Singapore?
Most karaoke spots in Singapore offer a variety of snacks and soft drinks, as well as alcoholic beverages. However, if you prefer, you can bring your own snacks and drinks to the session. It is also important to check with the venue for any dress code requirements that may be applicable before attending.
Additional Useful Articles
If you are looking for other useful guides and articles about karaoke bars in Singapore, check them out below: