Kids Scooter Singapore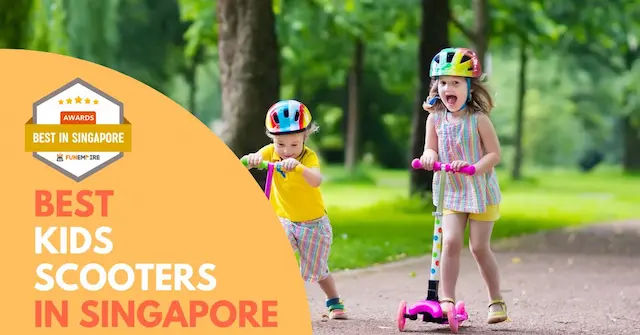 Kids are kids, no matter where you go. While they can be great kids at home, when they're out and about sometimes the little darlings just want to have some fun! One of the best ways to do that is with a kids scooter in Singapore. Kids Scooters come in all shapes and sizes so it's important for parents to know which one might be best for their child. In this blog post, we list of the best kids scooters in Singapore currently on offer by different retailers both online and offline so you don't need to spend hours searching through shops or websites looking for them!
1) Micro Mini Deluxe Kids Scooter
| | |
| --- | --- |
| Best For | Safety Features |
| Price | $140.00 |
| Website | Click here |
The Micro Mini Kick 3-in-1 Deluxe is the perfect choice for your little ones. It comes with an adjustable handlebar and can carry up to 50 pounds. Parents may push this scooter using a detachable and adjustable parent handle. You get a ride-on when you remove the parent handle and add a seat.
This Micro Mini Deluxe Kids Scooter is perfect for toddlers (12 months to five years) who are yet to master their skills in balancing and coordination while still having fun.
Key Differentiators:
Has a special safety feature
Height-adjustable bar
Patented weight transfer steering
Customer Review:
The kids love it and it is a good purchase. it works well and is a very sturdy and smooth ride. Absolutely love it.

Adeline
2) Segway Ninebot Max Escooter UL2272
If you're sensitive to headaches caused by traveling over bad roads with your scooter, the Segway Ninebot Max UL2272 won't give you any. It has shock-absorption technology that ensures a comfortable and headache-free trip. This scooter also makes use of a one-step folding mechanism for easier storage and transportation. It also has a built-in charger, so all you need is a power cable.
Key Differentiators:
Equipped with shock-absorption technology for smoother rides
Speed is up to 15.5 to 18.6mph
One-step folding system
Customer Review:
Love riding on the Ninebot Max as the battery last very long, so don't have to charge so frequent & the deck is wider than most standing e scooter which makes it very comfortable & enjoyable to ride.. just the slight drawback is that is very heavy.. don't encourage to carry it even on a short flight of stairs.

Nimal V.
3) Genconnect Scooter
| | |
| --- | --- |
| Best For | 2-Year-Olds and Above |
| Price | $12.90 – $55.00 |
| Website | Click here |
The GenConnect Foldable Kick Scooter is a high-quality scooter with a surprisingly low price tag. It has improved technology, which allows it to go up to twice as fast as previous kick scooters. You may expect excellent stability even on uneven pavements thanks to the bigger front and rear wheels of 230mm and 180mm, respectively.
The Folding Scooter comes with a faster folding mechanism, allowing you to fold and unfold the scooter in one second. GenConnect is one of the top alternatives for the best kick scooter on the market.
Key Differentiators:
Suitable for kids above 1m to adults up to 1.95m
Large wheels for extra stability
Adjustable to 3 different heights
Customer Review:
Like their scooters, very smooth bearing and are sturdy. They have quite a few models and they will guide you on which model is suitable for you. Tried other places and decided to buy from them – highly recommended.

Dave Lim
4) Minimotors Tempo V3+ PRO UL2272 52v 17.5ah
| | |
| --- | --- |
| Best For | Toddlers |
| Price | $181.44 |
| Website | Click here |
For anybody searching for a high-performance motor scooter, the Minimotors Tempo V3+ PRO UL2272 52v 17.5ah is an excellent choice. This one's clearly built for heavy daily use and long-distance travel. A scooter with a long-lasting Lithium Battery that can travel up to 70-90 kilometers powered by it and transport a huge load of 120 kilograms? It's no surprise that this model is one of the most popular vehicles for food delivery.
Key Differentiators:
Has a long-performing LG 52V 17.5AH Lithium Battery
Can go up to 70-90KM per full charge, depending on load & terrain
Capacity for a maximum load of 120KG
5) GlideCo Cruiser230 Kick Scooter
| | |
| --- | --- |
| Best For | 7 years old and above |
| Price | $179 |
| Website | Click here |
The GlideCo Cruiser230 Kick Scooter is ideal for riding for extended distances. It's constructed of high-quality materials that can withstand whatever Mother Nature throws at them. A scratch-resistant finish protects the outside of the scooter. The suspension on the front end makes going over bumps easier.
It takes a single second to fold or unfurl it when you need to do so. It also includes a shoulder strap for convenience. It's a bit more expensive, but it's well worth the investment!
Key Differentiators:
High-quality build and finishing
Excellent suspension for a smooth ride
Easy folding mechanism
6) Micro Sprite Special Edition
| | |
| --- | --- |
| Best For | Safety Features |
| Price | $173.11 |
| Website | Click here |
This Micro Sprite Special Edition aluminum scooter may be modified to suit a specific height, and it's also small enough to take to school every day. It has a tiny footprint, so it won't be difficult for a kid to transport it to school.
Furthermore, the distinctive edition has a particularly modern and elegant design. Consider this if your child not only wants the finest scooter in Singapore but also wants one that is both stylish and functional! This is without a doubt a children's scooter that can travel short distances as well as provide hours of fun.
Key Differentiators:
Adjustable
Highly functional
Compact size
7) Globber Evo Comfort Play
| | |
| --- | --- |
| Best For | Multi-functionality |
| Price | $149.00 |
| Website | Click here |
The Globber Evo Comfort Play is a unique multi-purpose ride that may be used as a scooter or a bike. The front-wheel runs on double-layered, pneumatic tires (2.75 inches wide) designed for riding off-road on rough terrain. It also comes with a slightly larger seat height and a more comfortable ride due to the adjustable seat bar that you can move up and backward. The height is also adjustable, allowing your children to have a smooth and comfortable ride.
Key Differentiators:
Adjustable seat bar and a removable footrest
Light and sound modules
Suitable for kids 15 months to 9 years old and above
Customer Review:
The kids enjoy playing with this. the quality is very good and has no issues. worth the price and very sturdy too.

Stefanie
8) 21st Scooter
| | |
| --- | --- |
| Best For | Safety Features |
| Price | $16.88 |
| Website | Click here |
If you want to make sure your child is safe on a scooter, this one is for you. The 21st Scooter is another three-wheeled vehicle that your children may enjoy riding. The unusual part about this one is that its wheels are lit with LEDs, allowing you to see them at night. It also has anti-slip handlebars and a deck. As a result, this scooter is probably the finest option for people concerned with safety when compared to the other versions.
Key Differentiators:
Has rear step brake for safety
Extra-wide brake pedal
Adjustable height
9) Mini Micro 3in1 Deluxe
| | |
| --- | --- |
| Best For | Toddlers |
| Price | $181.44 |
| Website | Click here |
If you're searching for a scooter for a two-year-old, the Mini Micro 3in1 Deluxe is one of the finest options. Toddlers are typically the most energetic age of a child. This is when children learn how to walk, run, interact with other kids, discover new things, and so on. It's also an excellent time to start exposing them to toys and activities that will improve their brains and bodies. You can maximize the scooter's lifespan up to 5 years of age.
Key Differentiators:
Multi-functional
Adjustable handlebar
Durable and lightweight
Customer's Review:
My 20 month and 5 yr old grandsons love this scooter. Very sturdy and versatile. My daughter has a time changing the handlebars so her husband has to, but it is a very nice scooter.

J. Landholm
10) Razor Jr. T3
| | |
| --- | --- |
| Best For | Safety Features |
| Price | $129.90 |
| Website | Click here |
The Razor Jr. T3 is the most durable scooter on this list, according to the Razor Jr. T3 is said to be the best kids scooter in Singapore for the overall durability of all components in this group. This may be the ideal scooter for you if you want to hand down a scooter to your child.
Unlike the Micro model we previously discussed, this one has three wheels and will be easier for the kids to learn to ride. It also includes soft rubber grips that prevent their hands from slipping off during the trip.
Key Differentiators:
Three-wheel design
Soft rubber handle grips
Long-lasting built
Customer's Review:
Our just turned 3 years old and loves this scooter. We purchased it during the Covid-19 Stay-at-Home time thinking it will take him a few days to get the hang of it. The next day he was racing up and down our sidewalk. The two wheels in the front are a real plus. He tried the single-wheel scooter (as did his little friend) and it was pretty challenging to balance on. This scooter has held up to miles and miles of riding and some "jumps" off the curb and still holds up and most importantly keeps his interest. Highly recommend this scooter.

Amazon Customer
11) Fuzion City Glide
| | |
| --- | --- |
| Best For | Teens |
| Price | $139.00 |
| Website | Click here |
If you're searching for scooters that your children can ride, the Fuzion City Glide is a good choice. It's not only beautiful, but it's also well-made and practical for everyday use. It's also collapsible, making travel easier. The scooter's low height also results in a steady and smooth ride. It's also adjustable, so you may change the height to your child's liking.
Key Differentiators:
Best for kids and adults
Low-riding body
Folding system
Kids Scooter Singapore
If you're looking for kids' scooters in Singapore, we've compiled a list of the best kids' scooters on this market. There are many factors to consider when selecting kids' scooters: age suitability, height adjustment, and wheel type, so be sure to read through our recommendations before making your final decision. We hope that these reviews will help you find the perfect kids' scooter for your child!
If you found this article useful, do check out our other articles as well!