Korean Food Singapore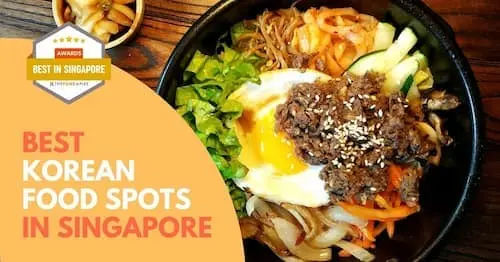 If you're looking for some delicious Korean food, you don't have to look any further!
The best Korean food spots in Singapore are Su Korean BBQ, Seoul Restaurant, I'm Kim Korean BBQ, Magal BBQ, and Seorae Korean Charcoal BBQ.
When selecting a Korean restaurant, take into account various factors including the level of service, pricing, reputation, menu offerings, and customer reviews.
Some of the popular Korean dishes in Singapore are Kimchi, Bibimbap, Samgyeopsal, and Korean BBQ.
So what are you waiting for? Check out our list and start planning your next Korean food adventure!
Key Consideration Factors
Service Quality: The service should be attentive and polite. The waitstaff should be knowledgeable about the menu and able to make recommendations.
Price: Make sure to comparison shop between the various restaurants, so you can secure the most beneficial discounts.
Reputation: When looking for a reliable restaurant, one with an established reputation is the best option. These shops often excel in customer service and utilize superior ingredients so that food is memorable. A good Korean restaurant Singapore is very well known to satisfy their customers' Korean food cravings.
Food Menu: A good restaurant menu should offer a variety of savory and sweet dishes, as well as a selection of drinks. Most Korean restaurants in Singapore have different menu offer such as rice cakes, combo meals, seafood offerings, sets wang dae bak, free flow of drinks and juices.
Reviews: Researching reviews from previous customers is a great way to evaluate the level of service, as well as comprehend if the restaurant can be trusted.
Quality of service: As you don't want your dining experience to fail following a few days, you must assess the quality of ingredients used for the meals.
Best Korean Food Singapore
1) Su Korean BBQ
This rustic restaurant tucked away in Peace Centre serves tasty cuts like garlic pork belly and beef bulgogi, as well as the usual suspects such as kimchi pancake and soybean paste soup.
Also, don't forget to finish your meal on a sweet note with its wide selection of bingsu bowls. This why they are one of the best Korean restaurants in Singapore.
Key Differentiators
This rustic restaurant tucked away in Peace Centre serves tasty cuts like garlic pork belly and beef bulgogi, as well as the usual suspects such as kimchi pancake and soybean paste soup.
Client Testimonial
Hearty, comfort food that beats any of the Korean Restaurants in the CBD in terms of flavour and price.

Fiona Poh
2) Seoul Restaurant
At this ritzy spot in the Regent Hotel, have a refined party with real charcoal Korean BBQ.
For purists of Korean BBQ, the range of premium cuts is just the beginning.
Seoul Restaurant also has a large selection of Korean beer and alcohol to go with your meal.
Key Differentiators
At this ritzy spot in the Regent Hotel, have a refined party with real charcoal Korean BBQ.
Client Testimonial
Best kbbq experience in Singapore hands down!

Lily Ng
3) I'm Kim Korean BBQ
For people who enjoy eating their food fast, this popular Korean buffet and BBQ restaurant (slot reservations are almost always full) is ideal.
For individuals in a group of three or fewer, there is a preset time limit of 90 minutes, so you won't have to worry about table-hoggers.
Key Differentiators
For people who enjoy eating their food fast, this popular Korean buffet and BBQ restaurant (slot reservations are almost always full) is ideal.
Client Testimonial
Pleasantly surprised with the quality, taste and the affordability.

Robin Tan
4) Magal BBQ
There are two types of Korean BBQ enthusiasts: those who enjoy pork and those who prefer beef.
Choose from any of the above, as each features combination packs tailored to certain meat.
Is it better to go with a buddy?
Dig into the signature combo for the best of both worlds as it serves melt-in-your-mouth brisket and juicy pork belly. This why they are one of the best Korean restaurants in Singapore.
Key Differentiators
Dig into the signature combo for the best of both worlds as it serves melt-in-your-mouth brisket and juicy pork belly.
Client Testimonial
The service staff were efficient and friendly! Food tastes awesome, side dishes were plentiful and I really liked the egg that came together with the bbq!

Shermaine Tan
5) Seorae Korean Charcoal BBQ
This Korean BBQ joint makes a good post-shopping meal.
Located in Dhoby Ghaut, Seorae specializes in tender, galmaegisal pork which comes in three flavors: Original, garlic, and spicy.
Opt for a moat of melted cheese around the barbecue plate to go along with your grilled meats – cheese lovers, rejoice!
Key Differentiators
Opt for a moat of melted cheese around the barbecue plate to go along with your grilled meats – cheese lovers, rejoice!
Client Testimonial
Had lunch here. Ordered the pork set.

Pineapple Soju cocktail was nice!!!!

Ginseng chicken also nicely cooked to perfect soft tenderness

Jayne Tan
6) 8 Korean BBQ
This upscale-than-most Korean barbecue restaurant takes its name from its signature 8 Colour Set, which consists of thick, long strips of Mangalitsa pork belly flavored in eight ways: original, wine, curry, garlic, miso, herb, kalbi, and red pepper paste.
That is not to say that it isn't excellent, though.
It's definitely worth a try, but like any all-around Korean BBQ restaurant, it isn't the only good cut of meat available.
There are also fantastic beef and seafood dishes served, like Japanese wagyu, Atlantic salmon, and king prawn for grilling, as well as crispy pancakes, truffle steamed egg, and a slew of stews
Key Differentiators
It's definitely worth a try, but like any all-around Korean BBQ restaurant, it isn't the only good cut of meat available.
Client Testimonial
Appreciate for the assistance from the restaurant's staffs (Ms Susan and Mr Jack), they are very emphatic and observances will always stand by for our enquiry. Services rendered by them is really impressive! The food is also nice and meat is well marinated. Will definitely visit again!

Belle
7) Hanwoori
Serving up authentic Korean food since 2011, this joint has classics like kimchi jjigae (kimchi stew), samgyetang (ginseng chicken soup), and spicy tofu stew.
But the standout is the BBQ combination, which consists of some of the best foods in existence. The best part about it is that you don't have to prepare anything! This why they have one of the best Korean food in Singapore!
You'll be given a plate of fresh, complete meals in bite-size portions to eat while relaxing on the sofa. This is what makes Hanwoori Korean restaurant the place to go and have fun!
Key Differentiators
The standout is the BBQ combination, which consists of some of the best foods in existence. The best part about it is that you don't have to prepare anything!
Client Testimonial
They are very generous in their serving. They have 10 side dish of which many of them are very nice.

Michelle Peck
8) O.BBa BBQ
A popular spot amongst night owls and party-goers, this Korean barbecue place in Tanjong Pagar is open till 6 am! It might be on the pricier side but it's so worth it.
Key Differentiators
In case you have eaten a little too much, stick to the short rib, rib eye, and pork belly since they'll still be tender regardless of how intoxicated you are. The kind staff will do everything for you.
Client Testimonial
The soft tofu soup and seafood pancake were exceptional.

Yuchen L.
9) Kko kko Na Ra
Owner Madam Lee's mother, who lived in Jeon La Do, a province in Korea known for toothsome cuisine, created the recipe for Kko Kko Na Ra, which is dubbed as the "originator of Korean fried chicken restaurants in Singapore." The restaurant is also said to be the first to serve ma neul gan jang (garlic soy sauce chicken), serving wings, drums and even kimchi soup.
Key Differentiators
fresh ingredients from Korea
homemade
100% authentic
Client Testimonial
Free flow side dish, nice ambience, and cold aircon ideal for those into army stew or other pot!
Excellent service from the waitress who was serving us too.
10) Todamgol
Todamgol is a "classic Korean eatery" that, like other traditional restaurants throughout the world, serves hearty and delicious cuisine. The first thing you notice when you enter is a wood-forward, plant-filled façade that expands to a warmly lit interior that fondly evokes the Korean hospitality most people recall from their vacations.
Key Differentiators
For those who want to try something different, or who simply miss the taste of Korea, this is the perfect to go!
Client Testimonial
First time here. Wide varieties of authentic Korean food served! Price can be on the high side, however portions are so generous. A great place to hang out with family and friends. If it's a big group, you may request for a private room too.
11) Jangsu Korean BBQ
Jangsu Korean BBQ, located along Teck Chye Terrace in Serangoon Gardens, is a no-frills, straight-up-delicious Korean restaurant where you'll be sure to leave satisfied. It's only a short walk away from Serangoon station.
Key Differentiators
100% juicy & tender meat
affordable
Client Testimonial
Cosy, nice and authentic Korean restaurant. The staff is very friendly and he helped to cook our meat very nicely. Ordered set B and Chajang noodles. Taste is great, I love their appetisers plates. Their food is nicely seasoned and not too salty. Reservations is recommended for dinners and weekend lunch. Good value.
12) Danji Korean BBQ Buffet
While there are already a lot of Korean BBQ buffet options available, many people can testify to Danji Korean BBQ Buffet's distinction from the competition. For starters, it has received four and a half out of five stars based on 578 Google reviews, which is quite impressive these days.
Key Differentiators
service is very quick
top standard food
Client Testimonial
Very worthy place for Korea Bbq! Opened by a Korean couple, with authentic dishes! I like their mashed potatoes, kimchi was really good. Their bean paste was amazing too I had 2 servings! Meat marination wasn't too salty,very good. The meat were of good grade despite its value for money. I would certainly recommend this place!
13) Meta Restaurant
Taking a break from "go chu jang this" and "yang nyeom that," Meta Restaurant takes things to the next level, having been granted one Michelin star in 2017, 2018, and 2019. It's not every day that a Korean restaurant appears on the Michelin list.
Key Differentiators
Meta creates creative and well-balanced dishes that utilize the best seasonal produce and ingredients available from all around the world by mixing his Korean heritage, Japanese culinary techniques, and Western culinary education.
Client Testimonial
Superb experience. Every course, including the snacks were faultless. The Korean BBQ was outstanding. Love the nuances of flavours which went fantastically with an Asian pairing of sake. Desserts and petit fours were enjoyable to round off the meal.
14) Guiga Korean BBQ Restaurant 
If you're looking for a good Korean barbecue restaurant in Singapore, Guiga Korean BBQ Restaurant is likely to come up.
Key Differentiators
no shortage of protein options here
Client Testimonial
Highly recommended. Sit back and relax, let the attentive staff do the bbq! Grill pan was changed several times so it was always clean for us.
15) Noodle Star K
The Noodle Star K's namesake is accurate, as it delivers a variety of noodle-based dishes that are both Korean classics and popular with Singaporeans all around the world. The noodles are boiled and then put in a cold bath before being seasoned and garnished with toppings.
Key Differentiators
Client Testimonial
Been wanting to enjoy a bowl of cold noodles and jjajangmyeon! The noodles they provide are without a doubt the best I've ever tasted! They offer a variety of white varieties of other noodles, such as kalguksu and soy bean broth noodle, that aren't readily accessible in Singapore. Dumplings are also fantastic! Certainly returning again!
16) Pocha In A Forest
Pocha In A Forest will have you sitting on iconic yellow plastic stools and gathering around aluminium tables that your dishes barely fit on for a complete immersion.
Key Differentiators
Korean bar and restaurant
Client Testimonial
I felt like I'm in Korea !!

The staff was so kind and the ice beer was so delicious!!! it's really really nice thin ice beer!! Best beer ever And the food are really yummy as well!! It's very good to takeing pictures with friends and having a great time with friends ! Highly recommend
17) +82 Plus Eight Two
+82 PlusEightTwo is a cafe that was founded and run by BTOB's Seo Eun-kwang. It doesn't get any more authentically Korean than +82 PlusEightTwo, which was opened by BTOB's Seo Eun-kwang himself. The dessert restaurant is located in the center of Dhoby Ghaut, and its industrial-chic interior perfectly reflects South Korea's cafe culture, which has been all the rage lately.
Key Differentiators
cafe culture
good location
Client Testimonial
Spent my birthday eating delicious Blueberry muffin and drinking Ice cube latte ☕ BTOB Eunkwang's cafe is awesome! Place has a good vibe where you can chill.
18) SBCD Korean Tofu House
This is a typical choice for those who enjoy a decent Korean meal — SBCD Korean Tofu House serves soondubu, which is overflowing with flavor. Chef Nam Kyoung Soo, the hotel's head chef, established the tofu house in 2016 with the goal of offering authentic Korean cuisine to Singapore.
Key Differentiators
traditional Korean soft tofu stew
Client Testimonial
Excellent and friendly service by Ryann (not sure if I have spelled correctly)
Love ur energy and service
Wat a satisfying meal to end the day
See u soon!!!
19) Pink Candy Korean Restaurant
Pink Candy, located on the fourth floor of Beauty World Centre, isn't your average run-of-the-mill Korean eating establishment. For one thing, it's nestled in an open-air food court, "rooftop garden," as advertised by the attention-grabbing signage that dot the shopfront.
Key Differentiators
Rooftop garden korean food dining experience
Korean Hawker centre
Client Testimonial
Korean food and BBQ stall at Beauty World Food Centre.

I had the Pork Belly BBQ set with rice, $4 kimchi, and two Snow Beers. $49.90 for two. Very worth it with the portion size.
20) HANJIP Korean Grill House
Striving to be the most "authentic traditional Korean barbeque restaurant in Singapore", HANJIP Korean Grill House is quite literally one of Singapore's biggest Korean barbeque restaurants, occupying a space of over 5000 square feet.
Key Differentiators
first KBBQ in Clarke Quay
Client Testimonial
Located in a prime area along Clark Quay. Parking is relatively easy but again it really depends which day of the week.

The menu is interesting and the selection of the meat is good.

The ambient of the place is nice and they do have a few private rooms if you want it. Making a reservation is almost mandatory.
21) Hansik Restaurant 
Hansik Restaurant is located just outside Kovan MRT Station, on the border of Heartland Mall. North Eastern eaters from all around the area, be sure to get there early to secure a seat before it gets crowded during dinner. The Green Tea Pork Belly (S$23/200g) is an appealing item on the menu, while the Ginseng Chicken Soup (S$23), Boneless Beef Rib (S$38/100g), and other classics such as this do not disappoint. Serve with spoonfuls of a fragrant, herb-laced chicken stock and pieces of juicy, tender fall-off-the-bone chicken from your Ginseng Chicken Soup.
Key Differentiators
provide finest quality of korean Alacarte dish
great food
Client Testimonial
Delicious food. I went in quite late at 8.21pm. The service staff told me that last order at 8.30pm and that I have only 9 mins. I felt like I need to faster eat faster go other than that the service is ok and the food I must say is good.

Jenny Minoz Em
22) Ju Shin Jung
Ju Shin Jung's fame speaks for itself in the form of long lines and ever-growing reservation lists, so there's no need to introduce it. With free-flow meats, it promises to satisfy even the hungriest of eaters. For the full Korean dining experience, try the conventional sitting position with floor cushions and a low table. The restaurant's distinctive banchan (small side dishes) platter has made it a favorite among foodies, and visitors will never go hungry or lack choices at Ju Shin Jung. The restaurant's "all you can eat" concept is a show-stopper, with seven distinct menu items available—woo sam gyup (beef belly), bulgogi (seasoned sliced beef), sam gyup sal (pork belly), mok sal (pork collar), daeji (marinated pork), dak (marinated chicken), and saewoo (prawn).
Key Differentiators
delectable food and fantastic service
tasty soup with diverse ingredients
Satisfying and ẹnoyable dinner
Client Testimonial
Better to make a reservation before coming down as it tends to get crowded during the weekends. Had the buffet which consists of meat selection, but we only ordered the beef slice and beef belly. Comes with 2 side dishes for selection. The banchan is great too! The server will gladly help to cook the meats if you asked. And they are moving to a new location soon.

Serene T
23) Kim Dae Mun
Ah, one that is popular among students and people on a budget. When we'd frequently hop on a bus from SMU to the restaurant down the street from my university, Kim Dae Mun was a household name among my classmates. Kim Dae Mun is a popular shopping area located on the first floor of Concorde Shopping Mall. It isn't just accessible, but it's also known for its affordability. There's a lot of buzz about it, and for good reason. Many from far and near are flocking to try Korean cuisine without breaking the budget—a feat in itself!
Key Differentiators
great food
large portions
indoor dining
Client Testimonial
My favourite korea food in SG, i love their cuttlefish and chicken ! Have been supporting them before they even move out to the current spot. Very flavourful

Quenna Tan
24) Bigmama Korean Food 
Tiong Bahru is another 'hood that you can count on for excellent old-fashioned Korean food, or simply a range of cuisines in general. That's where Bigmama, Singapore's only suyuk location, is found. Suyuks (S$25), which literally translate to "boiled and processed meat slices," are boiled and then sliced, and are meant to be eaten with soya sauce, vinegar, cucumbers, celery, or spicy soybean sprouts if one desires.
Key Differentiators
Authentic Korean flavour
Famous Suyuk and Dakgalbi with fried rice
Great overall experience
Client Testimonial
Ordered their set for 2 which was very worth since the portion was huge (we shared among 4 people actually) It comes with pork, kimchi jeon, spicy chicken. We added on the fried ricr afterwards.
25) Kim's Family Food
Kim's Family Food has been a long-time classic of the form, and it is recognized for delivering genuine Korean cuisine in Beauty World. The portions at Bistro are so huge that it's best to order with caution, but if you're an unapologetic meat-eater, this is music to your ears. The large number of banchan (side dishes), according to regulars, who visit the restaurant frequently, is commendable—there are 12 distinct items on the menu.
Key Differentiators
Cosy atmosphere
Tasting menu
Stylish interior
Client Testimonial
My friends birthday, advance reservation done, they gave a quite corner seating area. Authentic Korean cruisine, 12 refillable side dishes is a bonus. Must try Korean Ginseng soup. Write or draw on the wall before you leave!

Kathleen Tong
26) Pa Bul Lo Korean BBQ
As of late, many new eatery ideas and cuisines have developed in Serangoon Gardens, and Korean BBQ restaurants have not been an exception. The famous Pa Bul Lo Korean BBQ, which is a favorite among locals and tourists alike, attracts long lines of hungry fans; they're just waiting to devour delicious comfort food. The casual, familial ambience of the restaurant extends to their lunch menu, which is only available on weekdays and offers several dishes for just $12. This is a fascinating concept that I haven't seen anywhere else in Singapore.
Key Differentiators
Tasty dish
Hearty, flabourful broth
Affordability
Client Testimonial
A must try for their lunch menu, will change periodically.Food is superb, must try A5 Wagyu beef…Friendly and helpful boss & staffs!Highly recommended, but do call for reservation

Dann Russell Yong
27) Woorinara Korean Restaurant
Woorinara Korean Restaurant, which is just a neighbourly wave away from Kim's Family Food, is well-known throughout the region for its crispy, delicious Korean fried chicken. Soy garlic chicken makes its presence felt in the form of a robust, flavorful sauce that coats each bite before it hits your tongue. The meat is pleasant enough, though not as delicious as some other items on the menu. A good complement to either dish would be their wedges. To fully immerse oneself in a Korean meal, we strongly suggest sharing the Cheese Seafood And Kimchi Pancake (S$23) or Spicy Sausage And Ham Stew (Army Stew) (S$28).
Key Differentiators
Tasty dish
Hearty, flabourful broth
Affordability
Client Testimonial
A must try for their lunch menu, will change periodically.Food is superb, must try A5 Wagyu beef…Friendly and helpful boss & staffs!Highly recommended, but do call for reservation

Dann Russell Yong
28) Dal-In Korean Restaurant
Although the menu at Dal-In Korean Restaurant is extensive, it holds its own with a wide range of selections and a meal that appears to never end. I'm wary of huge menus because they frequently take the "jack of all trades" approach, but if there's anything I've learnt during my stay in Korea, it's that Koreans are as good at multitasking as they are at forming a pop band.
Key Differentiators
Great food
Cosy atmosphere
Friendly decoration
Client Testimonial
Also like v good service every single time hehe. i recommend the duroc pork. Idk why the reviews are like that?? i've eaten here over 10 times the last year & i love them, cosy place, good food & always good service

Pearl Yeo
29) Singkoba 
Singkobawear daechang as a badge of honor, just like many other Korean BBQ restaurants. However, Singkoba wears it proudly, as it is deserved. If you're a local, the restaurant also offers standards such as Pork Belly (S$19), Spicy Pork Belly (S$21), and Seasoned Beef Ribs with Soy Sauce (S$38), which are essential components of any good Korean barbecue meal.
Key Differentiators
Amazing food
Friendly staff
Authentic Korean BBQ
Client Testimonial
The best Korean restaurant in Singapore! I love their beef Ramen!

Ann Chun Fa Darren
30) Jang Won Korean Restaurant
Jang Won is a gem among several Korean restaurants in the Chinatown neighborhood of Seoul. There's a larger living room, a style that shows you the peaceful countryside, and most importantly, delectable cuisine. Jang Won is a treasure among the many Korean restaurants in Chinatown, having settled in busy area. There are also an additional larger sitting area, a calm country décor, and most importantly, delectable cuisine.
Key Differentiators
Comfortable and relaxing atmosphere
Famous kimchi
Private room available
Client Testimonial
It's a really nice little Korean place. From the outside it's surrounded by the endless Chinese eateries that I almost missed the entrance. I would definitely come back to try the other dishes! Army stew on a chilly day really hit the spot!

Sue Asff
31) Wang Dae Bak Korean BBQ Restaurant
Barbecue prime rib and pork belly over the charcoal fire; you'll be able to tell how unique and delicious they are. The egg mix is poured around the barbeque pan's edge and you must wait until it becomes fluffy. It's excellent, and it's absolutely free. Both half-cooked and fully cooked are fantastic; they're even better. Wang Dae Bak's pancakes, which are served on bamboo-woven plates, are really spectacular owing to their enormous serving size and generous ingredients. If your pancake becomes cold, grill it over the charcoal until the last bite is crispy.
Key Differentiators
Delicious marinate prime rib, pork belly and pork collar
Well-ventilated
Good tea came along with meals
Client Testimonial
Wang Dae Bak is definitely most value for money considering the portion sizes and food quality! We had the Couple Set with beef, chicken and pork, and added on a combo set of Half-Half Pancake and Bean Paste Seafood Stew. Absolutely delicious!

Service was good too, the crew is very young, energetic and friendly. Despite being young, they were obviously experienced and knew to serve hot soups away from my three year-old, something that some restaurants can't even do.

Excellent experience!

Jasmine Khoo
32) Ssikkek BBQ
Fresh and well-marinated beef, pork, and chicken are always packed in deep trays for a meat feast experience. The marinated meats, which are a style of Ssikkek, create genuine Korean tastes while the non-marinated meats can be customized with your own recipes prior to being grilled on the pan. Ssikkek provides a wide food choice for your Barbeque party with a variety of dishes catching your attention in the uncooked and cooked food areas. Side dishes, such as beans or potatoes, may be served between your meat servings.
Key Differentiators
Affordable
Yummy
Attentive service
Client Testimonial
Best and affordable KBBQ to visit with friends! staff werw attentive and lady boss is kind too! will definitely come back again

Ming Yang Lee
33) 2D1N Soju Bang Korean Restaurant
Tanjong Pagar is a fascinating destination in and of itself, so a trip to 2D1N doesn't have to be limited to food. The village was formerly a resting place, with most of its gorgeous architecture still wonderfully preserved. If you're in the mood for a hearty 2D1N KBBQ meal, head to Tanjong Pagar and peruse the art and architecture. Wagyu loin steak, beef short ribs, and black pork belly are just a few of the delectable meats on offer. Choices include all-beef, beef-pork, and chicken-pork combinations. All banchan are included in the price of a multi-course meal, and complimentary dishes are available with each selection. Of course, there's also the customary banchan like the classic steamed egg.
Key Differentiators
Family-friendly
Specialised in charcoal grill and stews
Helmed by Korean chefs
Client Testimonial
Helper is friendly to BBQ for customer. Feel like dinning into home sweet home .

Anne Choy Ping
34) K.Cook Korean BBQ Buffet
All that is required for a delectable Korean BBQ dinner is ready-to-eat meals, pickles, marinated and non-marinated meats, seafood, fruits, desserts, and soft drinks. Meat lovers will be spoilt for choice with a variety of options, including pork belly, beef short rib, beef bulgogi, chicken sausages, squid, prawns, and much more. The prices are very affordable and among the cheapest in Singapore for a Korean BBQ buffet! With lunch at just $14.90+ per pax, you will definitely get the bang for your buck at K Cook. Check out their Facebook page for current deals, such as the 4-come-and-pay-3 offer.
Key Differentiators
Reasonable rates
Nice location
Large portions
Client Testimonial
I like the outdoor dining. With nice view. Price are reasonable. Staff filled up the foods fast. Really enjoyed it.

Yen Ming Wong
35) Chicken Up
Chicken Up's signature dish is not only a hit with children, but it also features the tasty, crunchy chicken skin and delicate meat that fans love. Chicken Up's crispy and hearty style is a hit with customers. It never fails that they'll ask for more when Chicken Up's crispy and light version arrives piping hot on their table. Yes, there is a world of fried chickens, which includes a variety of fascinating names like Spicy Up Chicken, Mild Up, Curry Up, Soya Chicken, Andong Stew, Popcorn Chicken, and Suicide chicken. Each of these fried chicken recipes differs in its own way, yet they are all delicious and unique.
Key Differentiators
#1 spot as Best Korean Fried Chicken in Singapore by HungryGoWhere
Contemporary approach to Korean cuisine
Each chicken part is treated for 12 hours in marinating process using an original recipe then deep-fried to perfection to seal in all the spices
Client Testimonial
2nd time visit and still enjoy the food and sojurita there. Recommended place if u fancy korean fried chicken and other snacks! Tried the beef Bulgogi salad today! It's yummy!!

Priscilla Tay
36) Masizzim
Do you crave a spicy bowl of soup? Mizzim has you covered with its pork and beef stews, which are guaranteed to ignite your taste buds. Are you afraid of a little spice? Choose a broth with less salt and more sweetener, such as one made from soy. There's more. Snacks like honey mustard cheese egg rolls and rice balls, which are stuffed with crab meat and roe or tuna, aren't to be missed.
Key Differentiators
Flavorful beef stew
Big portions
Crispy pancake
Client Testimonial
this was quite a yummy place! albeit a lil pricey, staffs are really friendly n helpful. Food is on the saltier side and if the price of the dishes were lower , i would return

Tessa JinXuan
37) Hongdae Oppa
Hongdae Oppa is a Korean restaurant that transports you to Seoul's exciting Hongdae area. K-Style Fried Rice, Also Known as Bokkeumbap, Served in Sizzling Hot Plates with Pork, Beef, Chicken or Crispy Sliced Pork Belly is One of their Specialties. Korean fried chicken, other typical dishes such as army stew, tteokbokki, and ramyeon are all available on the menu. It's a safe haven for anyone who has been swept up by the Hallyu tidal wave.
Key Differentiators
Friendly service
A lot of ingredients
Nice drinks
Client Testimonial
Tried their signature Gochujang and soy garlic chicken. Price is higher compared to chicken from fast food chains. But the fried chicken was really good and tasty. They have other varieties of Korean food as well. It appears that the place is popular and becomes full at peak times, and we were in the queue for about 15 minutes. But the wait is worth your while.

neo
38) Chir Chir
Nest Snow is the main star of this Korean fried chicken restaurant. A creamy, decadent sauce is poured over the chicken and veggies in this dish, which is topped with chicken tenders and a sweet, coleslaw-like combination. The most unusual addition is a bit of whipped cream on top, although we applaud its chutzpah! You may also choose milder dishes like garlic chicken tenders if all of that is too daring for your traditionalist tastes.
Key Differentiators
Generous portions
Delicious honey butter chicken
Crispy chicken
Client Testimonial
Food was magnificent! Really love the half garlicky chicken! It came along with the sauce with it which was fantastic. Would recommend going on a weekday as there is less crowd

Joshua Lee
39) The Boneless Chicken
Don't be surprised if you're a vegan with an addiction to Korean cuisine. All meals at this K-joint are completely vegan and vegetarian. This means your food is prepared entirely from scratch, including kimchi and gochujang (so there's no garlic or fish sauce!). You'll discover familiar dishes like spicy kimchi soup and bibimbap, but with plant-based proteins instead of animal-derived ones.
Key Differentiators
Nice food
Friendly staff
Fast serving
Client Testimonial
Great ambience and kind staff! Food was authentically great!

Mathura Narayanan
40) King Army Stew
King Army Stew is a unique culinary experience dedicated to providing you with an authentic Korean flavor in a fun, intimate, and casual atmosphere. The restaurant, which is situated in Fortune Centre, is conveniently accessible from the Bugis MRT station.
King Army Stew currently offers four distinct types of stew, with customers having a hard time making their selection. The Classic Army Stew is a steaming pot of onions, lettuce, luncheon meat, bacon, kimchi, mushrooms, spicy baby octopus and more seasoned with the eatery's own spicy sauce. It's garnished with a delicious layer of cheddar cheese. There is also a salad bar where customers can choose from four different types of lettuce and mix-and-match toppings. Chicken nuggets, tteokbokki, and other seafood dishes are available as add-ons. This mouthwatering Korean dish was specially prepared to appeal to local preferences after being modified by their own Korean chef!
Key Differentiators
Authentic tastes developed by Korean chef
Fun, casual and intimate setting
Delivering amazing flavours at great value
Client Testimonial
Awesome food with great service. Price is affordable too. Will definitely patronise again and recommend to my friends.

WC Ting
41) ANJU
Drop by ANJU on Tras Street for a unique Korean meal with excellent beverages. This restaurant, with its unique list of fine Korean cuisine, offers the best booze from Korea. Galbi Jjim, Abalone Gim Pasta, Hogam Jeon, and Sweet Potato ice cream are just a few of the Chef's favorites.
Start your dinner with a plate of delicious Bori Prawns. These crunchy prawns are deep-fried to a golden brown and served with green baby garlic shoots for extra taste. For those looking for a hearty meal with a hint of sweetness, the Black Bean Mascarpone is not to be missed! A beautiful, layered casserole of fluffy oven-baked sourdough is topped with a generous layer of mascarpone, sweet Siritae Beans, and chive oil — the ideal appetite whetter.
Key Differentiators
Elegant Korean cuisine experience
Carefully curated list of bottles
Modern Korean dining and bar experience
Client Testimonial
Very popular Korean restaurant, could only get a reservation at 830pm. 6 out of the 7 dishes we ordered were really good. Creative takes on traditional Korean dishes. Something to note if you're thinking of celebrating a birthday here. No outside food allowed, so couldn't cut cake here.

Serena Tan
42) Joo Bar
Joo Bar is located in a three-storey heritage shophouse along Tan Quee Lan Street and is Singapore's first Makgeolli bar and restaurant. Joo Bar is the ideal place to unwind, rejuvenate, and re-energise after a tough day at work. Joo Bar provides excellent Korean bites and novel beverages in a cozy, laid-back setting. A popular dish at Joo Bar is the Joo Calamari, which includes calamari rings with a variety of Korean ingredients.
Key Differentiators
Top notch modern Korean bites
Creative drinks
Laid-back vibe with a tasteful dose of edginess
Client Testimonial
really great food and great service!!!

Siew Pheng
43) Bornga
Bornga, the culinary creation of Chef Paik Jong Won, Korea's most successful and renowned celebrity chef, has established itself as a household favorite. An exceptional meal at this worldwide Korean BBQ chain is certain to be a delight, with an empire of more than 33 branches in Korea and three successful outlets in Singapore! Expect some fantastic meals from our friendly, attentive staff with a dedication to providing the best Korean cuisine available.
Key Differentiators
New taste of excellent Korean cuisine
Thinly sliced beef seasoned with a top secret marinate
Good service
Client Testimonial
I went there to celebrate my son's birthday because he is a great fan of Korean BBQ. I managed to get a table by going on the waitlist. So we didn't have to wait long upon arrival at the restaurant. Service is friendly and efficient. Love the generous portion of fresh green salads and aperitifs. It will be good if the variety of aperitif is wider like the other Korean restaurants I have been before. I ordered fresh prawns at the request of my boy.

Personally, I think that the prawns were hugely overpriced. The sirloin steak pieces were a disappointment to me because it was on the tough side. However, the seafood pancake was awesome, very light and packed full of ingredients inside. Overall, we enjoyed it but the bill was big!

Lynette Keh
44) Chang Korean BBQ
Above all, Chang Korean Charcoal BBQ sets the bar high. Chang is a health-conscious restaurant where we try to give a wide range of healthy options. Their cuisine is both conventional and modernized to appeal to the senses. They prepare meals for our beloved one, and they try to give Korean traditional dishes with a twist like their fried saba fish. Passion is essential in ensuring that the trendy taste is accurately reflected in the traditional flavor.
Key Differentiators
Luxury surroundings
Exclusive Korean fine dining
Original taste of Korean cuisine
Client Testimonial
Good food, friendly staff, friendly boss. U will love it here

Edeon Shirley Lim
45) Jun BBQ & Beer
The staff at BBQ & Beer are happy to answer any questions you have regarding their cuisine or the restaurants' other options. They provide high-quality, inexpensive Korean meals in a homey and relaxing atmosphere, and they're dedicated to offering dinners that are both affordable and high-quality. Korean barbecue enthusiasts are in for a treat. Beef lovers will enjoy the Galbisal Seoksoe Hanpan, a charcoal-grilled beef sirloin or rib that's been marinated and grilled to perfection. The Beef Bulgogi Seoksoe Hanpan is seasoned with soy sauce, brown sugar, and a slew of spices before being marinated. The meat is then enhanced by the smoking over the grill, which adds to its flavor.
Key Differentiators
Authentic, MSG-Free, Homely Korean cuisine
Specialities: Korean BBQ and Oven-Roasted meats
Chill-out setting
Client Testimonial
The food was in good portion & every dish tasted so good. The bbq pork & beef were succulent & melted inside your mouth. The seafood pancake was yummy & you can still tasted individual seafood. I specially loved their army stew with the kick in the soup & the rice cake & Korean dumplings really added to the taste. Overall experience of the Korean food was simply heavenly with Korean beer too. The lady boss was friendly & helpful too.

Shendy Gibson Koh
46) Magal BBQ
The unpretentious Magal Korean BBQ has established a reputation for its authentic Korean fare and tempting marinated meats that are ideal for grilling. It's located in Telok Ayer, where the beautiful old buildings provide a lovely backdrop to local life. However, this should not come as a surprise – it is one of more than 400 locations worldwide. Choose from a variety of meat, chicken and seafood dishes like the delicious Galmaegi, a pork dish with an egg crust that is cooked on a special grill.
Key Differentiators
Hearty kimchi stew
Great service
Tasty seafood pancake and cockle bibimbap
Client Testimonial
We like the pork belly, very nice with soju.

Jovin Chua
47) PUJIM BBQ
Korean barbeque is a Singaporean favorite, with numerous restaurants opening all over the country. However, at PUJIM, expect to be blown away by the variety and quality of the meat available. This restaurant, popular with wealthy Singaporeans and Koreans alike, serves a variety of premium meats on shared platters as well as a selection of select items to go with your food like their delicious Kurobuta Berkshire pork. There's also no need to be concerned about smelling like a meat market since the premium exhaust nozzles guarantee that the air is clean and fresh.
Key Differentiators
High and selected quality meats
Great service
Nice ambience
Client Testimonial
Nice food – ordered wagyu beef and iberico pork along with pork belly! It was yummy

Jaclyn Rosa
49) Sura
SURA is a royal dining establishment at Tanjong Pagar, commonly known as Singapore's "Little Korea." SURA is a gastronomic institution that must be treated like royalty. This Korean restaurant is the ideal dining destination with a wide range of dishes, including lunch courses, a 12-course Korean Table, and other meals suited for two. The food is flown in from Korea, ensuring that the restaurant's authenticity and dedication to offering Singaporean Korean cuisine are upheld.
Key Differentiators
Impeccable service
Wonderful dining experience
Chic decor
Client Testimonial
We had a lot of Korean BBQ and its authentic form but i have never encountered a Korean Fine Dining meal until i tried this restaurant. Chanced upon it in reviews and even though from the review, i kind of expected the cuisine but it still pleasantly surprised me. Fine Dining Pricing but its portions, variety and quality are sooooo good that they are definitely worth the price. The menu offers a very different perspective into korean cuisine that widened my palate.

Very authentic and food presentation is just amazing that it looks sooo aesthetically pleasing even before we start digging in! There are soooo many courses to eat that i lose count and even if I had skip one meal to focus on this one, my stomach won't be able to contain till the end! I recommend everyone to try especially if you have a special agenda to celebrate on.

Evelyn Chye
49) Firewood Chicken Korean Restaurant
The first Korean firewood chicken restaurant in the region, Firewood Chicken Korean Restaurant, serves an authentic variety of Korean chicken alongside a range of interesting fusion dishes to guests from all over the world. This deep-fried dish is inspired by Korea's street food and hails from Myeongdong's retail areas. This famous fried chicken, dubbed Myeongdong Chicken, is moist within and crispy outside, with each bite providing delicious juiciness.
Key Differentiators
Terrific service
Awesome food
Nice place
Client Testimonial
Fabulous food, crew, drinks and atmosphere at large. Easy casual and relaxing environment where u can use all ur fingers as u feast! Yumms… muz try the rice ball DIY bowl and firewood baked chicken!!! Actually the fried chicken is superb too… gonna gather different groups if makan kakis to try this out!!!

Lynette Cyl
Korean Food Singapore
Korean food is a delicacy loved by many, and there are plenty of other Korean eateries in Singapore to choose from!
If you're looking for the best Korean BBQ places in Singapore, or just want kimchi jjigae (kimchi stew) after shopping at Dhoby Ghaut with your Korean friend, this list has it all. From upscale restaurants to go-to spots, this is the feature for you!
Should you be interested in learning more about lifestyle, entertainment, and more, you may read any of the articles below:
Frequently Asked Questions (FAQ)
If you have any questions about Korean Food in Singapore, you can refer to the frequently asked questions (FAQ) about the best Korean Food Singapore below:
Additional Useful Articles
If you are looking for other useful guides and articles about Korean Food in Singapore, check them out below: