Lok Lok Singapore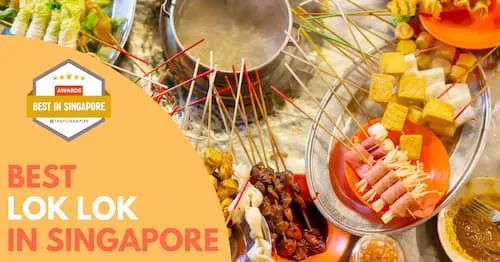 There's no denying that Lok Lok is one of Singapore's most popular snacks.
The best Lok Lok places in Singapore are LokLok 1991's by Daniel & Meng, Happy Lok Lok, Steamov (食尚捞), Dai Lou, and Malaysian Local Delights.
When selecting a Lok Lok place in Singapore, take into account factors like the range of food options, cleanliness and hygiene standards, customer reviews, and price range.
Lok Lok is a mobile dish that offers a selection of steamboat-style foods, such as skewered meats and vegetables.
So what are you waiting for? Check out our list and start planning your next Lok Lok outing!
Quick Summary
Best Lok Lok places in Singapore are LokLok 1991's by Daniel & Meng, Happy Lok Lok, Steamov (食尚捞), Dai Lou, and Malaysian Local Delights.
When choosing a Lok Lok place in Singapore, consider factors such as the variety of food available, hygiene standards, customer review, hygiene and cleanliness, and price range.
Lok Lok is a mobile dish that features a variety of steamboat-style foods, including skewered meats and vegetables.
Key Consideration Factors
But before going into the list of Lok Lok spots in Singapore, you might want to take note of the consideration factors when visiting one:
Freshness of Ingredients: The quality and freshness of ingredients used in Lok Lok can greatly impact the taste and overall enjoyment of the dish. Look for stalls that use fresh and high-quality meats, seafood, vegetables, and sauces.
Variety of Options: Lok Lok is known for its wide variety of food options, including meats, seafood, vegetables, and more. When considering the best Lok Lok stalls, it's important to take into account the variety of options available.
Hygiene and Cleanliness: Since Lok Lok involves cooking food on normal skewers that are dipped in a communal pot of boiling water or broth, hygiene and cleanliness are crucial considerations. Look for stalls with clean utensils and a well-maintained cooking area.
Location and Accessibility: While there are many spots to find good Lok Lok in Singapore, location and accessibility can be important factors to consider. Look for stalls that are conveniently located near public transportation or parking facilities.
Price Point: Prices for Lok Lok can vary depending on the type of ingredients used and whether it's sold by weight or per stick. Consider your budget when selecting a stall but don't sacrifice quality for cost savings.
Customer Reviews: Finally, read customer reviews before making a decision on where to get your next fix of delicious lok lok in Singapore! Reviews can provide valuable insight into the quality of food served by different stalls.
Best Lok Lok Singapore
1. LokLok 1991's by Daniel & Meng
Lok Lok 1991 is located in a coffee shop about 10 minutes from Ang Mo Kio MRT. The skewers are priced at $1 each and there are four varieties of sauces to select from: Homemade Chilli, Sweet Thai Chillie, Satay, and Sweet Sauce.
Lok Lok 1991's by Daniel & Meng is only opened between 6 p.m. and 2 a.m., which means that there are just a few hours to dine in the restaurant before it closes for the night.
Key Differentiators
Accessible location
Perfect for Night Owls
Varieties of sauce
Customer Testimonial
my favourite lok lok stall in sg! im not sure if they bbq or deep fry, but it has more of a bbq grilled yummy taste and not oily. im guessing this could be a rare stall that do bbq over deepfry (most other loklok stalls deepfry)

Sherry Wong
2. Happy Lok Lok
The Happy Lok Lok skewers at Punggol Lake Park, which are said to be a crowd favorite in Singapore, cost between $1.10 and $2.50 per stick. When you arrive, be sure to inquire about their specialty sauces, especially the Belacan and Thai Green Chilli ones.
Key Differentiators
Crowd favorite
Affordable
With special sauces
Customer Testimonial
Nice lok lok food here always. After eating at many lok lok spots, I always end up coming back here. They also open till late and has a carpark conveniently located just outside. Staff are also very very friendly!

Ming Yang Chiang
3. Steamov (食尚捞)
Have you ever had conveyor belt sushi before? This conveyor-belt hotpot restaurant in Chinatown doesn't only serve hotpot, but it also sells Lok Lok!
The hungry crowd is satisfied with their hotpot of soup and a choice of meat to dip their skewers in. S$1 skewers are common, while S$3 premium skewers are available. They're open until 6am, so you can visit anytime to see their adorable truck delivering skewers straight to your table
Key Differentiators
Conveyor belt
Accepts reservations
Open until morning
Customer Testimonial
The store has ten delicious soup bases to choose from, and a large variety of food for selection for your pick —lovely Chinese music piping through at the counter makes the feeding dreamy. Excellent service team makes the whole experience a good one.

DXG
4. Dai Lou
Key Services
Restaurant
Address
#01-0R, Marina Country Club, 11 Northshore Dr, Singapore 828670
Website
https://dailou.sg/
Phone
+65 6920 7494
Email
dailoumcc@gmail.com
Operating Hours
12pm – 12am daily
Last order 11.30pm
Dai Lou is sure to be a master when it comes to churning out Lok Lok. With over forty types of Lok Lok available for as little as a dollar, that's a pretty generous selection. They also come with four distinct sauces, including Satay, Salted Egg sauce and Yolk, Sambal, and Thai Chilli
It's also in Marina Country Club, a posh seaside country club with plenty of amenities including a beautiful garden and swimming pool. You may relax in the peaceful sea breeze surrounded by luxury boats until 2 o'clock in the morning when it's at its most gorgeous. With that, it could be one of the most picturesque Lok Loks in Singapore.
Key Differentiators
40 types of Lok Lok available
Accessible location
Relaxing environment
Customer Testimonial
Hidden Lok Lok venue. Absolutely love the place. Cooling sea breeze with decently amazingly food. Price is on the more expensive end. Around 2 dollars per stick. The sauce provided is nice too!

Guo Hong Lim
5. Malaysian Local Delights
If you're not a fan of Johor Bahru style Lok Loks, check out the first Malacca-styled steamboat establishment in Singapore. Patrons may choose from other than deep-fried skewers, such as barbecue and steamboat.
Malaysia local delights also provide a la carte dining, with free-flowing fruit and ice cream, in addition to the all-you-can-eat buffet. Bring a loose shirt since this is a place where you're likely to go home with a food coma.
Key Differentiators
Malacca-styled steamboat establishment
A la carte dining
Free-flowing fruit and ice cream
Outside seating
Customer Testimonial
If you looking for Lok Lok taste Same like JB then you must try this restaurant… especially the oil fried mushrooms … and their Satay sauce is the best to eat with anything …

Ken Ang
6. DLLM (Dinner Lok Lok Menu)
| | |
| --- | --- |
| Key Services | Noodle bowls & skewers served in a casual, counter location with colourful, open-air seating. |
| Address | 47 Kallang Pudding Rd, #01-08, Singapore 349418 |
| Website | https://www.facebook.com/DinnerLokLokMou |
| Phone | +65 8881 7168 |
| Operating Hours | Tuesday to Sunday: 6PM–4AM |
Don't miss out on this bargain. Every skewer from DLLM Lok Lok costs S$1 so get a good deal for your buck!
Add Taiwan sausages, smoked duck, and deep-fried squid to their tangy and spicy chili padi and lime sauce for delectable skewered foods and skewered vegetables. It'll be a mess, but what's not to love? Pack a few pints and gather with your buddies to come up with the perfect supper getaway.
Key Differentiators
Affordable
Great for gathering
Delicious
Customer Testimonial
Tried a different style of Lok Lok and was pleasantly surprised! They put some sort of sweet black dipping sauces which went pretty well with the items (only thing was the chilli wasn't as spicy as my favourite Lok Lok spots; but the taste was still yummy overall). In addition, they sell instant noodles (a few flavours) plus opening hours are 6pm-4am so it's an awesome supper place Defo will be back!

Angel Tan
7. Zaolek Mala Lok Lok
Buffets are more budget-friendly for big eaters. The Zao Lek buffet is $22 on Thursdays and $25 on Fridays and Saturdays, with over 60 options to pick from.
The lok lok is only available for dinner between 5 p.m. and 10:30 p.m., Thursday through Saturday, at Zao Lek. Also, Zao Lek serves both steamboat-style and fried lok lok dishes.
Key Differentiators
Buffet-style
Budget-friendly
Serves steamboat-style and fried
Customer Testimonial
Store was located at the food court outside the Sakae Sushi Tower (near fire lobby). Warm service. Price was SGD22 per pax & this is on a Thursday. Decent quality of food. For hot pot, Chicken Soup was hearty. Recommends the Fried Enoki, Brocolli & Potato Strips.

Calista Mar
Lok Lok Singapore
Lok Lok is a uniquely Singaporean dish that is loved by locals and visitors alike. With so many places to choose from, it can be tough to know which one is the best. That's why we've put together this list of the best Lok Lok spots in Singapore- so you can enjoy this delicious experience without having to worry about where to get it around the island!
Looking for more interesting reads? Check out more of our blog posts down below!
Frequently Asked Questions (FAQ)
If you have any questions about Lok Lok in Singapore, you can refer to the frequently asked questions (FAQ) about the best Lok Lok places in Singapore below:
What are the best Lok Lok places in Singapore?
The best Lok Lok spots in Singapore are LokLok 1991's by Daniel & Meng, Happy Lok Lok, Steamov (食尚捞), Fei Zhu Lok, Dai Lou, and Malaysian Local Delights.
What kind of dishes do most Lok lok places offer?
Most Loklok Singapore restaurants offer a variety of dishes, from delicious skewers of meat, seafood, and vegetables to noodles with a signature chilli curry flavour and soups. Popular offerings include smoked duck, penang prawn soup, salted egg yolk, chilli crab, hot chili padi, chicken wings, bacon enoki, crispy beancurd skin, deep-fried squid, Thai nam jin and delicious Taiwan sausages. Customers can also watch and select from a range of vegetables like potatoes, sweet corn, and enoki mushroom to accompany the meats. Some lok spots in Singapore also provide a free flow sauces from homemade sauces to even speciality sauces to accompany their familiar Malaysian dishes like a nutty sauce, wasabi mayo, and viet garlic sweet sauce for any food lover to enjoy delicious skewers.
What is Lok Lok and where can I find the best in Singapore?
Lok Lok is a popular street food from Malaysia, typically consisting of various skewered meats and vegetables cooked in a boiling pot of stock at your table. Some of the best places to enjoy Lok Lok in Singapore are Satay by the Bay and Lok Pot.
Where can I find the best seafood skewers for Lok Lok in Singapore?
If you're a fan of fresh seafood, you'll enjoy the seafood skewers at Satay by the Bay. They offer a range of skewers featuring everything from prawns to squid, making it a paradise for seafood lovers.
What is truffle onsen rice bowl and does it pair well with Lok Lok?
A truffle rice bowl is a dish made with warm rice, truffle oil, and a soft boiled egg (onsen egg). While it's not a traditional accompaniment to Lok Lok, the rich flavours can complement the taste buds after enjoying the spicy skewers. Lok Pot offers this unique combination.
What are the typical spicy chilli dips that accompany Lok Lok?
Typical spicy chilli dips for Lok Lok include a spicy peanut sauce, a hot sweet sauce, and a tangy chilli sauce. These sauces add an extra kick to the skewers and enhance their overall flavour.
I've heard there's a great Lok Lok spot just a stone's throw from the city centre. Where could this be?
Yes, that's true! Satay by the Bay is located just a walk away from the city centre. It's a great place to enjoy delicious Lok Lok after a day of sightseeing in Singapore.
Does pork bone feature in any Lok Lok dishes?
Yes, pork bone is often used to create the broth in which the Lok Lok skewers are cooked. This gives the skewers a rich, meaty flavour that's incredibly satisfying.
What is cheese tofu and can I find it in Lok Lok dishes in Singapore?
Cheese tofu is a type of tofu filled with cheese, offering a tasty contrast between the soft tofu and the melted cheese inside. This delicious skewer option is available at Lok Pot, adding a unique twist to your Lok Lok experience.
Are there any places that serve mala spicy skewers or offer nacho cheese sauce with their Lok Lok?
Yes, for those who enjoy a fiery kick, Lok Pot offers mala spicy skewers. Additionally, they also provide nacho cheese sauce as a dip, so you can enjoy your skewers with a cheesy twist.
Additional Useful Articles
If you are looking for other useful guides and articles about Lok Lok places in Singapore, check them out below: