Luggages Singapore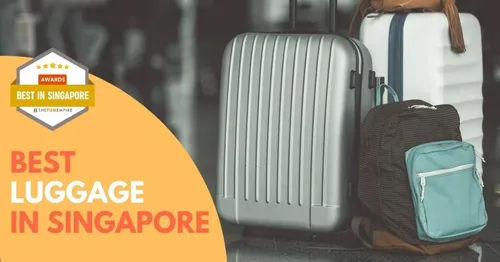 When you go on a vacation, the last thing that you want to be worrying about is your luggage.
The best luggages in Singapore include Eagle Creek Packable Daypack, Samsonite Aeris Spinner, and WORLD POLO Lightweight Luggage.
When selecting luggage in Singapore, take into account elements like durability, size, and weight.
In Singapore, you can find a wide variety of luggage options, including compact carry-ons, durable hard cases, lightweight spinners, and versatile backpacks.
In this blog post we will look at the best suitcases in Singapore and help make sure that when you purchase one it is perfect for your needs.
Quick Summary
Best luggages in Singapore include Eagle Creek Packable Daypack, Samsonite Aeris Spinner, and WORLD POLO Lightweight Luggage.
When choosing a luggage in Singapore, consider factors such as durability, size and weight.
Singapore offers a diverse range of luggage options, from compact carry-ons and sturdy hard cases to lightweight spinners and versatile backpacks.
Best Luggages Singapore
1. Eagle Creek Packable Daypack
| | |
| --- | --- |
| Key Service | Popular Hiking Bag |
| Where to buy | Click here |
| Price | $56 |
The Eagle Creek Wilderness series is popular among hikers who prefer to battle it out in the wild. Their Packable Daypack is ideal for when you want a tiny bag on short trips into the mountains or woods.
You may also carry this bag when traveling abroad since to its two-way lockable zippers and two central lock points, which makes it an anti-theft item. It's a theft deterrent: talk about convenience!
The front pockets are also useful for carrying small items like keys, wallets, and cellphones. The pack-in pockets make it easy to store this backpack when folded in on itself. You don't have to be concerned about overheating in high temperatures since this bag is highly breathable and allows enough airflow for proper ventilation.
This bag can last long and comes with a lifetime warranty, making it one of the best luggage in Singapore.
Key Differentiators
Anti-theft
Lightweight
Easy to store
Customer Testimonial
"I tossed this sweet little backpack in my carry on for a 10 day trip to Europe and I used it everyday. It's light as a feather, comfortable, and perfect for holding a water bottle, rain jacket, hat, sunglasses, wipes, etc. I never had to check it at museums. I just lengthened one strap and wore it as a cross body bag. The toggle clasp on the zipper is a nice addition as it would certainly slow down any pick pocket activity. Now that I'm home, I use it everyday for my dog walks because it's so comfortable. AND it's machine washable."
2. Samsonite Aeris Spinner
| | |
| --- | --- |
| Key Service | Durable, Safety Mechanism |
| Where to buy | Click here |
| Price | $280 |
Samsonite luggage is also a top brand, and we recommend the Samsonite Aeris as our top selection because of its durability and three-point locking mechanism for added safety.
It's well-known that a few airport baggage handlers can be cavalier with your luggage, which is frustrating to many passengers.
The secret to its durability is the elastic polypropylene, which acts as a shock absorber. It's also scratch-resistant, so you won't have to worry about it getting scraped on the conveyor belt.
If you want something that will last for a long time, then the Aeris should be your top pick. Its many valuable features make it one of the best luggage in Singapore.
Key Differentiators
Durable
Long, extendable handle
Three-point locking system
Customer Testimonial
"I love Samsonite gear and this suitcase is no exception. Wonderful locking mechanism and so easy to move around even on reasonably deep carpet. Handy organisers inside and takes a knock without getting badly marked. My favourite business suitcase for years."
3. WORLD POLO Lightweight Luggage
| | |
| --- | --- |
| Key Service | Affordable |
| Where to buy | Click here |
| Price | $38.99 |
The Lightweight Luggage from 'WorldPolo' is the most affordable on the list, but it does not suffer in terms of quality. It's a lot cheaper than other brands, and one of our cheap options.
It's priced competitively with the higher-quality hard-shell cases, and it's sturdy enough to hold a lot of clothes while still exceeding the weight limit. It also has a scratch-resistant design and a combination lock.
It has several interior compartments that can contain tiny bottles and toiletries. As a result of these characteristics, it's near the top of Singapore's finest baby carriers.
Key Differentiators
Only weighs 2.7 kg
Affordable
Scratch-resistant
Customer Testimonial
"Received my order in good conditions, so far good quality and very light weight, worth it"
4. Two-tone Abs Expandable Luggage With Anti-theft Zippers Spinner Wheels And Number Lock
| | |
| --- | --- |
| Key Service | Variety of features |
| Where to buy | Click here |
| Price | $45 |
Durability and security are two of the most important characteristics of a luggage bag—fortunately, Luggage Outlet's Two-Tone ABS Expandable Luggage has both. This useful and visible bag has a number of attributes that make it ideal for every trip.
This product may be identified from far away thanks to its numerous front case choices and two-tone color scheme, making it simple to locate your luggage after inspection. Furthermore, the black rear casing aids in the concealment of dirt.
It has anti-theft double coil zippers and a number combination lock to secure it. The main body is composed of scratch-resistant ABS casing that not only makes it long-lasting, but also more safe.
Finally, it comes in two sizes of 20 and 24 inches, so you can pick the one that's right for you. Given its many various characteristics and inexpensive price tag, the Two-Tone ABS Expandable Luggage is a product worth considering.
Key Differentiators
Scratch-resistant ABS main casing
Multi-level retractable trolley handle
Rubber-cushioned hand grip
Number combination lock
Anti-theft double coil zippers
Expandable (25% more packing capacity)
Spacious interior
Large zippered mesh pocket
Elastic straps to keep clothes securely fastened
Smooth 360-degree spinner rubber wheels
Customer Testimonial
"The luggage is very nice and durable! I love the color and exterior design! Excited to use this luggage soon! "
5. CabinZero Classic 44L Flags Edition Travel Cabin Bagro
| | |
| --- | --- |
| Key Service | Comfortable Backpack |
| Where to buy | Click here |
| Price | $65 to $119 |
Cabinzero is one of the most comfortable backpacks available for traveling across borders. Its huge and roomy 44L design won't drag you down on your adventures. It features both top and side handles for easier transportation, as well as lost and found labels.
The good news is that you may register this bag on Okoban.com immediately after receiving it, since the site is linked to several airline baggage handling systems. That makes finding it easier when it's lost much simpler.
The bag's YKK zippers are intended to be latchable for increased security, but the lock is not supplied and must be purchased separately. This makes it one of the best luggage in Singapore. It's easy to track, roomy, and easy to wear!
Key Differentiators
OKOBAN tracking feature
44L capacity
Minimalistic design
Customer Testimonial
"The bag is excellent and great value from this seller. For more details about the features of the bag visit the brand's website. Of note the colour is more a dark green with tan coloured buckles and straps- black tan is what cabin zero call this colour combination.'
6. Travelpro Maxlite 5-Softside Expandable Spinner Wheel Luggage
| | |
| --- | --- |
| Key Service | Strong & Lightweight Design |
| Where to buy | Click here |
| Price | $204 to $423 |
The luggage from 'Travelpro' has always been a popular choice among tourists since to its usefulness and size. However, because of its strong and lightweight design, as well as ample insides, we've chosen Maxlite-5 as the best option for many people.
For someone who travels frequently over long distances, this is the ideal choice. It has a telescoping airline-grade aluminum handle that can extend up to 32 inches in length and provides a lot of flexibility.
The exterior of this luggage is made from polyester that has been treated with Dura Guard, making it stain and water resistant. Surprisingly, despite its large size (31 inches by 19.75 inches by 14.5 inches), this heavy case only weights 9 pounds, making it extremely easy to meet airline weight restrictions.
The slew of good reviews for this product only confirms that it's one of the best luggage in Singapore. We like the roominess and durability of it in particular!
Key Differentiators
Large size
Durable and water resistant
Flexible, telescoping handle
Customer Testimonial
"I ordered this suitcase in the dusty rose colour which looked lovely. I was disappointed to find that what I received was not the same colour as what's pictured. It's more of a purpley-mauve. I have not travelled with it yet so I cannot comment on its durability, but it seems solid and the wheels roll smoothly. I like the smaller 25″ size versus the 29″ in case I encounter any ticket agents who want to fuss over maximum dimensions (62 linear inches for checked bags–this suitcase is 57″, the 29″ size is 65" total).
*Edit: After travelling with it there are several black (grease?) gouges on the front of the bag likely from the airline baggage conveyors and the handles are stained. Travelpro recommends using a 50/50 mix of alcohol and water to gently scrub the stains but I haven't had any luck. I don't blame the manufacturer for this but be aware that with these lighter colours the bags can look banged up pretty quickly. Otherwise the suitcase is in great condition but I will go with black when I need to replace it."
7. Kamiliant Zakk Spinner 79/29 TSA
| | |
| --- | --- |
| Key Service | Ultra Lightweight |
| Where to buy | Click here |
| Price | $79.60 |
ZAKK Spinner is an ultra-lightweight suitcase from Kamilliant that offers fantastic value for the performance it delivers. This is the ideal luggage to take with you on your journey, with an iconic zigzag pattern and several practical features.
This is a polypropylene item with a scratch-resistant dual texture for long-lasting and sturdyness. It also comes with 360° spinner wheels, making it an absolute pleasure to pull or carry. Not to mention that it comes with a TSA 3-dial combi Lock for added protection, allowing you to travel in peace!
Key Differentiators
Ultra-lightweight
Scratch Resistant Dual Texture Design
360° Spinner Wheels
Customer Testimonial
"Fantastic value for money. Came within a few days and was well packed and well delivered 🙂 it's very lightweight for the size (which is the bjgggest I've seen btw) and I'm super happy with it!"
Luggages Singapore
If you're in the market for luggage, whether it's a suitcase or backpack, then you won't want to miss out on these 7 best luggage items in Singapore. We've scoured the internet and have narrowed down our favorite products that are worth considering based on their durability, versatility, practicality, comfortability and affordability. Whether you need something large enough to hold your belongings when traveling by plane or simply looking for a small travel bag with wheels – there is an option here for everyone! Which of these options appeals most to your needs?
Before you go, do check out our other articles as well!
Frequently Asked Questions (FAQ)
If you have any questions about luggages in Singapore, you can refer to the frequently asked questions (FAQ) about the best Luggages in Singapore below:
What are the best luggages in Singapore?
The best luggages in Singapore include Eagle Creek Packable Daypack, Samsonite Aeris Spinner, The Planet Traveller, and WORLD POLO Lightweight Luggage.
What makes a luggage sturdy and perfect for travel?
Sturdy luggage is typically made from high-quality materials such as polycarbonate or ballistic nylon. They are designed to withstand the rigors of busy airports, and often come with features like reinforced corners, robust zippers, and durable wheels. The perfect luggage would also offer ample space for all your travel accessories, making it a one-stop shop for all your travel needs.
Where can I find a collection one-stop-shop for travel bags in Singapore?
You can find a collection one-stop-shop for travel bags at several locations in Singapore, including Changi City Point and Suntec City. These places offer a wide variety of travel bags that cater to different travel needs and preferences.
Can I expect fast delivery for online orders of luggage in Singapore?
Yes, most retailers in Singapore offer fast delivery online orders. Some even provide premium courier service to ensure your order reaches you in the shortest time possible.
How do I know my transaction is safe when buying luggage online?
Reputable online retailers use encryption technology to secure your personal and payment information. This encryption makes your transaction safe and protects you from potential fraud.
Are there any luggage shops near Marina Bay Sands?
Yes, there are multiple locations near Marina Bay Sands where you can buy luggage. You can find various brands offering a range of sturdy luggage and travel accessories to suit your needs.
What is the benefit of buying luggage from a one-stop shop?
A collection one-stop shop offers a wide variety of travel bags and accessories, allowing you to choose from a broad selection in one place. This saves you time and effort compared to shopping at multiple stores.
Does premium courier service ensure faster delivery of my luggage order?
Yes, a premium courier service often guarantees faster, more reliable delivery times. This is especially valuable for last-minute travel plans where you need your new luggage promptly.
What types of travel accessories can I find in a luggage shop?
A luggage shop typically offers a wide range of travel accessories. These can include items like travel pillows, packing cubes, luggage tags, padlocks, and more. All of these can help make your travel experience more comfortable and organized.
Are the luggage shops at Suntec City and Changi City Point easily accessible?
Yes, both Suntec City and Changi City Point are well-connected by public transport and are easily accessible. They are ideal shopping destinations for locals and tourists alike, offering a variety of stores including those selling sturdy, perfect luggage.
Additional Useful Articles
If you are looking for other useful guides and articles about Luggages in Singapore, check them out below: