Makeup Artist Singapore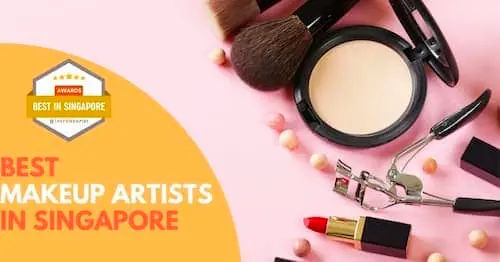 When it comes to enhancing natural beauty or creating a stunning transformation, a skilled makeup artist is your secret weapon.
The best makeup artists in Singapore include Joyce Yeo, Jennis Wong, Alena Makeup Artistry, Makeup Entourage, Yukiko Lim.
When selecting a makeup artist in Singapore, take into account elements like their experience, portfolio, customer reviews, and availability.
To ensure the ideal appearance for your special event, numerous makeup artists provide supplementary services like hair styling and makeup trials.
Get ready to shine with one of these talented makeup artists today!
Quick Summary
Best makeup artists in Singapore include Joyce Yeo, Jennis Wong, Alena Makeup Artistry, Makeup Entourage, Yukiko Lim.
When choosing a makeup artist in Singapore, consider factors such as experience, portfolio, reviews, and availability.
Many makeup artists offer additional services such as hair styling and makeup trials to ensure the perfect look for your special occasion.
Best Makeup Artist Singapore
1) Joyce Yeo
Joyce Yeo is a seasoned makeup artist with a lot of expertise in many different types of beauty. She left her corporate job in 2014 to follow her dream. Since then, she's worked on several sorts of beauty, including delicate, natural looks and strong cosmetics for fashion.
Joyce teaches makeup workshops and provides both personal and business makeovers. Her extensive internet portfolio demonstrates her capacity to achieve a variety of makeup techniques.
Key Differentiators:
Experienced in stage hair and makeup
Makeover for all events
Conducts personal or group classes
Customer Service:
Thank you Joyce for everything. You have made my wedding a dream come true with your professionalism and expertise. Highly recommend you to my friends! Especially individuals who need advice in terms of their choice of hairstyles, make-up mood, and including personalized hair accessories to match their overall look. You have made the whole process a smooth and enjoyable for me.

Valeria Tan
2) Jennis Wong
In Singapore, Jennis Wong provides dependable makeup services. She takes pleasure in her ability to make you feel at ease and attractive. She specializes in bridal makeup and can create anything from a dreamy, natural blush to a sophisticated Western style.
Aside from that, she is adaptable, allowing you to look your best. Jennis also works with corporate clients, aside from bridal makeup. She can assist you in prepping for your family photograph or even modeling for a high-end magazine.
Key Differentiators:
Wedding makeup and hairstyling services
Event makeup and hairstyling services
Corporate makeup and hairstyling services
Customer Service:
Jennis is amazing!!! Excellent experience! She did make up for my mum and me for my sister's wedding day and she did a phenomenal job. I absolutely loved her work and the look was stunning and natural! Her makeup makes our skin look flawless, and we have received so many compliments!!! I will recommend her to all my friends. Anyone that hires her can be sure that you are in good hands!

Samantha Ang
3) Alena Makeup Artistry
Alena Makeup Artistry was established by a professional named Alena. She has over six years of expertise and understands that each bride is different, allowing her to emphasize each woman's finest features. Alena specializes in natural makeup techniques and has several accreditations.
Alena's expertise allows her to put herself in the shoes of each bride. She has a gift for choosing the appropriate tones and combinations regardless of your skin tone.
Key Differentiators:
Corporate photoshoot makeup and hairstyling
Personal photoshoot makeup and hairstyling
Fashion photoshoot makeup and hairstyling
Customer Service:
Alena is very professional and sensitive to her client's needs. I enjoyed my wedding day because of her! She helped me realize a side of myself that even I didn't know about! Thank you Alena for making me look so beautiful for my special day. 5 stars and will definitely recommend her service to all my friends and family!

Cheryl Lum
4) Makeup Entourage
Makeup Entourage was formed by a team of three beautiful, fierce women who worked their way up in the media and cosmetics industry. Dollei Seah, the group's Creative Director, has guided the team by passing on her talents and knowledge after more than 25 years of expertise.
With her interest, flair, and skill in the business, it's no surprise that Dollei was nominated for the Golden Horse Awards' Best Hair and Makeup. With their vast industry expertise and experience, they've created an incredibly polished and sharp portfolio, incorporating stunning bridal looks, flawless celebrity features, and even commercials with high-profile clients like Porsche and Singapore Tatler.
Key Differentiators:
Trained in a diversified range of hair and makeup techniques
Has myriad of makeup styles
Extensive knowledge and experience
Customer Service:
NIL
5) Yukiko Lim
Yukiko Lim is a makeup artist from Singapore who is well-known in her field. She began working as an understudy for a well-known artist in Singapore before deciding to pursue her interest by studying in Taiwan.
Yukiko finalized her makeup studies in Japan by taking up a master's course at Kanebo Makeup Institute. Yukiko is a Japanese make-up artist who offers both group and private lessons. These are available in a variety of genres, including Korean, romantic, and even vintage.
Key Differentiators:
Offers makeup classes and workshops
Event makeup
Corporate makeup or a professional makeover
Customer Service:
Yukiko not only skillful but she is very friendly too. She listens to my preference and I love her natural looking yet classy make up look. Highly recommended and I'll surely recommend all my friends and come back again for any event!

Princess Iu Yu
6) Autelier Makeup
Autelier Makeup offers a wide range of services to fit every need. The makeup artists are experts in bridal makeup, with intricate techniques that exceed all of your expectations, from the booking process through to the final retouch.
Autelier Makeup offers one of the top makeup services in Singapore. The team has taken part in numerous important events. They have also collaborated with multiple brands and even participated in fashion shows.
Key Differentiators:
Actual-day bridal makeup and hair-styling
Pre-wedding makeup and hair-styling
Solemnization
Customer Service:
Makeup artist arrived on time. Very professional and sanitary through the whole styling process. Very friendly and clear communication on what she required. Highly recommended. Stylist: Imelda

Yvonne Tang
Makeup Artist Singapore
Makeup artist Singapore provides an excellent service for all your makeup needs. With vast experience and skills, these artists will give you a look that is uniquely suited to you. Whether you are looking for a glamorous evening look or something more subtle for work, makeup artist Singapore can help. They offer a range of services, including corporate makeup, solemnization makeup, and pre-wedding makeup, and hairstyling. No matter what the occasion, these professionals will make sure you look your best.
Looking for more interesting articles to read? Check out more of our blog posts down below!
Frequently Asked Questions (FAQ)
If you have any questions about makeup artists in Singapore, you can refer to the frequently asked questions (FAQ) about the best Makeup Artists in Singapore below:
Who are the best makeup artists in Singapore?
The best makeup artists in Singapore include Joyce Yeo, Jennis Wong, Alena Makeup Artistry, Makeup Entourage, Yukiko Lim.
What can I expect from a professional makeup artist in Singapore?
A professional makeup artist in Singapore is skilled in creating makeup looks that enhance an individual's natural beauty. They are experienced in various makeup techniques and styles, including bridal, commercial, and ROM makeup. These artists use high-quality makeup products to ensure the best results.
What does bridal hair service entail?
Bridal hair service includes consultation, hair trial, and actual day styling. The hairstylist works closely with the bride to create a hairstyle that complements her wedding dress, makeup, and personal style. Some professional makeup artists also offer bridal hair services as part of their package.
Can I hire a makeup artist for commercial purposes?
Absolutely! Commercial makeup artists specialize in creating makeup looks for advertisements, photoshoots, and other commercial projects. They understand the requirements of different lighting setups and can create looks that stand out on camera.
What sets elite makeup artists apart?
Elite makeup artists have extensive experience and a portfolio showcasing a wide range of makeup styles. They are often recognized in the industry and have worked on high-profile events or with notable clients. Their expertise in professional makeup artistry ensures that they can deliver exceptional results.
What is ROM makeup?
ROM stands for "Registry of Marriages". In Singapore, ROM makeup refers to the makeup look created for the official marriage registration ceremony. It is usually more subtle compared to the actual wedding day makeup.
What bridal makeup services are typically offered by makeup artists?
Bridal makeup services typically include a makeup trial, actual day makeup, touch-ups, and sometimes even bridal hair styling. Some bridal makeup artists also provide services for the bridal party.
How do I choose among the bridal makeup artists in Singapore?
When choosing a wedding bridal makeup artist, consider their portfolio, reviews, experience, and your personal style. It's important to choose an artist whose style aligns with your vision for your wedding day.
What does creating makeup mean in the context of professional makeup artistry?
Creating makeup refers to the process of designing and applying a makeup look tailored to an individual's features, the occasion, and their outfit. It involves choosing the right colors, techniques, and products to achieve the desired result.
How long does actual day makeup usually take?
Actual day makeup typically takes 1.5 to 2.5 hours. The time can vary based on the complexity of the desired look and the individual's skin type. It's always best to allow extra time to ensure everything goes smoothly on the big day.
Additional Useful Articles
If you are looking for other useful guides and articles about Makeup Artists in Singapore, check them out below: