Manuka Honey Singapore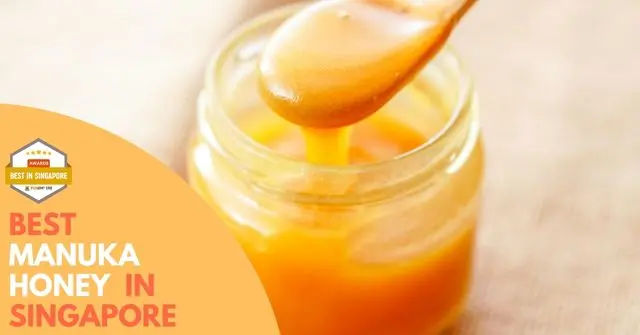 Looking for the best manuka honey in Singapore? Look no further!
Manuka honey has many health benefits, so it is a great choice for those looking for an all-natural sweetener. In this blog post, we will be listing down 11 of the best manuka honey brands that are available in Singapore. These manuka honey brands have been carefully curated and selected based on their quality and authenticity.
So whether you are looking for manuka honey to help with your health problems or simply want to enjoy its delicious taste, we have got you covered! Read on for more information about manuka honey and why it is so good for you!
1. Manuka Doctor
| | |
| --- | --- |
| Key Features | 100% Pure Honey With MGO 35+, MGO 60+ |
| Where to Buy | Click Here |
| Price | $45.80 |
The health and wellness company Manuka Doctor, which is based in the UK, sources all of its manuka honey from New Zealand and packs it there. Contrary to popular belief, they also sell body and skincare goods in addition to honey for consumption. Therefore, if you ever decide you don't want to consume it or honey in general, you can get skincare products! They have everything, including serums, moisturizers, and even face masks.
Bee venom and beeswax are also present in every one of their products. Both of which are renowned for their incredible advantages. So maybe Manuka Doctor can help if you're worried about wrinkles or greasy skin!
Key Differentiators
New Zealand Manuka Honey
Tested Certified Manuka – Tested Certified Multifloral
Kiwi Kosher Pareve
From Hive to Home – Trusted and Traceable
2. Comvita Manuka
Comvita Manuka is another well-known veteran of manuka honey! They have been in business for more than 44 years, having started in 1974! They are likewise comparable to HNZ Manuka in that they oversee the entire production process and have UMF certification. The majority of their headquarters are situated in the North Island volcanic plateau, where they manufacture honey using a natural process.
Key Differentiators
Delicious balance of New Zealand's unique and special Manuka honey
Combined with a variety of other rich and herbaceous New Zealand bush honeys such as Rewarewa and Kamahi
Manuka Blend is herbaceous and woody
3. Sweet Nature UMF 10+ Manuka Honey – By Nature's Nutrition
| | |
| --- | --- |
| Key Features | Sweet Nature Manuka Honey UMF 10 |
| Where to Buy | Click Here |
| Price | S$ 110.00 |
Sweet Nature UMF 10+ Manuka Honey – By Nature's Nutrition has all the purity you need! When you first open the bottle, Manuka Honey's distinctive aroma will hit you. It is 100 percent pure and has undergone independent testing to guarantee that its quality will always be the greatest! The business is renowned for being able to manage all of its goods sustainably. Additionally, their honey has a UMF of 10 or higher.
Key Differentiators
Taste the sweet nature of the south.
10+ UMF Manuka honey is guaranteed to have a Unique Manuka Factor of 10+ or higher.
100% natural, independently tested Manuka Honey
4. Haddrell's of Cambridge
| | |
| --- | --- |
| Key Features | Manuka Honey UMF® 20+ |
| Where to Buy | Click Here |
| Price | $219.50 |
One of the "longest standing" UMF grade Manuka Honey producers is Haddrell's of Cambridge. They are situated in New Zealand, close to the hills where the plant grows, and offer premium honey that is also UMF certified. Additionally, each of their goods is batch-tested independently and approved by the academic research facilities in New Zealand.
Key Differentiators
Premium honey
UMF Certified
Batch-tested and approved
5. Eu Yan Sang Manuka Honey MG 100+
We appreciate the high-quality and clean-living regions of New Zealand that this honey is sourced from. Eu Yan Sang Manuka Honey MG 100+ in particular has a rich, velvety flavor and earthy aroma. As a result, using this product will satisfy both your senses of smell and taste.
Additionally, this item has a methylglyoxal content of at least 100 mg/kg. As a result, its antioxidants and anti-inflammatory qualities will substantially assist you. Additionally, this Eu Yan Sang Manuka tea comes in a range of strengths, from MG 100+ to MG 550+.
The absence of artificial sweeteners, preservatives, or colors is also guaranteed. You can utilize this with confidence as a result.
Key Differentiators
100% natural
No artificial sweeteners
No preservatives
No added colouring
6. Egmont Manuka Honey UMF 15+
| | |
| --- | --- |
| Key Features | Honey UMF 15+ |
| Where to Buy | Click Here |
| Price | $285.00 |
When it comes to this honey product, there are many things to explore. For example, this company belongs to the UMF Honey Association. As a result, each jar of this honey is guaranteed to be 100% pure, genuine, and true to the label because it has passed the rigorous grading standards. More importantly, this product has undergone independent laboratory testing, and each jar of UMF-certified honey is accompanied by a test certificate.
Additionally, Egmont Manuka Honey contains organic substances with antibacterial qualities that can assist to improve throat and stomach health as well as immunity. Due to the integrity of the brand and the product's natural ingredients, you can rely on Egmont to put your health first.
Key Differentiators
Halal Certified
Store in a cool dry environment below 25 degree Celsius away from direct sunlight
100% Pure New Zealand Honey
Customer Testimonial
Really good stuff! Have been taking this whenever I almost catch a flu, start to have sore throat. I haven't seen doctors for years!

Pamela
7. Nature's Nutrition New Zealand Raw Honey
| | |
| --- | --- |
| Key Features | Raw Honey |
| Where to Buy | Click Here |
| Price | S$ 40.00 |
This Nature's Nutrition raw native multifloral honey might do the trick if you're looking for a honey product brand to appreciate. In addition to its rich, velvety texture and floral flavor, this product boasts a lovely, traditional honey smell. Furthermore, we like that this honey has not been pasteurized.
You may rest assured that this product provides nothing less than the purest, organic, and natural honey available! In fact, this has been taken directly from the hives and put in containers for you to consume, ensuring that each jar contains the unadulterated sweetness of local multifloral honey.
Key Differentiators
It has an intense classic honey aroma and a rich, velvety texture with a floral taste.
The raw honey has not been heated, creamed, or processed.
It is extracted from the hives and put straight into pots so that you can enjoy its wholesome goodness.
8. Zen Wholefoods
| | |
| --- | --- |
| Key Features | High-altitude manuka honey |
| Where to Buy | Click Here |
Zen Wholefoods specializes in giving its clients access to the finest, tastiest, organic Manuka honey available. On the North Island of New Zealand, they are tucked away at the foot of the Tararua highlands.
The Ruamahunga river originates in the ranges and supplies its bees with clean alpine water. They strive to offer premium Manuka honey in this way.
Their honey has received numerous accolades from around the world for its exceptional flavor. It is renowned for being creamy, thick, and floral-smelling.
Additionally, their high-altitude manuka honey is unique. Their honey has a stronger flavor and aroma because of the circumstances encountered at higher altitudes.
Key Differentiators
Organic
Delicious
Award-winning
9. WildCape Manuka Honey
Fresh Manuka honey directly from New Zealand beekeepers is what WildCape Manuka honey provides to you. They have a group devoted to collecting honey from the East Cape area that comes from just one source. You can be certain that you're receiving the real deal because this area is renowned for producing some of the highest quality honey.
This honey has a unique characteristic. It contains a lot of Di-Hydroxyacetone, which is then transformed into the well-known Methylglyoxal. Since their honey has a higher UMF level, you will benefit from additional health advantages.
Key Differentiators
Independently tested by Analytica Laboratories
Quality and purity
Harvested exclusively from the East Cape region of New Zealand
10. Kiva Raw Manuka Honey
| | |
| --- | --- |
| Key Features | Certified UMF 15+ |
| Where to Buy | Click Here |
| Price | $54.99 |
This is the one for you if you want to consume manuka honey for medicinal purposes like curing gastritis, esophagitis, and inflammatory symptoms. The Kiva Raw is a fantastic product to test out in that sense. They not only use grade UMF 15+ honey, but they also get it from isolated coastal areas of New Zealand.
To ensure that every batch satisfies the criteria of at least UMF 15+, each batch is tested separately. They also support producing honey in a sustainable manner. As a result, you're simultaneously preserving the environment and enhancing your health.
Key Differentiators
GENUINE MANUKA HONEY: Harvested from the remote and pristine hills, forest, and coastal areas of New Zealand
Buying UMF-rated Manuka honey protects you from low-grade honey (often labeled 'active' or 'bio-active')
Each batch is Independently Tested, Verified, and Traceable
11. Aoraki Peak Raw Manuka Honey
| | |
| --- | --- |
| Key Features | UMF 10+ RAW Manuka Honey |
| Where to Buy | Click Here |
| Price | $47.00 |
You may be confident that you will like the honey's natural flavor because Aoraki Peak only sells the best raw, unpasteurized honey.
Additionally, it assists in keeping all the nutrients that would otherwise be lost during heat treatment. Additionally, they have UMF certification, so you know you're getting the real deal. In addition to the UMF certificate, each jar is also eligible for a separate testing certificate.
Key Differentiators
RAW & UNPASTURISED
SUPERCHARGE YOUR FOOD
100% NEW ZEALAND MADE
Manuka Honey Singapore
If you're still undecided on which Manuka honey to get, we hope this guide has helped to narrow down your choices. All of the Manuka honey on this list are of excellent quality and would make a great addition to your pantry.
Ultimately, the best Manuka honey for you is the one that fits your needs and preferences. Do some research, read some reviews, and experiment a bit until you find the perfect one for you. Thanks for reading and we hope you have a wonderful day!
Interested in more articles to read? Check out more of our blog posts down below: