Massage Chair Singapore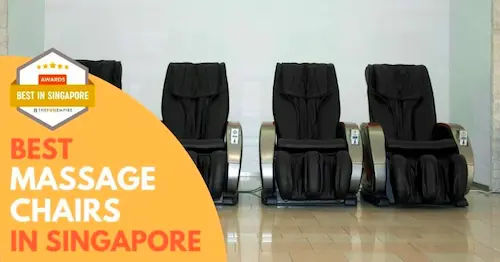 After a long day, there's nothing quite like sinking into the plush embrace of a massage chair.
The best massage chairs in Singapore include EMPIRE, MiuDeuxe Massage Chair with Foot Massage, OSIM uDivine V, and Gintell's DéVano SC Massage Sofa.
When selecting a massage chair in Singapore, take into account factors like pricing, features, and the reputation of the brand.
Massage chairs have the potential to enhance blood circulation, alleviate muscle tension, and alleviate stress.
So, buckle up as we take you on a comfy journey to discover the best massage chair options that the Lion City has to offer.
Quick Summary
Best massage chairs in Singapore include EMPIRE, MiuDeuxe Massage Chair with Foot Massage, OSIM uDivine V, and Gintell's DéVano SC Massage Sofa.
When choosing a massage chair in Singapore, consider factors such as price, features, and brand reputation.
Massage chairs can help improve circulation, relieve muscle tension, and reduce stress.
Best Massage Chair Singapore
1. EMPIRE
EMPIRE is a home-grown brand that offers super affordable yet premium massage chairs, from only $1,399.
Full Body Massage chairs have always been really expensive, easily $3k-$8k, but EMPIRE offers similar top-notch features at a fraction of the price, almost 50% cheaper!
Now everyone can own a massage chair!
Click here to book an appointment!
Key Differentiators
Super affordable pricing from $1,399 only, where usual industry prices are $3,000 -$5,000
AI Body Scan: A technology that scans every individual's body and height, so that the massage can be tailored to the exact positions of each person's shoulders, back, spine and thighs
3D Massage Techniques: Advanced 3D Techniques that mimics the real-life hand movement to deliver messages that are as close to a real life massage experience
Thai Stretch: A unique movement and configuration by the massage chair to achieve the intensity & stretching of a Thai Massage
Super Space-saving Design: One of the smallest full-body massage chairs of 70cm x 150cm; it can fit in any living room or bedroom.
Viral brand: Featured in news, loved by media, celebrities and customers. Lots of 5-star reviews
Client Testimonial
I was skeptical until I tried it for myself. Big up for an outstanding lineup of ultra-affordable premium massage chairs.

– Mr Sheikh Haikel, Singapore's Iconic Rapper and Radio Personality
2. MiuDeuxe Massage Chair with Foot Massage
Key Features
Customizable massage modes
Friendly user-interface with wire controller
Easily fits your size and height
Website
Click Here
Price
$2699
The Miuvo MiuDeluxe Massage Chair is a premium full-featured massage chair with leg and foot massage. The chair adjusts to your size and height, giving long-track massages that closely mimic the shape of your body. This also implies that you may use the seat's height limitations and extend it if you are taller than average height.
The chair features adaptive rollers that help to enhance blood circulation and ease tired calves and feet. Its strong air compression therapy can be focused on specific areas of your body, such as your shoulders, arms, waist, and legs, as well as your toes and feet.
3. OSIM uDivine V
Key Features
Targeted whole body massage relief
Patented OSIM massage download technology
V-Hand™ Technology with 720° Roller Balls
Website
Click Here
Price
$3999 to $4600
It's difficult to avoid talking about OSIM when we discuss massage chairs! The uDivine V from OSIM is designed to help you relax your mind and sleep better. It has been shown to be able to faithfully replicate the skilled techniques of a masseuse, allowing you to feel the skilful touch and flexibility of a masseuse's hand
For complete-body pain relief, the chair targets your head, neck, shoulders, lumbar area, butt, and thighs. More significantly, the chair is capable of automatically detecting your shoulder position at the beginning of each massage session in order to provide you with the ideal massage suited to your height and build.
4. Gintell's DéVano SC Massage Sofa
Key Features
Seven massage techniques
Six lifestyle auto-massage programs
Website
Click Here
Price
$2188
Gintell's DéVano SC Massage Sofa is a tiny and space-saving massage chair that is often praised for its adaptability, usefulness, and beauty. The massage chair weighs less than 60kg and has three usage modes in one chair: sofa mode, lounger mode, and massage mode.
You'll be able to discover one that you like as the chair is designed with seven massage techniques and six lifestyle auto-massage programs. Other features include a control panel with the USB charging port, Bluetooth music speaker, a flexible soft pillow for head rest, and two levels of zero gravity to select from.
5. OTO Quantum EQ-10 Massage Chair
Key Features
Improves blood circulation with heat mode turned on
L-shaped massage track for full body massage
Small and exquisite
Website
Click Here
Price
$3480
The well-known OTO Quantum is one of the leading brands of massage chairs. The Massage Chair is a tiny and exquisite massage chair that may be placed in any area. It has a 120cm long L-shaped massage track that covers the neck, shoulders, back, waist, hips, and thighs. A footrest with air-press massage and heat therapy
This massage chair has 4 Auto Massage Modes, 5 Massage Strokes, and a Zero Gravity mode that allows you to fall back and relax completely. The chair will certainly assist you in releasing the tension in your muscles and having a rejuvenating and revitalizing impact on your body with these extensive massage modes!
Furthermore, this massage chair is light at around 40kg, allowing you to relocate it from room to room as needed!
6. Novita's MC9000i massage chair
Key Features
5 different 3D massage techniques
32 massage programs
Website
Click Here
Price
$1899
Novita's MC9000i massage chair has a wide range of massage settings to choose from, with 32 distinct programs to pick from. This chair targets the body's seven essential focus areas: your neck, shoulders, back, arms, hips, calves, and feet with precision.
The chair also has 34 pairs of strategically positioned airbags that target crucial acupressure points to enhance blood flow and help you feel refreshed. You will certainly be able to relax those muscles with the 5 classic 3D massage techniques of kneading, knocking, shiatsu kneading, sync, and tapping.
7. Ogawa's Master Drive A.I
Key Features
Sole massage and therapy
3D knee and heat therapy
Voice command
Website
Click Here
Price
$10,800
The Master Drive A.I massage control panel from Ogawa allows you to enjoy the best massage treatment possible, adapting and generating to your unique requirements over time. Its cutting-edge technology and sensors are able to pinpoint all critical acupressure spots with pinpoint massage accuracy and precision.
The chair's 4 Isolated Thermal Silicone Rollers provide evenly dispersed thermal heat, according to Ogaawa. As a result, the massage treatment provided by this chair simulates a powerful yet delicate humanized touch.
For those searching for a smart massage chair, Ogawa's massage chair is capable of monitoring your vital signs in real time and analyzing your vital readings in real time. The data will be used to create the most customized massage program for your needs as a result of what is collected and evaluated.
Not only that, but the chair is able to meticulously scan its users' faces and save distinct user profiles for personalization!
8. AIBI Vita Chair
Key Features
Great for improving arthritis, balance, and bone health
Promotes blood circulation
Exercises the body at the same time
Website
Click Here
Price
$5112
The AIBI Vita Chair could be the one for you if you need a massage that can help you work out at the same time. The Whole Body Vibration (WBV) function on the chair helps to stimulate muscle activation, bone density, mobility, and blood circulation.
This chair is a fantastic present for your elderly parents, especially if they have difficulty getting enough exercise. They will benefit from health advantages such as arthritis relief, improved balance, stronger bones, weight management, and reduced blood sugar with the vibration mode.
The modern design fits in well with your contemporary house, and it's an excellent investment for both you and your family's health!
9. OSIM Infinity Luxe Massage Chair
Key Features
Human-smart massage technology
Zero-gravity mode for ultimate relaxation
Constant updates of massaging programs
Website
Click Here
Price
$3500
The OSIM Chair features a cutting-edge Human-Smart Massage Technology that combines three distinct technologies to provide the most humanized massage experience, custom fit lifestyle massage programs for specific needs, and the ability to download new massage programs for infinite variety of massage pleasures and well-being.
The chair's head massager is also integrated, and it applies pressure to particular acupressure points on the head to alleviate tension caused by stress and tiredness. The UInfinity Luxe Massage Chair may also be customized according to your own massage program.
The Massage Pro LX8000 massage chair costs around $8000, making it one of the most expensive chairs on the market. You do get your money's worth with the chair's pure luxury and elegance.
10. JIJI 3D Celestial Massage Chair
Key Features
Affordable
Easy to move around
Hip airbag massage
Website
Click Here
Price
$3999
The JIJI zero-gravity premium massage chair has 6 massage techniques and Human-Smart Massage Technology. The compact zero-gravity premium massage chair may be easily placed in your living room.
The chair has a dual heating system, an air massage treatment, a waist airbag, a hip airbag, a back massage machine, a headrest with speakers, and a sound control box. The 3D circle motion rolling massage offered by this chair will help you relax your tight muscles.
With the help of a remote control, you may easily perform all of the functions of this chair. This chair is less than $900 in price. Consider JIJI's chair if you're on a tight budget!
11. Cosmo Zero Massage Chair
Key Features
New iTouchRollers™️
Spine-Trace Rails™️
Industries' latest Leather
Zero-Gravity Mode
Comfy-Pedic™️ Memory Pillow
Website
Click Here
Price
$5999
The New Massage Chair from Cosmo Technology has the most cutting-edge massage technology available, with their new and innovative: New iTouchRollersTM️, and Spine-Trace RailsTM️, which easily outperform other competitors (by user votes) when it comes to delivering high-quality experiential massages.
They also have Spine-Trace RailsTM️ that include sensors to assist keep your spine in position. As a result, regardless of your height or the variations in your spine, you can be confident that the Cosmo massage chair will provide the ideal personalized massage..
With their top-notch Microfiber PU Horwitz Leather, which is regarded to be the most advanced and costly leather ever produced, Cosmo spared no expense in providing the best skin-to-chair experience available. It's never been seen before in other massage chairs at high-end designer furniture.
Massage Chair Singapore
In this blog post, we have discussed the best message chairs in Singapore. From those who are looking for a massage chair that's more affordable to those with deep pockets and high expectations, there is a chair out there for you! We hope by now you've found one or two chairs that suit your needs and budget. If not, then don't worry – we'll be back soon to add far more details to expand your knowledge on choosing your ideal massage chair!
If you enjoyed what you read, do consider these articles as well!
Frequently Asked Questions (FAQ)
If you have any questions about massage chairs in Singapore, you can refer to the frequently asked questions (FAQ) about the best Massage Chairs in Singapore below:
What are the best massage chairs in Singapore?
The best massage chairs in Singapore include EMPIRE, MiuDeuxe Massage Chair with Foot Massage, OSIM uDivine V, and Gintell's DéVano SC Massage Sofa.
What are the benefits of a full body massage chair for Singaporean homes?
A full body massage chair offers numerous benefits to Singaporean homes. It provides relief from body aches and tension, helping you relax after a long day. Its compact design fits perfectly in any home, making it a great addition for the whole family.
How does the body scan technology in massage chairs work?
Body scan technology in many massage chairs works by detecting the shape and size of your body. This allows the chair to adjust its massage nodes and rollers to target specific areas of tension and pain, ensuring a personalized premium massage experience.
Can a massage chair help with body aches and tension?
Yes, a massage chair is designed to alleviate body tension. It uses various techniques like kneading, tapping, and rolling to stimulate pressure points, improve blood circulation, and promote maximum relaxation.
What can I expect in terms of the delivery date when I order a massage chair?
The delivery date for your massage chair will depend on the supplier and your location. Once your order is placed, you should receive an order confirmation detailing the estimated delivery date. Ensure to check this information to plan accordingly.
Can the whole family use the massage chair?
Absolutely! A massage chair is a great investment for the whole family. It's not only adults who can benefit from it, but children can also use it to relax, especially after a tiring day at school.
Do I get an order confirmation when I purchase a massage chair?
Yes, after making a purchase, you should receive an order confirmation via email. This will include details about your purchase, such as the product description, price, and expected delivery date.
Can using a massage chair help relieve pain?
Certainly! A massage chair can be a powerful tool for pain management. It can target specific areas of your body that are causing discomfort, providing relief from chronic pain, muscle tension, and even stress-related pain.
Are massage chairs a relaxing addition to Singaporean homes?
Yes, adding a massage chair to your Singaporean home can create a relaxing atmosphere. It allows you to enjoy a spa-like experience in the comfort of your own home, making it a worthwhile investment.
Is investing in a massage chair worth the money?
Investing in the right massage chair can be worth the money considering the numerous health and relaxation benefits it offers. It's like having a personal masseuse available 24/7, which can save you money in the long run compared to regular visits to a spa or massage therapist.
How does a full body massage chair help in stress relief?
A full body massage chair is designed to mimic the hands of a professional masseuse, providing a comprehensive massage experience that covers your entire body. The chair uses various techniques to knead, roll, and tap on your muscles, which can help to relieve tension and promote relaxation. This can be especially beneficial for stress relief, as it helps to stimulate the release of endorphins, which are the body's natural 'feel good' chemicals. Furthermore, the rhythmic movement of the massage can also have a calming effect on the mind, helping to reduce feelings of anxiety and stress.
Can a massage chair target specific areas to relieve chronic pain without taking up too much space?
Yes, many of the best massage chairs in Singapore come with targeted massage features. These chairs are equipped with advanced technology that allows them to focus on specific areas of your body, such as your neck, back, or legs. This can be extremely beneficial for individuals suffering from chronic pain, as it allows the chair to work on the areas that need it the most. Despite their advanced features, these chairs are designed to be compact and space-efficient. They are typically no larger than a standard recliner chair, making them a practical choice for those who don't have too much space in their home.
Additional Useful Articles
If you are looking for other useful guides and articles about Massage Chairs in Singapore, check them out below: