Best Netflix Singapore Shows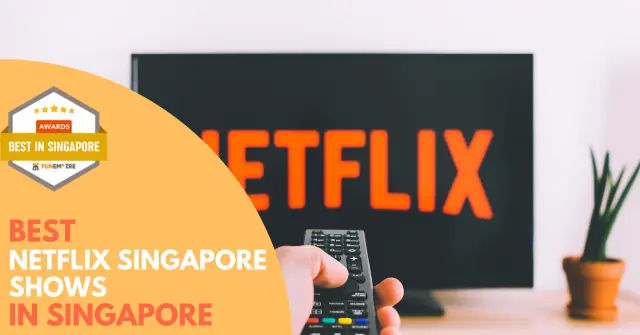 If you still haven't check out what Netflix has to offer in Singapore, you've already waited too long. Some of the best TV shows at the moment, such as Stranger Things and Orange In The Black, are Netflix Originals.
Netflix has routinely knocked it out of the park since its global launch, with everything from thriller drama to 1980s-inspired sci-fi to the best superhero TV episodes available.
Now, before we dive into the must watch list of the Best Netflix Singapore Shows To Binge Watch This Weekend, let's take a look at some amazing activities The Fun Empire offers.
1. Stranger Things
Genre: Sci-fi, Horror
Year of Release: 2016 – Present
It's unusual to see a show so devoted to the 1980s. Often, TV shows, movies, and literature rely on nostalgia without incorporating it into the plot in any meaningful way. That is not the situation in Stranger Things. The Duffer Brothers' sci-fi is more than just a love letter! It stands alone as one of the greatest Netflix Singapore television shows today, thanks to its talented and diverse casts and its captivating storyline.
Leaning heavily on Spielberg, John Carpenter and Stephen King, the story revolves around a small town, a group of friends, a missing person and a shady science lab. We follow El, a near-mute girl who was the subject of scientific experiments. She develops telekinetic powers and uses it to fend off monsters who invade from a frightening alternative dimension.
2. Behind Her Eyes
Genre: Psychological Thriller
Year of Release: Feb 2021
This Netflix Singapore psychological thriller series is probably all over your Twitter timeline right now. So why not spend this weekend to find out why?
The Netflix series, Behind Her Eyes, is about a young woman who gets caught up in a strange and hazardous love triangle when she has an affair with her boss while secretly befriending his mysterious wife. And it's full of many twists and turns that you won't see them coming.
3. The Umbrella Academy
Genre: Comedy-drama, Sci-fi, Superhero, Fantasy
Year of Release: 2019 – Present
Netflix showed it didn't need to collaborate with Marvel to produce a fantastic superhero show, as this quirky adaptation proves. The Umbrella Academy depicts a group of adopted siblings with amazing talents who were raised together as superheroes and they reunite as adults to prevent the end of the world.
With an excellent ensemble cast that includes the likes of Elliot Page and Robert Sheehan, this breezy and fun show almost makes up for the absence of fresh Marvel content coming to Netflix.
4. The Haunting of Hill House
Genre: Drama, Supernatural, Horror
Year of Release: Oct 2018
The Haunting of Hill House is the best Netflix Singapore horror TV show, followed by 2020's sequel series, The Haunting of Bly Manor. With many truly horrific scenes, the story is about a family returning to their old home to reckon with the events that drove them away from it.
Hill House is so much more than a ghost story! It's an exciting family drama with moving performances. And if you enjoy it, you can try on the next chapter in the anthology series: The Haunting of Bly Manor.
5. Lupin
Genre: Crime, Thriller, Drama, Mystery
Year of Release: Jan 2021 – Present
If you enjoyed Money Heist, then meet Lupin, another non-English language show with a propulsive action-packed story. This time we're in France, where professional thief Assane Diop, played by Omar Sy enacts his revenge mission on the man responsible for his father's death. Inspired by a book about Arsène Lupin, Assane uses 'gentleman thief' techniques to expose crimes.
This highly anticipated series is directed by The Incredible Hulk's Louis Leterrier. And with only five episodes, it won't take you long to go through it.
6. 13 Reasons Why
Genre: Teen drama, Mystery, Psychological Thriller
Year of Release: 2017 – 2020
The first season of this popular Netflix Singapore show, 13 Reasons Why, was the most faithful to its source material, a novel by Jay Asher about a teenage girl's suicide. Hannah Baker leaves behind a box of cassette tapes, which her attentive friend Clay Jensen listens to in order to learn why she chose to commit suicide. This is serious stuff, dealt with in challenging ways. And this show will teach you the importance of social topics like suicide, sexual assault, and mental health that need to be handled more maturely.
7. Dare M
Genre: Teen Drama, Mystery, Psychological Thriller
Year of Release: 2017 – 2020
Another Netflix show that ended too soon, this one-season gem adds secrets, betrayal, and bloodshed to the already dramatic world of high school cheerleading. You'll be on the edge of your seat as the teens test the limits of who they can trust.
Dare Me delves beneath the all-American facade into the ruthless world of competitive high school cheerleading, following the complicated relationship between two best friends as a new coach arrives to bring their team to prominence.
8. The Get Down
Genre: Period Drama, Musical
Year of Release: 2016 – 2017
One of the most ambitious projects to land at Netflix in recent years, The Get Down is a feast for the eyes and ears. And it's a must-see for music fans, as it tracks the early days of hip-hop through its rise in the South Bronx region.
The show depicts a group of young people who find themselves at the crossroads of the hip-hop, punk, and disco movements. It has a superb cast and a compelling picture of the political and social environment of the 1970s. The tone is somewhat inconsistent, but it makes up a very delightful ride. If you enjoy musical numbers, don't miss this one!
9. Crashing
Genre: Comedy-drama
Year of Release: 2016
Before she shocked everyone with the word-for-word perfect Fleabag, Phoebe Waller-Bridge created a six-episode comedy that revealed the early phases of her remarkable talent. Crashing is one of the best Netflix Singapore shows to binge watch this weekend! The story follows a group of friends, crushes, and acquaintances who live as "property guardians" in a condemned hospital, casually observing the strict rules in exchange for cheap rent.
10. Russian Doll
Genre: Comedy-drama, Mystery
Year of Release: 2019
Russian Doll takes the Groundhog Day premise and twists it in the most unexpected ways. Natasha Lyonne is the glimmering flame at the heart of the time-looping mystery. In the series, she portrays Nadia, a game developer who dies on the night of her 36th birthday celebration.
With its cynical and witty examination of living and dying, Russian Doll switches rapidly between laugh-out-loud hilarity and devastating sadness. The Amy Poehler co-created show uses time travel to examine self-reflection on a whole new level, making this a must-see!
11. Dead To Me
Genre: Dark Comedy
Year of Release: 2019 – Present
If you're looking for a female-led show with a dark sense of humor and a mystery, Dead To Me has it all. This Netflix series takes a story about friendship between Judy (played by Linda Cardellini) and Jen (played by Christina Applegate). They are two complete opposites who bond over wine, family and murder. The plot twists and discoveries will keep you interested, while you enjoy spending time with these flawed but intelligent ladies.
12. The Kominsky Method
Genre: Comedy-drama
Year of Release: 2018 – 2021
Michael Douglas and Alan Arkin in a comedy series? Yes, that's exactly as amazing as it sounds. In The Kominsky Method, Douglas plays Sandy Kominsky, a former Hollywood actor who is now an acting instructor dealing with the effects of aging. On the other hand, Arkin plays his pal and agent Norman Newlander.
The two stars, as well as the side characters performed by actors such as Emily Osment, are what lift this show into poignant, heartwarming territory.
13. BoJack Horseman
Genre: Adult Animation, Animated Sitcom, Black Comedy
Year of Release: 2014 – 2020
BoJack Horseman takes the cake when it comes to cartoons that lower your guard before gut-punching you with mental health reflections. It depicts a washed-up ex-sitcom star who seeks to reclaim his former celebrity by releasing a L.A. autobiography filled with anthropomorphic animals.
While you may take some time to get used to it, this show astounds you with its realities about dealing with depression, addiction and getting your life back on track.
14. Orange Is The New Blac
Genre: Comedy-drama
Year of Release: 2013 – 2019
Orange Is The New Black was one of the first ever Netflix originals streamed in Singapore, that broke ground in more ways than one. The plot is partially based on Piper Kerman's real-life prison experiences. In general, the show can be summarised as follows: WASP goes to prison, thinking she will be alright because she's white and middle-class; turns out she's extremely wrong.
The great ensemble cast is what really drives this program. It has received accolades for highlighting the tales of African-American and Hispanic women but also received criticism for making a white woman lead the show.
15. Black Mirror
Genre: Sci-fi, Drama
Year of Release: 2011 – 2019
The mini-movies of Charlie Brooker's Black Mirror explore futuristic technical ideas through painfully human storylines. One of those is San Junipero, following two women in the 1980s as they fall for each other in ways they couldn't do in their "real" lives outside the beach city. The tech aspect is presented with brilliant timing and the show generally explores the consequences of our plugged-in lives in disturbing and occasionally uplifting ways.
Best Netflix Singapore Shows
And there you have it; our picks of the Best Netflix Singapore Shows To Binge Watch This Weekend. We hope that this list would be helpful for you to relax and chill at home during the pandemic.
Now that you have reached the end, why not check out some other interesting articles here!