Non Stick Frying Pan Singapore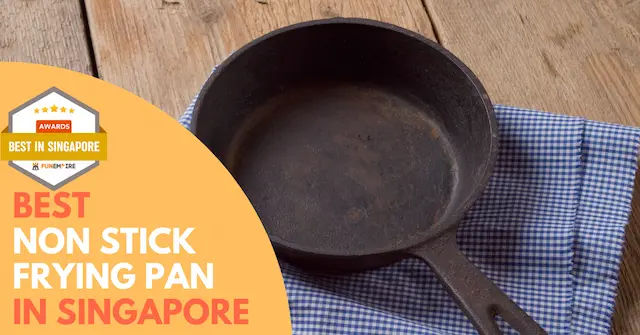 Looking for the best non stick frying pan in Singapore? Look no further!
In this blog post, we will recommend 12 of the best non stick frying pans on the market. We have done an extensive research to find the highest quality and most durable non stick frying pans that are available in Singapore. Also, discuss some of the best non stick frying pans on the market and why you should consider purchasing them.
So whether you are looking for a non stick frying pan for your home kitchen or for your business, we have got you covered! Let's get started!\
1. NEOFLAM Pote Frypan
The NEOFLAM Pote Frypan is available in three sizes, with the 20cm diameter being the smallest, and is a good option if you're searching for a tiny nonstick frying pan in Singapore. The entire Pote line of models is produced in Korea.
With this pan, you virtually ever need to use cooking oil because of the ceramic coating. However, some dishes will still require more oil in order to prevent sticking. The larger sizes might not be something you want to use every day because the pan feels substantial and is a bit weighty.
Key Differentiators
Forged Aluminium Non-Stick Cookware
Superior Durability
Ergonomic and Lightweight design to prevent wrists injuries
Customer Testimonial
Very fast shipping! High quality pan and great for Everyday cooking! Highly recommended!

B
2. Happycall IH GOLD Die-Cast Frying Pan
The Happycall IH GOLD Die-Cast Frying Pan, which is created in Korea, stands apart from other nonstick frying pans in Singapore in terms of look.
This pan is the real deal when it comes to true non stick action thanks to its distinctive gold coating! The pan doesn't stick to eggs! You don't even need a lot of oil! This keeps your stove tidy and clear of oil. Additionally, you may get away with cleaning the pan rather than scrubbing it in between dishes!
Key Differentiators
IH Gold : Premium Pan Series From Happycall
Premium Interior & Exterior : Excellent Stick Resistant For All Types Of Cooking
Distinguished Appearance : Gold As A Perfect Conductor Of Heat
Customer Testimonial
Delivery was quick & the item came well packaged! Great pan, easy to use

G
3. Tramontina Non-Stick Frying Pan
Along with their stainless steel pans, Tramontina also offers a non-stick line.
The Tramontina Non-Stick Frying Pan is 8 cm deep, PFOA-free, and performs superbly in terms of non-stick. The pan is decently made and lightweight. The 20cm size is loved by many users for making omelets, pancakes, pan-seared fish, or single meals!
Key Differentiators
Deep Frying Pan
Heat-resistant Bakelite handle
Aluminium
Customer Testimonial
Fast delivery, well packed in bubble wrapped and came in a box. Item is in perfect condition

E
4. Carote Essential Woody Frying Pan
The Carote Essential Woody Frying Pan works effectively despite having a rough surface. Although it isn't flawless, it offers good value.
Since it comes with a spoon and lid and has a one-year warranty! Users are happy with the weight and quality. While some people think it's a bit heavy, others think it's well-balanced. Also uniformly distributed is the heat.
It works on induction hobs and doesn't cause much pan sticking. The handle is cozy to hold.
Key Differentiators
Induction & Gas Applicable
Healthy Granite Stone Cookware
Non-stick Wok Frying Pan with Lid
Customer Testimonial
deep fry pan look solid. smooth inner surface. bought together with essential fry pan which is rough sandy inner surface. both come with free spatula but both look diff and have diff thickness

Amy
5. Happy Call Double-Sided Fry Pan
The Happy Call's dependable Double-Sided Fry Pan will spare you the effort of flinging food out of the pan if you're a wannabe Gordon Ramsay who isn't entirely secure in your pan-flips. You won't ever need a spatula to flip food again thanks to the pan's two non-stick surfaces on the top and bottom. All you have to do is flip the entire pan over.
The enclosed design not only stops smoke and oil splatters from turning your kitchen into a battlefield, but it also permits pressure to build in the pan, hastening the cooking process. Additionally magnetic, the handles offer easy opening and closing while sealing in moisture.
Key Differentiators
Uses little or no oil, less smoke
Comes with free silicon gasket
English instruction manual
Customer Testimonial
It feels sturdy and seems like good quality. Luv it!

gj6uc8m4qy
6. GreenPan Rio Ceramic Frypan
The GreenPan Rio Frypan might be the pan for you if you live an aesthetic life and can't wait to decorate your kitchen. Black, burgundy and turquoise are its three available colors, which make it a fashionable addition to your kitchen.
We are all aware of how frustrating it can be to clean up after cooking, especially if there is food residue caught around the two metal bumps called rivets that protrude from the pan's inside surface. The GreenPan Rio has a smooth inner cooking surface all the way around the pan, making cleaning with a soft sponge simple.
Key Differentiators
Tough, diamond-reinforced nonstick coating is incredibly durable
Heavy-gauge construction provides excellent heat conduction
Oven safe up to 350°F
Dishwasher safe for easy cleanup
7. Lock&Lock Hard & Light Frying Pan
We've all heard of Lock&Lock, a company well-known for its food containers. But did you know that the Korean manufacturer also produces a line of frying pans known as Hard & Light?
As suggested by its name, Hard & Light's frying pans are lightweight and powerful because of the hard anodizing process, which forms a robust protective covering. Because of its incredible resistance to corrosion, you won't need to replace this pan anytime soon. This implies that no metal or dangerous chemicals will flow out of the pan even if you manage to scratch it.
Key Differentiators
Lightweight
Powerful
Incredible resistance to corrosion
8. Cuisinart Chef's Classic Skillet
The Cuisinart Chef's Classic Skillet has a big surface area, slanted edges that make it simple to reposition food, and a hard anodized body for quick and even heating if you enjoy the sound of pan-seared salmon sizzling.
You will have excellent control when cooking and a handle that keeps cool the entire time thanks to its lengthy stainless steel grip.
Key Differentiators
Sloped sides deliver perfect performance and maximize cooking surface
18/10 stainless-steel mirror finish does not discolor, react with food, or alter flavors
Aluminum encapsulated base heats quickly and spreads heat evenly; eliminates hot spots
Customer Testimonial
If your looking for a 12 inch Stainless Steel pan that also comes with a lid, it's very hard to go past Cuisinart's offering. Looks fantastic, cooks great and is easy to clean with minimal sticking. I have several pans similar to this but of different brands and this one wins hands down. Heats quickly and evenly for excellent even cooking.
Doesn't help with cooking i know but also looks beautiful.

If your in the market for a pan of similar specifications look no further then this pan.

Warren
9. Tefal Pure Chef Plus
Pure Chef Plus is another exceptional item from Tefal. This pan also incorporates a visual heat indication to let you know when the ideal cooking temperature has been attained, much like the Expertise. This pan, on the other hand, is much deeper than its counterpart and features a pouring spout that makes it simple to pour out sauces and soups.
It also has an ergonomic grip and works with stovetops and hobs. A 2-year warranty is included with the Tefal Pure Chef Plus.
Key Differentiators
Titanium Reinforced Surface
Pouring edges for convenient use
Specially designed to make serving food easy and mess-free
10. Lamart Eco Ceramic Wok
The Lamart Eco Ceramic Wok is well-liked in Europe and is renowned for its lovely ceramic non-stick surface. Additionally, it is free of dangerous substances like PFOA and PTFE. Its ability to operate on any kind of heating surface—including induction stoves—is a further advantage.
Key Differentiators
Fast cooking on the basis of rapid heat transfer
Healthy and fast cooking
Soft touch ergonomic plastic handle
11. Pearl Life Rouge Skillet Pan
The Pearl Life Rouge Skillet Pan is the one for you if you're seeking something compact, reasonably priced, and attractive. All stoves can use, and only a small amount of oil is needed when cooking. Despite not being a conventional non-stick pan, it has non-stick qualities due to the material it is built of.
Both stovetops and ovens can be utilized with the Pearl Life Skillet pan. Additionally, it has excellent heat retention and consistent heating power.
Key Differentiators
Easy to maintain – enamel processing
Rapid heat distribution & excellent heat retention
Ideal for stovetop cooking & oven baking
12. Ozeri Earth Frying Pan
The Ozeri Earth Frying Pan is the right choice if you're seeking something that resembles a traditional design from long ago. Its surface, which is made of stone, is free of pollutants like PFBS and PFOS. It is also quite resilient to scratches.
This pan, which has an aluminum core, offers an ergonomic handle and a useful magnetized bottom. Additionally, it is known to make cooking more efficient and even.
Key Differentiators
100% APEO & PFOA-Free
Stone-Derived Non-Stick Coating from Germany
Features a hardened scratch-resistant coating that is super easy to clean.
Non Stick Frying Pan Singapore
A good frying pan is an essential piece of cookware for any kitchen. Whether you're whipping up a quick omelet or cooking a full Sunday roast, a quality frying pan will make the job easier. With so many different models on the market, it can be tricky to know which one to choose.
To help you make an informed decision, we've compiled a list of the 12 best non stick frying pans in Singapore. We've considered factors such as heat conductivity, ease of use, and price, to ensure that you find the perfect pan for your needs.
So whether you're a seasoned chef or a beginner cook, you're sure to find the perfect frying pan on our list. Thanks for reading!
Interested in more articles to read? Check out more of our blog posts down below: