Nose Piercing Singapore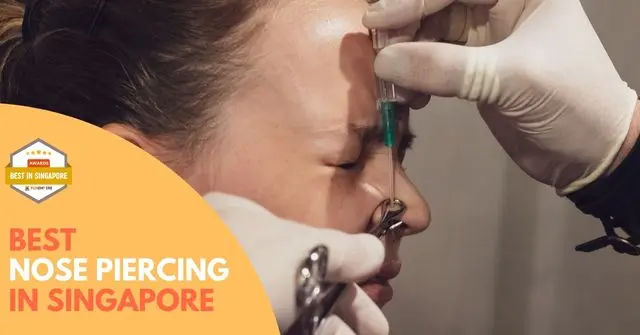 Piercings have been around for centuries, and nose piercings are one of the most popular types. If you're looking for the best nose piercing in Singapore, look no further! We've compiled a list of the 10 best nose piercers in town.
Whether you're looking for a simple stud or something more elaborate, these professionals can help you get the perfect piercing. Also, they offer a variety of nose piercings, including septum piercings, nostril piercings, and more. Plus, their nose piercers are experienced and skilled in the art of nose piercing and will ensure that you get a safe and comfortable experience.
So what are you waiting for? Check out our list and book an appointment today!
1. Lovisa
| | |
| --- | --- |
| Key Services | Jewelry store |
| Address | Plaza Singapura, 68 Orchard Rd, #B1-37, Singapore 238839 |
| Website | https://www.lovisa.sg/ |
| Phone | +65 3158 0698 |
| Email | info@lovisa.com |
| Operating Hours | Daily: 10AM–10PM |
Of course, depending on the sort of jewelry you select, the jewelry retailer Lovisa also provides piercing services for under $40. You may stroll into Lovisa without making an appointment and ask for a jab, and they will complete it right away in under a minute! In the System 75 line, they include surgical-grade stainless earrings.
For children under the age of 12, a unique teddy bear and a certificate to commemorate your first piercing will be presented! But do take note that they only pierce people that are 16 years old and older.
Key Differentiators
Bring brilliantly affordable, on-trend jewellery to the WORLD
Delight customers with commitment to continually improve your Lovisa experience
Many choices to choose from
Customer Testimonial
Wanted to just give a shout out to farah who is so amazing. It was pretty late in the evening but she was still so cheerful and helpful. I wanted a particular pair of hoops which were hard to find. So she found me an alternative that was just as wonderful.

She had to rummage through a whole lot of earrings and she picked one that she knew I would like!

She's a gem. Mad props to Farah! Give her a pay raise!

Bea
2. Piercing Clinic
Visit the Piercing Clinic, which combines piercing and tattooing, if you want some entertainment while having your nose pierced. Therefore, you can observe while others have their skin prodded while you have your ear poked.
What fun? But fear not—every employee at Piercing Clinic is qualified. with first aid and CPR available. All to protect your security.
Key Differentiators
Specializes from babies to adult piercing using the world best jewelry with highest hygienic standard tested and approved by ministries internationally
Est in 1997 first in Singapore to have body jewellery used for piercing sent for testing by Chemist Elemental Analysis Testing Laboratories and its integrity is proven
Equip with complete systems for all your piercing needs. you name it they have it
Customer Testimonial
Best piercing place I have ever been too, 101% trust.
I've been reading those negative comments and all I can say is if you want the best of course you have to pay for the quality, just like Lombardo's burger to McDonald's.

Yes, its difficult to get availabilities because they work on allowing ample time for clients to feel properly taken care of and no pressure throughout the process which is what true professionals do. Will be visiting the "clinic" soon!

Aaron
3. Primitive Art Piercing & Tattoo
Primitive Art Piercing is a well-known tattoo and piercing establishment in Singapore noted for its gloomy atmosphere but warm and friendly employees to assist you in what you require.
The business, which has been in operation since 1993, provides a variety of tattoo services, including permanent, airbrush, and even sticker tattoos. They provide a fantastic selection of studs, plugs, and barbells for piercings to choose from.
Key Differentiators
Established in 1993
Pioneered bodyart and body piercing Singapore
One of the most recognizable and credible names
Customer Testimonial
Did a conch piercing here just 2 days ago. Wendy was very friendly, assuring and was super fast. I was originally worried about the pain but I was pleasantly surprised that it wasn't as painful as I'd thought it'll be. It was completely bearable. The price is a bit high but given there was minimal pain and healing fine over the next few days, i would recommend this place for piercings.

Rachel
4. Body-Decor Tattoo & Piercing
Body-Decor Tattoo & Piercing, which Richard Tat founded in 2000, offers various types of piercing, be it on the ear or nose. Also, they offer any ear part, including the orbital, tragus, anti-tragus, conch, helix, and anti-helix can receive it. For those who want to wear lengthy, hanging earrings stylishly, they also offer ear-hole extending or enlargement techniques. Body-Decor Tattoo & Piercing will additionally assist with cleaning and replacing earrings for hygienic reasons.
You've come to the right place if you're looking for anything for aftercare. After all, Body-Decor Tattoo & Piercing offers a variety of affordable, high-quality aftercare products. The selection includes items like piercing soap, lotion, and ointment.
Key Differentiators
Great service
Founded since 2000
Has aftercare services
Customer Testimonial
I had a first tattoo from Richard. He is a wonderful artist. He is very calming and doesn't make me nervous friendly talk to me like a friend, and he printed a few of different sizes and direction of the tattoo for me to choose and gave me nice advice based on what I really need, Thank you very much Richard! keep up the great work! Awesome tattoo!

Ganesan
5. Rise Above Tattoo & Piercing
Known for both tattoo artists and body piercing services, this boutique tattoo parlor has been offering quality and professional service since 2012. They will make every effort to keep the piercing procedure short, simple, and painless.
During the procedure, the workers are diligent and meticulous and use sterile, clean tools. If you are interested enough to inquire, the piercers are also more than ready to explain what they are doing. The piercers are also said to be an entertaining company, according to reviews.
Key Differentiators
Founded in 2012
Passionate about bringing the beauty of ink and body art – as well as body piercing – to a bigger consumer crowd
Great customer service
Customer Testimonial
I got my Conch pierced by Jason today through walk in. I wasn't expecting to get a booking but they asked me to wait, 15 mins later i got my piercing and was out again. Jason was very informative of the aftercare my piercing needed, very professional in the way he dealt with paperwork and the piercing itself.

He also talked me through what he was doing with the needle and the markings which gave me reassurance. Thank you a pleasant experience!! would recommend. also good price compared to a lot of other places.

Connie
6. Ink By Finch
If you are familiar with Singapore's tattoo scene, you may be aware of Ink By Finch. Despite the fact that their name suggests they are a tattoo parlor, they also provide body piercing services. Because they are a renowned tattoo and piercing shop with a friendly, laid-back ambiance. You may be confident that they will use the most up-to-date equipment and methods to complete the essential services. '
The tattoo shop offers a stunning variety of body piercings, including those for the face, tongue, navel, and even private areas. Getting pierced is often a clean, relaxing process, so relax and let the professionals do their thing.
Key Differentiators
Reputable Singapore tattoo artist & body piercing shop
Provide custom tattoo that customers love
Highest quality
Customer Testimonial
Went to do a simple earlobe piercing. Joe was great, he was very gentle and explained each step. He offered either needle or gun and I picked needle. He was very thorough, asked me if the pain was manageable (it was), and explained the aftercare well. Would highly recommend to anyone looking for a piercing.

Melody
7. BMF Ink Tattoo Studio
| | |
| --- | --- |
| Key Services | Tattoo shop |
| Address | 865 Mountbatten Rd, #01-93, Singapore 437844 |
| Website | bmftattoo.com |
| Phone | +65 9423 9655 |
| Email | ninachua798@gmail.com |
| Operating Hours | Monday to Saturday: 11AM–3PM |
Sometimes the prospect of getting pierced or even getting one can be frightening. However, if you go to BMF Ink Tattoo Studio, you won't need to be concerned about it. After all, the staff members here will try their best to make you smile and divert your attention from the next procedure.
If you're seeking to get some gorgeous artwork on your skin, you may stop by here, which is located in the center of the East Coast and offers both tattoo inking and tattooing services.
Key Differentiators
Tattoo
Touch-ups
Piercings
Customer Testimonial
Got our first tattoo here and we are glad chose this place. Got tattooed by Nina for my self and wife. She did an amazing job with colors, lines and shadows! She was very easy to talk to as well and I am very happy with both the tattoo and the experience itself. Would go here again without hesitation. Nina has done exactly what we've asked for, even exceeded our expectations. Couldn't be happier.

Kishor
8. NeedlesnPinsz
Key Services
Body piercing shop
Address
26 Sin Ming Ln, #08-121, Singapore 573971
Website
https://www.instagram.com/needlesnpinsz/
Phone
+65 9325 5564
Operating Hours
Monday- Friday: 1.30-6.30
Saturday: 12.30-3.30
Because NeedlesnPinsz's quality service for an affordable price is guaranteed, you don't have to worry about how using their services or making purchases from them will cost you an arm and a leg.
Instead of the more sophisticated gun method, which is riskier and more expensive, they use the needle technique, which is considered to be cheaper and safer. Additionally, you can be sure that all of the tools are sterile and clean.
Key Differentiators
Quality service
Use needle technique
Hygienic and safe
Customer Testimonial
hello i went to the branch in woodlands yesterday afternoon. the lady there was friendly and gentle throughout the piercings. she was also very informative, she would let you know when she was going to pierce. the tools used were also hygienic! definitely would recommend and be back for more piercings!

Nicole
9. Dream Body Art Tattoo Studio
One of Singapore's top studios for nose piercings is Dream Body Art Tattoo Studio. They use cutting-edge equipment and methods to deliver high-quality services that are quick, simple, and painless. Additionally, you can choose from a large selection of nose piercings to discover the ideal one for you.
Dream Body Art Tattoo Studio is well-known for its beautiful and imaginative tattoos in addition to nose piercings. As a result, their clients are pleased and delighted with the outcome. This can be the ideal studio for you if you want a distinctive and personalized tattoo.
Key Differentiators
Professional tattoo services with over 20 years of experience.
Tattoo and piercing services
Imaginative creations
Customer Testimonial
I would highly recommend Dream Body Art Tattoo Studio. Studio was clean and artist was very professional. She obviously enjoys her art and this in her passion for inkling. I'd have no hesitation in using this place again.

Martin
10. Visual Orgasm Tattoo n Piercing
For those who support "freedom of expression," Visual Orgasm first opened its doors in 2005. This company encourages people to create without bounds or restraints.
They take pleasure in giving customers a great experience, whether it's helping them get their first tattoo or commemorating important moments in their lives. The client's best interests are considered at all times.
They won't judge you if you're getting your first piercing or if you're an enthusiastic pierce collector! They simply want to give your ideas life so they can become the artwork you will proudly wear on your skin.
Key Differentiators
Great customer service
Great artists
Since 2005
Customer Testimonial
I wanted to do tongue pirc, but I had thousands questions 🙂 Guy (sorry I forgot the name) was very patient, answered all my questions, explained procedure and what to do after + he was very gentle doing piercing 🙂
I'm very satisfied and I would recommend this studio to everyone.
Keep doing the best 🙂

Jelena
Nose Piercing Singapore
So, there you have it – 10 of the best places to get your nose pierced in Singapore! With so many options available, you're sure to find a place that meets your needs and budget. So what are you waiting for? Get out there and get pierced!
Interested in more articles to read? Check out more of our blog posts down below: