Nursing Wear Singapore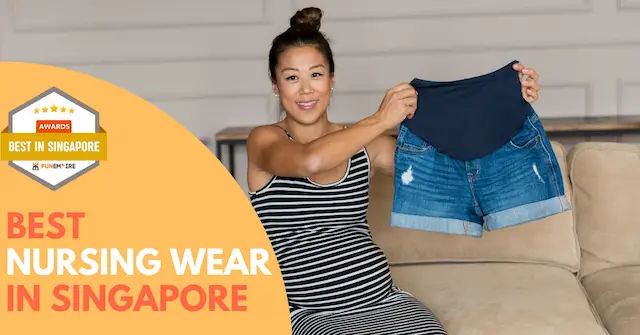 Nursing wear is an important part of a new mom's wardrobe. It needs to be comfortable and functional, while also being stylish. There are many different brands of nursing wear on the market, but not all of them are created equal. In this blog post, we will discuss 12 of the best nursing wear brands in Singapore. We'll tell you what each brand offers, and help you decide which one is right for you!
1. Mama's Choice Activewear Maternity Leggings
What We Also Like About Mama's Choice Activewear Maternity Leggings Is That They Are Comfortable, Stretchy, and Adjustable. The maternity leggings have a specifically designed waistband that helps support your stomach as your belly expands to give you much-needed flexibility. Furthermore, the adjustable waistband straps allow you to customise the leggings to your liking.
Key Differentiators:
Highly affordable yet comfortable and adjustable maternity leggings
60% cotton and 40% polyester
Soft, breathable, and high-quality material
The quality really very nice and soft. Definitely will want to buy again!

Michelle
2. Spring Maternity
Spring Maternity understands the difficulties that new mums face, such as finding clothes that are both comfy and attractive, which is why they give much thought to what moms want and require in all areas of their designs. Their success in achieving this aim is evidenced by their massive growth over the years. They offer not just worldwide, but also throughout Algeria, Brunei, Cambodia, Macau, Hong Kong, Malaysia, Panama, China, UAE Europe and the US.
Key Differentiators:
Dresses include a hidden pump compartments
Smart design
Slip-on style
Have hide pockets
I have been wearing spring nursing clothes for a long while, they are so stretchy and comfy! My favorites are the camisoles, great as pj or every day wear! The material is thick and cooling, stretchy and super comfy!! Highly recommend as a place to get functional pieces that can be used from before birth to after birth!

Sarah Ching
3. UNIQLO
We are certain that you will enjoy UNIQLO's Maternity collection if you love their clothes. Leggings, jeans, and underwear are among their collections. They're all made with the intention of keeping you comfy rather than restricting your movements due to fabric restrictions.
UNIQLO also maintains low-cost items. You may even get free delivery on purchases of $60 or more! What are you waiting for? Make yourself comfortable with UNIQLO's maternity apparel.
Key Differentiators:
There are a variety of goods to select from.
High-quality, long-lasting materials
Fabric is soft and comfortable
I don't have a big belly yet, so it goes all the way up to the bottom of my breasts. But I don't mind and happy I got these during the end of my 1st trimester because everything was starting not to fit. They are so comfy and soft AND not expensive!

Carrie
4. Bove by Spring Maternity
| | |
| --- | --- |
| Key Features: | Comfortable and innovative designs |
| Price: | S$39.90 – 89.90 |
| Website: | https://bove.co/ |
Bove is the perfect place to go for all your maternity and baby product needs. They have a wide selection of fashionable maternity wear that will suit any style. They offer a wide variety of clothing options to keep you feeling your best, no matter the occasion. From pretty dresses to workout clothes, they have something for everyone who wants to look and feel their best.
Key Differentiators:
Smart design
Slip-on style
There are hidden nursing and pumping access
Have hide pockets
Great range of products, with friendly and approachable staff (Alice and Diana). Would highly recommend. Keep up the excellent service!

Sam T
5. Love Bonito
Many individuals have fallen in love with Bonito because of its fashionable pieces. From dresses to jumpsuits, tops to bottoms, and accessories to shoes, they've got you covered. Their passion for beauty, style, and art is also evident in their maternity line "Embrace."
Key Differentiators:
Modern styles
High-quality items
Reasonable costs
Purchase a dress at Funan this evening. Lin served me today, she was patient and explain clearly on the exchanging terms and conditions! Was a pleasant experience

Jasmine Chia
6. Milky Way
Milky Way understands how to create clothing that is both sturdy and pleasant for expectant and nursing moms. Since 2005, they have been one of Singapore's most preferred maternity and nursing wear retailers.
DOTE's Classic Tank Charcoal is the comfy, long-lasting, and breastfeeding-friendly tops we recommend. This DOTE Classic Tank Charcoal is one of their tops that you may wear comfortably. Our favourite rite dress from their collection is the Twinkle Dress Dark Grey by DOTE. We also think this Nursing Cover (Flamingoes) is really adorable!
Key Differentiators:
Sturdy, comfy and Breastfeeding-friendly tops
I love the Panama Shorts – they are so comfortable and soft. The band at the tummy is not tight. Please stock more colours!

Zynn Soh
7. 9months Maternity
9months Maternity will make it simple for you to stay fashionably fabulous throughout your pregnancy. They provide a comprehensive selection of fashionable maternity and nursing clothes for daily use as well as special events. They utilize gentle, breathable, and wrinkle-free textiles, which can keep up with your sense of style without causing any discomfort.
Key Differentiators:
Sleeveless summer dress
Elegant maxi style
Has back zip closure
Suitable for mommies. Very Affordable price and fashionable outwear. #9months

Saodik Sahul
8. Chantilly
Noppies has been assisting many women feel confident and comfortable, even during their pregnancy period, by offering them clothes made with attention for over 25 years. Their wardrobes are brimming with timeless ideas, pleasant materials, and distinctive fits. To ensure that their items can give the support and comfort you require, their maternity wear includes nursing patterns or convenient features like adjustable waistbands and jersey belly bands.
Key Differentiators:
Uses cotton blend fabric
Has textured pattern
Regular fit
I was over the moon having ordered this special dress for my daughter to wear at her sisters wedding a little worried it may not arrive in time however figure 8 prioritised this beautiful frock to arrive on time in fact with 4 days ahead of our special day. This dress looked fabulous and has a lovely feel with its bamboo lining and very easy to nurse from. Thank you very much from a very happy customer.

T.K
9. Jump Eat Cry
At Jump Eat Cry, we know that mums need clothing that is both comfortable and fashionable. Our line of clothes supporting expectant and nursing mothers are perfect for any modern mum. The majority of the clothes are created overseas, in places such as Bangladesh and Vietnam. They have a small Singapore-based design staff who constantly create new lines, so there's always something to look forward to, regardless of your personal taste. Because the designers are well-versed with the Singapore climate, they know exactly what textiles, styles, and designs would provide maximum comfort in any weather or scenario.
Key Differentiators:
Many different designs for different occasions
Value for money
Arh… Wish to buy all their cloths.. Too pretty..

Chloe Tham
10. EGG MATERNITY SINGAPORE
| | |
| --- | --- |
| Key Features: | Extensive line of good priced Jeans, underwear and tops |
| Price: | $40 – $130 |
| Website: | www.eggmaternity.com |
Egg Maternity is a popular maternity wear store offering a great mix of everything including maternity jeans, underwear, nursing tops, and sleepwear too. Ailing from Australia and New Zealand, Egg Maternity can be ordered online via their e-shop with great deals on international shipping. Consider this your shop for all your pregnancy basics in Singapore.
Key Differentiators:
Offers a mixture of all types of clothing
Good deals on international shipping
A great place to shop for quality, fashionable and most importantly comfortable clothing for pregnancy, breastfeeding and now even some baby clothing. A must shop for the pregnant woman.

Rhiannondh
11. Mamalicious Maternity Wear
Mama;licious was founded in 2005 with the goal of providing fashionable clothing for pregnant and nursing moms. This Danish company is also environmentally aware, therefore they utilize natural and recycled materials from cutting-edge resources to protect both their people and the environment.
Between their stylish collection of clothes, tops, jeans, sportswear, coats, and jackets, as well as their unique line of maternity swimwear, they have something for everyone. Other styles are available here.
Key Differentiators:
Has added cups
Slip-on style
Slim fit
Beautiful floral pattern
It fits well, material is great, not that much heavy but supporting the -25 temperature and I am so happy with it. My size is normally xs but I didn't find xs for the jacket I needed to I ordered S and it was fitting well.

Mrehan Elshehawy
12. Noppies Maternity Wear
Over the last 25 years, Noppies has aided many women in finding clothing that is made with care and style. The company's collections include timeless designs, pleasant textiles, and tailored comfort. Their clothing is designed to ensure that their creations can provide the support and comfort you require. Adjustable waistbands and jersey belly bands are included in their maternity wear, which helps them to create nursing designs or useful features such as as easy-access locations for breastfeeding.
Key Differentiators:
Uses cotton blend fabric
Has textured pattern
Regular fit
Nursing Wear Singapore
Nursing wear is a term used to describe clothing that is designed for breastfeeding mothers. Nursing wear can be functional or stylish, depending on the brand. In Singapore, there are many brands of nursing wear available, including 9months Maternity, Chantilly, Love Baby Bump, Mamalicious Maternity Wear, and Noppies Maternity Wear. Each of these brands offers a selection of nursing clothes that are comfortable and stylish.
If you would like to read more from us, feel free to check out some of our other posts: