Orchid Shop Singapore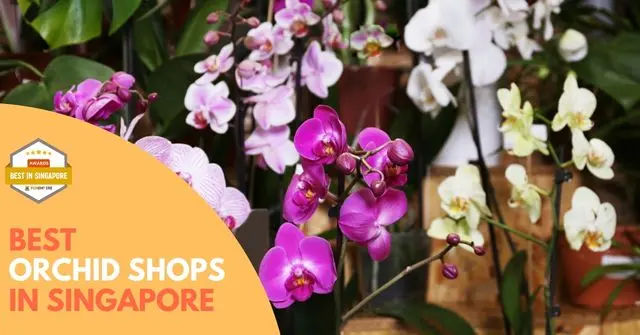 Looking for the best orchid shop in Singapore? Look no further!
We have compiled a list of the 10 best orchid shops in Singapore, based on customer satisfaction and reviews. These orchid shops offer high-quality orchids at affordable prices, so you can get the perfect plant for your home or office.
Also, they offer a wide variety of orchids, orchid accessories, and orchid care products.  So if you're looking to buy orchids, these are the shops you should visit!
1. Orchid Hub
The name Orchid Hub is no surprise; it accurately captures what you can expect this store to be about. They have a sizable collection of different orchid species, which will thrill an expert orchid enthusiast.
Their magnificent, bright collection will delight you with Phalaenopsis, Cattleya, Dendobrium, Oncidium, and other unique selections you could have been searching for a while.
We particularly appreciate that this plant shop offers floral design and event styling services. Can you identify the show's star? The lovely, recently cut orchid blooms, of course! These long-lasting flowers can be used to decorate homes and special occasions as well as create high-quality bouquets.
Key Differentiators
Collecting
Selecting
Breeding
Developing
Cultivating orchids
2. Toh Garden
The orchid bouquets from Toh Garden are the ideal present for your special someone because they are harvested directly from their farm. There is a wide selection because Toh Garden grows more than 500,000 orchid plants. Additionally, they offer same-day delivery throughout Singapore, making it a pleasure to order from their online store.
If you want to conduct an orchid landscaping project for your house, consult their professionals because they also specialize in that field.
Key Differentiators
Specializing in orchid supplies of locally cultivated orchid hybrids and imported orchid genera
Established orchid grower in Singapore
Supply high grade cut orchids and potted orchids for display rental
Customer Testimonial
There are over 200 species of orchids in Toh Garden & the staff, even though he was a foreign worker & could only converse in basic English, was very helpful. He attended to us for nearly 45 mins to an hour, walked through the entire garden with us & recommended orchids to us according to the criteria we provided. We managed to buy 4 pots of very nice & lovely orchids. Excellent customer service!

Bee
3. Woon Leng Nursery
Woon Leng Nursery, which was founded in 1975, specializes in orchid gardening, and if you want to learn even more about the fascinating aspects of orchid growth, they provide classes for beginners and hobbyists. You'll learn so much from these instructional activities, especially if you're just getting started in the hobby, from nursery and lab visits to advanced hybridization presentations.
In addition to selling a variety of orchids and other plant care products, they offer other exclusive services including expert orchid photography.
Key Differentiators
Stage Decoration
Festive Decoration
Workshop
Name An Orchid
Professional Orchid Photography
Customer Testimonial
Woon Leng is the definitive stop for orchid lovers in Singapore. The space is well organised and the plants are all taken care of meticulously, hydroponics, under a grow light, in a self Watering set up, mounted – you name it, they probably got it.

Owner is very friendly and so are the workers scattered around the nursery. Good to come here knowing what you want, and it can be pointed out to you very quickly. Taiwan phals, Species phals, Hybrid phals, Mericloned Phal, Paphs, Dendros, Bulbos and a myriad of a lot of other plants are available.

Janice
4. Premium Orchids Singapore
Since Premium Orchids Singapore imports additional species from other locations beyond the island, if you're seeking for tropical orchids from other nations, you'll probably find what you're looking for there.
Get delighted about the bright Makara Sunny Yellow or the Super Dark Orange variety from their inventory, or choose the tranquil Aranda New Christina. They offer a staff of in-house florists, similar to the Orchid Hub, who can create custom bouquets for gifts or unique vase arrangements for your home's décor.
Key Differentiators
Established in 1990
Premium Orchids is reputed as one of Singapore's best and most reliable orchid grower
Wholesaler and exporter
5. Hua Hng Trading Company
| | |
| --- | --- |
| Key Services | Garden |
| Address | 17 Bah Soon Pah Rd, Singapore 769971 |
| Website | https://www.huahng.com.sg/ |
| Phone | 62753155 |
| Operating Hours | 9 AM to 7 PM Daily |
One of the biggest suppliers of plants and other gardening materials you can imagine is this award-winning business. If you're a certified green thumb who thinks and breathes plants, this will undoubtedly be your favorite sanctuary on the island. When you visit their large physical store, it's easy to be carried away by all the species and plant care supplies that you'll see.
Key Differentiators
Propagation nursery
Wholesale garden centre for plants
Landscaping materials and supplies
Customer Testimonial
Great place for buying flowers and Limau for Chinese New year decoration

Leong
6. Yik Zhuan Orchid Garden
This expert in orchid growing, who has almost 30 years of expertise, is known as one of Singapore's top orchid suppliers. Their area of expertise has been dendrobium for many years, but in recent years they have also investigated and begun to cultivate phalaenopsis.
Thus, if you wish to acquire these two kinds, you can undoubtedly find unique varieties from their inventory. If you want to have orchids in your home, office, or somewhere else, you can choose from either freshly cut or potted orchids that they sell.
Key Differentiators
Established local orchid grower
30 years of experience
Nuturing and growing of orchids
Customer Testimonial
Love going to this orchid garden to view and buy really beautiful orchids! Bosses and staff are friendly and helpful and knowledgeable!

Grace
7. Wee Lee Nursery
Why pick when Wee Lee Nursery offers both fresh cut and potted orchids if your mind can't seem to get over the desire? They have been adding different types of orchids to their collection since 1982, resulting in a genuinely broad range of items. On the island, they are a well-known provider to hotels, regional wholesalers, and even customers from throughout the world.
This plant shop also sells flower stands, gift baskets, and floral arrangements. You can order tools, pots, garden soil, and fertilizers from them in addition to other requirements for plant care. And you may enroll in their flower monthly subscription if you want a steady supply of freshly cut orchids.
Key Differentiators
Began from a humble family owned business established in 1982
Across the span of 35 years, have been exploring a growing diversity of orchids while importing various plants
Newly created online store
Customer Testimonial
Hands down my favourite plant nursery!! What a great location!! Loved the plant variety and the lovely people in there. Very helpful and knowledgeable. Most importantly, great price, left with a grin on my face. A very satisfied customer who's already planning for the next trip. Thanks guys!

Eve
8. Chye Heng Orchid Garden
Chye Heng Orchid Garden has expanded from a tiny nursery into a well-known one-stop plant center since it first welcomed plant lovers in 1970. Their plant collection features stunning Phalaenopsis orchids, whose vivid colors never fail to attract our attention.
In addition to orchids, their business also sells ceramic plants, hydroponic plants, and exotic plants.
Key Differentiators
Multiple locations
Exotic Plants
Holland Plants
Customer Testimonial
Terrific. Flew to Singapore and bought some flowers for a friend. So sad we couldn't bring them home.

Ethan
9. Toh Orchids
Backyard-based Toh Orchids began as a premier grower, supplier, and exporter of high-quality orchid cut flowers, plants, and gifts in 1975.
They are continually developing new orchids, improving their growing techniques, and perfecting post-harvest procedures at their location in Singapore. All of them are done to ensure that you always receive fresh orchids.
Key Differentiators
Customer Testimonial
Today joined tour group with SRV. The farmer in Toh Orchids were very friendly. Wilson who presented a talk on how to care for orchid shared very useful information. Too bad we were rushed back to the tour bus and do not have opportunity to clarify. They are very open to sharing information. Highly recommended to visit and use up the SRV. 🙂

Colman
10. SG Orchids
Mr. Lee Desmond founded SG Orchids. He first became interested in orchids as a hobbyist in 2011, but his love and passion for the species Phalaenopsis really took off when he began to gather many of them, particularly the hybrids produced by local breeders.
In 2015, he assembled a small group of Singaporean growers and launched a Facebook page to inspire and rally other phal hobbyists to share their passion and methods for growing phalaenopsis in Singapore's climate while also documenting their growing experiences.
By winning a few prizes at the 2016 Singapore Garden Festival, SG Orchids had demonstrated that their diligence had paid off.
Key Differentiators
Sale of Orchids
Orchids Naming
Projects
Customer Testimonial
Well- grown n healthy quality plants.
Owner friendly n approachable

Lee
Orchid Shop Singapore
As you can see, there are a number of excellent orchid shops in Singapore. Each one offers a unique selection of plants, and they all have their own individual strengths. Whether you're looking for a rare variety or just a beautiful floral arrangement, you're sure to find what you're looking for at one of these Orchid shops.
So what are you waiting for? Get out there and start exploring the amazing world of Orchids!
Interested in more articles to read? Check out more of our fun blog posts down below: