Best Outdoor Gathering Singapore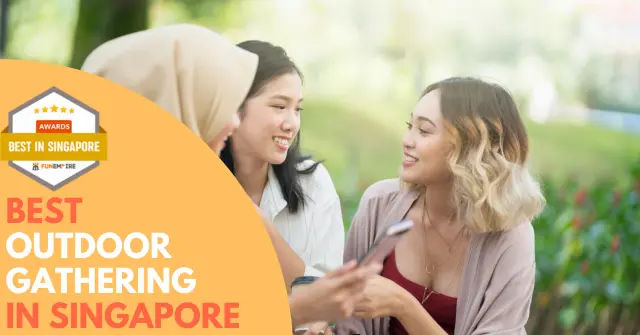 When the weather starts to get nicer, many people like to get together outdoors and have some fun. If you're looking for some ideas on how to throw an outdoor gathering that will be the talk of the summer, look no further!
In this blog post, we will discuss the different ideas that will make your outdoor party stand out from the rest. So pack up your picnic basket, put on your sunscreen, and let's get started!
1. Bubble Soccer
The most well-known game in the world is given a novel twist in Bubble Bump Soccer. Each participant is shielded from harm by an inflated bubble that surrounds them from the knees up. Soccer matches include competing players who must work together to advance the ball to the goal and score.
To experience this unique outdoor activity, contact FunEmpire now!
2. Poolball
Combining pool and football, poolball is a ton of fun since you can kick soccer balls into pockets on a huge pool table without using a cue stick!
It is the largest pool table and tiniest soccer field you have ever played on, both measuring 7 meters long! same pool table guidelines identical lovely game of soccer. Simply more enjoyable and entertaining!
What are you waiting for? Experience this one-of-a-kind game with FunEmpire now!
3. Don't Stress About Matching Dishware
Don't worry too much about the dinnerware; an eclectic variety looks more relaxed. For a casual atmosphere, feel free to combine your bright white plates with retro florals or even contemporary stripes.
4. Work With the Weather
Eliminate the need for a tablecloth entirely to reduce the impact of wind. Or, if you absolutely must have a tablecloth, think about purchasing a set of tablecloth weights to keep it in place. As an alternative, you can add a splash of color by filling tiny bowls of fresh fruit to weigh down throwaway dishes (and welcome guests).
5. Repurpose Indoor Furniture
A cot transforms into an outdoor sofa when stuffed with pillows. If you need more sitting, think about pulling out your inside chairs. If the weather looks promising, consider enlisting some indoor throw cushions as additional outdoor decor. Just keep in mind to bring everything inside after the celebration is over.
6. Create a Mobile Drinks Station
Supplies for a bar cart should include ice, a cocktail shaker, plates, glasses, and swizzle sticks. If supplies run low, just roll it back to the kitchen, then slide it back outside to keep things moving.
7. DIY Lemonade Stand
Don't try to refill guests' drinks for the entire party. Instead, set up a sophisticated lemonade stand and let visitors assist themselves. Set up a space with a sizable pitcher of lemonade (try the amazing watermelon and strawberry lemonade! ), glasses, and garnishes. Don't forget to bring an ice chest!
8. Serve Family-Style
A few final touches can transform a relaxed summer gathering into something exquisite. Add some small platters to the dinner table and spruce it up with a nice tablecloth and fresh flowers if you don't have an extra outdoor surface to utilize as a food table.
Pass food family-style by placing the main course, the quick party desserts, and the appetizers right on the table.
9. Serve a Charcuterie Board
It is not necessary to provide a three-course meal at a sophisticated dinner party. In the summer, a straightforward charcuterie board may be just as elegant (and much less work!). Allow guests to graze all evening long by setting out fruits, vegetables, crackers, and nuts around bowls of dips and spreads on a sizable round board.
10. Decorate with Fresh Blooms
One of the simplest garden party decorating ideas is to use in-season flowers, especially if you can get them right out of your own yard! Summer flowers that are bold are peonies, roses, and calla lilies.
If you don't have any in your yard, go to your neighborhood farmers market and buy a few bouquets there.
Outdoor Gathering Singapore
So there you have it, 10 great ideas for an outdoor gathering that will be the talk of the summer. No matter what your budget is, there is an idea here that will work for you. And best of all, these ideas can be easily adapted to any location.
So whether you're looking to entertain in your backyard or host a gathering at the park, these ideas will help you create lasting memories with your friends and family. So get planning and enjoy the summer sun!
Interested in more fun articles to read? Check out more of our blog posts down below: