Outdoor Gym Singapore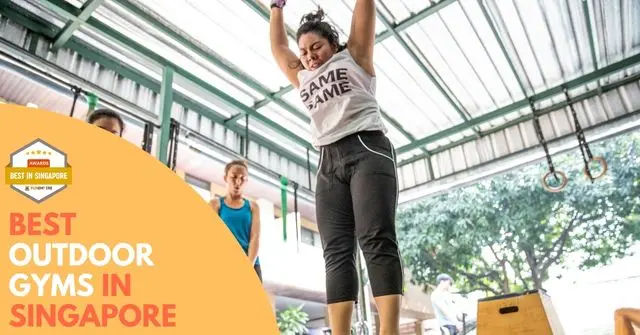 Are you looking for the best outdoor gyms in Singapore? Look no further!
In this blog post, we will list 12 of the best outdoor gyms in Singapore. These outdoor gyms are perfect for anyone who wants to get fit and stay healthy, surely perfect for your fitness needs! Whether you're looking for an outdoor gym near your home or office, we've got you covered.
So what are you waiting for? Start working out and getting fit at one of these outdoor gyms today!
1. Mobilus Singapore
Key Services
Gym
Address
20 Upper Circular Rd,
The Riverwalk
#B1-10/16
Singapore 058416
Website
https://www.mobilus.sg/
Phone
+65 6717 3969
Email
sales@mobilus.sg
Operating Hours
Saturday: 7:30AM–2PM
Sunday: 8:30AM–1PM
Monday to Friday: 6:30AM–8:45PM
CrossFit workouts and training routines are the focus of Mobilus Singapore, which bills itself as the biggest (and nicest) functional fitness facility in Singapore. The business just unveiled Mobilus Chinatown, a 4736 sq. ft of functional exercise and CrossFit space furnished with the most recent amenities and equipment.
For various training demands, the club offers specialized outdoor fitness courses. Beginners can choose from MobBasic, which teaches basic movements, MobEngine, which features biking, rowing, and skiing for a more intense cardiovascular workout, and MobOutdoor, which offers HIIT workouts outdoors with kettlebells, dumbbells, and bodyweight exercises.
Key Differentiators
Home-grown fitness brand
Seeks to create the best training environment
Perfect for anyone
Customer Testimonial
Good and friendly coaches. Variety of good programmes to choose from as well. 🙂

Jason
2. Field Assembly
Field Assembly began as a single-story gym but has subsequently expanded to take up three floors at Carpenter Street. Along with other fitness activities like Jiu-Jitsu, Muay Thai, and yoga, this wellness hub offers strength and conditioning classes.
If you have access to the rooftop, your outdoor workouts will be enhanced by city views and a refreshing breeze, which will help you forget about the challenging session and move closer to your fitness objectives.
Key Differentiators
SMALL COACH-TO-STUDENT RATIO
GET THE PERSONAL TRAINING EXPERIENCE
FRACTION OF A COST
Customer Testimonial
Amazing coaches with great knowledge and experience! Have been with FA for the past few months for the small group sessions and I truly enjoy my time with them. Not only are the coaches passionate in what they do, they take the time to remember your name (even if you are a newbie), your progress and continue to plan it with you. With a strong and supportive community, it really is the best plan to train!

Janelle
3. Level
Key Services
Personal trainer
Address
137 Telok Ayer St, #01-03, Singapore 068602
Website
https://level.com.sg/
Phone
+65 6222 4766
Email
info@level.com.sg
Operating Hours
Monday to Friday: 7AM–8PM
Saturday & Sunday: 8AM–1PM
You might see people lugging weights in the open or pedaling stationary bikes at Telok Ayer if you stroll by Thian Hock Temple. Level differs slightly from typical gym studios in the CBD in that it allows users to mix indoor and outdoor training.
In order to give members a comprehensive training experience, the studio is also closely connected with a network of nutritionists and has on-staff physiotherapists and osteopaths.
At its locations in Marina Bay, Fort Canning, and Telok Ayer, the training center offers a variety of outdoor programs, including Strength, HIIT, Bootcamp, Spartan, and Handstand.
Key Differentiators
Personal Training
Olympic Weightlifting
Classes
Corporate Fitness
Customer Testimonial
I prefer this branch over the Robinsons branch. The only downside is that the toilets (not bathrooms) are shared with the whole building. The space is clean, spacious and smells really nice. Enjoyed the small class size and great instructors!

Kai
4. UFIT Singapore
With four separate gyms spread out throughout Singapore, UFIT offers a comprehensive range of exercise services to suit clients of all skill levels.
They regularly host UFIT Burn outdoor boot camps where participants train with their experts in stunning outdoor settings. Other outdoor exercises include yoga classes, slow-paced mobility exercises, and strength-building classes.
The Bukit Timah location of UFIT's gym is another major lure for active fitness enthusiasts. Rowing machines, Olympic barbells, tires, and a push-push sled are available at Singapore's largest and only outdoor functional training facility, where you can work out hard with the gym's vibrant and diverse group.
Key Differentiators
Training
Nutrition
Rehabilitation
Performance
Customer Testimonial
The service at UFIT Club Street is exceptional. From personal training to physio to group classes, there is high quality expertise in all areas. Terri Forward is my PT and provides a tailored programme to my specific needs, in a fun and motivating way. The progress I have made in 2 years is phenomenal and that is down to the people and service UFIT provides. Highly recommend!

Charlotte
5. Skyline Aqua
At Skyline Aqua, which offers floating HIIT courses, you'll achieve more than just work-life balance. If you've finished watching all of the HIIT videos online, try mixing things up with a workout on a floating mat above water.
Squats and mountain climbers are a couple of the exercises you can use to develop muscle and burn fat while working out in front of the Singapore Flyer and the CBD.
Although you might first try to avoid it, falling into the water is really unavoidable and, in all honesty, quite enjoyable. Once you've cooled down, get back on the float and get ready to finish the rest of the workout.
Key Differentiators
BURN MORE CALORIES
LOW IMPACT
IMPROVE PHYSIQUE
Customer Testimonial
Worth to try at least once in your life. Interesting chill session with beautiful sunset.
6. Spartans Boxing Club
While some people prefer a mind-clearing yoga session, for others, boxing it out may be a more therapeutic remedy. Spartans Boxing Club offers both indoor and outdoor boxing classes, allowing you to channel your inner Street Fighter and vent your angst on an opponent. It doesn't harm that you'll get toned abs and arms concurrently.
Key Differentiators
Made for Everyone.
An all-inclusive atmosphere
Offer a friendly family atmosphere
Customer Testimonial
My husband and I have been going to Spartans over a year! Every class is a good mix between learning boxing techniques, strength training and cardio work, and bag work. The coaches also change things up quite frequently so every class is always an enjoyable workout! Definitely recommend if you're interested in boxing and are looking for a good workout.

J Han
7. Urban Yogis
If you're missing a yoga stretch in the great outdoors but can't afford a trip to the Bali mountains right now, try looking up Urban Yogis. Expect affordable sunset yoga courses to release all the tension and stress from the daily grind.
Work on your Downward Dog and mindful breathing at some of Singapore's most picturesque outdoor locations, like the Botanic Gardens, Bedok Reservoir, and even the Dale Chihuly: Yoga in Bloom exhibition at Gardens By The Bay. Except on Fridays, classes are available every day at various locations.
Key Differentiators
Classes
Workshops & Events
Retreats
8. MOVE Academy
| | |
| --- | --- |
| Key Services | Parkour & Movement classes |
| Address | 23 Kampong Bahru Rd, #04-04, Singapore 169349 |
| Website | https://moveacademy.sg/ |
It looks easy to parkour between buildings thanks to Attack on Titan and Brick Mansions. But in practice, it's not that simple. Experience the rush of adrenaline with a qualified instructor at MOVE Academy, where kids, adults, and even the elderly can enroll in parkour lessons of all degrees of difficulty.
With their drop-in sessions and semester programs, you may learn techniques like leaping over tall walls, rail runs, and parkour flows.
Key Differentiators
Personal and group training
Parkour and flips classes
Mental frameworks content publishing and consulting
Customer Testimonial
Highly recommend for anyone who thinks he or she is too old to move and play! This is not your conventional exercise workout. You get to explore, play, move in different permutations in a fun and safe manner – under the brilliant guidance of Coach Shieboon.

My dad (69 years old) has been attending the phoenix classes for the last couple of months, and has been loving it. He looks forward to the weekly class, and always remind me to book the classes on his behalf.

Elizabeth
9. R10T
Key Services
Gym
Address
140 Robinson Rd, Level 3, Singapore 068907
Website
https://r10t.sg/
Phone
+65 8951 0861
Email
hi@r10t.sg
Operating Hours
Tuesday & Thursday to Friday: 7AM–2PM, 4:30–10PM
Saturday 8AM–3:30PM
Sunday 8AM–2PM
Monday & Wednesday: 7AM–2PM, 5:30–10PM
Two of the multi-themed boutique studio R10distinctive T's sessions, yoga, and HIIT, will be offered on the relaxing outdoor patio at Robinson Road. During its Yoga Flow class, you can salute the sun while admiring the beautiful pool, or you can let the peaceful scene distract you during its circuit-style, heart-pumping Defkon lesson.
Key Differentiators
R1DE
HYBR1D
REV1VE
D1VE
SQUAD
Customer Testimonial
Love the beautiful set up they have, all the machines and equipment are top condition. I've never felt like I was flying in a treadmill until I tried the one here. All the workouts are properly curated to target all major muscle groups. Also the people are super friendly and helpful, community vibes for sure. Lastly, they provide proper Kiehl's set in the shower!!

Joyce
10. Sweatbox Yoga
Your upcoming hot yoga class will be heated by the sun naturally as part of Sweatbox Yoga's outdoor courses. While indoor courses will resume, they will also shift outside, where students will be able to hear birds chirping at Bukit Timah or take in the view of skyscrapers at Tras Street.
Key Differentiators
Hot Yoga Classes
Yoga for Kids
Prenatal Yoga Class
Yoga Instructor Course
Customer Testimonial
I have had an enriching and enlightening experience attending Prenatal and Postnatal YTT. Hands-on training, theory, expert insight and experience sharing are well incorporated into the course. Shan, our lead instructor, is very patient, encouraging and knowledgeable. She creates a welcoming and inclusive environment for learning and discussion – much appreciated!

Thu Hang
11. Circuit Lab
Circuit Lab conducts a vigorous 45-minute boot camp-style class that is advertised as an outdoor fitness program and will undoubtedly have you sweating in no time. Each class, which takes place at The Lawn At Marina Bay, mixes cardio and strength training to increase muscle mass and burn calories.
Key Differentiators
Boot camo style-class
Cardio training
Strength training
Customer Testimonial
Attended Kim's weekend outdoor sesh for the first time, love love love his energy!

Really enjoyed the workout, so motivating and I had so much fun!

Definitely will return for more sweat sesh!

Kelly
12. Aurora
Key Services
Spin Studio
Address
36 Beach Rd, #02-01/02-02, Singapore 189766
Website
aurorastudio.sg
Phone
+65 6993 0118
Email
contact@ridetheaurora.com
Operating Hours
Monday to Fridays, 7am to 1.30pm | 5.30pm to 10pm
Sat/Sun/PH, 8.30am to 1.30pm | 2.45pm to 6.15pm
You'll have to wait a little bit longer to enter the dimly lighted space of the brand-new spin studio Aurora. For the time being, South Beach Quarters is the location of the classes, which now feature Monday through Sunday sessions. Come by for a sneak peek of what an Aurora class will be like.
Key Differentiators
Indoor Cycling
Yoga & Pilates
Aurora Academy
Customer Testimonial
Spent my Sunday evening at @ridetheaurora at Changi City Point, their latest outdoor concept. We soaked up the good vibes and energy to ride in open space and cycle to the tune of high-adrenaline beats.

Love the idea of all the instructors took turn to lead the class and got the chance to experience variety styles of different instructors, their enthusiasm hyped the overall atmosphere of the spin session. Would definitely sign up for the next class again

Adrian
Outdoor Gym Singapore
If you're looking for a great workout and some fresh air, check out one of these outdoor gyms! With a variety of equipment to suit all fitness levels, these gyms are a great way to get fit and have fun at the same time. So what are you waiting for? Head on down to your nearest outdoor gym and start working up a sweat!
Interested in more fun articles to read? Check out more of our blog posts down below: