Plant Shop Singapore
If there is anything the recent pandemic has taught us, Singaporeans have at least a little bit of green thumb in them. In fact, when we started working from home, the sales of houseplants have increased rapidly. Not only do they make for great home décor, but they also bring several benefits like absorbing blue light from your computer screens and providing a calming splash of green within the four concrete walls of your home. Get started on your plant parent journey today with our list of the best plant boutiques in Singapore. We're sure with this, you'll be able to find the right plant that can fit the aesthetics and conditions of your home as well as bring some zen into your space.
Before we get to the list, check out these workshops by The Fun Empire if you're looking to DIY your own home décor or little trinkets for your home!
1. PINE SG
| | |
| --- | --- |
| Key services | Plant styling, sale of plants and planters, repotting, customisation requests, etc. |
| Website | https://www.pine.sg/ |
| Address | Home studio located at Blk 526 Jelapang Road (by appointment only) |
| Phone | 90033504 |
| Email | hello@pine.sg |
| Operating hours | 10am to 8pm, daily |
At PINE SG, they have styled/ handmade plant displays which are paired with compatible plants, suitable for bringing life to any space. Focusing on indoor plants and a diverse range of pots/ planters, they hope that they can inspire more people to join the thriving gardening community.
Key Differentiators
Firstly, PINE SG pots and styles their plants, so all you have to do is unpack and they are ready for their new homes – no fuss, no frills
They do customisation, so there's definitely something for everyone
They offer personalised service, communicating with customers from the time they place their order till even after they receive their items, making sure that they have a good experience not only with the buying process, but also with the subsequent care of the plants
Client Testimonial
Totally enjoying my purchases from Pine SG. Bought 2 plants from them.

You know Pine SG takes very loving care of their plants when the first word on your mind was a "wow" – the instance you saw how green and luxurious the plants were when taken out of their packaging. The plants arrived looking very fresh, green and healthy. One of my plants was even budding! I am now looking forward to the buds blossoming into something more. Hope I can keep the plants looking as good as they are now.

The pots that Pine SG selected also complemented the plants very nicely. The pots are contemporary modern, and totally suited to blend with indoor furnishing.

Customer service and delivery were excellent. I will definitely buy from Pine SG again.

Very happy with the energy and fresh vibe that the plants have brought to my place.
2. The Plant Story
| | |
| --- | --- |
| Key services | The Plant Story believes in helping urbanites reconnect with nature and their loved ones through personalised nature-based workshops held in beautiful settings. |
| Website | www.theplantstory.com |
| Address | As all our workshops are private and exclusive to each booking, we will only provide our address once booking is confirmed. For navigation, our workshops are held in a garden setting in a 100 year old Colonial Home near Wheeler's Estate. |
| Phone | 98638112 (Whatsapp only) |
| Email | workshop@theplantstory.com |
| Operating hours | (we operate based on bookings) 10am, 2pm and 4:30pm daily, subject to our availability. |
Established in 2009 by Cath Lim, a certified practicing horticulturist who used to be a serial-plant killer due to lack of proper knowledge, The Plant Story believes in helping urbanites demystify nature through personalised workshops where participants learn about plant biology in a light-hearted and relatable way while they get their hands dirty playing with dirt in nature.
Nature has an uncanny ability to instil peace and tranquillity wherever it reigns, be it rewarding yourself with me-time or spending precious moments bonding with your loved ones, our team always counts it a privilege to hold spaces for you as you create your own plant story. Let your journey begin with The Plant Story today, one of the best plant boutiques in Singapore.
Key Differentiators
Highly personalised experience
Secret hideaway
Generous resource and aesthetically pleasing selections of plants and materials.
Client Testimonial
For my friend's birthday, I brought her there for the deluxe workshop to make a terrarium. The place is great, you will be surrounded by plant. You will make your own terrarium depending on the one you choose. Cath was there to share her knowledge and passion about plant, she will guide you and advise you step by step. It was excellent and more than what I expected. At the end, It was a great experience and I advise it in order to share a moment and get a meaningful memory. Thank you to the plant story.

Anthony Quach
3. House of Plants
| | |
| --- | --- |
| Key services | Plant nursery selling trendy houseplants at affordable prices |
| Website | http://www.houseofplants.sg/ |
| Address | To Be Updated (House Of Plants is temporarily closed) |
| Phone | 88821522 |
| Email | hello@houseofplants.sg |
| Operating hours | 1pm to 6pm on the weekends (Saturday and Sunday) |
House of Plants, is a plant nursery and boutique in Singapore, that's founded by a Dutch – Singaporean husband and wife-duo. They started growing many indoor plants in their Punggol flat, and selling the excess on Carousell and during Nparks Gardeners' Day Out. Before their flat turned into a tropical jungle, they joined the farming community at the Punggol Container Park and expanded the space for their growing plants collection.
Plants that are available at their Greenhouse include the trending ones from the plant families of Philodendron, Monstera, Alocasias, Epipremnum, Zamioculaus, Hoyas, Peperomias, Jewel Orchids, Rhaphidophora, Ficus etc.
With backgrounds in horticulture and environmental engineering, they are passionate about sharing their love for nature with the World. Several tables and items in their Greenhouse are made by themselves from recycled driftwood and materials collected from the nearby Punggol beach.
Support local small businesses and drop by their Punggol Greenhouse to soak in some green vibes.
As of 20th August, House Of Plants is temporarily closed while they search for a new location
Key Differentiators
Conscious Cultivation: They care about the source of our plants. They do not support illegal plant poaching in the pristine forests. They can guarantee all our plants are propagated and cultivated in a sustainable environment.
Plants for sale on their webshop are photographed individually. You will receive the exact same plant as what you see on their webshop.
They offer trendy houseplants at affordable prices.
Client Testimonial
Super good service with very reasonably priced plants! Though the location is not the most accessible, but totally worth the effort to travel down!

Bing Kay
4. Green Banana
Key services
Bespoke terrariums and potted plants
Website
http://www.green-banana.net/
Address
Havelock ll
2 Havelock Road, #B1-28, Singapore 059763
Phone
+6590917299
Email
go@green-banana.net
Operating hours
Tues-Fri ( 12-6pm ), Sun (12-4pm) , Monday & Sat off.
Green Banana was officially founded in late 2012 by Ivan Lim who started his gardening interest as a personal hobby for years. Green Banana is a humble expression of art and modern design, borne from a passion for nature's beautiful and intricate creations. The creator hopes that people from all walks of life will appreciate this sanctuary of tiny plants and embrace and believe it wholeheartedly.
Green Banana expresses a passion towards nature. A passion for greenery, an enthusiasm for small unique plants. A lifestyle concept which embraces the greatest gift from Mother Nature.
Key Differentiators
Bespoke landscaping in the form of a terrarium or "ben-to" gift box
Terrariums and potted plants which make great gifts
Offers workshops for team-building events
Client Testimonial
Ivan designed an excellent terrarium for me as an anniversary gift for my husband. He was patient with my various request for the concept, display item and even the plants choice. My husband love it so much that we ordered another one from him. Again his choice for the display was excellent. We had some problem taking care of the plants and he patiently explained and help us with it.

Shinn Teo
5. Fittonia Mania
| | |
| --- | --- |
| Key Services | Plant-shop that specialises in live plants, mixed soil, fertilisers, gardening accessories, and terrariums |
| Website | https://fittoniamania.com/ |
| Address | 23 Serangoon Central, Singapore 556083 |
| Phone | 64812427 |
| Email | info@fittoniamania.com |
| Operating hours | Monday-Sunday: 10.30 am to 9.30 pm |
Fittonia Mania was established on 9th April 2013. Its owner had a love for the fabulous plant and was thus, inspired by it to start Fittonia Mania. Through her understanding that the Fittonia plant required plenty of consistency when nurturing, the owner of Fittonia Mania decided to establish her business by selling easy-care potted Fittonia plants. The owner hopes to be able to develop and bring a little bit of nature to offices and homes that's not a challenge to take care of and are able to thrive in most environments.
Fittonia Mania currently has 3 stores islandwide at these following places; Thomson Plaza, Serangoon NEX and Clementi Mall, so be sure to visit them if you're looking for the one of the best plant boutiques in Singapore that specialises in Fittonia care!
Key Differentiators
Fittonia Mania offers terrarium workshops that require no prior booking. All you need to do is walk in to participate in one!
Secondly, we offer specialized potted Fittonia plants that have already been pre-prepared and potted. All one needs is to just water them as well as following some simple steps.
Last but not least, Fittonia Mania offers huge discounts when you buy from them in bulk.
Client Testimonial
Variety of fittonia or nerve plants for making Terrarium. Great place for Terrarium supply.

Roisu Tsan
6. Potta Plantta
Key Services
Plant nursery that sells all the other generic plant items, along with handcrafted plant pots
Website
https://www.pottaplantta.com/
Address
55 Lor L Telok Kurau, #1-57, Singapore 425500
Phone
86154322
Email
info@pottaplantta.com
Operating hours
Monday-Tuesday: Closed
Wednesday – Friday: 1230pm-8pm
Saturday-Sunday: 11am-7pm
Potta Plantta is a plant nursery business that aims to provide aesthetically-pleasing plants and unique pots to the living spaces of their customers. After noticing that the generic plastic pot did not fit to their liking, Potta Plantta decided to change the game by providing beautiful handcrafted pots and plants for the plant-loving community. Potta Plantta serves as a convenient middle ground if you're looking for both beautiful plants and beautiful pots!
All in all, Potta Plantta is a aesthetic one stop solution for your plant needs. For all the plant lovers out there, you will find that Potta Plant definitely is one of the best plant boutiques in Singapore that seeks to provide you with the assistance you need for adding beauty to any of your plants.
Key Differentiators
Potta Plantta collaborates with and support pot artisans from South East Asia so their plant pots are all handcrafted individually.
Secondly, Potta Plantta pots their plants in a special blend of potting mixture that reduces overwatering risk, which is a cause of plant death.
Lastly, Potta Plantta has a unique gift card product that can be bought as a present for someone to enjoy discounts at the online and physical store
Client Testimonial
Amazing shop with many great plants, pots, and accessories. Staff were extremely helpful, and will repot you plants for you if you buy plant & pot. Plenty of great advice to keep you posted friends strong & healthy!

Matt Lewis
7. A Tilly A Day
| | |
| --- | --- |
| Key Services | Plant nursery selling a wide variety of terrariums and plants |
| Website | https://www.atillyaday.com/ |
| Address | 83 Punggol Central, 02-03 Waterway Point, 828761 |
| Phone | 84833660 |
| Email | info@atillyaday.com |
| Operating hours | Monday-Sunday: 10am-9.30pm |
Similarly to other plant boutiques on this list, A Tilly A Day specialises in providing exotic plants, terrariums, accessories and decorations for any creative gardening needs. However, they seek to differentiate themselves by allowing their customers to personalise their products more. A Tilly A Day has a multitude of diverse products such as cacti & succulents, carnivorous plants, tillandsia, terrariums, and much more! Also, the business seeks to integrate greenery into the homes and offices for their customers.
With A Tilly A Day's wide range of plant-related products along with their customisability, this Singapore plant boutique is definitely one to look out for if you're finding for something that's a little bit more personal.
Key Differentiators
Firstly, A Tilly A Day provides customisation for their terrariums where customers can select the types of plants they want, along with the theme.
Next, A Tilly A Day also has pre-set terrarium products that are perfect as gifts.
A Tilly A Day has unique pot bases such as hexagon, rectangular, pavilion, and even one that's in the shape of a house.
Client Testimonial
Highly recommend the succulent terrarium DIY kit which you can make on the spot there. It's a lovely activity you can do solo or with a loved one. I walked in and was able to make my own terrarium on the spot. I had so much fun and the staff Shahira was so patient and knowledgeable. The whole vibe of the place is calm and pure, it's a pleasant place to go to relax and interact with plants. Their succulents are really beautiful too, I cant wait for new arrivals to come 🙂 Will visit again! Thank you Shahira!

Samuel Chia
8. Spa Flora Pte Ltd
| | |
| --- | --- |
| Key Services | The Spa Flora is located in the most serene and calm location of the region. This makes plants choosing an experience to be tranquil and rush-free. |
| Website | http://www.spaflora.com.sg/qql/slot/u1844/index.htm |
| Address | 553 Thomson Road, Singapore 298139 |
| Phone | 6252 8512 |
| Email | sales@spaflora.com.sg |
| Operating hours | Monday- Sunday 8:30 am to 7:00 pm |
The Spa Flora is located in the most peaceful and tranquil part of the region. This helps you pick a leisure activity that will be calm and unrushed. You may select from a variety of tropical plants for your green partners. If you're a novice, they provide a wide selection of gardening equipment and goods. These are great for landscaping your garden.
Client Testimonial
Miss caro & team very friendly and knowledgeable! They have beautiful plants and guide you how to take care step by step! Efficient too! Thank you !

MCW
9. Ban Nee Chen Pte Ltd
Key Services
They offer maintenance services for the plants and garden with their expertise in the field.
Website
https://www.banneechen.com.sg/
Address
24 Bah Soon Pah Road, Singapore 769968
Phone
(65) 6345 5515
Email
orders@banneechen.com.sg
Operating hours
Monday – Thursday: 8 am to 9 pm
Friday – Sunday 7:30 am to 9 pm
They work to create landscaping designs that suit every budget and customer with customized management. Indoor as well as outdoor settings may be created using serene and vibrant plant decoration. Improved air quality and a lovely view will improve the ambience of your workplace and home. You can combine shrubs, trees, ferns, evergreen plants, ground cover, and perennials with a choice of containers in all shapes and sizes. Professionals can help in maintenance requirements such as pruning, deadheading, fertilizing, pest control, irrigation setup and winter protection.
Client Testimonial
A nice nursery with a beautiful Bougainville garden! Offers a variety of small ornamental plants at decent prices.

Gohht 13
10. Candy Floriculture Pte Ltd

| | |
| --- | --- |
| Key Services | You can order custom furniture along with a designer landscape |
| Website | https://www.candy.com.sg/ |
| Address | 567 Thomson Road Singapore 298183 |
| Phone | +65 6256 6788 |
| Email | sales@candy.com.sg |
| Operating hours | Monday – Sunday 8 am to 7:30 pm |
Candy floriculture is recognized for its creative plant and floral design and motifs. They have an experienced and passionate staff that can assist you with landscaping and arrangement. Wholesale plants, flowers, pots, glassware, and maintenance supplies are all available to you. You may also get custom furniture as well as a designer garden from them.
Client Testimonial
a month agooverall a really nice nursery and they are well organised too! the staff there are friendly with tips on keeping plants and gives good advice to people on watering. i think for those plants that are more deemed as "collector" pieces tend to be priced much higher i feel may not be value for money such as alocasia and certain philodendrons

Aaron Zane
11. Corona Florist & Nursery
| | |
| --- | --- |
| Key Services | They offer doorstep delivery for all the orders placed with the utmost professionalism. |
| Website | https://www.coronasg.com/ |
| Address | 388F Clementi Road Singapore 599473 |
| Phone | (+65) 6466 2827 |
| Email | sales@coronasg.com |
| Operating hours | Monday- Sunday 9:00 am to 5:45 pm |
All of your gardening needs, including soil mixtures, bricks, pebbles, nutrients, and plants can be met by the florist and nursery in Corona. The use of planters and tools from one of the top plant stores allows you to create your own garden. They also offer solutions for problems like as worm and insect infestation that can destroy your plant's growth.
Client Testimonial
Best place to go for indoor plants. Reasonable prices! Good thing I didn't buy to any online source as they are overpriced.

Have a lot of choices for ceramic pots, or any gardening tools or anything that you need after you buy your plant/s to remain healthy and grow.

The caretaker packed in a plastic carrier, also, helped me load it in a taxi. Saves me a lot of hassle.

Good customer service!

Ruth VW
12. Far East Flora @ Queensway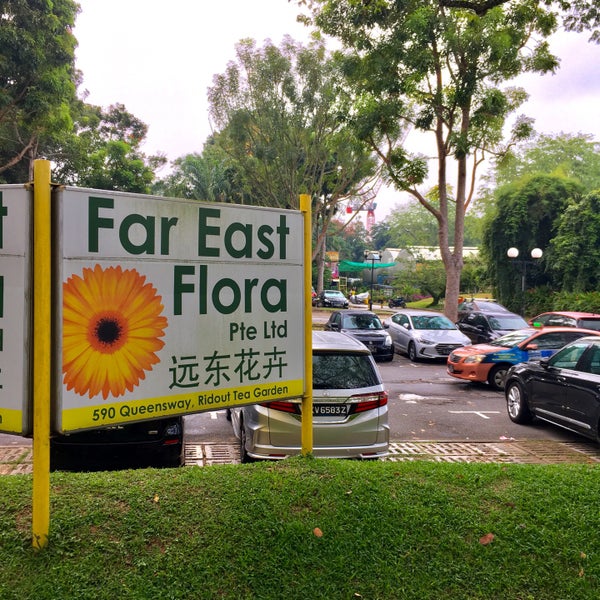 | | |
| --- | --- |
| Key Services | They have everything that you will need to create a relaxing garden with extensive experience and passion for plants |
| Website | https://www.fareastfloragarden.com/ |
| Address | Far East Flora @ Thomson 555 Thomson Road Singapore 298140 |
| Phone | – |
| Email | custsvc@fareastfloragarden.com |
| Operating hours | Monday- Saturday 8 am to 9 pm, Sunday- 8 am to 7 pm |
Since 1965, Queensway Flora in the Far East has been supplying a wide range of plant species for landscaping. Far East flora provides gardening equipment, plants, and interior greenery to customers. You may browse their massive library online and place an order. They have everything you'll need to create a tranquil garden with years of expertise and interest in the hobby.
Client Testimonial
Mega sized nursery. You can find all types of plants (ie cactus, herbs, air plant), flowers, pots, soil mix…) and even a cute cat!

JC C
Plant Boutiques Singapore
And there you have it; the best plant boutiques in Singapore. We hope that we've inspired your inner plant parent and also provided more options for your new home décor! But do remember that plants are living creatures; so if you're planning on buying/adopting a plant, do give it your unconditional care and lots of sunlight.
If you need more ideas to spice up your lifestyle, why not check out these articles too?
Do you know any business that needs help getting noticed, or a hidden gem in the city that everyone needs to know about right now? Drop us an email here so we can feature them in an upcoming article!