Poke Bowl Singapore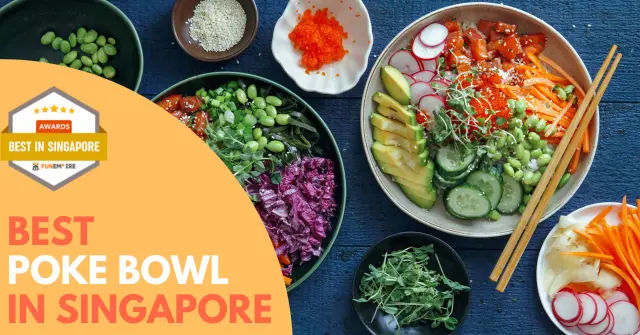 Experience the flavors of Hawaii in the heart of Southeast Asia with the best Poke Bowls in Singapore.
The best poke bowls in Singapore include Pololi, Poke Doke, A Poke Theory, Rollie Olie, and Makai Poke.
When selecting a poke bowl in Singapore, take into account factors like the freshness of the ingredients, range of toppings, and the overall value for your money.
Poke bowls have gained popularity in Singapore because of their use of fresh, customizable ingredients that provide a healthy, fast, and delicious meal option.
Whether you're a long-time Poke fan or a curious newbie, join us as we explore Singapore's best Poke Bowl destinations.
Quick Summary
Best poke bowls in Singapore include Pololi, Poke Doke, A Poke Theory, Rollie Olie, and Makai Poke.
When choosing a poke bowl in Singapore, consider factors such as freshness of ingredients, variety of toppings, and value for money.
Poke bowls are popular in Singapore due to their fresh, customizable ingredients that offer a healthy, quick, and flavorful meal.
Best Poke Bowl Singapore
1. Pololi
Pololi, the first poké chain in Asia, first made waves in Hong Kong before washing up on our beaches. There are five daily flavors that are rotated from a selection of more than 20 distinct poké flavors, so there is always something new to try.
Choose your bowl size and flavor from a variety of options, including Thai spicy tuna, sweet onion teriyaki swordfish, traditional spicy salmon, and more. While you're there, pick up some Hawaiian goodies like Spam musubi, tropical granitas, and Kona Brewing Co. beer.
Key Differentiators
Great customer service
Delicious meal
Variety of options
Customer Testimonial
Amazing poke place in the middle of CBD. Their bowls are fresh and extremely customizable. They have various kinds of fish, which they'll even let you taste, and they even allow you to do rice (white or brown) or salad, or even a mix of both. Highly recommended!

Erich
2. Poke Doke
With this opening, the poké fad is still going strong. With four flavored pieces of Norwegian salmon and Ahi tuna, Poke Doke gives the Hawaiian classic an Asian twist. Add unique toppings to your bowl, such wakame, edamame, and flying fish roe, as well as more expensive choices like crispy fish skin and onsen eggs.
Key Differentiators
Freshest taste of the ocean
Most sumptuous bowl of poke goodness in town
Tucked right in the heart of Singapore
Customer Testimonial
Nice small place with pretty bar counter. Food taste great, fresh poke and lots of veg. No extra sauce like other poke place but luckily it's tasty enough.

Ivy
3. A Poke Theory
Here is another place where you may order poké and create your own dish of raw fish and rice. The menu at A Poke Theory offers two sizes, standard and big, and allows you to select between tuna or salmon over your choice of romaine lettuce, brown rice, sushi rice, or lemon-herb quinoa.
The flavor options aren't particularly diverse or adventurous, but if you're unfamiliar with this Hawaiian cuisine craze, try the classic shoyu tuna, which consists of tuna cubes delicately seasoned with sesame and Japanese soy sauce. Then, add the usual toppings, such as furikake, pineapple, cherry tomatoes, and nori flakes, to spice up your bowl.
Key Differentiators
SMALL-BATCH COOKING
LOW FOOD WASTAGE
GREAT PROTEIN FIX
Customer Testimonial
Ordered the Regular bowl which is satisfying enough. Mentaiko mayo salmon is a must try! You can choose 2 different flavors of poke and other toppings.

Tricia
4. Rollie Olie
Key Services
Asian fusion restaurant
Address
01-03 SBF Center, 160 Robinson Road, Singapore 068914
Website
http://www.rollieolie.com/
Phone
+65 8188 1520
Operating Hours
Monday – Saturday:
11:00am – 9:30pm
Sunday:
10:30am – 9:30pm
Thick, made-to-order sushi rolls are the informal bistro's mainstays, but go past that and give its limited variety of poké bowls a chance. The only four alternatives are available, and they all have predetermined toppings, so it's great for folks who just want something nutritious without all the hassle of creating their own bowl.
Aloha Poké has the usual salmon and tuna cubes on a bed of mesclun leave with Tamago, alfalfa, spring onion, flying fish roe, and traditional soy sauce, but Seoul Surfer features radish, seaweed, and a spicy Korean sauce if you're feeling more daring.
Key Differentiators
Awe-inspiring dishes
Specialty sauces
Hand crafted toppings
Carefully-sourced raw ingredients
Passionate team
Customer Testimonial
Small and cosy place in the heart of the city that has a variety including poke bowl, sushi, and sandwiches. Poke bowl was pretty decent and not too expensive.

Manny
5. Makai Poke
The ordering process at Makai Poké, a little poke shop that exclusively sells for takeout, is really straightforward. You can choose from one of the five available protein options (original shoyu salmon, spicy salmon, yuzu soy ahi tuna, roasted sesame ahi tuna, vegetarian tofu sesame, and trio rice mix) and a base (sushi rice, red and brown rice, trio rice mix, or salad) for only a few dollars.
The bowl has all the standard toppings, including salmon roe, avocado, Japanese cucumber, carrots, pineapple, and pumpkin seeds. Pomegranate, chia seeds, edamame, and goji berries are among the available superfood add-ons.
Key Differentiators
Healthy
Deliciously Fresh
Affordable Poke Bowl
Customer Testimonial
Pretty good portion that can fill you up. Salmon seems to be fresh. The watermelons are surprisingly really good when eaten with the other items. Added avocado for extra $1. Owners are very friendly too. Just wished that it had more sauce in it. Tasted really good when I added in roasted sesame sauce at home.

Amanda
6. Sweetfish Poke
California-based Sweetfish Poke offers two sizes of bowls: Hungry and Starving. Japanese rice serves as the normal base, but you may upgrade for $1 to red brown rice or chopped Romaine to turn it into a salad.
The menu is easy to comprehend and doesn't require much thought. Only five common flavors are available.
Key Differentiators
Tasty
Great customer service
Flavorful
7. Aloha Poke
The largest chain in the area is the poke pioneer, which currently has 7 locations island-wide. You can claim that Aloha Poke is a copycat dish, but it is no longer unique in any way.
Thankfully, a personalized poke bowl is reasonably priced (Build You Own Bowl). If you don't feel like making your own poke bowl, you can pay the chef to make one for you, but it will cost more.
Key Differentiators
Every bowl is served with rice and salad
Topped off with scallions, pineapple and lime
Choose from a wide selection of Standard and Premium Add-Ons.
Customer Testimonial
After eating at Aloha Poke for many years, I can say that the taste has been really great and consistent. While the portion sizes have decreased over time, the taste makes up for it. Aloha is the best poke shop in Singapore and I wish they'd open more stores. The staff here is really kind too.

Amelia
8. Alter Ego
Key Services
Bar
Address
8 Raffles Ave., #01-13D Esplanade Mall, Singapore 039802
Website
http://www.alterego.sg/
Phone
+65 6327 9301
Email
bye@alterego.sg
Operating Hours
Monday to Friday: 12–11PM
Saturday & Sunday: 11AM–11PM
A Poke Theory's bipolar sister, Alter Ego, serves smoothie and poke bowls during the day, but as it gets dark, it's time for alcohol and deep-fried burgers.
Although the concept is fairly cool, the costs are much more than in A Poke Theory. The menu for poke bowls is a little different; there are 5 ready-made alternatives available. Although Alter Ego offers reasonably priced weekday set lunches, the poke bowls are definitely pretty expensive.
Any poke bowl from their menu is included in a set meal, which also includes your choice of hot or cold coffee, juice, tea jugs, or soft beverages.
Key Differentiators
Favourite poke
Smoothies
Healthy fare
Customer Testimonial
Good place to dine in with a view overlooking the bay area during the day or to chill and relax after busy day at work. They menu selection ranging from single serving to a platter to share with an array of drink selection.
Here's what we had :
Shrimp Gambas
Seafood Pasta
Seafood Grill Platter
Alter Ego Mega Burger
Pizza Fries

Maya D.
9. Salmon Samurai
For salmon fans everywhere, Salmon Samurai is a paradise. Their salmon poke bowls are not only excellent but also very reasonably priced. The Salmon Samurai's vast menu is one of its major selling points.
You can order your desired sort of poke bowl here, whether you prefer your fish cooked or raw, with rice or noodles. Salmon Samurai should surely be on your list of restaurants to visit if you are a salmon fiend.
Key Differentiators
Fillet whole
Fresh salmon daily
Sashimi
Customer Testimonial
We've dined at the location on previous occasions and always enjoyed the food. This time around we ordered delivery from the website around 1230pm, with the website stating that they usually require 90 mins heads-up for delivery. After I placed the order, Glory emailed me reminding me of this but to my surprise they came within 60 mins, amazing food as per usual. Thank you for the great service and looking forward to dining here again!

Fyi we ordered mala salmon mentaiko rice bowl, salmon mentaiko udon bowl and two makis.

RG
10. Hokey Poki
Hokey Poki is a restaurant that serves a relaxed version of Japanese food. You will be pleasantly pleased by the native flavors combined with Japanese-inspired cuisine here.
A light Salmon Poke Salad serves as their version of the poke bowl. Cherry tomatoes, corn kernels, healthful crunchy veggies, and some mango are among the multicolored salad's ultra-fresh ingredients.
Key Differentiators
Great customer service
Fresh ingredients
Relaxed version of Japanese food
Customer Testimonial
Ordered a Salmon Poke Don, Salmon Mentai Poki Don, Sambal Gyu Udon, Garlic Fried Rice and Korean Pancake.

Surprisingly, the foods are good and tasty.
The poke don are using healthy purple grain rice, nice.
Garlic fried rice is super. Garlicky and good!
Sambal gyu udon is average but the idea of this fusion is interesting.

Overall, good food and recommended.

WenKang
Poke Bowl Singapore
If you're in the mood for a delicious, healthy meal, look no further than a poke bowl! These bowls of raw fish and veggies are perfect for a quick lunch or dinner, and they're packed with nutrients. Singapore is home to some of the best poke bowls in the world, so if you're ever in the city, be sure to check out one of these spots. Trust us, your taste buds will thank you!
Interested in more articles to read? Check out more of our blog posts down below:
Frequently Asked Questions (FAQ)
If you have any questions about poke bowls in Singapore, you can refer to the frequently asked questions (FAQ) about the best Poke Bowls in Singapore below:
What are the best places for poke bowls in Singapore?
The best poke bowls in Singapore include Pololi, Poke Doke, A Poke Theory, Rollie Olie, and Makai Poke.
What makes a poke bowl delicious?
A delicious poke bowl typically consists of the freshest sashimi grade fish, which is the main protein in the dish. It's complemented with various ingredients like avocado miso salmon and king oyster mushroom. The dish is then topped with sauces such as wasabi mayo or wasabi sauce for added flavor.
What is a Hawaiian poke bowl?
A Hawaiian poke bowl is a traditional dish from Hawaii that has gained popularity worldwide. It usually contains cubes of raw, marinated fish (often tuna) served over rice and garnished with vegetables and umami-packed sauces. In Singapore, you can find variations of this dish with ingredients like wasabi salmon poke.
Where can I find the best delicious poke bowls in Singapore?
Singapore is home to several restaurants and food joints offering delicious poke bowls. While the choice of the "best" poke bowl place is subjective and depends on personal preferences, outlets serving aromatic tea infused rice or topping their bowls with wasabi mayo often stand out due to their unique flavors.
What are some favourite poke bowls in Singapore?
Some favourite poke bowls in Singapore include those with wasabi salmon poke, avocado miso salmon, and those served with aromatic tea infused rice. These dishes are loved for their unique, savory flavors and fresh ingredients.
What is wasabi salmon poke?
Wasabi salmon poke is a variant of the traditional poke bowl where the salmon is marinated in a mix that includes wasabi sauce. This gives the bowl a unique, spicy, and tangy taste that is quite popular among spice lovers.
How does aromatic tea infused rice enhance the taste of poke bowls?
Aromatic tea-infused rice adds a unique flavor profile to the poke bowl. The subtle fragrance and flavor of the tea permeates the rice, providing a delightful contrast to the rich flavors of the sashimi grade fish and other ingredients.
What vegetarian options are available in poke bowls?
For vegetarians, many poke bowl places offer options like king oyster mushrooms instead of fish. You can also find poke bowls topped with a variety of vegetables and crunchy kale chips for added texture.
How does wasabi mayo contribute to the taste of poke bowls?
Wasabi mayo adds a creamy, spicy kick to poke bowls. It complements the fresh, raw fish beautifully, enhancing its flavor and adding richness to the dish.
What should I look for when choosing a poke bowl place in Singapore?
When selecting a poke bowl place in Singapore, consider the freshness of their sashimi grade fish, the variety of toppings they offer, and unique offerings like wasabi mayo or aromatic tea infused rice. Reviews and recommendations can also provide useful insights.
Additional Useful Articles
If you are looking for other useful guides and articles about Poke Bowls in Singapore, check them out below: