Prenatal Massage Singapore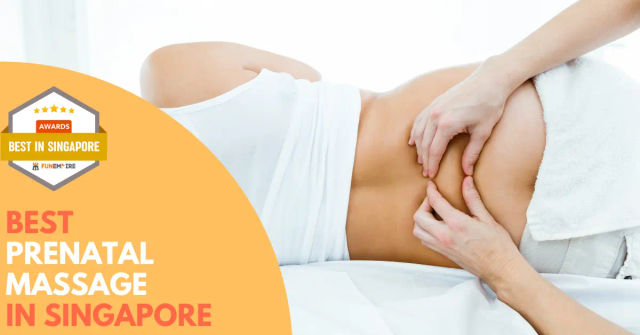 Looking for prenatal massage in Singapore? You've come to the right place! In this blog post, we will list 10 of the best prenatal massage clinics in Singapore. These clinics offer excellent services and cater to pregnant women of all ages. They also offer a variety of prenatal massage treatments that will help you relax and feel better during your pregnancy. If you're looking for a prenatal massage in Singapore, be sure to check out these clinics!
1. Healing Hands Therapeutic Massage
Healing Hands Therapeutic Massage provides many massages such as Prenatal, Full-Body, Postnatal, Womb and Fertility. Mdm Zuria, who is a Certified, Qualified & Professional, created this company. Massage therapist with over 15 years of experience in therapeutic full-body massage, prenatal and postnatal massage, fertility and womb massage for women's problems and health conditions such as after a miscarriage or before undergoing IUI or IVF procedures.
Regular massages are a great way to keep your body healthy. A massage can improve your quality of life and help you cope with the stress of modern society. Allow them to save you the cost of traveling to a spa to get a massage. Get a massage in the comfort of your own home with our high-quality massage bed, fresh linens, essential aromatherapy oil and meditation spa music.
Key Differentiators:
An award-winning service
A certified Massage therapist with many experiences
Provide many services of massage
Customer's Review:
I went for a 14 day royal spa and enjoyed it very much. I could see results as soon after the 3ed session and was pleased with it. Mdm Zuria was knowledgeable and also flexible as to timings which was much appreciated when it came to feeding the baby

Denise Bryan (Credits: Google Review)
2. Beauty Mums & Babies
| | |
| --- | --- |
| Key Services | Specialized in both Traditional Chinese Medicine (TCM) and Javanese methods |
| Website | https://beautymumsbabies.com/ |
| Address | 290 Orchard Road Paragon #14 -11/12 Lobby F Tower 1, Paragon, 238859 |
| Phone | +65 6235 0688 / WhatsApp 8368 2756 |
| Email | enquiry@beautymumsbabies.com |
| Operating Hours | Mon-Fri 10am to 8pm, Saturday 10am to 6pm, Sunday Closed |
Beauty Mums & Babies (BMB) is a Maternity and Baby Wellness Center with a group of WSQ-certified practitioners who can assist you throughout your pregnancy experience. Our team of experienced therapists have had great success helping mothers during maternity and aiding them in developing a strong relationship with their baby.
Skin Therapy Center is the best destination for all of your beauty concerns. Whether you want to relax and unwind, receive a pregnancy massage to comfort pains, rejuvenate your skin or bounce back into form after childbirth, Skin Therapy Center is the place to go. They make you feel at ease and self-assured as you go through each stage of motherhood.
Key Differentiators:
Singapore's Top Pregnancy Massage
The Best Maternity and Baby Wellness Centre
Established in 2009
Customer's Review:
Thank you, BMB team for the kind hospitality. Kaiden had a splashing good time at the hydrotherapy session today. The facilities were clean and staff were professional. My baby knocked out in the car right after the session!

Debbie L. (Credits: Beauty Mums & Babies Official Website)
3. PNSG
PNSG is the top choice for over 300 mothers in Singapore per month. The staff of Trusted Prenatal Massage are a highly regarded, award-winning in-home massage service with thousands of fantastic prenatal and post natal massage testimonials on Facebook. If you're a mother trying to slim down and relax, PNSG's massages are perfect for you. The Singapore slimming treatment is made up of three slimming massage treatments and two relaxing massage treatments.
Not only do massages help break down fat, but they also reduce water retention and brighten skin. They are excellent for calming an individual as well. They also reduce muscular tension. Singapore's PNSG residential slimming massage is the easier way to lose weight after childbirth!
Key Differentiators:
Free Replacement of Therapist If Necessary
Free Tutorial On How To Massage Your Baby
Guaranteed Arrival of Therapist To Your House regardless of When You Deliver
Customer's Review:
Thanks Rina for the wonderful 11 days! Had a wonderful experience with her. She is very friendly, skillful and professional. I enjoyed every massage session with her.

Will highly recommend her to you.

Danni Jiang (Credits: Facebook)
4. The Outcall Spa
The Outcall Spa is Singapore's No.1 choice for a professional spa therapy in the comfort of your own home. Eliminate the need to dress up and go out in order to get a proper massage therapy. Simply pick up the phone and call or book online and we will send a therapist to you
The Outcall Spa's Signature Prenatal home Massage in Singapore leverages on specialized therapeutic techniques to provide instant relief and make and expectant mother's pregnancy journey more comfortable. In easing tensions in tired muscles, their massage also calms and relaxes a pregnant mother, from head to toe.
Key Differentiators:
Provide late night appointment
Get personalized care from our team of certified therapists
No Additional or Hidden Fees
Customer's Review:
First time trying out The Outcall Spa and my experience was a pleasant and memorable one. Not to mention the therapist was a lovely and approachable lady who made it an enjoyable massage session.

10/10 will recommend to any spa and massage lovers out there who wants to enjoy at the comfort of their homes!

Sophia Ng (Credits: Google Review)
5. Theraply
Theraply is a Singapore-based technology health and wellness business. In 2000, when Valerie De Costa first launched operations within the Peace Centre on Selegie Road as 'Nouriskin,' a beauty salon, our story began. In 2009, the company decided that it needed to make a change in order for people to sit up and take notice of them. So, they changed their name from 'Nouri Face & Body Concepts' to better reflect what they were all about: prenatal and postnatal pregnancy services. It was the first to mix ancient traditional jamu therapies with cutting-edge technology. Valerie's massage and skincare company thrived because of her mother's special family recipes and techniques passed down through the generations.
After years of being the top-rated pregnancy care provider in terms of service quality and results, the market opened up to plenty of similar providers and masseuse freelancers who adopted unethical practices like hard-selling packages using aggressive and dishonest tactics.
Key Differentiators:
Serve clients in their own homes only
Produce amazing results consistently to each and every customer, every day
We only allow therapists on our website that adhere to our professional and quality standards
Customer's Review:
Very satisfying home based prenatal massage experience with Theraply. Therapist Rena listens to my pregnancy woes and she focused on where my pains were and it really helped. Value for money considering service is brought to my door- step with no preparation required from me, and how the therapists are trained to deliver what customers need .

Audrey Neo (Credits: Google Review)
6. Babies Bellies
Specializing in pre and postnatal massages, they will come to you whether it is at your home or their place. You won't find a better price elsewhere that can compare to them. For the past 5 years, Babies-Bellies has been providing high-quality services with experienced therapists. The team ranges from those with 4 years of experience to 25 years. All of the masseuses are certified, and they also received in-house training to guarantee that the massage techniques and products used were uniform.
The Managing Director of Babies Bellies, Mythi Ally VJ, takes customer feedback/comments seriously in order to deliver a high-quality service that meets her clients' requirements. She frequently meets with her therapists to ensure customer expectations are met, service quality is improved, and lessons are shared. Their therapists are required to re-certify and keep up to date on their abilities on a regular basis. She currently has enough therapists throughout the island to meet the high demand for pre and postnatal massage.
Key Differentiators:
Always takes serious feedback when neccesary
Affordable
High quality services with experienced therapists
Customer's Review:
I made an appointment for prenatal massage at their Square 2 outlet. Very cosy environment, nice smell & music, friendly staff. I enjoyed the message by my therapist, Ju. Was a very relaxing 90-min session. I will definitely recommend!

Shuhana Yunos (Credits: Google Review)
7. Theresa Beauty
Theresa Beauty is a complete wellness center specializing in organic methods for weight reduction and improvement. Theresa Beauty is dedicated to providing excellent slimming and facial treatments. Theresa Beauty offers a range of treatments including Facial, Aesthetic, Massage and Slimming. They are committed to honest and accurate pricing.
One of their signature treatment is Prenatal Massage. Our experienced specialists use techniques like tension reduction and swelling prevention to ensure your baby is comfortable and safe. These methods also improve immunity levels. Our Pregnancy Massage is designed to help mummies-to-be relax and unwind.
Key Differentiators:
Highly rated by the customers on Google, with over 1,000 5-star reviews.
Over 30 years experience Therapeutic Prenatal Massage
Award Winning Medical Spa
Customer's Review:
I had one of the most relaxing massage by my therapist, Mel which led me to a really good sleep that night. Really friendly staffs and such a clean, cozy and relaxing ambiance too. Highly recommended if you're in the area.

Stephanie Lim (Credits: Google Review)
8. Aleyda Mobile Spa
Aleyda Mobile Spa was formed in 2010 to offer pampering and relaxation services at work and at home. We began offering therapeutic wellness modalities in our treatments and conducting wellness sessions at workplaces during the past decade.
We have gone from being a team of only two people to now having 18 employees, with 45 corporate clients and 400 individual consumers. Our highly trained massage therapists have been personally taught by the architects to guarantee that every client encounter includes the Aleyda touch's distinctive therapeutic and restorative influence.
Key Differentiators:
Individualized house massages, corporate massage services, and group spa parties are some of the specialties
Make a contribution to the Aleyda Academy in order for pupils to acquire knowledge
A clear vision for raising awareness about health
Customer's Review:
I have been engaging aleyda mobile spa for the past 2 years mainly for deep tissue massage, foot reflexology and pre-natal massage. Skill and technique from masseurs are fantastic and agile. I felt much lighter, energetic and revitalised after each massage session regardless of the type of massage and therapist assigned. Agnes, Pearl, Linda were all skillful in their craft. All painful and aching muscle knots were eliminated which contributed to an entire week of good night rest. The set up of home mobile massage is definitely impressive and looked exactly as a massage boutique, but in the comfort of your own home. Masseurs were punctual for appointments and booking of appointment was fuss free and easy. Pricing was reasonable and greater cost savings could be achieved with regular small. Package. No hard selling. It is definitely based on own's preferences. Will definitely engage aleyda mobile team in the future for more massages at home.

Reii Himeko (Credits: Google Review)
9. Javanese Massage
The House Of Traditional Javanese Massage is Singapore's largest well-known family Javanese Wellness Chain, having been founded in 1999. The Signature Branch is located at the Harbourfront Center, and it is currently running 10 branches throughout Singapore. Our goal is to "Deliver Health Through Compassionate Hands," and we provide natural Javanese treatments for the body and mind.
The Javanese message uses all parts of the hand, including the knuckles, to deeply massage and loosen muscles. Deep thumb pressures pushing, pressing, and circling over and around the body's energy meridians break down stiffly locked muscles while stimulating the lymphatic system to release its self-regenerative power. The therapist applies deep thumb pressure with strokes, palm movements, and squeezing and pushing against the skin to improve blood circulation. Massage oil is commonly used to enhance the therapy.
Key Differentiators:
Have 10 locations across the island
Give genuine massages
Provide a signature branch at Harbourfrount Center
Customer's Review:
Service was pretty good especially the receptionist very kind her approached fabulous..I was heavily recommend can visit here worth and reliable service..

G kalai (Credits: Google Review)
10. Mummy's Massage
| | |
| --- | --- |
| Key Services | Based on the Malay postpartum and womb care tradition, they seek to provide Singaporean women of all races with authentic, safe, and medically-supported pregnancy and post-pregnancy services |
| Website | https://www.mummysmassage.com/ |
| Address | 371 Beach Road, City Gate Mall #B1-60, Singapore 199597 |
| Phone | +65 8268 0669 |
| Email | Ask@MummysMassage.com |
| Operating Hours | Mon-Sun 9am to 8pm |
Mummy's Massage is the leading prenatal and postnatal massage therapy company in Singapore. Mummy's Massage specializes in working with women and their families to promote reproductive health through massage therapy and other therapies.
Mummy's Massage is unique because we only specialize in massage therapy for women's reproductive health. The company's aim is to assist women in their recovery and wellness through pregnancy, miscarriages, the postnatal period as well as in the care of menstruation, menopause, and weight reduction.
Key Differentiators:
Provide guidance and help women recover and maintain their health during pregnancy, miscarriages, the postpartum period, as well as menopause management, weight reduction
Have a clear philosophy and vision
Provide a variety of treatment options
Customer's Review:
Booked both prenatal and postnatal massage packages. My massage therapist was very professional and knowledgeable, and made me feel comfortable throughout the session. The massage was relaxing and helped my body to recover.

Anuncia Camacho (Credits: Google Review)
Prenatal Massage Singapore
Prenatal massage is a great way to relax and feel better during your pregnancy. The 10 prenatal massage clinics listed in this blog post offer excellent services and cater to pregnant women of all ages. If you're looking for a prenatal massage in Singapore, be sure to check out these clinics!
If you want to read more interesting articles, follow the links below