Rugs Singapore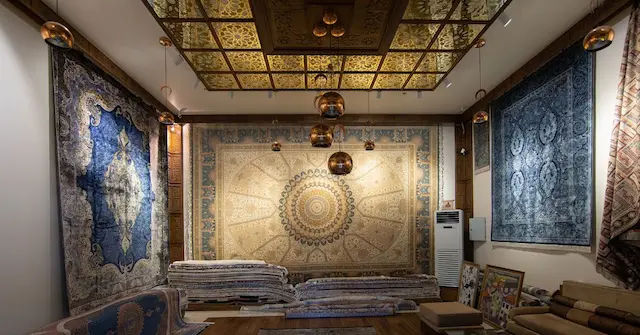 Looking for the best rugs in Singapore? Look no further!
We have compiled a list of the 10 best rugs in the country, based on our expert opinion and customer feedback. Rugs can add a touch of luxury and comfort to any home, and with so many different styles and materials available, it can be hard to know which one is right for you. Also, these rugs are sure to add style and comfort to any room in your house. Ranging from traditional to contemporary designs, there is sure to be a rug on this list that meets your needs.
That's why we've created this comprehensive guide to the top 10 rugs in Singapore! So what are you waiting for? Start shopping for your perfect rug today!
1. HipVan
| | |
| --- | --- |
| Key Features | Furniture store |
| Address | 3 Temasek Blvd, #02-728/729/730 Tower 3, Suntec City Mall, Singapore 038983 |
| Website | https://www.hipvan.com/ |
| Phone | +65 6291 1725 |
| Email | wecare@hipvan.com |
| Operating Hours | Mon–Sat, 9:30am to 5:30pm excluding PH |
A rug is a terrific way to add a splash of color and texture to your living area. It is therefore no mystery that this local brand has exquisite taste; after all, superb quality and design comprise its vision. HipVan is your go-to choice if you can't decide between expensive carpets and cheap rugs. It's a furniture store with a huge selection of carpets and rugs.
They market colorful carpets that are either plain, patterned or have abstract designs. Furthermore, you may select a rug that fits even the awkwardly shaped corners of your home because the different designs come in a variety of sizes and shapes.
Key Differentiators
Over 900 products on display
All furniture you'll need right here
Top-rated
Customer Testimonial
Bought two items from Hipvan for my new place. Saw the items from the warehouse. We spent about 2 hours + at the warehouse and they have variety of furnitures to choose. First time user has some welcome discount so the price is really worth it. Realised the console has some issue only few days after using, one of the drawer not able to close completely. Contacted hipvan and they've arranged technician to come down and fix it. It was good as new. Great experience dealing with hipvan as the customer service replies really quick as well. Thank you!

Joanna Lee
2. Ruby Slipper
Ruby Slipper Singapore has been importing made-to-order rugs from India with patterns that are influenced by tropical Asian environments since 2008. Each rug's designs are made to be timeless and universal and to look great in any environment, no matter where in the world it is placed. Ruby Slippers is a fantastic site to buy a rug if you want to give your living room a bit of culture.
Each Ruby Slipper rug is created by hand and loomed entirely from scratch using only natural fibers, which are reputed to be strong. Usually, it takes up to 14 people to complete the dying, weaving, and finishing processes! Create your own rug by selecting from the 120 colors and 26 styles offered here. You can find Moroccan rugs and Indian Dhurries that are already in stock in addition to bespoke orders.
Key Differentiators
Supporting Local Artisans
Always Handmade
High Quality
3. The Carpet Shop
Since its doors first opened in 2011, The Carpet Shop Singapore has offered a huge selection of stylish rugs at reasonable prices. Their design concept is more geared toward adaptability, showcasing items that can improve any existing home style you may have. Their Nordic Deluxe Infinity is our favorite item since it can look great in a modern, monochromatic, or Scandinavian home.
Having adaptable designs like these is a terrific method to do so while saving money and space if you're the kind of homeowner who likes to occasionally update their home. You can easily explore their designs online thanks to their e-commerce site, and you may get inspiration from their images for how to style them with furniture.
Key Differentiators
Customization available
Market place
Gift cards
Customer Testimonial
I have ordered a carpet last month but the design was not available and the owner offered me two options. 1. Refund the amount 2. Choose another design. I chose the second option and I received the well packaged carpet within the estimated delivery period.
I'm pleased with the purchase

JAYA RAJESH
4. Living DNA
Key Features
Rug store
Address
01-10B Space@Tampines, 18 Tampines Industrial Cres, Singapore 528605
Website
https://livingdna.sg/
Phone
+65 8511 3584
Email
hello@livingdna.sg
Operating Hours
Tuesday:
11:00 AM – 6:00 PM
Wednesday to Saturday:
12:00 PM – 7:00 PM
Sunday:
12:00 PM – 8:00 PM
Living DNA Singapore was founded with the goal of providing handcrafted rugs that are inexpensive, of the highest designer quality, and, most importantly, environmentally friendly. Each Living DNA piece is crafted with fair trade, environmental care, and durability in mind in keeping with their concept of mindful meaning and sustainable consumerism.
Rugs of all shapes, sizes, and materials—including recycled materials—can be found in-store! You'll discover that their collection has a generally relaxed, casual, and cozy vibe; it's delightfully rustic but yet adaptable enough to go with various interior design aesthetics. Along with selling rugs, Living DNA also sells soft furnishings like pillows and poufs as well as home accessories like vases and trays.
Key Differentiators
Living, dining, bedroom, office, hallway and patio rugs
Ready-to-deliver stock in a variety of sizes
Kid-friendly, pet-friendly and outdoor options available
Customer Testimonial
If you are looking for a rug that is beautiful, of good quality and good value, living DNA is the place! I love how efficient the buying experience was and am now a big fan. I contacted the team via WhatsApp and was promptly attended to by Nadia who patiently recommended rugs that could work for my new place.

The home trial service is something you wouldn't want to miss out on cos the team actually delivers rugs you shortlisted via the website to your home. Seeing is believing and it's such a nice and personal touch. Am now the proud owner of not 1 but 2 rugs! Thanks so much Nadia and living DNA!

Sharon Koo
5. Crate & Barrel
| | |
| --- | --- |
| Key Features | Retail chain offering a variety of stylish furniture, kitchenware & other home essentials. |
| Address | 2 Orchard Turn, #04-21/22, ION Orchard, Singapore 238801 |
| Website | https://www.crateandbarrel.com.sg/ |
| Phone | +65 6634 8488 |
| Email | news@crateandbarrel.sg |
| Operating Hours | Daily: 10AM–9PM |
The American shop Crate & Barrel carries a significant selection of rugs, ranging from classic hand-spun wool carpets to machine-loomed flatweaves with Grecian designs. The kid's rugs, though, are among of the cutest carpets we've ever seen. Additionally, the prices are reasonable, allowing you to fill your cart with a few stealthy extras from the fantastic homewares selection.
Key Differentiators
Membership perks
Easy installments
Fuss-free returns
Customer Testimonial
That place is amazing and all the designs are great! really enjoyed the whole experience as i was guided by one (super friendly) staff through the different quality of sofas and what would suit my new appartment!
Definitely coming back for more shopping!

MJ
6. Affordable Style Files
We need and want Affordable Style Files' all-weather plastic woven carpets as badly as we need and want the rest of the opulent home goods in their store! These striking carpets are amazingly light, strong, and soft, and they look just as good indoors as they do outside on a balcony, patio, or deck. Given that they are constructed of recycled plastic, they are simple to clean after the kids' dinner and include gorgeous graphic motifs and colors.
Key Differentiators
Armadillo Rugs
Plastic Rugs
New collections per week
Customer Testimonial
A gorgeous two floor interiors store with independent brands (a lot from Australia like Murchison Hume) and high quality boutique products, from soy wax candles to lighting to runners. Bliss.

Sarah Harrison
7. Bungalow 55
Bungalow 55, the residence of luxurious design, does not let you down with its amazing rug collection. The eco-friendly, robust, and earthy-chic handmade woven line has won our hearts. Plus, their website itself has some helpful styling advice that will enable you to pull off your look without hiring a stylist.
Key Differentiators
Imported collections of Home Accessories, Furniture, Art & Lighting.
Founded in 2012
Each piece is personally sourced by Owner & Interior stylist
Customer Testimonial
I have been visiting this shop for a few years now and have never had a single bad experience. The customer service is excellent and I never seem to leave the shop without buying something! The store owner Nina has an excellent taste in interior design and even does some beautiful custom makes. My favourite furniture store in Singapore by far.

Katie Gray
8. The Grey House
The lovely cotton and wool flat-woven dhurries are created in Northern India and are ideal for your Singapore home because they have a neutral color scheme. Buy one from the Grey House or contact the seller to request a custom design. For a truly modern-chic look, pair your rug with the leather and unfinished teak Roxy lounge chair.
Key Differentiators
Passion to bring stylish, contemporary and beautiful
Modern aesthetic
Affordable prices
9. Amara
Amara offers a variety of unusually shaped rugs to match your decor and unique personality. For that animated-retro atmosphere, they have carpets made to seem like comic book art, and they also have animal rugs of every description that will match decor with a farmhouse or nautical theme.
The rugs come in a variety of sizes, so you can use the smaller ones to brighten up a bare spot in your home or the larger ones to coordinate the design of larger rooms.
Key Differentiators
Transform any room into a luxury paradise
With many styles to choose from
Shabby chic and vintage
10. 3 Little Picks
| | |
| --- | --- |
| Key Features | Home to a contemporary collection of homewares, furnitures, toys, gifts, art & partyware. |
| Address | 2 Gambas Crescent #08-24 Nordcom 2 Tower 2 Singapore, Singapore 757044 |
| Website | https://www.3littlepicks.com/ |
| Phone | +65 8748 3901 |
| Email | ask@3littlepicks.com |
| Operating Hours | Monday to Friday: 10:00 AM – 5:00 PM |
Looking for a whimsical addition to a pastel color scheme or for the children's rooms? Warmer-hued carpets from 3 Little Picks, such as those in pink and orange, can help tie together spaces with more vibrantly colored furnishings. Their soft rugs are suitable for kids' rooms and prevent the flooring from being scratched.
You can choose all the components you'll need for the full pastel vibe by choosing from the site's selection of other decors with like patterns.
Key Differentiators
Stylish and functional
Picks from around the world
Affordable pricing
Rugs Singapore
Decorating your home with beautiful rugs is a great way to add color, texture, and style. There are many different types of rugs available, from traditional designs to modern prints. With so many choices on the market, it can be tough to decide which one is right for your space.
To help you narrow down your options, we've compiled a list of the 10 best rugs in Singapore. Whether you're looking for a statement piece or a simple accent, you're sure to find the perfect rug for your home. Thanks for reading!
Check more of our interesting blog posts down below:
Frequently Asked Questions
Additional Useful Articles
If you are looking for other useful guides and articles about Best Rug Shops in Singapore, check them out below: