Smart TV Singapore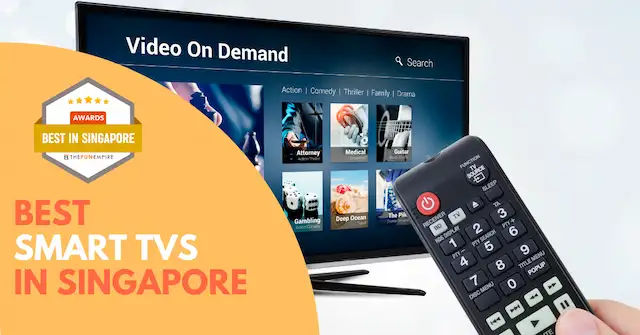 If you are in the market for a new Smart TV, you have come to the right place.
In this blog post, we will be discussing the 10 Best Smart TVs that are available in Singapore right now. We will be looking at a variety of different factors, such as price and features, to help you make an informed decision.
We will also provide a brief overview of each smart TV and give you an idea of what to expect from each one. As well as help you find the best for your needs and preferences.
So what are you waiting for? Without further ado, let's get started!
1. SWOSH 4K Android TV
Key Features
Best value 4K Android TV in Singapore
Where to buy
Swosh TV Singapore
Price
55″ Model: SGD $988.00 (includes TV Stand)
65″ Model: SGD $1038.00 (includes TV Stand) – limited stock left!

Special Promo for FunEmpire Readers:
Use the promo code SWOSHFUN100 to enjoy $100 off Swosh Android TVs!
About SWOSH
Swosh is a Singaporean brand that offers ZOOM, LEARN, LEISURE, BOND acitivites for students and working adults. At Swosh, they want to develop original designs and demonstrate their technological advancements while still incorporating it into our daily life successfully. They try to provide consumers with an immersive and unique experience. With its interactive and digital TVs, Swosh promotes its cutting-edge innovation. Their technology and goods are distinctive and unlike any other normal TVs because they are functional and decorative.
Unique TV that you need
Swosh Android TV is a smart TV that not only entertains and informs but also helps users learn new things, stay connected with friends, and find entertainment all in one place. With this product, users can access the internet, social media, games, movies, and other online content.
The Swosh Android TV is a high-end television with all the best functions available. It has Google Play Store, Inbuilt Chromecast, and Google Voice Assistant built-in, as well as sophisticated and elegant design. A 4K UHD Resolution provides you clear and sharp pictures that other TVs don't have.
These great TVs are available in both sleek and slim designs with 55″ and 65″ screen sizes. Don't worry about low or poor sound quality since Swosh Android TV has a 2.1 Dolby Stereo loudspeaker system to help you hear what your favourite characters are saying while watching Netflix shows.
This excellent television has all of the features you want at an unbelievable price! It's also a great value and well worth it! Watch your favorite films, TV shows, and more on this fantastic TV that is also quite affordable and definitely worthwhile!
Price Range of Swosh Android TV
The Swosh 55″ 4K Android TV is selling for $988 SGD while the 66″ screen is selling for $1,038 SGD.
Why Choose Swosh TV?
Technologically Advanced
Smart features
2.1 Dolby Sound System
Sleek and smart design
High Contrast Quality
What are you waiting for? Get your own Swosh Android TV today! You won't regret it, we promise.
2. LG G1 Gallery Series OLED
| | |
| --- | --- |
| Key Features | OLED Evo Smart TV |
| Where to buy | Harvey Norman |
| Price | S$11,099 |
When it comes to style, what's better than a flatscreen TV that is a bit more appealing? The LG G1 OLED is an outstanding television that improves on the beautiful design of the Gallery Series OLED from last year.
The true hero is LG's new OLED Evo technology, which improves the panel structure to achieve even more light output while eliminating blooming effects and the risk of burn-in.
With its breathtakingly thin form, it is a real showpiece television, with OLED contrast and color advantages reaching new lighting-emphasized heights.
With motion processing, in particular, getting an improvement, the new A9 Gen 4 AI processor is even more capable of wisely upscaling and interpreting onscreen things.
Key Differentiators
SELF-LIT PiXELS
α9 Gen4 AI Processor 4K
AI ThinQ
Gallery Design
Eye Comfort Display
Buyer's Testimony
I haven't bought a TV in years, but this time I wanted the best TV I could get while staying on budget. Not only does this TV have superb picture quality, but the sound quality is also amazing. Performance cannot compete with other TVs either. It supports 120 fps so it's great for new generation gaming as well.

I did a lot of research on what tv to purchase. I wanted something with good performance, picture quality, decent features/settings, and easy to use. This TV cannot compare to any other TV on the market!! 10/10 would recommend to anyone!

Apat 12
3. Sony Bravia X90J
| | |
| --- | --- |
| Key Features | |
| Where to buy | Sony |
| Price | S$ 2,999.00 |
Sony now features a new Cognitive XR processor, making for fantastic upscaling and contrast control.
The X90J comes with the new Google TV smart platform, which is designed for quick set-up and broad app compatibility, as well as advantages from Google Cast for Android devices. There's also Dolby Vision HDR and Dolby Atmos on board.
When it comes to gaming, the X90J features a 120Hz display with 4K resolution and two full-spec HDMI 2.1 ports for Xbox One S and PS5, as well as VRR and ALLM, which will significantly improve your gaming experience
Simply make sure you enable 'Enhanced format' in the picture settings for your chosen HDMI port, otherwise, you won't get the 2.1 feature of it.
Key Differentiators
Precise 4K pictures
Advanced speaker technology
Voice Activated
4. TCL 6-Series with Mini LED
| | |
| --- | --- |
| Key Features | 4K QLED Display |
| Where to buy | Lazada |
| Price | $3,239.00 |
The 6-Series is more colorful, brighter, and has no traces of haloing or light bleeding than previous models.
It's the first TV to include THX Certified Game Mode for 1440p/120Hz gaming, which was designed differently to conceal your wires.
It's not the flatscreen TV we'd suggest to next-gen-ready gamers seeking a suitable companion for the Xbox Series X or PS5 that can output 4K at 120fps.
If you're looking for a smart TV to binge Netflix on, this is the finest TCL TV we'd recommend.
Key Differentiators
Energy Efficiency Rating
3 years manufacture warranty
Hands-Free Voice Control
5. Samsung QN90A Neo QLED
| | |
| --- | --- |
| Key Features | Neo QLED 4K Smart TV |
| Where to buy | Samsung |
| Price | $1,999.00 |
The Samsung QN90A was one of the first 4K displays to employ Samsung's hyped-up Neo QLED panels, which have a greater number of light-emitting diodes per square inch than prior versions.
The end result is a TV that is more brilliant than previously and one that can reproduce a wide range of vivid colors.
The Samsung QN90A has a superior resolution and supports HDR, like all Neo QLED TVs. It utilizes a neural network to improve HD upscaling and Motion Xcelerator Turbo+ for better motion handling, which has really paid off for Samsung's flagship screen.
That being said, there are a few problems that must be addressed, such as the minor pedestal stand wobble or the surprisingly poor sound quality that does not reflect a flagship 4K TV.
Key Differentiators
Quantum Matrix Technology
Neo Quantum Processor 4K
100% Colour Volume
Buyer's Testimony
I am really pleased tv has such crisp and bright picture colors are amazing
I am more impressed with this tv than any tv before it

Al Swales
6. Philips 4K Razor Slim OLED Smart TV 55OLED873/98
| | |
| --- | --- |
| Key Features | 4K Razor Slim OLED Smart TV |
| Where to buy | Shopee |
| Price | $3,999.00 |
Those searching for a unique experience! The Philips 4K Razor Slim OLED Smart TV may be an excellent choice. It has 4K Ultra HD OLED, which produces images of exceptional quality with vibrant colors.
Its 55-inch screen, in addition to the Ambilight, will bring you into a more realistic experience than ever before.
With its OLED display, you'll feel as though you've never wanted to return to LEDs. Finally, this smart TV has built-in Philips TV remote applications. This will let you enjoy more activities at home.
Key Differentiators
Perfect Natural Motion
Ultra Resolution
Micro Dimming Perfect
7. Xiaomi 65-inch 4K Ultra HD Smart LED TV
| | |
| --- | --- |
| Key Features | Android 10 Smart TV |
| Where to buy | Lazada |
| Price | $999.00 |
Xiaomi has been gaining popularity lately. There's nothing out of the ordinary about it! This company has a long history of providing cutting-edge technology in all of its goods.
If you want cutting-edge technology at reasonable costs, the new Xiaomi 65-inch 4K Ultra HD Smart LED TV is a must-have.
Its display with WCG and a vivid picture engine offers an all-in-one viewing experience. 20W speakers, Dolby Audio, and 64 bit-Quad-core 2GB + 16GB are among the features.
Key Differentiators
Google Voice Search & Chromecast Built-in
Hands-free Google Assistant Built-in / Smart AI
Youtube / Netflix Pre-installed
Google Game / Google Playstore
Bluetooth Remote Control
8. Sony LED 4K Ultra HD Smart TV KD-43X7000G
| | |
| --- | --- |
| Key Features | ULTRA HD HIGH DYNAMIC RANGE SMART TV |
| Where to buy | Lazada |
| Price | $4,888.00 |
The Sony LED 4K Ultra HD Smart TV is an excellent alternative because it combines the best of both worlds. This means that this Smart TV provides sharp images with clear sound.
The Sony LED 4K Ultra HD Smart TV has a 4K HDR resolution driven by the X-Reality Pro for a more dynamic viewing experience. This, coupled with ClearAudio+ technology, opens up a whole new world of TV viewing.
Take pleasure in any form of media with its 4K HDR X-Reality Pro feature, which gives you the finest quality and immerses you in any scenario.
Key Differentiators
Precise images with clear audio
Dynamic viewing experience
Immerses you in the scenario
9. PRISM+ Q55-QE PRO (55")
Key Features
55 Inches
Visual Immersion
Where to buy
Prism+
Price
$1399
PRISM+ is quickly gaining supporters with its low-cost, high-quality smart TVs.
The Q55-QE PRO comes standard with Google Play Store, Chromecast built-in, and Google Voice Assistant, giving it a well-rounded user experience. You might use your PRISM+ Smart TV as the brains of your smart home with the appropriate combination of applications and devices.
The PRISM+ Q55-QE PRO is equipped with Quantum IPS panel technology, which ensures picture quality and color integrity across a wider angle of vision. This allows everyone to enjoy whatever is on the screen, regardless of where they are sitting.
Key Differentiators
Quantum Color backlight technology
More than 5,000 apps on Google Play
Smartest features like Google Play Store, Inbuilt Chromecast and Google Voice Assistant
Buyer's Testimony
Finally after months of waiting for my new place to be ready, the most exciting things I was looking forward to was the delivery of my Prism+ TVs! All 4 Prism+ tvs for all 4 of my rooms. Honestly you don't need to be looking through reviews to decide on getting a Prism+, just get it already!

Ken Goh
10. VIZIO 55" M-Series M55Q7-J01 4K Smart TV
| | |
| --- | --- |
| Key Features | 4K HDR Smart TV |
| Where to buy | Vizio |
| Price | $749.99 |
The VIZIO M-Series 4K Smart TVs are a budget-friendly option for the younger, tech-savvy millennial generation.
The M55Q7-J01 is a sleek, slim-bezel TV with an industrial design that combines 4K viewing with Quantum Colour display and superior next-generation gaming features, as well as SmartCast for streaming.
Also, the M55Q7-J01 is compatible with Apple HomeKit, Amazon Alexa, and Google Voice Search, making it a highly connected television.
The M55Q7-J01 comes with a couple of special features, including SmartCast and the option for 4K upscaling.
Also, because the TV includes SmartCast functionality, you should have no trouble finding all of your favorite streaming and on-demand entertainment programs at the touch of a button.
Key Differentiators
Over 8 million pixels
Content-matching lights display
Delivers cinematic color
Buyer's Testimony
This tv is a good buy definitely Way better than any other tv I've ever owned the picture quality it good and sound is awesome especially with the Vizio sound bar

Sean Finn
Smart TV Singapore
The smart TV market is a competitive one, and it can be difficult to find the right smart TV for your needs.
To make this process easier, we've created an overview of 10 different models that are available in Singapore now. We hope you'll take advantage of our research and help save yourself time by choosing from one of these smart TVs instead!
Read more of our interesting articles by checking out these blog posts down below!
Frequently Asked Questions
Additional Useful Articles
If you are looking for other useful guides and articles about Best Smart TVs in Singapore, check them out below: