Sports Bar Singapore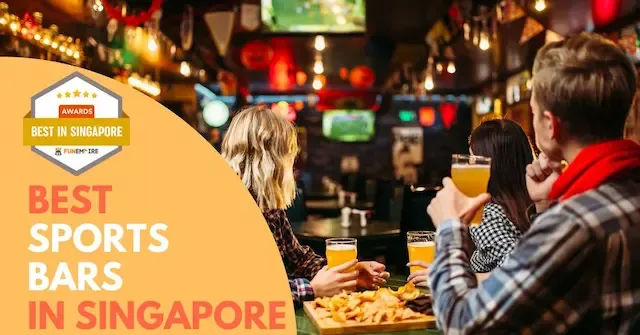 If you're a sports fan, there's no place like a sports bar to catch the game.
The best sports bars in Singapore include Mischief, Muddy Murphy's, Charlie's Restaurant & Bar, The Penny Black, and Hero's.
When selecting a sports bar in Singapore, take into account factors like the venue's location, ambiance, and the variety of food and drink choices available.
Sports bars in Singapore are highly sought-after destinations, attracting both avid sports fans and casual viewers.
So grab your friends and head on over to one of these fantastic sports bars in Singapore!
Quick Summary
Best sports bars in Singapore include Mischief, Muddy Murphy's, Charlie's Restaurant & Bar, The Penny Black, and Hero's.
When choosing a sports bar in Singapore, consider factors such as location, atmosphere, and food and drink options.
Sports bars are immensely popular in Singapore, serving as vibrant gathering spots for sports enthusiasts and casual viewers alike.
Best Sports Bar Singapore
1) Mischief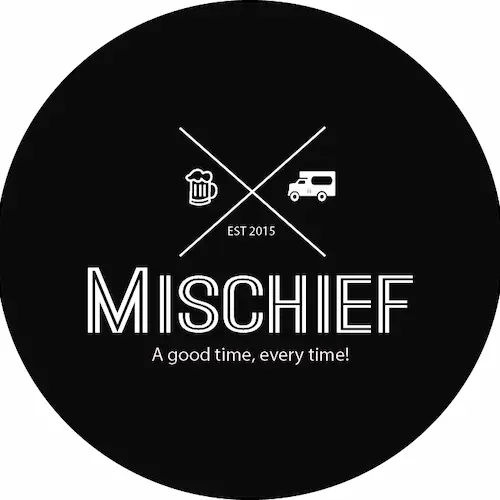 Key services
American and South-East Asian Street Cuisine
Address
8 Raffles Ave, #01-10/12, Singapore 039802
Website
mischief.sg
Phone
+65 6532 0480
Email
hello@mischief.sg
Operating hours
Tuesday – Thursday: 5pm – 1am
Friday – Saturday: 5pm – 2am
Sunday – Monday: 5pm – 11pm
Mischief is the place to be if you're looking for a night of fun and food.
Situated in the Esplanade, this 250-seater nightspot is the place of choice for group parties or even laid-back dates.
The party is kept moving with a spectacular view of Marina Bay, an amusement area brimming with games, and plenty of cheap happy-hour specials.
Key Differentiators
Age-old techniques
Cutting-edge ingredient combinations
Client Testimonial
Food is good and very generous in portion. If you're a small eater, please share! Nice ambience at night but the spoiler is that the restaurant allows for some patrons to smoke at their tables

Nicole Yeong
2) Muddy Murphy's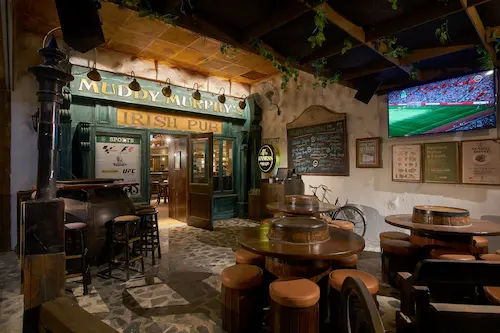 Key services
Special occasion venue hosting, sports bar
Address
442 Orchard Road #01-02 to 05 Claymore Connect, Singapore 238879
Website
muddymurphys.com
Phone
+65 6735 0400
Email
enquiry@muddymurphys.com
Operating hours
Monday – Thursday: 3pm – 12am
Friday: 11:30am – 12am
Saturady – Sunday: 12pm – 12am
Muddy Murphy is snug and romantic, similar to most of the authentic sports pubs located in Ireland.
With six big displays dangling high, your viewing angles will be great wherever you're seated.
But we can all enjoy the game from a distance. Nothing, however, can compare to watching a live match in front of your own eyes.
Over at Muddy Murphy's, you'll be the closest to experiencing the game without seeing it live.
Key Differentiators
Snug and romantic spot
Big displays around the place
Client Testimonial
awesome food and cute irish pub vibes!

fish & chips was awesome! fresh, flavourful and good portion, chips were nice too

Charlotte Yeong
3) Charlie's Restaurant & Bar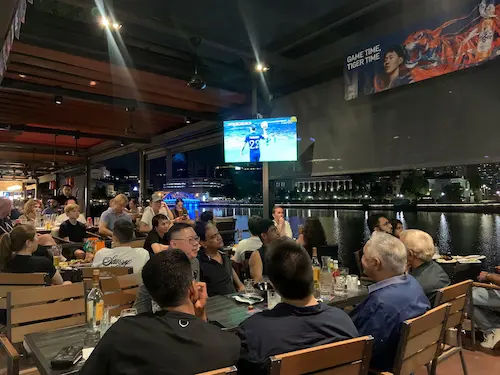 Key services
Whiskey, Cigars
Address
32 Boat Quay, Singapore 049821
Website
www.charlies.com.sg
Phone
+65 6533 5880
Email
info@charlies.com.sg
Operating hours
Monday – Thursday, Sunday: 11am – 12am
Friday – Saturday: 11am – 2am
Charlie's proudly homes some of the most amazing homemade sangria, a dazzling range of tapas, and touch rock grills.
The wide-ranging menu provides humble snacks as an extension to the mains.
Sports fans at Charlie's are treated to a massive screen with quick meals and beverages assistance.
They sponsor live screenings for soccer, rugby, cricket, tennis, Formula 1, and various other sports.
If you're curious about their program updates, you can always check out their sports page.
Key Differentiators
High class ambiance
Massive screen
Wide-range menu
Client Testimonial
Their happy hour deals were worthwhile and the food was surprisingly not too bad. Garlic prawns were very good, salad was tasty and fresh, and the Charlie's Burger was delicious
4) The Penny Black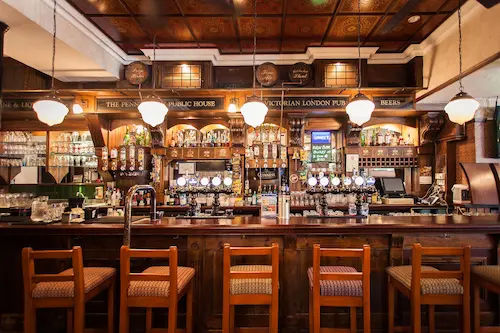 Key services
Mise en place, sports bar
Address
26-27 Boat Quay, Singapore 049817
Website
pennyblack.com.sg
Phone
+65 6538 2300
Email
enquiry@pennyblack.com.sg
Operating hours
Monday – Tuesday: 3pm – 12am
Wednesday – Friday: 1130am – 12am
Saturady – Sunday: 12pm – 12am
You may feel as if you've stepped into a bar on Oxford Street the moment you enter The Penny Black.
From the dark hardwood high seats and tables to the walls tastefully decorated with cold beer on taps and wooden signs, this magnificent traditional old-school pub will transport you back to London's roadways.
Now that you're attracted back to older Victorian times get ready to be engulfed by the intense passion of the English sports lovers'.
Key Differentiators
Wide selection of premium wines and spirits
Serves 7 international beers on tap
Food is made fresh daily
Client Testimonial
The Penny Black has become one of our absolute favourite places to eat out in Singapore. Whether it's Fish & Chips on a Friday night, the awesome Sunday Roast, a delicious Hamburger or the amazing English Fry Up, we've never been disappointed. The service is friendly and attentive and it feels like we belong here.

John Dwyer
5) Hero's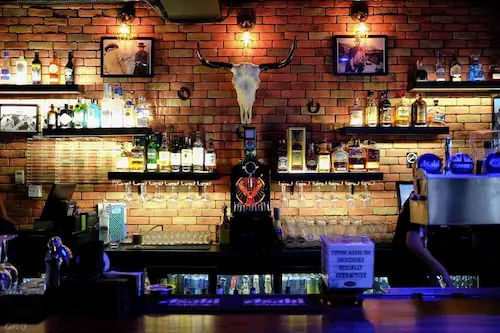 Key services
Live music, sports bar
Address
69 Circular Road, #01-01, Singapore 049423
Website
heros.sg
Phone
+65 6438 6058
Email
info@heros.sg
Operating hours
Monday – Friday: 5pm – 3am
Saturday: 5pm – 4am
Closed on Sunday
Also located on Circular Road, Hero's is another great sports bar, that is decorated in a modern yet classic Old West Saloon Style.
There's a live band, and showcase various sports matches frequently.
The restrooms are located in the main hall, which is open until dawn. This is the ideal spot to get some grub or watch late-night games!
What distinguishes it from other sports pubs is that patrons may fill their glasses from their own pints from the VIP area, each outfitted with two draft beer taps.
The quantity of beer consumed – Asahi or Kronenbourg 1664 – is monitored electronically and exhibited in real-time on a table-top screen.
Key Differentiators
One-of-a-kind VIP area
Wide range of drinks selection
Client Testimonial
Good vibes and great deals good for chilling out with buddies n friends n of course great selection of finger bites

Tony
6) Boomarang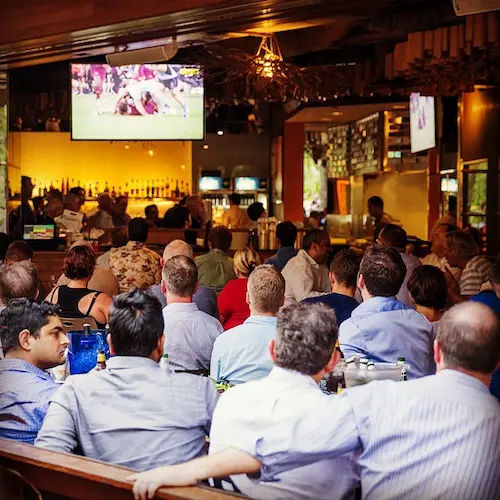 Boomarang (yes, definitely not spelled boomerang) is an Australian pub, otherwise dubbed as "Singapore's House of Live Sports."
There are plenty of reasons for achieving this title. The servers and owners are welcoming and warm – the reason they have many usuals visiting each week.
You'll be in for a treat while grabbing your favorite sporting event in their big HD displays.
That's fantastic news for fans of designer fashions, design-savvy individuals looking to bring a touch of inspiration into their living rooms, and everyone else who appreciates a good book!
The bar sports a relaxing ambiance where large groups of friends or family can spend some time by the riverside in the open-air seating arrangement.
Key Differentiators
Serves fresh, authentic Australian cuisine
Big HD displays HD displays
Relaxing ambiance
Client Testimonial
Good service and lots of seating space. Food came fast. Good selection in menu and the quality good as well. Prices are reasonable. Will come Again.

S Wun
7) The Public House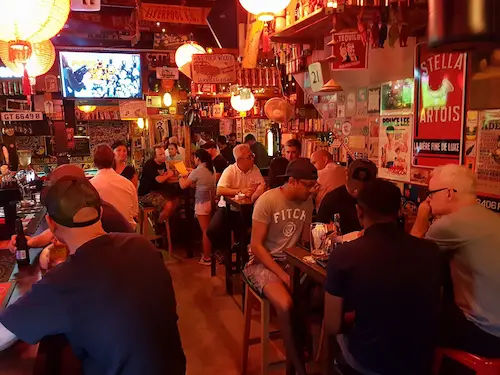 Key services
Sports bar
Address
42 Circular Rd, Singapore 049398
Website
Facebook
Phone
+65 6533 3545
Email
thepublichouse.sg@gmail.com
Operating hours
Monday – Thursday: 4pm – 1am
Friday – Saturday: 4am – 3am
Closed on Sunday
This restaurant and sports bar located at the intersection of Canton Street and Circular Road is the sister location of Mogambo and Hero's.
The vibe is casual, friendly, and you'll often find the patrons enjoying a chilled glass of beer while hooting in bliss in the pool table and darts section.
Client Testimonial
Cozy place to be with reasonably priced drinks. I was just there this evening and had to jump on here immediately after arriving home to compliment this beautiful roman-style pizza I ordered! So incredibly good. I WILL be back for more.

Dee
Sports Bar Singapore
There are sports bars all over Singapore, but each one has its own unique qualities and we've highlighted some of the best sports bars in Singapore for you.
Whether it be a good sports atmosphere or an incredible ambiance, there is something special to love about every single sports pub.
Should you be interested in learning more about lifestyle, entertainment, and more, you may read any of the articles below:
Frequently Asked Questions (FAQ)
If you have any questions about sports bars in Singapore, you can refer to the frequently asked questions (FAQ) about the best Sports Bars in Singapore below:
What are the best sports bars in Singapore?
The best sports bars in Singapore include Mischief, Muddy Murphy's, Charlie's Restaurant & Bar, Harry's Bar, The Penny Black, and Hero's.
Can I cheer for my favourite team at the sports bars in Singapore?
Absolutely! The sports bars in Singapore are known for their lively atmosphere, especially during the sports season. Whether it's football, rugby, or cricket, you can always find a place to cheer for your favourite team.
What kind of food can I expect at these sports bars?
Besides enjoying the live sports streaming, you can also indulge in some delicious bar grub. Many places offer a wide range of options, from classic baby back ribs to unique fusion dishes. Pair them with a few beers for the ultimate sports bar experience.
Are there any sports bars near the Singapore Indoor Stadium?
Yes, there are several sports bars located near the Singapore Indoor Stadium. They make a perfect stop before or after attending a sporting event at the stadium.
Where can I watch the World Cup in Singapore?
Most sports bars in Singapore broadcast major sporting events like the World Cup. It's advisable to arrive early to secure the best spots, especially if you prefer high bar stools for an unobstructed view.
Can I watch football games at any sports bars in Singapore?
Yes, watching football games is a popular activity at sports bars in Singapore. With live sports streaming, you can catch all the action in real time while enjoying the company of fellow fans.
What's the best Aussie bar in Singapore to watch sports?
Singapore has several Aussie bars that are great for watching sports. These bars often have multiple screens to ensure you don't miss a moment of the action. Plus, they usually serve a menu filled with Australian favourites.
Is there any sports bar in Singapore that offers baby back ribs?
Yes, many sports bars in Singapore have baby back ribs on their menu. These delicious, tender ribs are often a crowd favourite and pair perfectly with a few beers.
Can I enjoy a few beers while watching the games at these sports bars?
Absolutely, having a few beers while watching your favourite sporting events is part of the sports bar experience. Most places offer a wide selection of local and international brews.
Do these sports bars have high bar stools?
Yes, many sports bars in Singapore offer seating options that include high bar stools. These are perfect for those who prefer an elevated view of the screens.
Additional Useful Articles
If you are looking for other useful guides and articles about Sports Bars in Singapore, check them out below: