Thrift Stores Singapore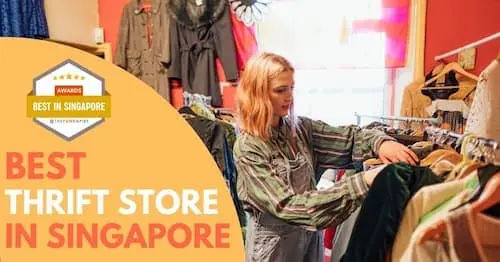 Finding thrift stores in Singapore can be difficult.
The best thrift stores in Singapore are The Fashion Pulpit, Dustbunny Vintage, Refash, Something Old Something New, and The Kint Story.
When selecting a thrift store in Singapore, take into account various factors including the store's location, item quality, pricing, range of selection, cleanliness, and return policy.
Thrift stores in Singapore are known for offering a wide variety of popular items, such as vintage clothing, accessories, homeware, and occasionally collectible toys and books.
There are many thrift stores in Singapore with varying degrees of quality and prices, so make sure to check them out!
Key Consideration Factors
Location: Look for thrift stores that are conveniently located near public transportation or in areas that are easy to access. This will save you time and money on transportation costs.
Quality of items: Check the quality of items being sold at the store. Look for stores that have a good mix of new and used items, and ensure that the used items are in good condition.
Price: Thrift stores should offer affordable prices compared to regular retail stores. Make sure to compare prices across different thrift stores before making a purchase.
Selection: Look for thrift stores with a wide range of products, including clothing, accessories, books, furniture, and electronics.
Customer service: Friendly and helpful staff can make all the difference when shopping at a thrift store. Look for staff who are knowledgeable about their products and willing to help you find what you're looking for.
Cleanliness: A clean and well-organized store is more pleasant to shop in than one that is cluttered or dirty.
Return policy: Ideally, thrift stores should have a return policy so you can exchange or return an item if it doesn't meet your expectations.
Best Thrift Stores Singapore
1. The Fashion Pulpit
The mission of the Fashion Pulpit is to promote a more sustainable fashion industry by providing an online platform that allows consumers to sell their unwanted clothing.
It's possible to quickly trade in fashionable items at this store since it was created with the objective of assisting consumers with the same goal. In addition, swapping clothes extends their lifespan while saving money.
Oh did we mention that the Fashion Pulpit was named as the 2020 Expatliving Gold Award for Best Secondhand and Vintage Clothing?
The owner of goods to be traded verifies that they are in good working order. After that, you must join up for a membership plan that sets the limit on the number of items that may be sent. Reusable tote bags are used to transport clothing and submitted goods are subjected to a quality check, and points are given accordingly.
Key Differentiators
Promotes sustainable fashion
Unique and Great finds
Conducts events for sustainable fashion
Customer's Testimony
The Fashion Pulpit continues to be one of my favourite places to swap my clothes for new clothes on days I am free. I have been visiting them since 2019, when they were in Liang Court, Clarke Quay.

Raye, the founder of the store is always been around the shop, and he is dedicated and pleasant to be around. His team puts in a lot of effort in curating and displaying the clothing for the customers to shop. The cause to extend the lifespan of clothes, music, ambience, service has always been consistent and great. I always share with my friends about this place and I hope more people can come to visit the place and support this cause! 🙂

EC
2. Dustbunny Vintage
Pia Chew launched Dustbunny Vintage in 2006, so she has been selling vintage gems like coveted designer bags from Gucci, Louis Vuitton, and other famous names as well as antique clothing dating from the 1920s.
Despite the fact that it is off the beaten path, it is well worth a stop. This is because you may just discover a one-of-a-kind treasure.
The layout of the store is so well constructed that it will make you want to explore and shop! Plus, the merchandise is carefully curated before making it to the store. With a wide range of 0-16 sizes, you can certainly find something for yourself. Further, their excellent customer service will also cater to personalized tailoring services.
Key Differentiators
Vintage dresses and accessories
Since 2015
Create retro-inspired pieces
Customer's Testimony
Was looking for retail shops to check out aside from the F&B scene in Keong Saik. Loved every moment I spent in Dustbunny Vintage – if it wasn't the warm & personable service, it was the vast collection of vintage pieces that kept my eyes wandering rack after rack. But most impressive of all was the bespoke made-to-measure service which most of the regulars come for; imagine choosing your own vintage fabric & designing your own wardrobe with the team! Affordable price tags for the great quality. Left with 2 dresses & will be back soon!

Melissa Chia
3. Refash
Refash is a boutique thrift shop that does not resemble a thrift store in the slightest. Refash is Singapore's most unique boutique thrift shop, with over ten locations in shopping malls around the country. Refash specializes in second-hand women's apparel, with the majority of their clothing coming from famous brands.
When you will first visit Refash, you'll have no idea it was a thrift store since all of their pieces appeared to be brand new. The shop only stocks trendy apparel with no flaws!
You may also sell your pre-loved clothing to Refash and get money or credit in return, aside from buying. Make sure they're still in excellent shape; that means no grubby clothes with missing buttons, please.
Key Differentiators
Sell your pre-loved clothes
Save up to 90% off
Promote Sustainable fashion
4. Something Old Something New
Something Old Something New, like The Fashion Pulpit, also has these individuals' services. It was created with the objective of increasing recycling attempts in Singapore and is operated by a social enterprise affiliated with the Singapore Anglican Community Services.
For as low as a dollar, you can get your hands on everything from distinctive waistcoat designs and colors to popular brands like Uniqlo.
Key Differentiators
With an outstanding philosophy to help people increase their employability
Sustainable fashion and employment
"Green" enterprise which operates with the "reduce, reuse and recycle" principles
Customer's Testimony
Treasures at marked-down prices. Stumbled upon unused items in good condition and very affordable. It's good for the environment to reuse also.

Christine Ting
5. The Kint Story
The Kint Story is a modern woman's online thrift store. The company's name is derived from the Japanese term kintsugi, which refers to repairing pottery with gold. With the hope that customers will appreciate belongings, whether they are old or new.
On their website, you'll find stylish dresses, tops, and other apparel. The clothes are also personally sourced by the brand's creators, Elisa and Yushu, ensuring quality. You won't even be able to tell that they're used items!
Key Differentiators
. Founded in 2019
Kint is a platform of preloved clothing
Online thrift store
6. The Salvation Army
Whether you're a newcomer to thrifting in Singapore or an experienced veteran, you've probably heard of The Salvation Army's charity shop.
The Salvation Army receives donations of all kinds of goods, ranging from leather products, apparel, handbags, and other items. Also, the Praisehaven Mega Family Store, in which one of their branches is located, is one of the biggest shops on Singapore's island.
Key Differentiators
Since 1935
Organization with great purpose
Great selection of pre-items
Customer's Testimony
Got clothes, shoes, toys, etc. to give away? Look no further. The drop-off area is very spacious and convenient. There's another one at Changi too for east-siders.

Azhar Kamar
7. Thrifteyseconds
Thrifteyseconds offers everything from your favorite 90s oversize tees to bright windbreakers and other retro clothing, as well as cherished toys that may have been part of your childhood favorites — think Powerpuff Girls plush toys or even vintage comics.
They also sell repurposed earrings and necklaces with childhood symbols as a collection of various antique stores. This thrift shop stays open till 1 in the morning on certain days, allowing you to have some peaceful shopping done in the middle of the night.
Before you go, be sure to make a reservation with them through Instagram DMs!
Key Differentiators
Great selection of goods
Repurposed clothings and accessories
Antique and vintage themed
8. SSVP Shop
The Society of St. Vincent de Paul (SSVP) established this little store in the east as a charity shop. It is run by a group of volunteers, who collect a wide range of preloved goods from all over the island and sell them at the readily identifiable blue SSVP House. The charity may also pay you to visit their website and offer your own pre-loved clothing, accessories, housewares, or novelties for sale. All of the money you donate or spend will go towards assisting Singapore's poor individuals.
Key Differentiators
Amazing quality clothes
Low prices
Well arranged stall
9. Nonmainstream
Another popular shop in the Kampong Gelam area is Nonmainstream. It's in style to be frugal these days, and at this trendy vintage store, you can get bright Nike windjackets, retro sporty sweatshirts, oversized polo shirts, graphic tees, and other distinctive apparel for a fraction of the price. The only catch is that the store is only open on Fridays and Sundays, so keep an eye on the Instagram account for its next opening day.
Key Differentiators
A small selection of caps and bags available
Fairly accessible
Great collection of vintage clothing
10. Loop Garms
When a trip to Japan inspired two Singaporeans, FJ Sai and Isaac Ang, to start a real store in Singapore, it all began as a pastime. Take a trip back in time as you browse its curated collection of '80s and '90s apparel, including plaid shirts (and pants), graphic tees, and sports jackets from your favorite sports brands like Nike, Adidas, Fila, and more. Overalls, t-shirts and caps are available for purchase. You can get started with a basic wardrobe ensemble for as little as $15.
Key Differentiators
Best customer service
Decent price
Professional and friendly staff
11. Deja Vu Vintage
This boutique sells pre-owned clothing, handbags, and accessories that have been imported from the United States and Europe. Precious couture pieces include Chanel, Yves Saint Laurent, Oscar de la Renta, and other high fashion brands. From $35 for a pair of earrings to less than $500 for a formal ball gown, the prices vary depending on the designer. Deja Vu Vintage also sells a small range of unusual knickknacks for the dresser, such as earring and ring holders.
Key Differentiators
Best customer service
Decent price
Professional and friendly staff
12. A Vintage Tale
If you believe that vintage shopping is only about second-hand rubbish and 90s fashion, A Vintage Tale will prove you wrong. This little shop in Joo Chiat sells genuine vintage cloth, some of which date back to the 1950s. At the conclusion of it all, you'll be able to sell everything for a tidy sum and retire. Dig up brands such as Gucci, Valentino, Moschino, and more. Pick from accessories and clothing to round out your collection of finds.
Key Differentiators
Excellent service from all the staff
Reasonable pricing
Items are in excellent condition
13. EXIT
The Orchard Plaza may not be the first retail location that springs to mind when you think of exciting stores, but give it a try, especially since Exit, which sells a mix of old and cutting-edge streetwear from well-known brands such as Supreme and Champion. By three friends, Aloyston Eng, Darren Yang and Charmaine Lim, who have been retro fashion aficionados since they were 17, the lack of vintage clothing stores in Singapore prompted them to start their own company. They want to establish a community for like-minded people who like vintage items.
Key Differentiators
Excellent customer service
Great merchandise
A lot of varieties of shoe
14. Style Tribute
For luxury goods enthusiasts, Style Tribute is the place to go. Second-hand high-end items are sold here at lower costs than the original pricing. Shop unique products online with just a click of the button and have them delivered to your home. With so many high-end brands, these goods are highly sought after and come with a guarantee of authenticity and good condition. Are you unsure about it? Take a look at their next pop-up or warehouse sale on the internet to see if anything catches your eye.
Key Differentiators
Unique pieces
Great price
Knowledgeable team
15. New2U
New2U is a store that sells used goods and items donated in loving goodwill. We encourage you to check out our great selection of secondhand goods and give us a call if you can't find what you're looking for! For those searching for a bargain, the end of every month is an excellent time to visit. All goods will be sold for half off on the last two working days of each month.
Key Differentiators
Great condition
Nice and helpful staff
Wide variety of items
16. Nightingale Thrift Shop
In October 2020, the Nightingale Thrift Shop made its debut as Singapore's newest secondhand store. The charity's goal is a great one: to raise funds for and train people with special needs, as well as make direct contributions to impoverished families. The Nightingale Thrift Shop has a lot of hidden gems, despite its unassuming appearance. A quick look through its Instagram page reveals past sales for retro Hard Rock Cafe hats and even costly items like Dolce & Gabbana coats at bargain rates.
Key Differentiators
Good selection of clothings
Friendly prices
Well organized
17. The Barn
East, west, and north-dwellers will be able to conveniently visit this secondhand shop, which has three locations around Singapore. The Barn is entirely run by volunteers and funds Cornerstone Community Service's social services. The Barn, like many thrift shops in Singapore, sells used clothing as well as other items. You'll be able to discover a variety of everyday goods, such as tiffin lunch boxes and glassware sets. Up for recycling tech goods may even acquire broken cameras or antiquated equipment.
Key Differentiators
Lots of quirky and good finds
Nice and friendly staff
Prices are very reasonable
18. Thrift Shop Ministry
The Church Of St. Vincent De Paul is the parent organization of Thrift Shop Ministry. The church is on the second floor, and it's open on the first and third Sundays of each month, from 8:15 a.m. to 12 p.m. You'll find a wide selection of products, including books, electronics, housewares, shoes, luggage and clothing. It also houses religious objects like sculptures, statues, and paintings donated by churchgoers.
Key Differentiators
Good quality products
Items available range from books, electronics, household items, shoes, bags and clothes
Lively atmosphere that welcomes people
19. Thrifty Trendz
Thrifty Trendz is a heartland thrift store in Kovan that sells everything from dishware to trinkets and clothing. Make it a date with your spouse and discover outfits for each other that cost less than $15!
Key Differentiators
Sweet and easy-going owner
Decent variety of clothes
Extremely affordable
20. Ashitagaaru
Ashitagaaru specializes in leather jackets and denim products, and sells a wide range of denim from Lee, Wrangler, and Levi's. Pick from their genuine leather jackets to display your inner biker chick nature! The most appealing aspect of second-hand denim and leather is that it has been broken into, ensuring a great fit. If traveling to the store is inconvenient, you may look for them on Carousell or Shopee.
Key Differentiators
Friendly owner
Wide range of denim and leather products
Nice customer service
21. Granny's Day Out
Granny is now free to enjoy her day out, showing off her trendy figures with a slew of creative designs! Granny's Day Out is a collection dedicated to revolutionary celebrities who have altered how future generations view fashion, with designs paying homage to Marilyn Monroe and Joan Crawford among them. Granny's Day Out was founded by two self-described granny-wannabes who want to reinvent vintage designs while keeping the grace and joie de vivre of the swinging 1960s.
Key Differentiators
Mostly summer dresses and bags for women
Nice selection of jewellery
22. Reborn Thrift Shop
Want to make room in your wardrobe for more modern styles? Reborn Thrift Shop will gladly take your used apparel off your hands and sell them for notable causes such as Helping Joy and Singapore's Children Society. With over 50% of all profits going to charity, you may use your fashion choices for good while also looking great while raising our society at the same time.
Key Differentiators
Wide range of preloved used or unused clothing, accessories and bags
23. retro.spectives
Whatever your interests, Retro.Spectives has you covered. There's just one little problem. You must be able to type fast. On his website, goods can be sold in under a minute, so you'd better move fast whenever you see anything you like. Patagonia, for example, and articles of the same sort – long-sleeve polos, graphic tees, or windbreakers one after another are frequently removed by Retro.Spectives. Keep your eyes peeled for his next drops, as he usually specifies the timings in his bio.
Key Differentiators
24. jiggythings.vtg
You'll find a lot of cool stuff on the official Instagram account of Jiggy Things, including Tommy Hilfiger, FILA, adidas, Ralph Lauren, and more. Vintage tees from Hard Rock Cafe and Planet Hollywood are also available. The principles are the same; fasters fingers win. Atas brands such as Burberry, YSL, and Prada are available at the Vault of Jiggythings.vault. Designer goods are frequently available for less than $100, making them a real bargain.
Key Differentiators
3 or more items = 20% discount
Free local delivery for > $35
25. thriftanic
While he has sold a significant number of windbreakers, thriftanic also stocks a variety of other goods. You may purchase his goods by following him on Instagram Story or his Carousell profile, where he has a five-star rating. He sells his stuff on a weekly basis. Thriftanic hosted a pop up event at the Geylang Serai Bazaar, where people could walk among all of the action and browse through the racks of bright clothing.
Key Differentiators
26. Death Threads
The Death threads shop is located in an industrial section. Customers, on the other hand, frequently have to wait an hour or more during campaign times because of store space constraints. There are simply too many individuals for it to be practical. It's not difficult to understand why. During campaign periods, items may be sold for up to 80% off, and bargain boxes are available for less than S$20.
Key Differentiators
27. retrovage
Retrovage, which was founded just this year, has a following of over 4k on Instagram. Retrovage offers a wide range of services and delivers on all promises. He offers, besides typical sales, mystery boxes and hypeboxes, where you may get a few items for a specific price or a branded item valued at more than S$100 for just S$80. He's also always looking to buy anything, so if you have any things you'd want to sell, simply send him a DM. They'll be giving out sneak peeks as well as special drops on the Telegram group.
Key Differentiators
28. allotherspaycash
If you're searching for brands like Bape or vintage tees to represent your favorite American baseball or basketball team, check out AllOtherPayCash's Instagram account. On this page, time to time, they'll post photograph of Supreme. There's also a lot of stuff you can collect on this page, including various Pleasures and Champion goods.
Key Differentiators
29. Tong Mern Sern
"Some Fools Buy and Some Fools Sell", as the saying goes. That's Tong Mern Sern's advertising slogan. But you'd not be a fool to buy anything from this old thrift shop. They have a wide range of items, some of which will bring individuality to your home. They've got anything from antique ceramic plates to old grandfather clocks. Visit Tong Mern Sern if you're feeling adventerous, and go on a treasure hunt. You might discover anything. Visit their website for a more detailed look at what they have to offer.
Key Differentiators
Thoughtful gifts
Good-looking furniture
Kind shopkeeper
30. Hock Siong & Co
Originally, Hock Siong & Co was a family of rag and bone dealers who have established a reputation for second-hand furniture and antique auctions. They have a wide range of furniture that resembles a retail store selling secondhand goods. If you're on a budget and want to update your new workplace or home, go to the Hock Siong store in Kampong Ampat. They are open every day, regardless of the weather! You may also now do so through their website!
Key Differentiators
Honest prices
Professional delivery service
Friendly and helpful staff
31. Cash Converters
The meaning is self-explanatory. Convert your money into fantastic second-hand goods.The main appeal of every Cash Converters Centre is the uniqueness that each location has. You may access unique goods from each outlet if you have access to a consistent list of contributors. They have just established their own website, which looks eerily similar to Lazada or Shopee. You can find literally everything here!
Key Differentiators
Over 530 stores in 24 countries across the globe
7 stores in Singapore conveniently located in popular heartlands
Immediacy of the process
32. Odds n' Collectables
Another antique business with a specialized collection of antique frames, wall art, and wall decorations is Odds n Collectables on Telok Ayer Street. In addition, they have a diverse selection of hanging lights that appear antique and will add charm to your space. If you adore antique collectibles, this store is a must-see. This store stands out from the other cafes on Telok Ayer Street and will undoubtedly attract the attention of everyone passing by! If you're seeking for anything in particular, just inquire with Juzer, the shop owner, and he'll be able to assist you! Have a wonderful time hunting for treasures!
Key Differentiators
Nice owner
Lots of cool things
Reasonable prices
33. Junkies Corner
The Junkies' corner is a genuine treasure trove for collectors. The Junkies Corner is located on Turf Club Road and is helmed by charming Uncle Charlie. Some of these goods are so antiquated that your uncle Charlie would rather you bargain for them. If you're looking for unique knick-knacks to put in your DIY or renovation project, this store is the one to go to.
Uncle Charlie has everything for you, from vintage cash registers to calligraphy tables and the most unusual and vintage object imaginable, at an extremely low price. Every time you visit the Junkie's Corner, treat yourself to a trip back in time. We assure you, that no real trash can be found here; however, there is probably a genuine treasure!
Key Differentiators
Nice furniture
Well-maintained items
Friendly shop owner
34. Shop+
Shop+, a corporate initiative by the Singapore Red Cross, is an extension of the organisation that focuses on much more than just secondhand garments and shoes. The goal was to help the community through the sale of its products. Expect to find other items, such as electronics, branded watches, sunglasses, home goods, and more. There's something for everyone!
Key Differentiators
Fantastic items
Low cost
Occasionally hold mega sales with special events
35. The Heritage Shop
This secondhand store, which is appropriately named after its location, is dedicated to Singapore's history. Take a trip back in time with its crammed shelves of knick-knacks, including newspaper broadsheets from years gone by, old school tiffin carriers, oil lamps, chamber pots, and even Malaya's women's magazines from the era.
Key Differentiators
Chill owner
Fascinating pieces of Singaporean / South East Asian history
Worth visiting
36. Dark Horse Vintage
This is the spot to go if you're looking for a one-of-a-kind vintage garment. Founder Jasmine searches the globe for unusual items to add to her Dark Horse boutique. While the physical secondhand shop in Singapore may be closed, the online store continues to offer 70s-length floral dresses, printed tops, quirkier vests, and other vintage finds for some secondhand buying pleasure. Plan a trip to Le Salon or The Eclectic Room for a selection of curated one-of-a-kind vintage accessories, as well as one-off creations from independent artists.
Key Differentiators
Cosy shop interior
Friendly people
A range of modern vintage-inspired collections
37. Honsieponsie
Shopping for men may be challenging enough, but it's even more difficult for them to find second-hand goods. 20-year-old Liang Lung, for example, is aware of the importance of pushing for change. At #02-40A Queensway Shopping Centre, the founder of thrift store HonsiePonsie began out curating pre-loved menswear to "allow males to buy second-hand goods."
When it comes to menswear, he believes that few places offer anything worth buying. Menswear is an extremely small portion of the selection at local thrift stores and isn't fashionable for someone his age. Taking matters into his own hands, Hon set up an online thrift store called Honsieponsie while he was still in national service, selling affordable but excellent quality second-hand clothing.
Key Differentiators
Stylish pieces
Outrageously good price points
Great selection of tops, bottoms, and accessories
Thrift Stores Singapore
The thrift stores in Singapore vary in quality and price so it is important to consider which thrift store you are shopping at. The thrift stores offer interesting items, everything from clothing to anything that's needed for your home.
Consider the thrifts store with its prices before buying anything there!
Looking for more interesting articles to read? Check out some more of our blog posts down below!
Frequently Asked Questions (FAQ)
If you have any questions about Thrift Store in Singapore, you can refer to the frequently asked questions (FAQ) about the best Thrift Stores in Singapore below:
Additional Useful Articles
If you are looking for other useful guides and articles about Thrift Stores in Singapore, check them out below: