Water Heaters Singapore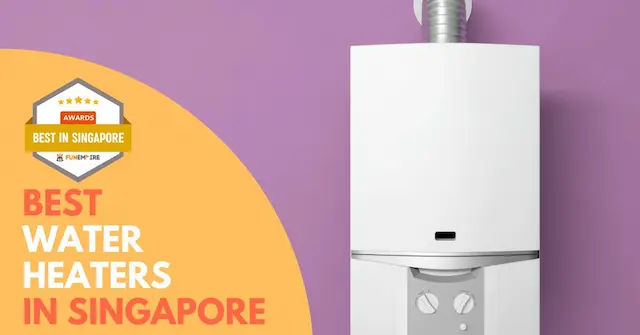 Most people dislike feeling cold, especially when taking a shower. Despite the humid temperature in Singapore, many still prefer warm baths so that they don't become sick at the end of the day. Since we use our water heaters everyday, it is important for us to choose one with enough capacity to heat up water as and when needed for the whole family. To discover which water heater you should be purchasing, keep reading for FunEmpire's list of the Best Water Heaters in Singapore.
1) Trentios
Trends Home Electrical ("TRENDS") is a Singapore-based company that designs, manufactures, retails and does wholesale of electrical products to consumers. Founded in 1998, TRENDS has worked to bring smart comforts to everyone through introducing technologically advanced good value electronics. Upholding its mission to bring living comfort to people through quality, user-centric and affordable products, and a heart to improve consumers' living environment, TRENDS strives to continuously develop user-centric designs incorporated with smart technologies.
Moving onto its 23rd anniversary and beyond, Trends seeks to grow through greater Research and Development collaboration with Research Institutes worldwide to create more innovative electronics. Currently retailing in Singapore, Malaysia and Indonesia, the brand will be extending its presence regionally to touch the lives of more consumers.
Key Differentiators
They emphasize the success of Trends being built on our customers' trust in us and our products
Their products are designed in Singapore through an extensive research and development process
They deliver useful technology & energy-saving products at affordable prices
Client Testimonial
"The water heater is user friendly, nice in colour and design. Installation was prompt and the aftercare service is good. I strongly recommend this water heater."

Jean Ong
"The instant heater is a great addition to our bathroom. We love how simple & sleek looking it is that matches our shower set seamlessly. It's small in size but mighty with its power. It has an electronic panel showing how much water was consumed too. Love it!"

Melvin Ng
2) Water Heater City
Key Services
Water Heater Installation & Water Heater Replacement
Website
http://www.waterheatercity.com/
Product Highlight
– Ariston Pro R Slim 40L Storage Water Heater
– Rheem EH40M Storage Water Heater
– JH35 Storage Water Heater
Address
1090 Lower Delta Road, #03-07D Singapore 169201
Phone
+65 6797 8775
Email
enquiry@waterheatercity.com
Operating Hours
Mon – Sun, 9AM – 9PM
Water Heater City Singapore offers complete water heater services including water heater installation and water heater repair of storage water heaters and instant water heaters in Singapore. They carry major water heater brands like Joven water heater, Rheem water heater, Ariston water heater, Rubine water heater and Champs water heater.
Their team of water heater specialists have more than 10 years of plumbing experience and have undertaken hundreds of water heater installations in Singapore. That includes complete one-stop installation above false ceiling, plastering and sealing back false ceiling beautifully. WhatsApp them for consultation at +65 8241 0032!
Key Differentiators
Highly Responsive Customer Service
Water Heater City has a very friendly and attentive customer service team that can help customers with whatever water heater needs they have. This team ensures that the client's booking experience transpires smoothly and that they are fully informed about our servicing procedures. Moreover, they can easily recommend services for the client based on their needs and provide a quote instantly.
Efficient Workmanship
Besides being properly licensed, our team of technicians are trained to render services at a fast and efficient rate. They can see to it that the client's issues are attended to as promptly as possible no matter how severe they are. Furthermore, they are capable enough of quickly performing water heater installations, replacements, and repairs without any damage being caused.
Highly Experienced
Water Heater City has over 10 years of plumbing experience and is highly trusted and respected by its clients. Due to the quality of our services and our commitment to customer satisfaction, their company is highly trusted and recommended by many of our clients. Besides that, their wide catalogue of long-lasting storage, multipoint and instant water heaters has also made us one of the best suppliers of water heaters in Singapore.
Client Testimonial
The technician's workmanship was just great! They were so approachable, prompt, and very tidy. They also made sure to explain the prices to me over the phone before they came. Now my water heater is working like before! Wonderful job.

Darius Goh (5 Star Google Review)
3) AOS Bath
Most people have a water heater at home, but few know anything about it. AOS Bath is the leading online site for water heaters in Singapore, providing professionally produced and user-generated content and a comprehensive knowledge base. Their consultation, installation and maintenance services enhance the heater purchase and ownership experience for Singaporeans.
Key Differentiators
Instant Heat Function – can heat up water in 2 minutes
Digital Panel – adjust your thermostat to 50ºC to save energy
Built in Timer – auto on and off according to your peak shower periods
Client Testimonial
Purchased 2 units to replace old non-efficient heaters. Like the way you can set up temps and timers. At the end, I did not use the timers since we bath randomly through the whole day. One thing I noticed, heating is fast. You do not need to turn on and wait anymore. They definitely help to save electricity. Considering purchasing the pre-filter now.

Matthew (5 Star Google Review)
4) Champs
Champs has strategically positioned itself as a multi-disciplinary company that engages in the design, development, manufacturing and distribution of electric water heaters in Singapore. With their full suite of solutions that combines form with function, Champs has matured into a leading brand of water heaters that has created a tremendous splash in the global market.
Champs believes that shower equipment of the 21st century should not only work well and look good; they must also come equipped with state-of-the-art functions to empower urbanity's needs for a reliable bathing companion. With their expertise in design and development, Champs is well-poised to bring this vision into fruition and ride this new wave into the future.
Key Differentiators
High Quality Polymer Tank: CHAMPS tanks are constructed with high quality durable polymer material for energy saving by minimising heat loss.
Energy and Water Saving: Save on utility bills with the 3-in-1 stop valve which allows you to control the water flow.
Double Safety Anti-Scald Device: Prevents water from reaching scalding temperature for added safety.
Client Testimonial
Highly recommended Champs Legend instant heater with DC pump and rain shower. It is so easy to use and every shower is such an enjoyment. Highly recommended!

I bought the Champs Legend instant water heater with DC pump and rain shower. I was looking through the manual which was very comprehensive on the specs and installation instructions but lacking on instructions to the end user. I emailed them on this and was pleasantly surprised at the speed of their email replies and the attention they gave to my email queries. Great product, good service!!

Alvin Lim (5 Star Google Review)
5) Bacera
Key Products
Retailer of Bathroom Appliance, Kitchen Appliances & More
Website
https://www.bacera.com.sg/
Product Highlight
– EuropAce EWH5451T Multi-point Instant Heater
– Rinnai Ore Series
– Mistral MS606 Instant Water Heater
Address
714 Geylang Road, Lor 44, Singapore 389628
Phone
6842 1101
Email
sales@bacera.com.sg
Operating Hours
Monday – Saturday, 10.00 am–8:00 pm
Bacera is specialist in the supply of bathroom fittings and sanitary wares and have been in the business since the early 1990's Some of our clients include hotel operators, property developers and of course the many families and individuals which has adorned and trusted their homes with our products. Good quality, trendy products are their passion, and they hope you find something there.
Key Differentiators
High Quality Polymer Tank: CHAMPS tanks are constructed with high quality durable polymer material for energy saving by minimising heat loss.
Energy and Water Saving: Save on utility bills with the 3-in-1 stop valve which allows you to control the water flow.
Double Safety Anti-Scald Device: Prevents water from reaching scalding temperature for added safety.
Client Testimonial
"Outstanding service provided by Ellen – after a few months of misinformation provider by multiple contractors Ellen took time to understand the problems I was having and provided a skilled plumber to get the job done in a swift and effective manner. I'm delighted to have hot water again.
The range and quality of their stock is also excellent."

Christopher Anthony (5 Star Google Review)
6) 707 Princeton Instant Water Heater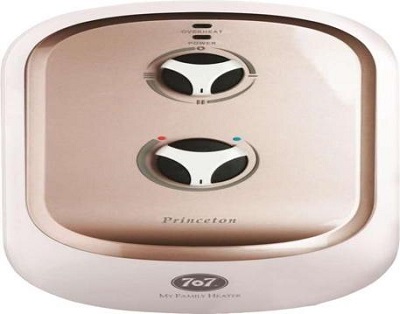 Key Products
Water heater and home appliances
Website
https://707.com.sg/product/instant-water-heater-princeton/
Product Highlight
– Has powerful water pressure for indulgent showers
– Its energy and water-efficient design significantly trims down water and power consumption
– Built with durable materials
– With anti-slip rubber-clad knobs for easy management while in the shower
Address
60 Paya Lebar Road #04-17 Paya Lebar Square (Office Lobby 1) Singapore 409051
Phone
+65 6749 8885
Email
mail@chg.com.sg
Operating Hours
8:00am to 5:30pm (Mon-Fri)
Please kindly avoid lunch break: 12:00pm-1:00pm
Closed on Weekends and Public Holidays
707 is a Singaporean company that specializes in the design and sale of residential water heaters and home appliances, with a strong emphasis on family and personal wellbeing. 707 has earned a reputation for dependability, trustworthiness, and safety over more than 50 years in business. It is the preferred brand of residential water heaters among Singaporean families.
Key Differentiators
Anti Scald Safety Device: Safety system cuts off power when the water temperature rises to scalding level
Pressure Relief Device: Built-up pressure in the heater is automatically released for added protection and safety
IP25 Splash Proof: The internal circuitry of each heater is isolated by sturdy, splash-proof casing.
Client Testimonial
"I bought this water heater 2 weeks ago and the design was modern. The temperature was just right and the water pressure was strong.

silversurfer (5 Star Courts Review)
7) Ariston Aures Smart SMC33 Instant Water Heater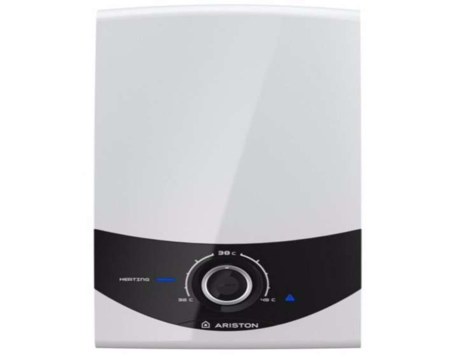 Key Products
Water heaters & Energy-conscious products
Website
https://www.ariston.com/en-sg/products/electric-water-heaters/instant/aures-smart-smc33/
Key Highlights
– Temperature selection
– Shower head has 5 spray options for personalised bathing
– Easy on-off push knob
– Anti-scalding system 2.0 – prevents boiling water from spewing from the shower head
Address
1 One North Crescent, Razer singapore HQ 07-02, Suite No S7001, 138538
Phone
+6563050899
Email
info.sg@ariston.com
Operating Hours
Monday to Friday, 9am to 5pm
If you want a fantastic water heater for a household with elderly and children, the Ariston Aures Smart Instant Water Heater is worth looking at. When you utilize the Ariston Aures Smart SMC33 Instant Water Heater, you can be certain that your bathwater will be warm. The heater was created in Italy and includes an anti-scalding feature that is ideal for homes with small children or the elderly. The device also comes with a self-cleaning function to keep it working in top condition.
Key Differentiators
Constant Temperature: keeps water temperature stable = more comfort
Extra Safety: Anti-scalding
Saves energy: 16.4% energy saving
Client Testimonial
"Water gradually heats up after tap is turned on. If turn off water flow suddenly and turn back on again, will have short burst of hot water then turn cold, probably due to the anti scald function. Otherwise, quite happy with the heater."

Si Z (5 Star Lazada Review)
8) Rubine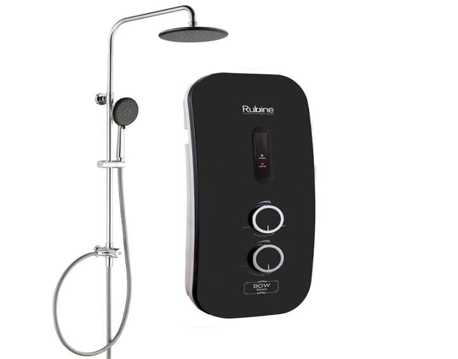 Key Products
Kitchen, Bathroom, Living room Accessories and heaters
Website
https://www.rubine.com.sg/Products/Electric-Instant-Water-Heater
Key Highlights
– Contemporary design
– Enhances water pressure for satisfying showers
– 2 water-saving chips
– Handheld shower lets users manage bathing easily
Address
15 Kian Teck Cres, Singapore 628884
Phone
6268 0066
Email
service@casa.com.sg
Operating Hours
Monday to Friday, 8:30am to 6pm
The Rubine Instant Water Heater RWH-2388BHP raises the water pressure in the shower by increasing the water flow. With this gadget, users can finally regulate the consistency of their showers.
This Instant Heater model has a detachable shower head for convenient bathing. Furthermore, it contains two water-saver chips that effectively cut down on usage. This is one of our favourite instant heaters in Singapore since it cuts down on water use.
Key Differentiators
Eco-saving: Saves up to 50% water
Extra Durable Tube connector: Equipped with triple ) rings to ensure durability
IP25 protection: Splash Proof Protection
9) Panasonic Instant Shower Heater DH3DL2S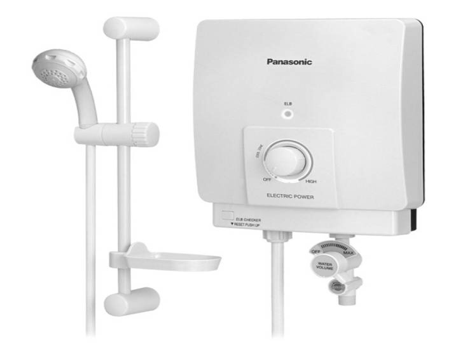 Key Products
Electric home appliances
Website
https://www.panasonic.com/sg/
Key Highlights
– Has a built-in Earth Leakage Breaker that effectively stops leaks
– Simple push/off button for instant water heating
– Auto Thermal Cut-Off to avoid scalding water
– Water Flow Sensor – notifies user about the water's pressure
Address
202 Bedok South Avenue 1, Singapore 469332
Phone
65-6222-7222
Email
service@sg.panasonic.com
Operating Hours
Monday to Friday, 9am to 6:45pm
Saturday 9am to 2pm
If you're on a budget but still want a good water heater brand in Singapore, consider the Panasonic Instant Shower Heater DH3DL2S. It has enough water pressure for the price and outperforms many of the more expensive goods when it comes to performance.
Key Differentiators
Auto thermal cut off
Water Flow Sensor
Insulated Structure
10) Aerogaz Water Heater Rain Shower Set
Key Products
Electrical Home Appliances
Website
https://aerogaz.com/
Key Highlights
– Offers the luxury of overhead rain water shower experience at a low cost
– Features an anti-scald device
Address
AEROGAZ(S) PTE LTD, 1 Loyang Way 1 Singapore 508702
Phone
6746 9933
Email
enquiry@aerogaz.com
Operating Hours
Monday to Friday, 9am to 5pm
Handheld showers are wonderful, but nothing beats an overhead rainwater shower after a long day. The Aerogaz Water Heater Rain Shower Set might be the finest water heater in Singapore if you're searching for an overhead rainwater shower experience for a fraction of the price. This shower set / heater employs the UK heating technology, which involves a unique anode that significantly prolongs the life of the product.
Key Differentiators
Splash Proof IP25
Anti-Scalding Device
Flow Switch
Client Testimonial
"Bought this bundle deal as my friend said he used for a few years and its ok, and did not rust. Delivery fee is quite high so opted for self pick up which is a short walking distance from Loyang Tua Pek Kong Temple (1 bus stop away) Bus Service No. 6 stop besides Aerogaz building. Friendly staff and front desk staff was also very helpful to help me open the glass door and carry the big box to the front lobby. By the way, these 2 items are not very heavy but the rain shower box is bulky (around 109cm x 45cm). The instant water heater's box is around 52cm x 26cm."

5 star Aerogaz review
11) Joven SB11 Instant with Rain Shower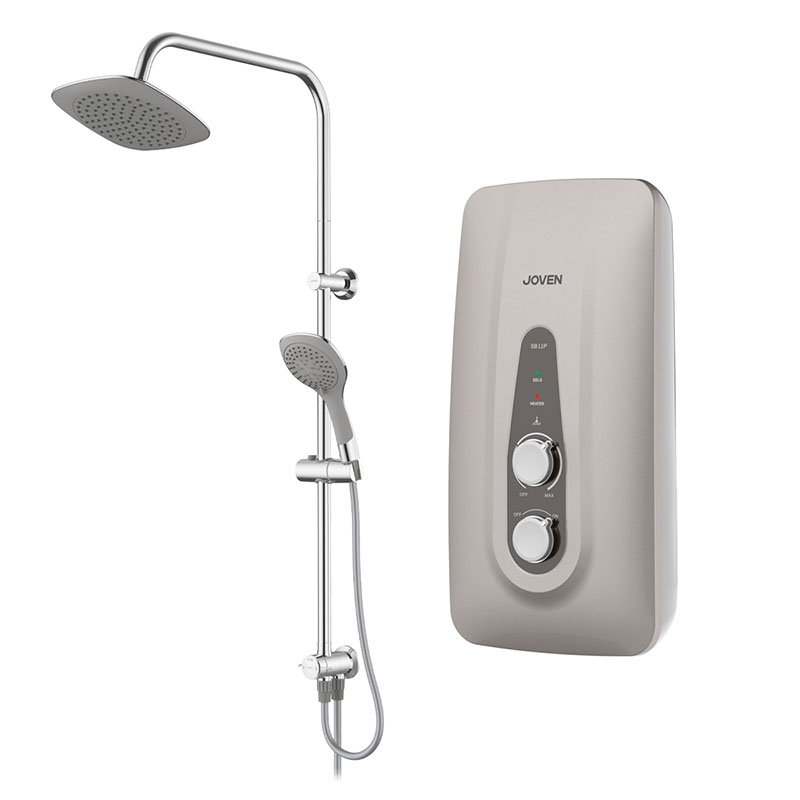 Key Products
Instant Water Heaters, Home lifts and home accessories
Website
https://jovenelectric.com/
Key Highlights
– Provides the convenience and luxury of a rain shower
– Superior safety features
Address
10 Ubi Cres, #02-18 Lobby B, Singapore 408564
Phone
6283 3181
Email
jovenservice@gmail.com
Operating Hours
Monday – Friday: 8.30am – 5.30pm
Saturday: 8.30am – 12.30pm
If you're looking for a water heater in Singapore that heats water while also offering a rain shower capability and additional safety features, the Joven SB11 Instant with Rain Shower is worth consideration. This shower heater set has an incorporated surge protector, which prevents voltage spikes and injuries over time. It's also got energy-saving instant on/off power buttons and a unique one-touch child lock function.
Key Differentiators
5 Spray Pattern Hand Shower
Quarter Turn Ceramic SF Valve
Durable, Safe and Hygenic Reinforced 3 Layer Flexi-Hose
Water Heaters Singapore
The best water heater brands in Singapore provide a luxurious rain shower experience while also boasting safety features for worry-free use. Whether you're looking for an instant water heater or one with a rain shower, Joven and Aerogaz both offer top-of-the-line products that are sure to meet your needs. If you're still undecided, be sure to read through the client testimonials on each website to get a sense of what others have thought about these products before making your final decision.
If you enjoyed what you read, do consider reading our other articles as well!