WiFi 6 Router Singapore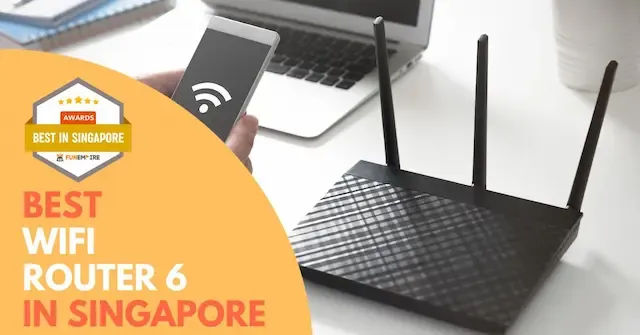 With evolving technology, WiFi 6 routers have become the new standard, offering improved performance and greater capacity.
The best WiFi 6 routers in Singapore include ASUS ZENWIFI ET8, LINKSYS MR9600, TP-LINK ARCHER AX11000, and ASUS RT-AX58U.
When selecting a WiFi 6 router in Singapore, take into account factors like speed, coverage, device capacity, and price.
WiFi 6 routers provide faster speeds, improved coverage, and increased device capacity in comparison to older generation WiFi routers.
So, whether you are looking for a home or office WiFi router, or just want to learn more about them, we have you covered!
Quick Summary
Best WiFi 6 routers in Singapore include ASUS ZENWIFI ET8, LINKSYS MR9600, TP-LINK ARCHER AX11000, and ASUS RT-AX58U.
When choosing a WiFi 6 router in Singapore, consider factors such as speed, coverage, number of devices, and price.
WiFi 6 routers offer faster speeds, better coverage, and can handle more devices compared to older generation wifi routers.
Best WiFi 6 Router Singapore
1. ASUS ZENWIFI ET8
| | |
| --- | --- |
| Key Features | Wi-Fi 6 Mesh System |
| Where to Buy | Click Here |
| Price | S$799 |
Your wifi 6 router needs to be able to operate at its peak efficiency. You're spending a lot of money to purchase a high-quality router, so you must make the most of your investment. The ASUS Zenwifi ET8 checks all the requirements for excellent quality at a reasonable price.
You may spend your time online without worrying about the speed or quality of your internet thanks to the 6 GHz frequency band's bigger channels, higher capacity, and top-notch performance of this Asus router.
Key Differentiators
Next-Gen Wi-Fi 6 Technology
Hassle-Free Control
Always Up-to-date Protection
2. LINKSYS MR9600
| | |
| --- | --- |
| Key Features | Dual Band WiFI 6 Wireless Router |
| Where to Buy | Click Here |
| Price | $499.00 |
When your workspace has dead zones, it can be quite difficult to sustain productivity and finish your to-do list. If you frequently experience this issue, you may want to upgrade your router to the Linksys MR9600. It is run on Intelligent Mesh technology, which adjusts to your wireless requirements.
Say goodbye to dead spots because you can be sure that all of your devices, including phones, laptops, and tablets, have continuous full-strength connectivity wherever you are in your home or office.
Key Differentiators
Isolates your network to eliminate interference.
Smarter Security with automatic updates, parental controls and guest mode.
Setup and control your network from anywhere with the Linksys App.
3. TP-LINK ARCHER AX11000
Key Features
Gigabit Wireless WiFi 6 Gaming Router
Works with all Telcos
Where to Buy
Click Here
Price
$449.00
A gamer's fantasy has come true with this router. One of the fastest gaming routers on the market is the TP-Link Archer AX1100. It is equipped with an AX1100 speed machine, which can give wifi speeds of more than 10Gbps. Its game accelerator function has the ability to instantly identify and enhance gameplay streams.
Because of this incredible technology, you never have to worry about falling behind in your games. The TP-Link Archer AX1100's upgraded HomeCare security system, which includes thorough antivirus protection and offers total security while you're online, also keeps your accounts and system secure.
We adore how comprehensively this router addresses gaming-related needs and heartily endorse it, particularly for die-hard gamers.
Key Differentiators
Powerful Processing
Highly Efficient
Easy and Smar
Customer Testimonial
Double my previous speed via Speedtest. Easy to setup and great range compared to Orbi. QOS can be customised or just one-click to set as Gaming/Streaming options. OneMesh setup with 3-clicks!

Terry
4. ASUS RT-AX58U
| | |
| --- | --- |
| Key Features | Dual Band WiFi 6 |
| Where to Buy | Click Here |
| Price | $235.00 |
Excellent Wi-Fi 6 routers are now available on the market. Unfortunately, a lot of them are simply too pricey and/or too much for most homes.
Enter the Asus RT-AX58U, which offers Wi-Fi 6 at a great price and just enough capabilities to keep the majority of small to medium home networks operating at their peak performance. The RT-larger AX86U's brother's port choices and gaming functions may be lacking in it, but it still offers the same parental controls and great Wi-Fi 6 connectivity.
Key Differentiators
Next-Gen Wi-Fi Standard
Ultra-fast Wi-Fi Speed
Increase Capacity and Efficiency
Customer Testimonial
Spend almost a day to setup, initially I couldn't see a different in the speed compare to my earlier wifi 4 router. After setup and read some review, manage to improve and see a difference.

Roy
5. NETGEAR ORBI WiFi 6 ROUTER
The Orbi WiFi 6 is your greatest option when it comes to buying the best Wi-Fi 6 routers if you're prepared to jump on the Wi-Fi 6 train. This is particularly true if you require a mesh Wi-Fi setup.
With its high price tag, it's not by any means a cheap investment, but if you're seeking to upgrade to a quicker and more dependable router to cover a sizable area, like your crowded smart home or your sprawling country estate, then this one is definitely worth the money.
Additionally, it's simple and easy to set up, making it ideal for those without any prior Wi-Fi network setup knowledge.
Key Differentiators
More coverage
More devices
More speed
Customer Testimonial
Very happy with the service and follow-up by Mr Prasenjit. Initially, there was a small hiccup with the delivery, but I was contacted proactively and informed of the issue. Mr Prasenjit also helped to follow-up to ensure timely delivery, as well as share useful tips on how I could improve my router speed. Set-up via the app was a breeze and very fuss-free process.

All in all, very very happy with this product. You get what you pay for- Premium product coupled with amazing customer service.
I saw HUGE speed improvements in the dead spots in my house (1.85Mbps to 250+Mbps). No regrets whatsoever.

Jonathan
6. NETGEAR NIGHTHAWK MK63
While the Netgear Nighthawk MK63 may be overkill for smaller homes, it's perfect if you have a space of up to 3500 sq. ft and require an exceptionally dependable network for gaming and 4K video. Larger homes require more robust options.
You also get some cool features like the option to build a guest network and a network map for keeping track of all the devices linked to your network. However, if you can live without that and the hefty price, this can be the finest Wi-Fi 6 router for you despite the lack of parental controls.
Key Differentiators
Advanced whole home WiFi
Designed to deliver smooth video streaming
Fast online gaming to more devices at the same time. Experience the next generation of WiFi 6, perfect for medium to large homes up to 3,250 sq.ft. and internet speeds over 100Mbps.
Customer Testimonial
Very satisfied with the product. Easy installation and great App with good instructions and easy procedural instructions.

Sandip
7. ASUS RT-AX88U
| | |
| --- | --- |
| Key Features | DUAL BAND AX WIFI ROUTER |
| Where to Buy | Click Here |
| Price | S$499.00 |
The Asus RT-AX88U includes Wi-Fi 6 compatibility in addition to all the other features you might ask for in a router. And the reason it's our favorite on the list is that it does so much while being priced at the lower end of the Wi-Fi 6 router price range. The 8 LAN ports are one feature that sets this router apart from the others on the list.
The RT-AX88U can prevent you from needing to purchase an ethernet switch because it has twice as much capacity as most other routers. You get one of the greatest Wi-Fi 6 routers now on the market when you combine that with the superb web interface and gamer-friendly features.
Key Differentiators
Extreme Power with 1.8GHz Quad-core CPU
Wireless that's as Stable as Wired Ethernet
Create a Wi-Fi network with either a single SSID or multiple SSIDs
8. TP-LINK ARCHER Ax55 Ax3000
| | |
| --- | --- |
| Key Features | Dual Band Gigabit Wi-Fi 6 Router |
| Where to Buy | Click Here |
| Price | $155.00 |
With 802.11ax Wi-Fi 6 router TP-Link Archer AX55 AX3000 Dual Band Gigabit Wi-Fi 6 Router, you may connect to your home network at rates of up to 4600 Mbps. With a built-in 1GHz ARM Cortex A7 processor and 512MB DDR3 RAM, this ensures optimal performance even when numerous devices are connected at once.
Additionally, it has 44 MU-MIMO technology, which offers seamless online gaming or streaming experience across numerous devices at once.
Key Differentiators
Next-Gen Gigabit Wi-Fi 6 Speed
Connect More Devices
Ultra-Low Latency
9. LINKSYS MR7350-AH AX1800 Max-Stream
Look no farther than Linksys' MR7350-AH AX1800 Dual Band Max-Stream Mesh WiFi 6 Router if you're looking for a mesh router. With 802.11ax Wi-Fi technology and dual-band capability for up to 1733Mbps at 5GHz and 800Mbps at 2.4GHz, this router offers quick performance.
Additionally, it features tri-band mesh technology, which enables you to install your smart home appliances (like smart speakers) anywhere they are within the coverage of your networks without stressing about signal loss or quality deterioration.
The MR7350 can produce rates that are closer to what other routers promise without experiencing any speed drops or connection problems as a result of interference from nearby devices within range because it can support four streams of data simultaneously on each of its six antennas.
Key Differentiators
More capacity to more devices with WiFi 6 technology.
Covers up to 1,700 sq. ft, handles 25+ Devices, and Speed up to 1.8 Gbps.
Powered by Intelligent Mesh™ Technology, easily expand full speed WiFi coverage.
10. NETGEAR Nighthawk MR5200 M5 Mobile Router with WiFi 6
The dual-band router from NETGEAR, the Nighthawk MR5200 M5 Mobile Router with WiFi 6, supports 802.11ax, WiFi 6, and the 2.4 GHz and 5 GHz bands. As a result, you can connect several devices to the internet simultaneously without having their performance or your connection speed be impacted.
Additionally, the MR5200 supports dual-band 802.11ac, ensuring buffer-free streaming of all your favorite shows available on Netflix, Amazon Prime Video, YouTube, and Twitch!
Key Differentiators
Super-Fast 5G Speeds
Secure and Reliable Network
Flexible Battery Operation
Customer Testimonial
Excellent customer service from inquiry to purchase/collection. As needed item urgently, staff waited for me to collect even though it was past their official working hours. Amazing staff you have – very helpful & courteous !

Linda
WiFi Router 6 Singapore
If you're looking for the best WiFi router 6 in Singapore, then you've come to the right place. In this article, we looked at the best options available on the market today and considered factors such as price, performance, features, and more. Thanks for reading!
Interested in more lifestyle articles to read? Check out more of our blog posts down below:
Frequently Asked Questions (FAQ)
If you have any questions about WiFi 6 routers in Singapore, you can refer to the frequently asked questions (FAQ) about the best WiFi 6 Router In Singapore below:
What is the best Wifi 6 Router in Singapore?
The best WiFi 6 routers in Singapore include ASUS ZENWIFI ET8, LINKSYS MR9600, TP-LINK ARCHER AX11000, and ASUS RT-AX58U.
What is WiFi 6 technology and how does it enhance internet connectivity?
WiFi 6, also known as 802.11ax, is the latest generation of WiFi technology. It is designed to improve internet connectivity by allowing multiple devices to connect and interact with the network simultaneously, resulting in faster speeds, lower latency, and better performance even in crowded networks.
How does a WiFi 6 router benefit multiple connected devices?
A WiFi 6 router benefits multiple connected devices by using technologies like OFDMA and MU-MIMO that allow for more efficient data transmission. This means multiple devices can simultaneously send and receive data, ensuring smoother performance for all your smart home devices, even when the network is busy.
Can a WiFi 6 router improve my wired connections?
Yes. Many WiFi 6 routers come with gigabit Ethernet ports that provide high-speed wired connections for devices like gaming consoles or desktop computers. This ensures stable, high-speed internet connectivity, ideal for activities like lag-free online gaming or streaming high-definition content.
How does a WiFi 6 router handle multiple users better than previous generations?
WiFi 6 routers are designed to handle multiple users more efficiently. They use advanced technologies like MU-MIMO (Multi-User, Multiple Input, Multiple Output) to communicate with multiple devices simultaneously, reducing network congestion and significantly improving overall wireless connectivity.
Can a WiFi 6 router help with lag-free online gaming?
Absolutely. With its ability to manage multiple devices simultaneously without compromising on speed or performance, a WiFi 6 router can provide a smoother, more reliable WiFi connection, which is essential for lag-free online gaming.
How do WiFi 6 routers offer advanced security features?
WiFi 6 routers often come with advanced security features such as WPA3, the latest WiFi security protocol, which provides stronger encryption and individualized data encryption even in public networks. This ensures that your internet connectivity remains secure from potential cyber threats.
What are gigabit Ethernet ports and how do they improve my WiFi connection?
Gigabit Ethernet ports are a feature of many WiFi 6 routers that allow for wired connections to the router at speeds of up to 1,000 Mbps. These high-speed connections can offer more stable and faster internet connectivity, particularly useful for devices that require a lot of bandwidth, such as gaming consoles or streaming devices.
Can a WiFi 6 router support smart home devices?
Yes, a WiFi 6 router can support smart home devices. With its ability to handle multiple devices efficiently, a WiFi 6 router is ideal for managing the wireless connectivity of various smart home devices, from smart speakers to security cameras and smart appliances.
How does a WiFi 6 router enhance the performance of allowing multiple devices on the network?
A WiFi 6 router enhances the performance of multiple devices on the network by using technologies like OFDMA (Orthogonal Frequency Division Multiple Access) and MU-MIMO. These allow the router to divide its bandwidth into smaller sub-channels, enabling it to communicate with multiple devices simultaneously, resulting in less congestion and improved network performance.
Additional Useful Articles
If you are looking for other useful guides and articles about WiFi 6 Router In Singapore, check them out below: