Wine Shop Singapore
After a long day of going through the grind and meeting busy deadlines, wouldn't it be great if you could unwind the rest of the night with a good bottle of wine? It's never a bad idea to stock up on wine at home. In fact, researchers have proven that an occasional glass of red wine can be beneficial to your health!
While it can be viewed as a luxury item for most, it doesn't have to necessarily be costly. There are many services and outlets here in Singapore that can serve you the best wines that fit your budget. To save you the hassle of scouring through hundreds of websites, here are our picks for the best wine shops in Singapore. Ranging from physical to online stores, we're sure that with these picks, you'll be able to find yourself the right bottle that will be worth your buck.
Before we get to the selections, check out these articles for our picks of The Fun Empire's best team-building activities for your next get-together!
1. Wine Wholesales
Wine Wholesales are a Singapore based online wine shop. The company sources their selection of wines from local and overseas suppliers, private collectors' inventory lists, and more. Wine Wholesales purchase in bulk so that they can offer wholesale prices to their customers. They currently have more than 2000 products and add new ones every now and then. Other than what is shown, Wine Wholesales also does sourcing for wine labels not available on our website for all your wine needs. All the wines are tasted and carefully selected by their certified panel of "Wine Drinkers". Prices that you see are NETT, with no hidden cost or gimmick.
Time is precise; they pride in their sharp service that is simple and straight to the point, and caters to what you need for an event, gatherings, parties, wedding dinners or even for your own enjoyment at home.
Key Differentiators
More than 2000 wines and champagnes to choose from.
A large collection of large formats and mini wines.
Since the company buys in bulk, customers get up to 30% off retail prices.
Client Testimonial
Ordered champagne as an engagement surprise with instructions to deliver on a particular day. Was concerned it would be delivered too early but it was delivered as requested. Would recommend and will use again. Thanks again to Kelvin.

Donald Olejnik
2. Cornerstone Wines
Cornerstone Wines has a deep-rooted history back 1938 where it started as a provision store named Hock Tong Bee, meaning 'Prosperity with Beauty' in Hokkien. Two decades ago, ready to scale new heights, the much-suited name Cornerstone opened its doors for regional expansion and brought many business opportunities, resulting in offices and distribution points emerged in 28 countries. The 7-storey building owned by Cornerstone houses a plethora of wines, champagnes, and alcohols – from bottles that are suitable for daily consumption to the beautiful wood crates of investment-grade wines.
To the surprise of many people, there are several floors in the building which are not opened to the public that boasted an overwhelming 50,000 sq. ft of duty-paid and duty-free cellarage, including sections that are perceptually set at 12oC, 16oC, 20oC and 25oC. For those who owned a lavish collection of wines, 12oC is the answer to cellar securely and professionally with its humidity-controlled, UV-filtered lighting, and Charcoal-filtered systems.
Besides Cornerstone-brand wines such as Cora, Vino+, and Cornerstone, other accessories such as crystal stemware, wooden wine racks, wine coolers, and cellars are also available for customers and F&B businesses who require related services to complement their wine needs.
Key Differentiators
Produces its own range of wines using its own winemaking technique, including Ice Wine.
Attentive Relationship Managers who provide individual and personalised services to their customers with the best deals.
A one-stop-shop for every wine aficionado.
Client Testimonial
What an amazing company, they literally have everything you could ever ask for. The warehouse sales they do occasionally is really cool. Some of the best prices ever on the island. Most importantly, they have some of the best staff that work there. everyone is extremely knowledgeable and passionate about wines and spirits. I learned so much just in the half an hour there.

John Lee
3. Oak and Barrel
Oak and Barrel is a company formed by people who love their drinks. The team behind Oak and Barrel wants other drink-lovers to have the best experience possible with their drinks. The team will go the extra mile to understand you better and they mean it – the staff are always on standby to guide you through any inquiries you may have.
If you're a new drinker, Oak and Barrel's wide range of products (ranging from wines, beer and spirits) is the perfect opportunity to discover drinks that suit your tastebuds. With just a few simple clicks, you can get your order delivered to your doorstep too!
Key Differentiators
Wide range of products. Oak and Barrel carries over 350 products with many being products that are only sold by them in Singapore
Quick and efficient delivery. Apart from getting an order, you placed within 1- 2 business days. Oak and Barrel deliver even on Saturdays.
Excellent customer service. The team will always place their customers first.
4. Leopold Gastrobar
Leopold Gastrobar located at 96 Tanjong Pagar Road is a bistro-style Austrian, Swiss and German restaurant, cocktail and wine bar owned and managed by native Austrian, Klaus Leopold. The 40-seater restaurant offers alpine cuisine with Austrian, German and Swiss roots. The idea was to create a place where people feel comfortable with the ambiance, comfort and reasonable prices, quality of service and offered products. Leopold also has its own organic sloe and dry gin, produced in Austria.
Leopold imports a variety of Austrian, German, Italian, Spanish wines and spirits. All of their wines are imported through their sister company Vinothek Leopold Pte Ltd. Check out their take-away wine shop right at the entrance for quality wines at reasonable prices or top up $35 and enjoy the wine at the restaurant itself.
Always serving with passion, modern yet original is the key. It's clear to see why Leopold guarantees a great time with your friends and colleagues.
Key Differentiators
Austrian, German and Swiss cuisine
Leopold imports their own wines. Their wines are also available for purchase online on their website, Lazmall, Qoo10 and Redmart.
Leopold has their own brand of organic sloe and dry gin that is produced in Austria.
Client Testimonial
Went here for dinner on a Friday and a fantastic experience. The staff were super attentive and proactively checking if we needed anything. Wow. Great European beer selection including from Switzerland. The schnitzel share plate was so good we ordered a second one.

Well done to the Leopold team!

Kaptain Kerr (via Google Reviews)
5. Pop Up Wine
Pop Up Wine is the popular new wine shop that, in six short years, has a cult following amongst serious wine buying expats and wine-loving Singaporeans. Unlike other wine stores, Pop Up Wine's 250 wines are rated by trusted wine critics, priced from $27, delivered on the same-day – every day of the year – and are hand-selected by Pop Up Wine's Australian, Singapore-residing owners.
Some wines are big-ticket heroes, and others stand-out, wallet-friendly finds. All are direct imports and are below the price to be found elsewhere in Singapore – if you can find them at all! Pop Up Wine does the work for you, sourcing out the best of wines that have received an 'outstanding' rating or an award, and list them on their website so you have to cut consulting multiple websites on its quality. You're guaranteed only the best with Pop Up Wine.
Key Differentiators
Singapore's only wine store selling exclusively award-winning wine or wine rated 90+/100 points by the world's most trusted wine critics, giving wine buyers confidence of the quality of the wine they buy.
Pop Up Wine is Singapore's only wine store offering over 250 discounts, premium wines delivered same-day, every day of the year.
Enjoy Pop Up Wine's 'Price Guarantee': If you find it cheaper elsewhere, and you can get it delivered same-day, we'll match the price and deliver it free.
Client Testimonial
More than quick delivery. Faster than promised and conformation call 30mins before they delivered.

Anja Matweew (via Facebook)
Wine To Share is an importer and online retailer of South African wines. Passionate about South African wine because of its exceptional quality and great value, Wine to Share's cellar carries the largest range of award-winning and everyday drinking South African wines that have been curated to ensure that they showcase the best of what South Africa has to offer. Wine to Share represents over 15 boutique wineries and artisan winemakers whose labels have earned accolades from renowned international wine critics.
Key Differentiators
Specialize only in bringing in the best South African wine.
Offer wine appreciation workshops and masterclasses.
Offer wine consultations/recommendations.
Client Testimonial
Wine To Share, is a fantastic company! they offer an incredible range of great South African wines that are very well priced. The delivery of the wines is also the exceptionally quick. The best wine company in Singapore, in my view, couldn't recommend ordering wine from here enough.

Richard Lamb
7. BoundbyWine
BoundbyWine is an online wine marketplace, focusing on bringing in unique, quality, but affordable wines to Singapore. Perfect for the wine enthusiast, the team at BoundbyWine guides you through understanding the story behind the wine and discovering their taste profile based on their reviews of wines purchased with us. Really want to discover your perfect wine? BoundbyWine provides curated wine subscriptions, and pride themselves in curating wines to help subscribers explore their taste palette. The geeky algorithm they have built helps wine lovers identify their perfect wine for every occasion!
Key Differentiators
Focus placed on unique wines, be it the story of the wine maker/vinification, or unique & lesser-known regions
The first in Singapore to offer taste profiling that is based on user reviews of wines consumed.
Provides food pairings that would suit the wines purchased.
Client Testimonial
I use to only be a fan of Brunello/montepulciano. When Boundbywine sent me a bottle of Ciu Ciu Lacrima it blew my mind! Now I'm more open to trying new grape varietals i've never heard of.
8. Alleyjar
Alleyjar was launched in 2018 as the refreshed e-commerce store image of New Castle Trading (2005) Pte. Ltd, one of the leading alcohol wholesalers and retailers in Singapore. With it's user-friendly website interface, Alleyjar allows customers to purchase with ease and promotes a more contemporary lifestyle within the home environment. With value-for-money premium products right at your fingertips, Alleyjar aims to help you splurge on yourself and on your families so you can enjoy high quality booze with ease.
Key Differentiators
Exclusive house products like Akashi, Wincarnis, Hua Pai Moutai, Old Monk Rum etc.
Free next-day island-wide delivery for orders over $100.
Attractive pricing and unique products right at your fingertips.
9. 1855 The Bottle Shop
Many locals and tourists have always spoken of 1855 The Bottle Shop when we discuss wines. This is due to the fact that they provide a selection of premium wine from across the world, including red, white, rose, sparkling, and other varieties! They have a variety of well-known wine brands and are all hand-picked for quality. Their wines are also available in a wide range of prices.
Key Differentiators
Wine accessories
Free wine delivery service
Special monthly promotions
10. Wine Connection
Wine Connection is home to a collection of award-winning traditional wines. They have red wine, champagnes, sparkling, and a variety of other beverages! Aside from being one of Singapore's finest wine retailers, they also own several wine-themed restaurants all over the country. You may also become a member of their VIP Wine Club to get special perks when making purchase.
Key Differentiators
Wine accessories
Cheese delivery
11. Vom Fass
Vom Fass, a store with a fantastic team that transports their goods from the fields to your plate, is an excellent place to check out if you are searching for consumer pleasure and high-quality artisanal items. They provide freshness in every artisanal product, whether it's oils, spirits, or vinegar, all of which are produced directly from the fruit, and no chemicals or preservatives are needed.
Key Differentiators
Vom Fass lets you sample all that they offer from the 'cask' (or Vom Fass in English)
Offers fresh essential oils, wine, vinegar
12. TSA Wines
TSA Wines was created as a result of the shared love and enthusiasm for wines and crafted beers, so you may absolutely trust them to provide high-quality brews in small quantities or batches! This ensures that the exceptional quality of beverages available only at this shop, not just in made beers, but also excellent wine and ciders. It's unquestionable that TSA Wines, along with the craft beers they sell, will provide you with an excellent drinking experience!
The name of the company, "TSA" which stands for "Taste So Awesome" certainly lives up to its name as it reflects the company's motto, which is to simply offer beverages that are truly delicious!
Key Differentiators
Free Shipping
Amazing customer service and personal touch
Volume discounts
13. Asia Wine Network
Roderic, a French national, who has a strong interest in wine and has founded WineConnected with his first winery, is the creator of WineNetwork. These endeavours allowed him to interact with winemakers, wine owners, and wine representatives from the World of Wines (WOW).
Roderick and his experienced staff are always on the lookout for the greatest wines, both vintage and new, from all over the world and import them for Singapore's citizens. nOne will discover that their wide selection of wines comes from Argentina, Portugal, New Zealand, and South Africa, among other places.
If you live in Asia and want a wide selection of wine to pick from, curated by a professional wine director, Asia Wine Network is the place to go. Asia Wine Network offers a huge variety of wines for every budget, starting at $19. So if you're searching for a great variety of wines from which to choose, look no farther than Asia Wine Network.
Key Differentiators
Multi-national wine selection
Free delivery for orders above $150
Secure payments
14. Vinothek Leopold
Vinothek Leopold is one of the key elements of the Leopold Group's operations. Vinothek Leopold is one of Europe's leading wine and spirit importers and distributors. Some of the brands they offer include Austria, Italy, France, and Spain, which are frequently delivered to restaurants, business gatherings, and private clients.
Aside from the wholesale part of the firm, they own a gastrobar that seats 40 people. The regular menu includes their wide selection of wines and spirits to go with tastes originating from Austria, Germany, and Switzerland.
Key Differentiators
Great customer service
Large selection of wine and other alcoholic drinks
Participant of Austrian Wine Week
15. Le Vigne Wines & Spirits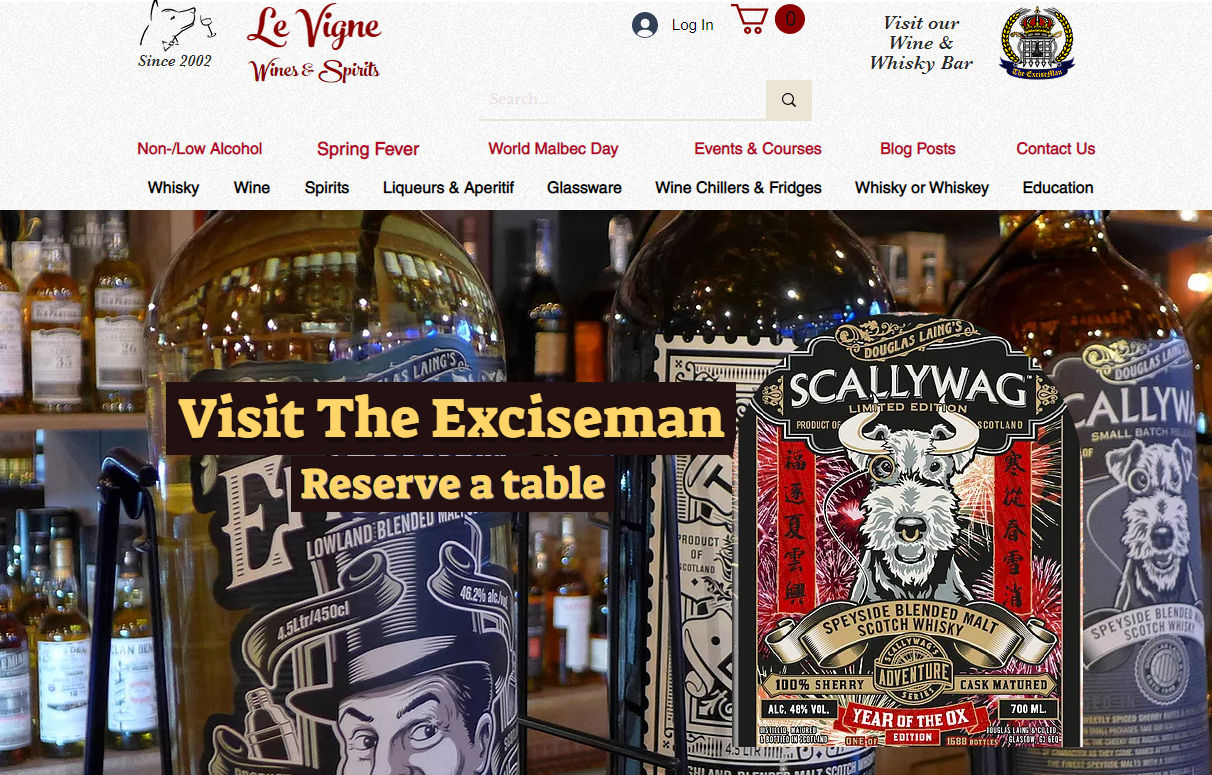 Le Vigne Wines & Spirits is one of Singapore's most prolific wine and spirit vendors, having launched in 2002. Industry Specialist Patricia Britton set out to communicate expertise with the public, and Le Vigne now enjoys a reputation for assisting many people with their budgeting and alcoholic beverage suggestions.
The wine descriptions provided by Le Vigne have made it simple for online consumers to find the right wine. All of them, which are created by their specialist staff, are available on the website. It is only accessible on weekdays, and stock is limited. Customers who want to go out may also stop by The Excise Man, Le Vigne's retail store, for a personalized touch to their wine and spirits.
Key Differentiators
Features an "Education" page where customers can learn more about specific drinks
Deliveries are done from Mondays to Fridays
Wide range of wine products
Multi-national drink selection
16. The Straits Wine Company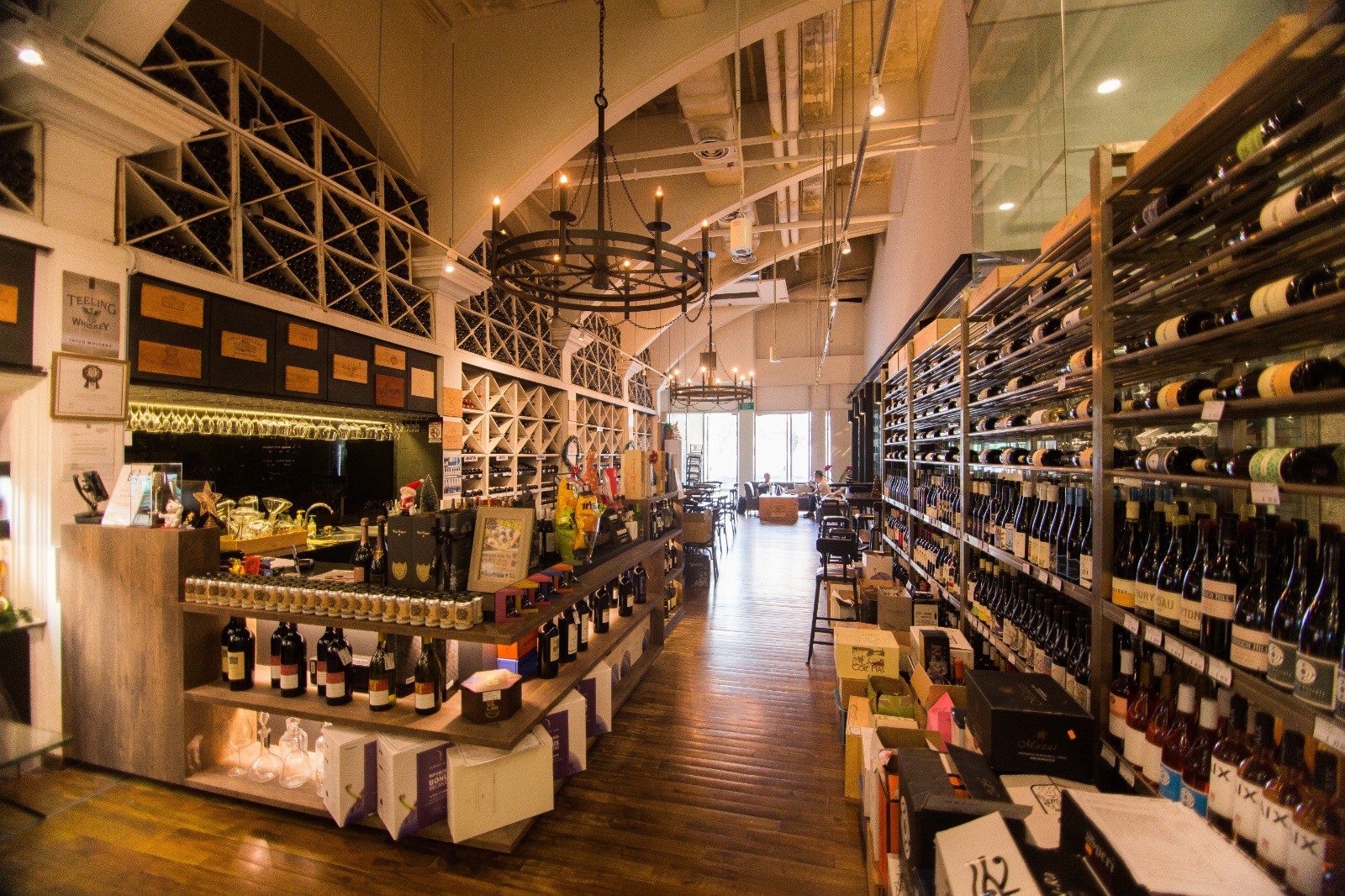 The Straits Wine Company, a boutique and artisanal winery in Singapore, has established themselves as a prominent business! Aside from being the most important wine importer, retailer, and distributor in Southeast Asia, their professional experts also provide event services such as wine parties, corporate events, product launches, and more for people interested in hosting them. Truly, there is no doubt that they are a leading industry player!
Key Differentiators
Sustainable, Natural, Organic and Biodynamic (SNOB) wine offerings
Bring-Your-Own-Food (BYOF) concept where guests can bring their own food to enjoy alongside our wines and spirits at our retail outlets
Straits Sommelier Series where our in-house sommeliers conduct wine tastings and dinners
17. EWINE ASIA
Wine is a vital component of many cultures around the world. It has long been used as an offering to deities, spirits, and ancestors in Asia. In ancient times, people would use wine for various purposes. Even now, different countries around the globe have their own customs when it comes to consuming wine at weddings and other special events. Wine is also seen as a symbol of richness in many societies.
Furthermore, because of their category system, you may look through their store based on your preferences; from producer to the wine's vintage and grape type, everything is at your fingertips. It's also remarkable that they specialize in business mostly online, but if you want to come down for wine tasting or master classes, they have a physical location just for you.
Key Differentiators
Available wines from 15 countries from the old and new world, including english sparkling from United Kingdom and wines uncommon regions such as Syria, Morocco and Turkey.
Their wines are not available in the supermarkets
Monthly masterclasses / wine tasting at attractive prices!
Free deliveries with minimum purchase
In-house sommelier to provide professional advice and conduct private / corporate wine tastings
18. The Liquor Bar Drinks Distribution

The Liquor Bar is a company that has been selling non-obtainable beverages. They were founded in 2015 and have been delivering high-quality booze to their customers via the internet for quite some time..
Their products cover a wide range of alcoholic and non-alcoholic beverages. You can simply buy any of these items by visiting their website, which is likely to arrive in one or two days.
The Liquor Bar can handle your wine and soft drink needs, whether you're searching for high-end wine or low-cost beverages. They are constantly up to date on their products, always having the most recent liquors available.
Key Differentiators
Fancy Wine Products
Wide Variety of Alcoholic Beverages
Low-Cost Price
19. Prime Liquor
With the popularity of wine delivery services on the rise, Prime Liquour has established themselves as a leader in fast and efficient delivery services. This online-only liquor store offers one of the most comprehensive selections in this list, not just for wine but also for soju, beers, spirits, and non-alcoholic beverages. Even a tight budget can enjoy the benefits of Prime Liquour.
Apart from the plethora of alternatives, Prime Liquor is also recognized for same-day delivery, with the shortest wait time being 45 minutes. However, like many other stores, it does not take cash on delivery.
Key Differentiators
Wide range of alcoholic and non-alcoholic beverages
Free delivery for orders above $120
Minimum of 45mins delivery time
Order tracking available
20. African Market Place
African Market Place is the ideal location for a fast supply of delights and premium wine that can only be found on the continent of Africa. You may wager that this business only provides the greatest of the best, as well as a price that fits most people's budgets, because it is backed by South African Community and other African nationals.
The African Market Place, previously known as The Springbok Bazaar, has thrived in Singapore since 2007 and has continued to develop and expand their product choices, not just in wine, but also in other beverages, snacks, meat, other groceries, as well as arts and crafts exclusively produced from materials from Africa. We can promise that whatever you are looking for, they have it in store and ready to be sold.
Key Differentiators
Products professionally transported
Wines stored in state-of- the- art temperature controlled warehouses
Free delivery for orders above $200
Available for bulk orders
Gives advice from wine experts
Cost-efficient
21. Merchants Wine Cellar and Store
Merchants Wine Cellar and Store is recognized for promoting the success of new and small wineries in Asia. So, if you're searching for a unique wine shop in Singapore with great wines, they could be the best option! They take pride in their large selection of Australian regions as well as bistro-style food offerings that include filling set dinners and delicious cheese platters that go well with wine.
Key Differentiators
Wine collections from Australian regions
Accessible locations
22. Vinum Fine Wines
Vinum Fine Wines is a wine business that has been in operation since 1995. Since then, they have been consistent in providing a one-of-a-kind experience as a fine wine merchant. Being client-oriented, their staff is able to personalize discounts based on the preferences of their clients. They are also above par when it comes to their policies and policies for shipping of wines.
Key Differentiators
The team under Vinum Fine Wines are able to fluently speak more than 13 languages and are able to sell wine in more than 20 countries in a year.
Can ship wines across the globe, including large volumes of stock.
Wines in the UK branches are placed in "temperature and humidity controlled cellars", while in Singapore, they are placed in Vinum Fine Wines's "temperature-controlled warehouse."
23. Napoleon Food and Wine Bar
Napoleon Food and Wine Bar is a popular destination for anyone wanting to unwind after a busy day. The wine collection at Napoleon includes more than 250 French wines, ranging from traditional and precious vintages to lesser-known winemakers, as well as daring natural and biodynamic pioneers.
The restaurant additionally provides gourmet French cuisine that is prepared with only French ingredients or acquired directly from France and Australia via air. Visit Napoleon Food and Wine Bar in Singapore to experience the real art of French cuisine.
Key Differentiators
Flawless dishes
Cosy and welcoming ambiance
Great service
Wide selection of wine
Friendly and Knowledgeable Staff
24. Carecci
Carecci has become a household name among Italian foods thanks to the variety and convenience it provides. Customers may quickly browse through their online store, which has been divided into categories for easier browsing. Fine Italian wines, both red and white, are available here, some of which are reasonably priced. Amarone is a wine produced in Veneto that is recognized worldwide. Carecci also offers traditional Italian cheeses such as gorgonzola and taleggio, which pair well with Amarone wines. The store offers a selection of pestos and other sauces that can easily enhance any meal or dish.
Customers may easily match the pleasant wine choice with Italian cheese thanks to its wonderful variety. If you're searching for something less alcoholic but still useful in the kitchen, Carecci also sells Italian freshly made pasta, olive oils, coffees, and truffle products.
Key Differentiators
Free delivery for above $160
Some online products not available in offline stores
Wide array of wines, sparkling wines, and liqueurs
25. Artisan Cellars
Artisan Cellars is a winery that specializes in original beverages created by hand from all across the world. To ensure purity and naturalness, their wines are produced using sustainable and organic methods. There are more than champagne, burgundy, and other varieties to choose from… and they're all reasonably priced. As a result, many people think Artisan Cellars is one of the best wineries in the world.
Key Differentiators
Naturally-made wines
Affordable prices
26. Wine Culture
Wine Culture, a Singapore-based wine company known for over 20 years of unswerving devotion to one goal: to bring high-quality and uncommon wines to Singaporeans and people from all around the region, has remained dedicated to this purpose. They provide wholesale and retail fine and rare wines as well as on-trade supplies to large hotels and leading restaurants in Singapore. To showcase their offerings and to satisfy the growing demand for wines from New World countries, Wine Culture launched a wine-tasting event with an impressive list of wines.
Wine Culture's Wine Tasting with Andrew Tan is part of the company's bid to provide a unique experience to connoisseurs. Wine Culture began as a family business, and as a result, they aim to consistently give their valued clients and customers the best possible service with each bottle of wine that comes across their store.
Key Differentiators
Free shipping for $300 and above orders
Buy 12, get 8% off
100% Secure payment
27. Sake Inn
Sake Inn is a firm that was founded in 2009 and believes that you don't need to break the bank for a delicious bottle of sake, shochu, liqueur, beer, non-alcoholic beverages, and other drinks. Its low cost isn't the only distinction it possesses – it also provides a distinctive encounter with consumers who want to spend their time and money in an extraordinary way.
Sake Inn is a Japanese restaurant that provides everything, from delicious sake to traditional favorites like sushi and tempura. They also sell imported foods such as sweets, confectionery, dessert, rice, noodles, and more! Sake Inn also offers the option of purchasing 'Sake Inn Bundles,' which allow consumers to buy items that are normally sold separately such as shochu, sake, and liqueurs.
Key Differentiators
Includes non-alcoholic drinks, and occasionally includes limited and seasonal products for sale
Unique rewards system through 'drinking points'
Delivery and shipping option for Sake Inn's products
Offers a 'Sake Barrel Ceremony' which is a unique alternative to ribbon cutting ceremonies
28. Barworks Wine & Spirits
For over ten years, Barworks Wine & Spirits has supplied wine and alcoholic beverages for business gatherings and weddings. Their variety is unrivaled, with a wide range of beverages that range in age, flavor, and style. If you're stumped as to what to choose, they'll allow you to sample wines by appointment so you can experiment with tastes before settling on a combination.
Not only that, you may save money if you buy in large quantities. When you need beverages at any time, keep this in mind.
Key Differentiators
Good coordination of the staff team
Amazing selection
Competitive prices
29. Underground Wines
Check out Underground Wines, an online wine delivery company based in Singapore, if you are searching for a low-cost wine that will be delivered to your home. They are recognized for offering a simple and pleasant wine experience, as well as their honest pricing policy. Underground Wines is unable to service the outlaying islands due to transport limitations, but they do offer a free delivery for orders of 2 bottles or more.
Key Differentiators
Engages in private and corporate tasting sessions, gift orders, and wedding supplies
Underground Wines has a simple and honest pricing model, therefore creating a business that prides itself on its products' affordability
Home delivery for quality wines. Depending on the clients' order, Underground Wines offers next day (sometimes same day) delivery for free (when buying 2 bottles or more) or at an affordable and reasonable price.
You may personalize a message if you are sending the wine as a gift to someone – the card is free of charge.
30. Fine Wines
Vinum Fine Wines was founded in 1995. Since then, they have been consistent in providing a one-of-a-kind experience as a fine wine merchant. Their staff is client-focused, and they are able to alter their offers based on the needs of their clients. They are also great at finding wines, so if you're looking for a specific bottle, they'll let you know when it will be available. They have been named one of the top shops in Minnesota by The Heavy Table.
Key Differentiators
Wine lessons
Private wine tasting
Free delivery
Special promotions
Wine Shops in Singapore
And there you have it – our picks for the best wine shops in Singapore. Now you're ready to prepare for the celebration/festivities with your loved ones or for a night in with a movie and great dinner. But remember to enjoy your alcohol responsibly!
Need more ideas for the best party ever? Here are some links to help you out!
Know any business that needs help getting noticed, or a hidden gem in the city that everyone needs to know about right now? Drop us an email here so we can include them in our upcoming features!