Yoga Mat Singapore Beginners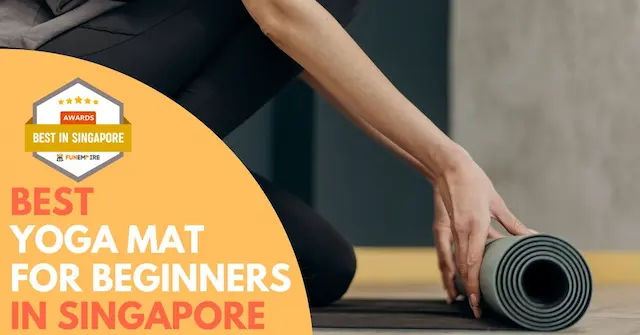 During the Covid-19 Pandemic when gyms are closed, more and more people are having their regular workouts at home. As a result, yoga mats have become more popular as it is an essential tool for home workouts. Whether is it doing yoga or other exercises, a yoga mat provides us with a good cushion and improves our comfort while exercising.
In this article, we are providing you with quality recommendations about the Best Yoga Mats in Singapore For Beginners that you can find.
1. Camel Non-Slip Yoga Mat
As one of the most popular yoga mats in Singapore, the Camel Non-Slip Yoga Mat is a good balance between additional protection and portability. This mat is 15mm thick which provides you with decent support and it is also not so bulky to carry around.
In addition, you can easily clean this mat with clean water and let it dry for a day. It does not absorb water and any smell can get rid of easily after drying.
Why This Mat
Affordable price
Light and portable
Easy to clean
2. Manduka Yoga Mat
Manduka Yoga Mat is one of the best yoga mat that you can find in Singapore in terms of quality.
Its cushion helps to protect our joints and improves stability. With its closed-cell design, you do not have to worry about sweat or dust being absorbed into the mat after exercises. In addition, the Manduka Yoga Mat is made from natural tree rubber with a waste-free manufacturing process, which is very eco-friendly. If you wish to bring it around while traveling, it is also light and can easily fit into bags.
Why This Mat
Premium Quality
Light and portable
Environmental friendly
3. Lixada TPE Mat
The Lixada TPE Mat is a good and cheap option for beginners before they get a higher-end one. This is because there are position lines that come with the yoga mat which can help you to get familiar with yoga poses (if you are doing yoga with this mat). Made from environmentally friendly materials, this yoga mat is also anti-slip and comfortable.
In addition, this mat consists of thermoplastic elastomer material which ensures durability and flexibility.
Why This Mat
Cheap
Position lines
Environmentally-friendly
4. Jade Harmoney Yoga Mat
Are you worried that the yoga mat that you are purchasing is too small for you?
Be assured that the Jade Harmoney Yoga Mat is the right one for you! Made with 100% natural rubber, it comes with expanded length and width which fits people of different sizes. Due to natural rubber, this mat has a strong grasp and stability for those who tend to sweat more during exercise. In addition, the manufacturer of this mat has a practice of planting one tree for every yoga mat sold!
Why This Mat
Good grip
Large
Environmentally-friendly
5. PIDEG TPE Mat
As a beginner, learning yoga is no mean feat.
Consisting of two tone colors, the PIDGE Yoga Mat is an environmentally-friendly yoga mat specially designed to enhance the yoga experience of beginners. With markings on its surface, this mat provides you with a good guidance on your body positions while doing yoga. Moreover, it is made from non-slip materials and comes at a very affordable price.
Why This Mat
Good for beginners
Affordable
Firm
6. Watson Yoga Mat
Have you been to Watson in Singapore and wondered if this mat is worth the price? Well, a short answer is yes, especially if you are a beginner.
You can choose between two types of mats – PVC or TPE. Both types of mats are soft, comfortable and non-slippery. The former is cheaper while the latter is better in quality in terms of waterproof and anti-bacteria. Nonetheless, both types of mat are good choices and which one to choose will depend on your budget and preference.
Why This Mat
Good for beginners
Low price
Portable and light
7. Xiaomi Tunmai Non-Slip Mat
The Xiaomi Tunmai Yoga Mat is ideal for pilates, yoga and other stretching workouts. It is also spacious which ensures that people of different sizes can fit in easily.
When you are doing high-intensity workouts, the yoga mat will not move as it is made from non-slip materials on both of its sides. On top of that, this mat can absorb the pressure from your body easily. With its 6mm thickness, it is also light to carry around.
Why This Mat
Non-slip
Affordable
Portable and light
8. HomeBuddy High-Density Yoga Mat
The HomeBuddy High-Density Yoga Mat is made from high-quality and non-skid materials to ensure your safety while exercising. Even if you use it every day, this mat can last you for a very long time. In addition, it is waterproof and comes with a strap that allows you to carry it around with ease.
What is better is that the mat is also eco-friendly and non-smell.
Why This Mat
Long-lasting
Value for money
Portable and light
9. Lululemon Reversible Mat
The Lululemon Reversible Yoga Mat is popular among fitness lovers.
This mat consists of 2 different sides and comes in 3 different thicknesses (1.5MM, 3MM, 5MM). The rougher side is suitable for vigorous exercises whereas the smoother side is suitable for more relaxed workouts. In addition, the antimicrobial contained in the mat helps to get rid of any smell and reduces the difficulty in maintenance.
Why This Mat
Strong grip
Two sides for different purpose
Good Quality
10. Alo Yoga Warrior Mat
Alo Yoga Warrior Mat is a great anti-slip mat made from rubber and polyurethane leather. This mat is very suitable for those with sweaty palms during our workout sessions as its matte surface directs moisture away from our bodies. You do not have to worry that the mat smells bad after workout sessions as another feature of this mat is anti-odor. You can be assured that your joints will be protected perfectly during exercises with the help of the mat. Furthermore, the mat is also light and easy to carry around the house.
Why This Mat
Anti-slip
Absorbs moisture
Easy to clean after usage
We have come to the end of this article, we hope that you have found a suitable yoga mat for your workout.
Do stay healthy and safe!
If you want to read more interesting articles, follow the links below: