Dessert Spot Penang
Looking for the best dessert spots in Penang? Look no further! We've compiled a list of the 10 Best Dessert Spots in Penang. From ice cream parlors to pastry shops, these establishments will have you drooling with delight. So what are you waiting for? Start indulging in some of the best desserts Penang has to offer!
1. La Vie En Rose Pâtisserie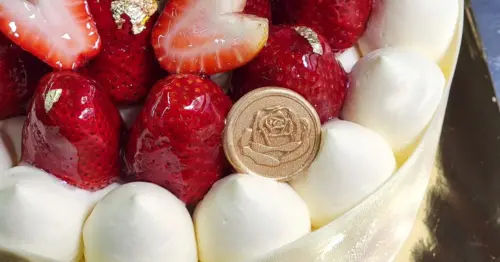 When it comes to Penang Cafes, there's no such thing as too many options. If you're searching for traditional French desserts, look no further than La Vie En Rose Pâtisserie . Due to its pastel pink façade, this patisserie is easy to locate from a distance.
La Vie En Rose Pâtisserie is home to some of the best croissants, beignets, and madeleines you'll find in Penang. Almond croissant and raspberry beignet are two must-tries.
Key Differentiators:
French Pastry Specialist in Malaysia
Freshly baked bread
Unique dessert
Customer's Review:
Citron tart is light and not too sweet. Perfect balance. Love it! The beignets were really good too – great filling-to-pastry ratio. Everything is just done well.

Karen Kuok
2. 15Grams
15Grams is no stranger to cake fans, and it's a modest coffee shop that expedites in home-made seasonal cakes. Their most recent addition to the dessert menu is the Duo Baked Cheese, which mixes Matcha and Ori cheesecake into one. The cakes are so delicious that you can actually taste the love and hard work put into creating them.
Key Differentiators:
Custom cakes
Delicious pastries
Relaxing atmosphere
Customer's Review:
Good service, simple and nice concepts.. Love. Very much their coffee and Hojicha.. Roasted matcha green tea..

Encik MRidzuan Kamil
3. Carnarvon Cafe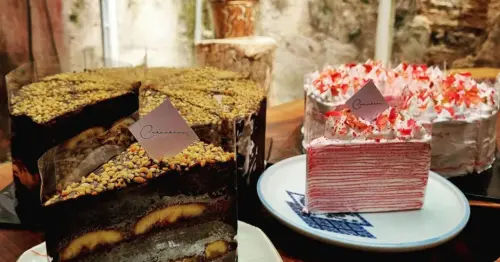 Carnarvon Cafe is a fantastic cake spot in Penang. You'll be spoiled for choice since they have over 10 different cake options available every day. They've recently updated the dining facility, adding a glasshouse, making it an ideal backdrop for photographs. Rose Watermelon, a rather unusual Melon Cake, and other sweet treats are among the specialties.
Key Differentiators:
Great Food
Cozy atmosphere
Nice place to chill
Customer's Review:
Nice ambience and good environment. Would definitely come back again

Tan Kim Phing
4. Carrotfish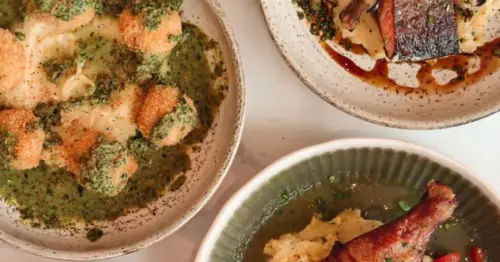 | | |
| --- | --- |
| Key Services | Dessert Spot, Health Food Restaurant, Breakfast & Brunch Restaurant, Coffee shop |
| Website | https://www.carrotfish.my/ |
| Address | 3rd Floor, No.9, Jalan Juru Sentral, Juru Sentral, 14000 Bukit Mertajam, Pulau Pinang 14000 Bukit Mertajam, Penang, Malaysia |
| Email | 3carrotfish@gmail.com |
| Operating hours | Daily 11:00 AM – 9:00 PM |
Carrotfish is a hotspot among foodies for brunch. They do, however, also offer delectable sweets. The Acai Gummy berry contains blackcurrent, chocolate, chia seeds, kiwi, oats, blueberry, and redcurrent. A burn cheesecake is also a must-have.
Key Differentiators:
Serves real food
Healthy options
Stylish interior
Customer's Review:
My top fav spot to go for meet ups and meals, love the food always and I get to change the mains to cauliflower rice ☺️ Cakes are good, especially the burnt cheesecake!

Joe-Lene Ch'ng
5. Armenian 70's Ice Ball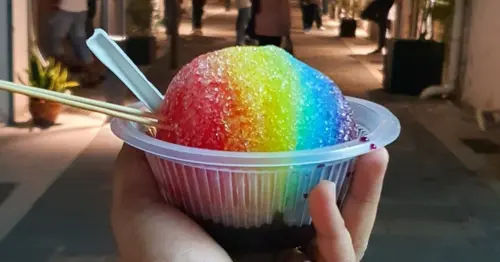 There are a variety of methods to beat the heat. And in Penang, you may eat ice balls that are ideal for a hot day. Armenian 70's Ice Ball, located on Armenian Street, allows you to combine your favorite flavors to your ice balls! They also have s mango shaved ice, coconut ice cream, antique popsicles, and more.
Key Differentiators:
Cat house café
Traditional Ice ball
Affordable
Customer's Review:
Recommend Everything. The staff are kind and helpful.

Gertrude Belvedere
6. Mat Toh Yau Dessert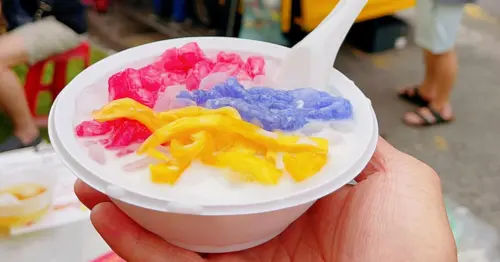 | | |
| --- | --- |
| Key Services | Dessert Shop, Traditional Dessert |
| Website | https://www.facebook.com/mtydessert/ |
| Address | 22 Jalan Penaga 11600 George Town, Penang, Malaysia |
| Phone | +60 12-999 3838 |
| Operating hours | Open Daily |
Traditional desserts, particularly those served in a bowl, are popular. And there's a stunning pink van in Penang that caters to our nostalgia for traditional sweets like Ai Yu Bing (Ice Lemon Jelly), Leng Chee Kang, Barley Beancurd Gingko, and others.
It's Mat Toh Yau Dessert & Food, of course. The MTY Milky is a must-order signature dessert, with options including the MTY Milky and the MTY Melon. One can consume more than one bowl of the MTY Milky, which consists of colorful jellies and dried longan bathed in milk that's not too sweet, one can chow down more than one bowl of the MTY Milky.
Key Differentiators:
Satisfying sweet tooth's since 1988
Traditional Dessert
Freshly made-to-order
Customer's Review:
Fresh and varied ingredients, real ingredients, drink in the mouth, sweet in the heart.

Lee Siew Hong
7. Suffolk House Restaurant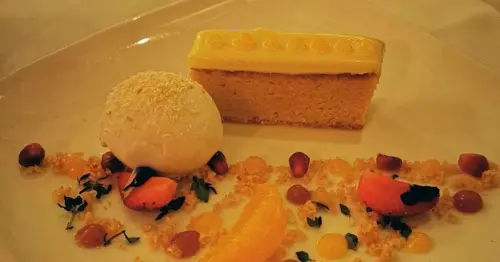 Suffolk House is a two-hundred-year-old Georgian home that has been preserved and restored. Suffolk House is popularly known as a great date-night location. They serves delicious desserts. They have one of the greatest scones in Penang that's crumbly on the outside yet smooth on the inside. Another must-try is their homemade papaya and nutmeg ice cream, as well as rum and raisin ice cream.
Key Differentiators:
Romantic atmosphere
Stylish interior
Scenic views
Customer's Review:
Lovely dining experience. Beautiful place with a rich historical past and significance. Food was good.

David C
8. Orinea by Farquhar Mansion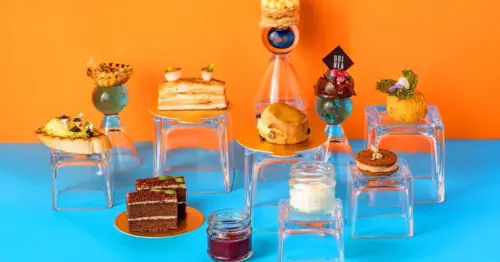 | | |
| --- | --- |
| Key Services | Dessert Spot, Modern European Restaurant, French Restaurant |
| Website | https://www.orineagroup.com/ |
| Address | 68-18-1, Sunrise Gurney, Persiaran Gurney,10250,Georgetown, Penang, Malaysia. |
| Phone | +60 19-528 8933 |
| Email | farquhar@thecropsgroup.com |
| Operating hours | Daily 6:00 PM – 11:30 PM, Wednesday Closed |
Orinea by Farquhar Mansion is a magnificent fine dining restaurant and bar. Treat yourself to a luxurious afternoon tea in this high-rise tower on Gurney Drive Bay's beautiful sea views. You may anticipate a magnificent ocean view while eating your delectable tea time delicacies here. The Grand High Tea is served on a beautiful golden hot air balloon tray, which includes sweet and savory delights.
Key Differentiators:
Perfect sea view
Relaxing environment
Gastronomic dining experience
Customer's Review:
The food is excellent with flawless fusion of asian taste bud within western core. The service by Ferdous is superb with detail info on food and useful recommendation.

Janice Khor
9. Penang Teochew Chendul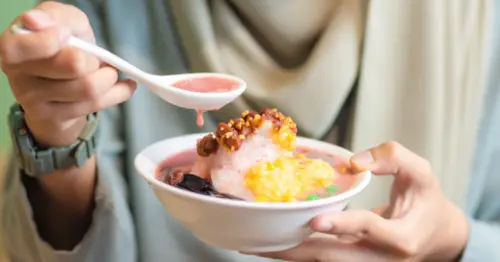 Penang Teochew Chendul from Penang has spread throughout the country, becoming more accessible for busy urbanites and customers.
This is a must-see stop for hot, thirsty travelers in Penang! You wouldn't mind satisfying your thirst while standing outside on the road, under the sweltering sun, because this popular spot is renowned for its chilly milky cendol bowl. The combination of green flour jelly, flavorful gula melaka and coconut milk is delectable.
Key Differentiators:
Provides the best quality of Chendul in Malaysia
Wi-Fi is provided for free
Reasonable price
The World Best chendol on this island. This stall is the best, very delicious especially the aroma of the red beans and cendol.

Ben O
10. Salon Du Chocolat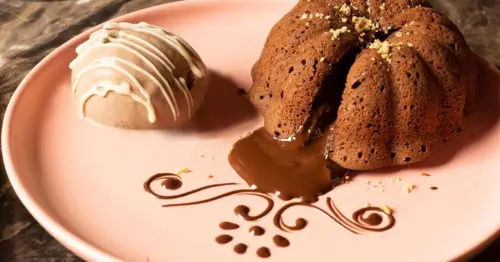 Salon Du Chocolat is a lovely and high-end chocolate café, where you can enjoy an assortment of sweet and delectable desserts and beverages. Every one of them is made using our high-quality chocolate, which is prepared by experienced employees.
If you can't live without chocolate, you know where to go. It's a cafe where they give you a waffle drizzled with chocolate syrup. To satiate your desire for chocolate, go ahead and try it.
Key Differentiators:
Made with Good Quality Cocoa
Unique desserts
Gourmet chocolates
Customer's Review:
Recommended this waffle so much. Fabulous! ❤️❤️❤️ 5 stars!

Syuhadah Mohamad
Dessert Spot Penang
Penang is home to some of the best dessert spots in Malaysia. Whether you're looking for traditional sweets or something more unique, you're sure to find a spot that satisfies your sweet tooth here.
Since you have made it to the end, it would be great if you could check out the awesome articles that we have written for you! Maybe, it will help you add more fun to your daily lifestyle.