House Painting Malaysia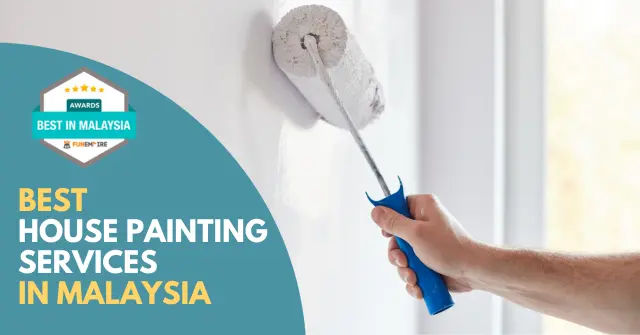 The House Painting Malaysia industry is a multi-billion dollar one. House Paintings in Malaysia are done by professionals with high standards and skills, which means you need to hire the Best House Painters in Malaysia for the job. The House Painters in this list have been selected based on their customer reviews, excellent workmanship, and competitive rates.
Key Consideration Factors
Reputation and Experience: When selecting a house painting service, consider their reputation and experience. Look for companies with a proven track record of delivering high-quality painting services. Check online reviews, testimonials, and ratings to gauge customer satisfaction.
Expertise and Skills: Ensure that the house painting service has a team of skilled and experienced painters. They should possess the necessary knowledge and expertise in various painting techniques, surface preparation, and color selection. A well-trained team can provide professional and flawless painting results.
Range of Services: Choose a house painting service that offers a comprehensive range of services. This includes interior and exterior painting, wall repair, surface preparation, and even specialized painting techniques such as textured finishes or mural painting. A service provider that offers a wide range of services can cater to all your painting needs.
Quality of Materials: Inquire about the quality of paint and materials used by the painting service. High-quality paints and materials ensure long-lasting and durable results. Ask the service provider about the brands they use and whether they offer options for eco-friendly or low-VOC (volatile organic compounds) paints.
Customer Service: Good customer service is crucial in any service-based industry. Choose a house painting service that is responsive, professional, and attentive to your needs. They should provide clear communication, promptly address any concerns or queries, and provide detailed cost estimates and timelines.
Portfolio and References: Review the portfolio of previous painting projects completed by the service provider. This will give you an idea of their workmanship and attention to detail. Additionally, ask for references and contact previous clients to inquire about their experience with the house painting service.
Best House Painting Malaysia
1) Kinwajaya Construction
| | |
| --- | --- |
| Key Services | House Painters Malaysia: One-stop renovation service for F&B outlets, offices, retail units, factories and schools etc. |
| Website | www.kinwajaya.com |
| Address | 85-G, Jalan Kampung Pisang, 11500 Air Itam, Pulau Pinang |
| Phone | 012-6222105 (Mr Koay) |
| Email | kykoay@kinwajaya.com |
| Operating Hours | Mon to Sat: 9am – 6pm |
Kinwajaya Construction is a renovation specialist in the commercial sector with more than 20 years of experience. They are particularly experienced in the F&B sector and in setting up the notoriously complex commercial-grade kitchen. Among others, they have successfully delivered more than 20 F&B projects throughout Malaysia.
They believe that renovation works should be stress-free for their clients. Therefore, they strive to deliver projects on time, on budget and to high standards. Their ability to consistently do so has won them trust ranging from multinational companies to restaurant franchises to local schools.
Key Differentiators
Wealth of experience in commercial sectors like F&B, retail, offices, factories and schools.
Notable clients include Daorae Korean BBQ chain (F&B), Chimac Station (F&B), Tomei (retail), SJK(C) Jit Sin (education), Disted College (education), Micro-Mechanics (factory), Sanmina (factory), Salvation Army (NGO), East Coast Rail Link (public sector).
Specialized in setting up commercial-grade kitchen and experienced in coordinating and supplying kitchen waterproofing work, plumbing and M&E works, LPG piping, wet chemical extinguisher system and stainless steel works.
Client Testimonial
Very good service, provide many good options. Highly recommended👍🏻👍🏻👍🏻

Cai Phin Khoo
2) LNL Integrated Construction Sdn Bhd
| | |
| --- | --- |
| Key Services | House Painters Malaysia: Facades Repair, Repainting and Waterproofing |
| Website | lnlpaints.com.my |
| Address | 33, Jalan PJU 10/10C, Saujana Damansara, 47830 Petaling Jaya, Selangor |
| Phone | 016-2291802 |
| Email | lnlpaints@gmail.com |
| Operating Hours | 8am – 5pm |
LNL'S has a humble beginning since 2003 with a small committed team of professional in building facade enhancing business. With focus on quality finishing for exterior and interior facades and timely delivery, they managed to build up a pool of satisfied client or customer base. The company is now with over 100 competent and certified professional facade enhancers ably assisted by full complement of project team and support staff to undertake projects in Klang Valley, and other major cities in Malaysia.
Professional workmanship undoubtedly need quality materials. Towards this end, they are accredited to the best quality facade made over manufacturers such as AkzoNobel, Jotun, Nippon, Sika, Mapei and etc., from whom they directly obtain out supply of appropriate materials to ensure that only the best, quality materials are used in their work.
LNL's seamless management style emphasizing on teamwork and merit-based rewarding process for high quality work have evolved into an organizational culture that has helped it to attract and retain its large pool of professionals who continuously demonstrate their ability to weigh into completing the projects on time without sacrificing quality for speed.
Their numerous clients / customers, who are so appreciative of their transparency protocol in terms of providing evidences and warranties to the materials and quality of works, have been their greatest sources of repeated business. The referrals from these satisfied customers have been one of their key channels of new businesses.
Key Differentiators
Quality.
Reliability.
Value for money.
Client Testimonial
This is to certify that Jotun (Malaysia) Sdn. Bhd and Paint Applicator, LNL Integrated Construction Sdn Bhd., have proven their competencies in successfully completed our building repainting works at Montkiara Pelangi Condominium, consists of Venus and Appollo Blocks and 2 Multi-Storey Carpark.

They have shown to be reliable and able to meet tight schedules. Their workmanship is excellent performance and compliance to the stringent QA/QC procedures and requirement as stipulated in the specifications.

We have no hesitation to recommend their service in any future projects undertaken by them in related industry.

Thank you.

Mont Kiara Pelangi Management Corporation
3) Double Coats Enterprise
Key Services
House Painters Malaysia: House Painting, Building Painting
Website
paintingservicespro.com
Address
No 23, Jalan BK 6B/7, Bandar Kinrara, 47180 Puchong, Selangor, Malaysia
Phone
+6011-1033 1768
Email
sales@paintingservicespro.com
Operating Hours
Mon to Sat: 9am – 6pm
Sun & PH: Off
Painting Services Pro is wholly owned by Double Coats Enterprise and it is the company to call if you need extensive painting services with high-quality results. They offer detailed painting services for Selangor homes and structures.
They can paint everything from the outside walls, living room, floors, kitchen, garage, and other places in your house, whether you're building a home from start or simply repainting it. They also offer skim coating, old paint removal, and wallpaper removal for homes, condos, apartments, and other types of housing.
They also offer interior and exterior painting services for building projects ranging from walls to floors to ceilings. They may even help you come up with amazing painting ideas for various areas of your building.
Key Differentiators
Affordability: Their different packages allow you to economize the painting package to your budget and service requirements without any unnecessary frills or add-ons.
Accessibility: Apart from their technical painting team, their service is backed up by their capable call-centre team, who are on hand daily, except public holidays to answer any queries you may have regarding their painting services and to advise you on tailored painting services.
Service Guarantee: They are so confident that they can deliver to you the perfect painting job that they are willing to offer their customers a 100% Money Back Guarantee.
Client Testimonial
Just finished a renovation done by them a while ago. Very good services and their staffs are very professional on their works.

Kent Liew
4) House Painting Penang
Do you want to make your house look like it's spanking new? House Painting Penang provides interior and outdoor painting services that can make any house appear brand new.
You can completely transform each area in your home by selecting new colours that they might recommend to match your overall theme. Furthermore, they only use high-quality eco-friendly paint for your walls, so you won't have to worry about terrible odours or dangerous materials affecting your family.
If you're unsure about what colours to use in your bedroom, living room, or other areas, their advisers will guide you through the process. Before beginning the job, they may assist you in sharing your ideas, discovering unique color schemes, testing out sample paints, and providing precise cost estimates.
You won't have to worry about a messed-up environment because their personnel will cover every area of your room with plastic and masking tape. They'll also ask you to go through each area and make sure everything is to your satisfaction before beginning the painting process, and they'll even clean up afterward.
Key Differentiators
Professional house painting services in Penang, Malaysia
Skilled and experienced painters with expertise in residential painting
Use of high-quality paints and materials for a long-lasting finish
Attention to detail and meticulous preparation to ensure smooth and even application
Client Testimonial
Our painter was brilliant and we were given more help that we knew we needed. What i liked about the service was prompt and make our house brand new and full of energy everyday.. Our painter understood us and helped us achieved what we wanted to do!

Brian Lee
5) WL Chong
| | |
| --- | --- |
| Key Services | House Painters Malaysia: Painting services, interior design, acoustic wall system, custom furniture, house renovation, plumbing work, electrical work etc. |
| Website | wlchongrenov.com |
| Address | No. 107, Jalan Patani, 10150 Penang, Malaysia |
| Phone | +604-282 9737, +6012-474 9628 (Eric), +6012-501 9628 (Angeline) |
| Email | chongrenov@yahoo.com |
| Operating Hours | Mon to Sat: 9am – 8pm |
If you believe you will require more than just paint to spruce up your home, you might consider visiting WL Chong. They are an award-winning renovation centre that has been offering comprehensive renovation services since 2009.
It makes no difference if you want to remodel your house, business, or commercial facility because they can handle practically any project you can think of.
In addition to painting services, they offer renovation services such as interior design, decorative works, plumbing, and even custom furniture. Overall, WL Chong is the top choice for homeowners who are planning extensive renovations and want a stress-free experience.
Key Differentiators
Trusted house painting contractor in Malaysia
Offers a range of painting services for residential properties
Experienced team of painters with a focus on delivering high-quality results
Flexible painting solutions to suit different preferences and budgets
Client Testimonial
Turn my aged house to NEW by engaged to one of best painter in Penang, well done!

syira basyirah
House Painting Malaysia
Choosing the right house painter can be hard in Malaysia. These companies that have been selected based on their competitive rates and high standards offer skills to complete your project with quality craftsmanship while still sticking within a budget.
Since you've reached the end, why not check out these interesting articles as well.
Frequently Asked Questions (FAQ)
If you have any questions about House Painting in Malaysia, you can refer to the frequently asked questions (FAQ) about the best House Painting in Malaysia below:
What is house painting?
House painting is the process of applying paint or other coatings to the interior or exterior surfaces of a house. It is done to enhance the aesthetic appeal, protect the surfaces from damage, and increase the longevity of the building.
Why should I hire a professional house painting service?
Hiring a professional house painting service ensures that the job is done efficiently and with high-quality results. Professionals have the expertise, skills, and tools to handle different surfaces, provide proper surface preparation, choose suitable paint colors, and deliver a flawless finish.
How do I choose the best house painting service in Malaysia?
Consider factors such as reputation, experience, expertise, range of services, quality of materials, customer service, portfolio, references, insurance coverage, warranties, cost estimates, project timelines, and recommendations when selecting the best house painting service in Malaysia.
What types of house painting services are available?
House painting services in Malaysia offer various types of services, including interior painting, exterior painting, wall repairs, surface preparation, textured finishes, mural painting, and specialized techniques to achieve specific effects or designs.
How do I determine the right paint colors for my house?
Professional house painting services can provide color consultations and help you choose the right paint colors for your house. Consider factors such as the architectural style, natural lighting, desired ambiance, personal preferences, and current design trends when selecting paint colors.
How long does a house painting project typically take?
The duration of a house painting project depends on factors such as the size of the house, the extent of the painting work, surface preparation requirements, weather conditions, and the efficiency of the painting team. A professional house painting service will provide you with an estimated timeline.