Heating Pad Australia
Winter is coming soon and heating pads are a great way to keep warm. It's time to find the heating pad that suits you best! There are many heating pads in Australia, but not all of them offer the same features. That's why we're here for you with our heating pad reviews! We've compiled a list of heating pads that have been tested and approved by experts as well as by customers who bought them. Don't let your search for the perfect heating pad go on any longer now – it's time to shop smart and buy quality!
Best Heating Pad Australia
1. Solayman Microwave Heating Pad for Neck and Shoulders
Key Features
Budget-friendly
Microwavable
Natural fill
Where to Buy
Click here
Price
$90.94
Solayman Microwave Heating Pad for Neck and Shoulders can help you get pain relief the natural way with its soft cover and buckwheat-flaxseed filler. Simply cook it for a minute or two, then apply it to any inflamed regions.
2. ComfortCloud Microwavable Heating Pad
Key Features
Use hot or cold
Two-pack of pads
Works on multiple areas
Where to Buy
Click here
Price
$129.92
This heating pad's name is no coincidence. The outer layer of this heating pad is ultra-soft, providing a soothing sensation against the skin while relieving pains and aches. Natural clay beads are interspersed throughout the heating pad to provide adaptable muscle relief for regions of the neck, shoulders, joints, legs, and other body parts. All it takes is a few minutes in the microwave with a heating pad to provide immediate pain relief that lasts for hours. If you're searching for cold relief, chill the heating pad for an hour before using it.
3. Pure Enrichment XL Electric Heating Pad
Key Features
Reasonably priced
Heats quickly
Machine-washable cover
Where to Buy
Click here
Price
$71.32
Your best bet for an all-around excellent heating pad that may be used on virtually any part of the body is Pure Enrichment's PureRelief XL. It's one of the biggest options out there, measuring 12 x 24 inches, allowing you to wrap it over your back, shoulders, arms, abdomen, calves, and more. The LCD controller of this plug-in thermotherapy device has six temperature settings. It heats up rapidly and offers either dry or moist therapy. We also like that the ultra-soft microfiber cover is machine washable, as well as that it's hypoallergenic.
4. My Heating Pad Microwavable Multi Purpose Wrap
Key Features
Budget-friendly
Microwavable
Optimal and Easy To Use
Where to Buy
Click here
Price
$60.61
This microwave-friendly wrap will come in handy for anyone who suffers from a stiff neck. This long, narrow thermotherapy buddy is made out of rice packed into a smooth fabric sleeve. But don't be fooled by its low-tech design; it can help with neck discomfort substantially.
5. Isolve AUS Electric Heating Pad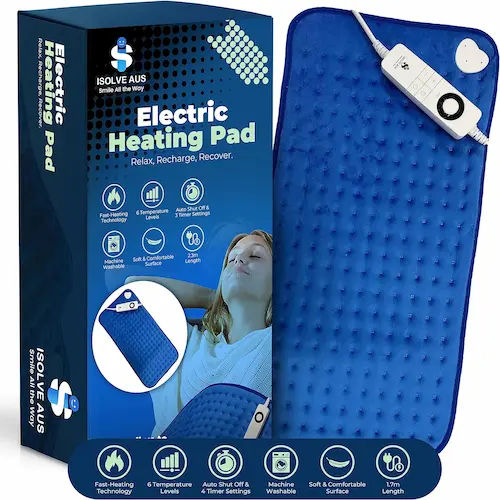 | | |
| --- | --- |
| Key Features | Heat pad for Back Pain Relief, 6 Temperature Levels, Fast Electric Heating Pad with 120min Auto Shut Off & 4 Timer Settings |
| Phone | +92 331 2735464 |
| Email | ppcmaster@mzaash.com |
| Where to Buy | Click here |
Isolve Aus proudly presents their cutting-edge heating pad, meticulously crafted with advanced technology to redefine your heat therapy experience. As you curate your selection of top-rated products for your affiliate website, their heating pad emerges as the perfect addition, promising unmatched quality and performance.
Their heating pads have gained the trust of countless customers, owing to their consistent and soothing heat therapy. Whether it's chronic pain, cramps, or neck discomfort, their heating pad is designed to provide relief and rejuvenation. The numbers speak for themselves, reflecting their customers' unwavering satisfaction, which they consider their greatest strength.
Key Differentiators
Fast heating technology warms the heating pad quickly with 6 temperature levels for customizable heat.
Auto shut off for safety, with 4 timer settings.
Features a 2.3m cord length and machine washable capability.
Made of soft and warm polyester, the heat pads provide pain relief and cover various areas including neck, shoulders, back, knee, leg, foot, and abdomen.
Client Testimonial
This heating pad is a lifesaver! It heats up quickly and provides soothing warmth to my sore muscles. The pad is also very soft and comfortable to use. I love that it has multiple heat settings, allowing me to adjust the temperature to my liking. The auto shut-off feature is also a great safety measure. I highly recommend this heating pad to anyone in need of pain relief or relaxation.

Kathy
6. Soothing Company Microwavable Extra Large Heating Pad
Key Features
Targeted pain relief
Fits all body sizes
Microwavable
Where to Buy
Click here
Price
$78.22
Soothing Company Microwavable Extra Large Heating Pad is unlike most electric heating pads in that it generates up to 20 minutes of heat after being microwaved for only a few minutes. Furthermore, because it's cordless, you may use it on the go.
7. Mighty Bliss Electric Heating Pad
Key Features
Budget-friendly
Machine-washable cover
Lifetime warranty
Where to Buy
Click here
Price
$66.00
The Mighty Bliss Large Heating Pad may be used for dry or moist thermotherapy, so you can use it on both wet and dry skin. Spray the surface with a spray bottle, sponge, or damp cloth to prepare it for wet thermotherapy. Then relax into the pleasant warmth as you would with any other heater pad.
8. Sunbeam GoHeat USB Powered Heating Pad
Key Features
Travel-friendly
Hands-free design
Machine-washable cover and straps
Where to Buy
Click here
Price
$57.61
The Sunbeam GoHeat USB Powered Heating Pad is one of the best heating pads available. This USB-powered gadget works like a belt to provide hands-free heat treatment anytime and anywhere. It includes a USB connection that allows you to connect it to your own power source, such as a computer, USB wall adapter, automobile USB port, or power bank.
Heating Pad Australia
Heating pads can provide heating relief from aches and pains for people of all ages. When purchasing a heating pad, it's important to consider the size of your heating needs – do you need something that will be used on large or small areas? Also take into consideration how much money you are willing to spend as well as if there is any special features (such as moist therapy) that may make the heating pad more appealing. Once you find one heating pad that suits your needs best, try microwaving it before using it to activate the heat faster!
If you want to read more interesting articles, follow the links below: