Korean Restaurant Johor Bahru
Looking for the best Korean restaurants in Johor Bahru? Look no further! We've got you covered with 7 Best Korean Restaurants in Johor Bahru. From BBQ to noodles, these restaurants will have you spoilt for choice. So what are you waiting for? Get out there and start sampling some of the best Korean cuisine Johor Bahru has to offer!
1. Palsaik Korean BBQ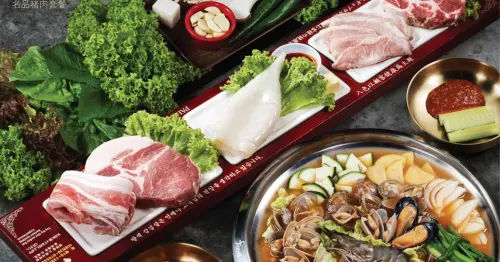 | | |
| --- | --- |
| Key Services | Korean Restaurant |
| Website | https://palsaik.my/ |
| Address | Mid Valley SouthKey JB Outlet T048 & T049, Level 3, The Mall Midvalley Southkey, No 1, Persiaran Southkey 1, 80150 Johor Bahru, Johor. |
| Phone | +607-2763303 |
| Operating hours | Daily 10:00am to 10:00pm |
Palsaik Korean BBQ's pork belly is marinated in eight distinct tastes, which has earned it a reputation as one of the best Korean restaurant in Johor Bahru.
Although each of the eight marinades has its own distinct flavor, there are a few that the others could be compared to. They have it all, from fiery to savory, sweet to tangy.
Palsaik is a big restaurant that may accommodate a large number of customers at once, from couples to families and groups. Palsaik's ambience is modern yet soothing enough to convey calmness and ease to patrons, allowing them to enjoy their meal there.
Key Differentiators:
Korean BBQ with a twist
Palsaik in Korean means 'eight colors' denoting the eight different flavors of pork
Can enjoy the BBQ meal with the delicious soup-based meal
2. Kimchi & BBQ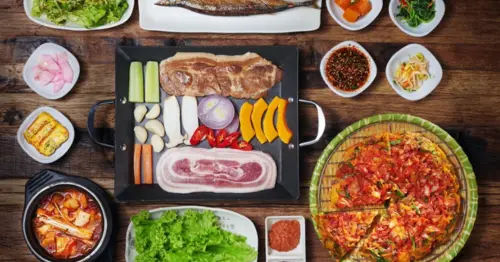 | | |
| --- | --- |
| Key Services | Korean Restaurant, Barbecue Restaurant, Soup Restaurant |
| Website | https://www.facebook.com/kimchiandbbq/ |
| Address | 37.39 jalan perang taman pelangi 80400 Johor Bahru, Johor, Malaysia |
| Phone | +60 7-334 2700 |
| Operating hours | Daily 11:30 AM – 3:00 PM, 5:00 PM – 10:00 PM / Closed every Tuesday |
Kimchi & BBQ offers a rich variety of Korean eating. Steamboat, noodles, pancakes, BBQ, and other meals are some of the most popular options. One of the group's favorite BBQ meats is pork. The barbeque will be grilled for you over an open fire, built right into your table. What makes this location unique is that they offer hoods at each seat to eliminate the smoke from your clothing.
The Kimchi Pancake is also a must-try item. The pancake isn't excessively thick or crimson in hue. Don't worry, it isn't spicy, and every bite includes lots of veggies and squid. You may also have a la carte items such as Barbecued Pork Spare Ribs with bone, thick sliced pork belly special, roasted saury, ginseng chicken soup, and kimchi pancake.
Key Differentiators:
Variety of Korean cuisine is available.
The price range is affordable.
Kimchi Pancake is also a must-try item.
3. Jang Won Korean Restaurant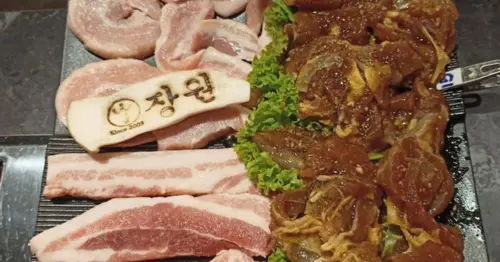 Jangwon is a popular Korean eatery in Johor Bahru, which has been operating since the early days of the city. It is also well regarded by Singaporeans because it is near to Stulang Laut, the JC CIQ.
The view of the Johor Strait and Singapore from Jang Won is one of its highlights. This outdoor space is only suitable for nighttime since it gets extremely too hot during the day. It should be fantastic at night. Don't worry if you're visiting during lunch, as the compact interior is air conditioned, clean, and bright. The quality of the meat is great, and the portions are quite generous, so it does make sense.
Key Differentiators:
Oldest Korean restaurant in Johor Bahru
Indoor dining and al fresco eating are both available.
Meats are Gilled over red hotpot Charcoal on the tabletop BBQ set.
4. Sodam Korean BBQ Restaurant Sutera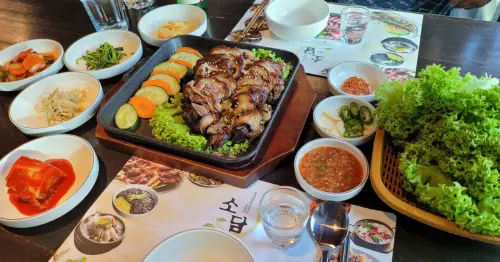 In 1998, Sodam began as a traditional Korean restaurant in Seoul and began operations in Johor Bharu in 2002.
Sodam Korean BBQ is a big restaurant with a comprehensive Korean menu. It includes everything from basic Korean BBQ to side dishes like kimchi stew, rice cakes, bulgogi, and more.
Yes, their BBQ is the main attraction, but there's still plenty of food to go around for those who can't eat much. In general, it's fresh and tasty!
Key Differentiators:
A standard Korean BBQ restaurant.
Imported fizzy drinks or brown rice tea
There's a kid corner
5. Sisters BBQ Korean Family Restaurant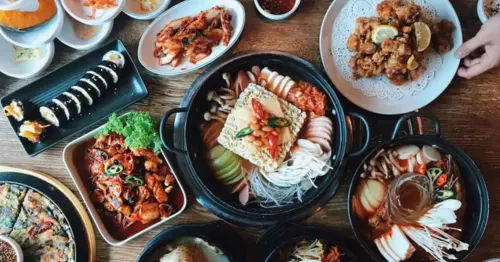 Sisters BBQ Korean Family Restaurant in Johor Bahru, Malaysia, is a real Korean restaurant run by a Korean chef. Since its debut, it has consistently received excellent evaluations and comments from its clients. You have to see for yourself.
This is definitely the place to go for a truly all-inclusive meal. You don't really have to request anything because everything is ready for you. Without a doubt, you'll find the best side dish selection in Johor Bahru, as well as prompt and attentive service if you dine here.
You'll find your typical array of sauces for the meats, as well as a decent amount of lettuce and another vegetable. The set includes a lot of items. You've got their steamed egg, their kimchi pancake, corn cheese, soybean paste stew, and pork belly and spare ribs from them.
Key Differentiators:
Authentic Korean food
Serve wide range of side dishes
Cook by Korean chefs
6. Seoul Garden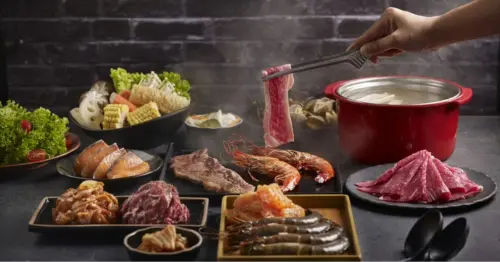 Seoul Garden has been certified Halal to meet the increasing demands of the Muslim market, yet it retains those Korean-inspired tastes that made them a household name.
Seoul Garden is a well-known Halal-certified Korean BBQ restaurant in Malaysia, and their 2-in-1 smokeless grill is a popular item. Bulgogi beef, kimchi chicken, black pepper dory fish, and tom yam squid are just a few of the delicious meats available.
Key Differentiators:
Halal certified
Affordable prices
Serving Korean-styled cuisine in a buffet-styled format
7. Daorae BBQ Restaurant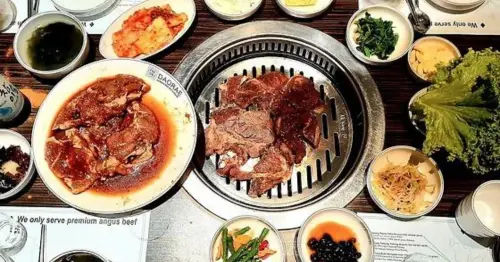 | | |
| --- | --- |
| Key Services | Korean Restaurant, Korean Barbecue Restaurant |
| Website | https://www.mydaorae.com/ |
| Address | 79A, Jalan Indah 15/2, Taman Bukit Indah, 81200 Johor Bahru, Johor, Malaysia |
| Phone | +60 12-639 8303, 07-207 5911 |
| Email | mydaorae@gmail.com |
| Operating hours | Daily 11:30 am – 10:00 pm |
Daorae, one of Malaysia's most popular Korean barbecue spots, continues to shine. Daorae has withstood the test of time due to its loyal following and superb execution.
Try the naengmyeon with a meat combination platter to wow your guests.
Daiarest has received a lot of praise for its consistent high-quality cuisine, clean and pleasant restaurants, friendly employees, and attentive service. You may look forward to genuine Korean food that might remind you of Korean BBQ eateries.
Key Differentiators:
Prime grade meats served
Korean dishes in a clean, smoke-less ambiance
Traditional charcoal BBQ
Korean Restaurant Johor Bahru
Korean Restaurant Johor Bahru is where you'll find some of the best Korean food in town. Whether you're looking for a new place to try or want to get your favorite dish, we've got all bases covered here with our comprehensive list of 7 restaurants that are worth visiting when you're in need of a tasty meal.
Since you have made it to the end, it would be great if you could check out the awesome articles that we have written for you! Maybe, it will help you add more fun to your daily lifestyle.