Vet Clinic Singapore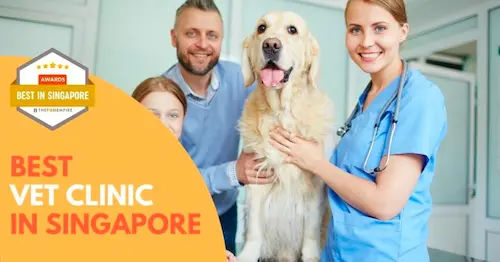 There are many vet clinics in Singapore, but not all vet clinics can deliver high-quality vet services.
The best vet clinics in Singapore include Passion Vet, Pets Avenue, The Visiting Vets Clinic, Hillside Veterinary Surgery, and Mount Pleasant Veterinary Group.
Consider the veterinary clinic's location, services, expertise of veterinarians, and availability of equipment and facilities when choosing in Singapore.
Vet clinics in Singapore offer a range of services including consultations, vaccinations, surgery, emergency care, dental care, and specialized treatments for various animal species.
If you are looking for an animal clinic that offers the best care possible for your pet, then this list of vet clinics in Singapore will help you find one near you!
Best Vet Clinic Singapore
1) Passion Vet
Passion Vet boasts a team of expert and experienced veterinarian surgeons that can perform a wide range of treatments and surgical procedures, ranging from basic consultations to minor operations. Other veterinary therapies include immunizations, acupuncture, deworming, X-rays, blood testing, tooth scaling, and ultrasonography. It also offers hospitalization for pets with severe illnesses requiring specialised care.
Passion Vet is one of the few veterinarians on the island that applies traditional Chinese medicine to all species of domestic pets, which is fantastic news for pet owners who follow this type of medical method. Furthermore, any day of the week, pet owners with urgent problems may come by as it is open from Monday through Sunday.
Key Differentiators
Locations are accessible
In operation seven days a week
Client Testimonial
really friendly nurses and vets. They really have a heart for animals and I can't thank them enough. Highly recommend!

kim liu
2) Pets Avenue
Pets Avenue has three clinics across Singapore, making it one of the most accessible veterinary hospitals in the country. Here are a few more reasons why it made our list: It employs one of the largest veterinary teams among our selections, with 11 experienced veterinarians and 15 specialised Veterinary Paraprofessionals. There will also be a doctor on call 24 hours a day.
On top of that, Pets Avenue provides a full range of veterinary care and surgical treatments to help your pet live a long and happy life. This includes vaccinations, dental treatment, ear cleaning, parasite treatment, skin care, and other things. Those with pets that are afraid to go outside may use its housecall services. Expect the service to be costly as Pets Avenue is one of the most expensive vet clinics on this list.
We understand that it isn't the most budget-friendly vet clinic around, but many customers overlook the price when they consider the clinic's broad range of services. The cost of a single consultation is $130.
Key Differentiators
Large team of doctors and nurses
Three branches in Singapore
Client Testimonial
the entire team is very caring and concerned. they are knowledgable and professional as well as take good care of my cats…highly recommended. not easy being a vet!! yet they can do a really good job at it…

jeffrey chew
3) The Visiting Vets Clinic
There aren't many veterinary hospitals in Singapore that offer house calls, therefore we won't be forgetting The Visiting Vets. It's the ideal choice for people who don't have time to drive their pets all the way to the clinic. The Visiting Vets' veterinary team is made up of four experienced veterinarians. They care for both domestic and exotic pets, which includes cats and dogs.
It provides the same range of services as most veterinary hospitals, but the best part is that you may have your pet's treatment done at home. Its house treatments include vaccination, consultation, and flea control according to Visiting Vet Island.
Key Differentiators
Housecall services
Known for internal medicine
Client Testimonial
Great location, plenty of open spaces surrounding the clinic. Waiting time isn't long, and I appreciate that they're an accommodating bunch. Dr Huang did the vaccination outdoors at a grass patch for my fear-reactive shelter dog, and it was a fuss-free experience.

Phyll Y.
4) Hillside Veterinary Surgery
Hillside Veterinary Surgery is a small veterinary clinic on Upper Serangoon Road with a wide range of medical procedures and operations. Vaccination, microchipping, health screening, blood and urine testing, skin testing, and dental scaling are among the veterinary services available at Hillside Veterinary Surgery. It also performs a few basic and specialist surgical procedures.
The full-range facilities, in addition to the veterinarians and specialists on staff, are what set Hillside apart from other vet clinics. Apart from surgery and monitoring rooms, the cats and dogs are isolated in separate rooms to ensure a pleasant recovery environment. There's also a 24-hour intensive care area for pets with severe illnesses where they'll be monitored around the clock.
Hillside Veterinary Hospital is managed by a team of four veterinarians, a nurse, a laboratory manager, and a veterinary technician. It may not be the biggest vet team among our competitors, but customers can rest confident that their pets will be treated as soon as possible. Aside from its in-house surgeons, Hillside occasionally invites Australian specialist surgeons to perform procedures.
Key Differentiators
Armed with high-end technologies
Comprehensive medical treatments
With in-house pet store
Client Testimonial
Love their service. Friendly and professional. Dr Mikayla Low is passionate and gentle to pups. Will be visiting again.

Pearlyn KOH
5) Mount Pleasant Veterinary Group
Mount Pleasant Veterinary Group is a well-known name in Singapore, with over 30 years of expertise. It's a team of skilled veterinarians that works in eight locations across the country, including a tertiary care facility that is open 24 hours a day, seven days a week for pets requiring intensive and specialized medical treatment.
The most accessible veterinary clinic on the island, according to our research, is Mount Pleasant Veterinary Group. Its branches are dispersed all over Singapore to ensure that there is always a center nearby. Internal medicine, dermatology, oncology, veterinary acupuncture, avian medicine, ophthalmology, and advanced imaging are among the specialties practiced by the hospital's veterinarians.
In conclusion, Mount Pleasant Veterinary Group is a fantastic choice for all pet owners, regardless of whether their pets require minimal or significant medical treatment.
Key Differentiators
Convenient locations
Wide area of expertise
30 years of experience
Client Testimonial
Mount Pleasant is a well established veterinary clinic that we have used for many years for both of our dogs. The veterinarians are highly experienced and the facilities and offered services are excellent. We can highly recommend Mount Pleasant.

Kenneth Bartushock
6) Amber Vet
Amber Vet is a veterinary clinic with five in-house veterinarians that offers a wide range of treatments for dogs and cats, including dental treatments, ultrasonics, x-rays, vaccinations, and tests. We couldn't leave it off our list because it's a veterinary practice with five in-house veterinarians. Customers appreciate the fact that there's a vet on staff at all times.
Discussing operations, Amber Vet is one of the few veterinaries in Singapore that offers chemotherapy and complicated surgical procedures like laparoscopy, endoscopy, and eye treatments. This means it can handle anything from the most serious medical issues. If you're searching for a veterinary hospital with state-of-the-art equipment, we recommend taking a look at Amber Vet.
Amber Vet provides 24-hour emergency care for pets in need of quick medical attention. In order to be eligible for this unique service, you must be a current client.
Key Differentiators
Houses five experienced vets
After-hours emergency services
Client Testimonial
It was our first time at Amber Vet. Dr Michelle Ong made the effort to let Dex (my 10yo SS) feel comfortable in the room. She started by dropping small bits of treats on the floor for him, even before approaching him. When he was still too nervous to take a treat from her hand, she immediately tossed more treats on the floor for him, which made him feel less anxious than taking from her hand. She understood the importance of giving him the space and time to relax, which I truly appreciate because no other vets have done that for my dogs before and it helped to make the consult session so much less stressful for both Dex and myself. Dex was relaxed enough to eat a treat straight from her hand at the end of the session (which included a scary injection). Thank you so much!1

Yvonne Leong
7) Animal World Veterinary Clinic
We suggest checking out Animal World Veterinary Clinic if you're looking for a veterinary clinic with a wide range of services and kind veterinarians. You've probably heard of it; it's one of Singapore's most in-demand vet clinics. Physiotherapy is one of the clinic's most popular therapies, which involves a variety of rehabilitation methods to aid your pet's recovery.
The weight-loss and fitness treatments for overweight house pets are also popular. It's one of the few veterinary clinics that offers this type of therapy, so we had to include it on our list.
In terms of equipment, Animal World Veterinary Clinic doesn't skimp. Its wide variety of treatment areas and cutting-edge medical technology help it to treat all sorts of ailments and injuries. What makes things even better is that it will pick up and return your pet to you for your own convenience. However, if you don't have the time or energy to drive your pet to the vet, there's a mobile vet on staff that can be dispatched.
Overall, Animal World Veterinary Clinic is an excellent option for pet owners, whether their dog or cat requires a yearly checkup or a specialized operation to repair wounds.
Key Differentiators
Pickup and drop off services
Provides physiotherapy
Client Testimonial
Spayed our lovely dog and she was under good care. Tests and surgery was relatively cheaper than other places. Definitely recommend.

Jr Lim
8) Oasis Vet Clinic
It secured a position on the list for two primary reasons. For one thing, it offers comprehensive medical consultations, vaccinations, preventative treatments, blood pressure management, urine analysis, eye examination, and blood chemistry in addition to other pet services.
Second, it may not have the largest veterinary staff, but it is staffed with kind and committed veterinarians and nurses who will treat your loved pets as if they were their own. Oasis also has an open-door policy, allowing you to come in for a walk-in or make an appointment.
The Oasis Vet Clinic is highly recommended to cat owners because it has been certified by the International Society of Feline Medicine, which means its doctors can treat any medical condition your cat might have.
Key Differentiators
Friendly doctors and nurses
Client Testimonial
A very welcoming place, where the people, from front office to vet, clearly care about the animals. Dr. Eunice was very warm and thorough in her check up and she handled my Skit, who was initially quite a ball of nerves, with such calmness and reassurance. I would definitely recommend Oasis Vet to cat owners! You can be sure your cat is in good hands.

Patricia Lee
9) Vet@RV
Do you have trouble finding time to relax after work? Dr. Tan Eng Khim, the director of Vet@RV, is a veterinarian who graduated from Murdoch University, one of the world's most renowned veterinary colleges. He's treated everything from dogs to cats to rabbits hamsters , and more types of domesticated pets.
Dr. Tan's clinic does not disappoint when it comes to the variety of therapies available. Its veterinary services include general consultations, complex operations, laboratory services, dental care, and health checks while traveling. Vet@RV is an excellent alternative if you're searching for a veterinarian that also sells pet grooming supplies and services.
What we appreciate most about Vet@RV is that, despite being a tiny clinic with a tiny staff, it has been able to provide various treatments that larger veterinary hospitals do not.
Key Differentiators
Night consultations
Convenient location
Competitive rates
Client Testimonial
Staff are loving, caring and professional. Short waiting time, probably because appointments are managed and booked well in advance. I've been bringing my pets to Dr Tan for the last 10 years. Dr Tan is a passionate vet with many postgraduate qualifications. Over the years, I recommended many friends to see Dr Tan for his knowledge, expertise and experience. Many of my friends are impressed and have chosen to continue see him as their family vet.

Peisan Ooi
10) Beecroft Bird & Exotic Veterinary Clinic
Look no farther than Beecroft Bird & Exotic Veterinary Clinic for a veterinary clinic for birds and exotic pets. We couldn't help but add it here since it's the only institution on the island that treats avian species as well as non-traditional animals. Since exotics pets are uncommon, Beecroft's main objective as a vet is to take care of birds, reptiles, rabbits , and other small mammals.
Beecroft's work isn't limited to that. Beecroft can handle a wide range of problems that uncommon animals are prone to, much like a normal veterinary practice. Vets at Beecroft can do basic health checks as well as complicated surgical operations.
When it comes to specialized bird and exotic pet care, there's no better option than Beecroft Bird & Exotic Veterinary Clinic. All of these reasons make Beecroft Bird & Exotic Veterinary Clinic the best choice for specialised veterinary care for birds and exotic pets.
Key Differentiators
Specialised care for birds and exotic pets
Comprehensive wellness exams
Client Testimonial
Dr Rina is very reassuring and professional. So are the nurses, and they communicate well. The receptionists are quite caring and also make the point to call often/check up on my pet

Euodia Lim
11) Singapore Veterinary Animal Clinic
Singapore Veterinary Animal Clinic was founded in 2010 and has since established itself as one of the most reputable veterinarians in Singapore, owing to its wide range of services and team of professional veterinarians. This clinic can treat a broad variety of animals, including rabbits, guinea pigs, hamsters, and other household pets (on top of dogs and cats).
Veterinary care at Singapore Veterinary Animal Clinic includes general consultations, diagnostics, operations, and laboratory services and imaging. With three full-time veterinarians and six veterinary nurses on staff, there will always be a specialist to look after your pets.
Another thing we appreciate about this veterinarian clinic is that it also sells pet products, such as food, medicines, supplements, pet equipment, and preventive solutions. It's open to walk-in customers but those with reservations will be served first. Singapore Veterinary Animal Clinic strongly advises people to make an appointment because it cares for a large number of patients every day.
Key Differentiators
10 years of experience
Large team of vets and nurses
Open from Monday to Sunday
Client Testimonial
Good vet clinic. Gave us an emergency appointment and reassured and guided us. Our dog is doing well now after recovering. Reasonable prices.

P A Ravi
12) Animal & Avian Veterinary Clinic
For over a decade, Animal & Avian Veterinary Clinic has provided high-quality medical care to both domestics and birds. It's a vet practice that welcomes on-site and home call services. Customers only need to schedule an appointment if they want a dental operation or surgery performed on their pet.
It's a modest clinic when compared to our top picks, and it just offers consultation and minor surgical and dental treatments. We can't really recommend it if your pet has a severe medical condition. It also has low staff and resources, so it can't handle late-night emergencies. However, it may connect you with a 24/7 veterinary hospital that can.
Key Differentiators
Budget-friendly treatments
More than a decade of experience
Client Testimonial
Just wanted to say thanks to Dr Yvonne and Samantha for the care given to my budgie, Snowy. She is back to her usual self now after the medication and advice given by doctor. Dr Yvonne was very knowledgable about birds and also made sure I had no more doubts before I left. They even called up to check on Snowy after the consultation.

Ron
13) Gentle Oak Veterinary Clinic
Gentle Oak Veterinary Clinic is the clear choice for veterinarians. It has several surgical rooms, consultation rooms, preparation rooms, hospitalization wards, and even fully equipped laboratories. It also does not have a shortage of medical services. Aside from routine consultations, it provides dental treatments, minor and major operations, all forms of vaccinations, and integrative therapies.
It also includes a pet grooming service. It's the place where pets are treated with gentleness and care. It provides modern technology, high-tech equipment, exceptional diagnostics, and an experienced team of specialists that is second to none in Racine. A good thing about it is that most veterinarians love dogs. Its main focus is on dogs, but it can also treat cats and other small animals.
Key Differentiators
Large veterinary team
All week availability
Client Testimonial
Generally the Drs in this clinic care. My furkid sees Dr Alice. As first time owners, we felt the information given to us were made easy to understand without compromising on what's important, something we really appreciated. She is also holistic in her care and she paces both owners and pet when discussing treatment plans.

Desiree N
14) Pet Space
Pet Space, a prominent veterinarian practice in Hong Kong, has expanded to Singapore. It appeared on our list because of three key reasons. The first is that Pet Space is one of the few veterinarians in Singapore that are open 24 hours a day, allowing pet owners with pressing issues to visit at any time.
Second, it has a novel approach called "Medutainment" (which means caring for pets and assisting their owners with medical care, education, and entertainment) that helps to address this concern. In essence, pet owners will also be taught how to better care for their cherished animals. Finally, its veterinary services include everything that pets require in general, such as checkups and vaccinations, and even more specialized services such as dental care and microchip implantation.
Pet Space offers housecall services as well, which are typically for pets who are too old to walk from their home to the clinic. It is more expensive, but you may rest confident that your pet will be cared for properly.
Key Differentiators
Easy booking of appointment
Open 24 hours
Client Testimonial
Experienced and passionate groomer. Totally loving their package and service. Now Raynor (my boy) enjoy lavish lifestyle every month happy him happy me.

Sanee Wong
15) Advanced Vetcare clinic
The staff at Advanced Vetcare clinic are passionate about seeing clients depart the clinic healthy and happy. They sympathize with your concerns for your pets, understand that you want the best care possible for them, and work together with a team of highly qualified veterinarians. Dr Nicholas Woo established the facility in 2017 with the aim of offering comprehensive as well as critical pet care. He is a vet with more than 16 years of experience, and he also has an interest in medicine as well as surgery for pets.
Key Differentiators
The facility offers cancer treatment
Comprehensive, in-depth screening services are provided
The clinic's emergency department offers 24 hours service 7 days a week
Client Testimonial
My cat ,mimi,have fell down from 11 floor ,but thankfully,she did not have any seriouse injuries,but I would still like to thank the vet here as they helped me to take care of mimi when she was hospitalised.

Zhang Yujue
Vet Clinic Singapore
In this article, you have been introduced to 15 vet clinics in Singapore. You will find that they provide a wide range of treatments and services that are designed to cater for most pet related needs. We have also provided information about what vet clinic might be the best choice for you based on your needs and preferences.
Before you go, do check out our other articles as well!
Frequently Asked Questions (FAQ)
If you have any questions about vet clinics in Singapore, you can refer to the frequently asked questions (FAQ) about the best Vet Clinics Singapore below:
Additional Useful Articles
If you are looking for other useful guides and articles about best Vet Clinics in Singapore, check them out below: