Workshops
Singapore is a great place to find interesting and fun workshops! Whether you are looking for a creative way to spend your weekend or you want to learn a new skill, there is definitely a workshop out there that will interest you.
Creative workshops in Singapore are perfect for any event and great for all ages! These best craft workshops are low-intensity and usually conducted in a relaxing environment. Hence, it is the perfect activity for team building Singapore workshops or a fun time with your friends!
In this article, we will be listing 21 of the best fun craft workshops in Singapore that are sure to entertain and educate you. So what are you waiting for? Check out these workshops and have some fun!
Similarly, you can also check out our other articles here:
This is one of our most creative craft workshops out there! Leather crafting or simply, the leather workshop teaches you art education while having to spend quality time with your friends and family!
Most of us love indulging in branded goods! However, priceless experiences are hard to come by. Have a go at creative workshops such as leather crafting for a one-of-a-kind experience and creation! There are several products to choose from such as coin pouch, luggage tag, and key fob.
This leather-making workshop will awaken the art enthusiasts in you and will teach you all the basics and art techniques of leather crafting.
Other than being more affordable than branded goods, the leather making workshop holds more value as it is made from the heart. You also get to personalise the item by embossing your initials!
Creative fun craft workshops and Corporate workshops are also available for a fun crafting session with your colleagues to de-stress after a long working day! This is also perfect for birthday workshops and other corporate events!
The Fun Empire HQ
Address: 5B Guillemard Road, Level 3 Wing Fong Building, Singapore 399685
Opening hours: 9 AM-10 PM, Daily
Telephone: 6515 4146
Hyperspace @ Lavender
Address: 91A Lavender Street Singapore 338719
Opening hours: 9 AM-10 PM, Daily
Telephone: 6816 1998
Add a pop of colour to your room or office with an art form with our art jamming workshops in Singapore! This is perfect if you are on the search for team-building workshops to boost communication and coordination.
Participating in these art jamming craft workshops will be like enrolling in art schools, to learn the basic techniques and new skills in creating your own masterpiece. A therapeutic session to engage your high-quality craft spirits and let your creative juices flowing!
This learning journey of attending fun workshops, all the materials will be given to you to!
Go for the joint canvas or group canvas art jamming corporate workshops for a fun bonding experience! You can also opt for the tote bag art jamming to encourage eco-friendliness and reduce waste!
The Fun Empire HQ
Address: 5B Guillemard Road, Level 3 Wing Fong Building, Singapore 399685
Opening hours: 9 AM-10 PM, Daily
Telephone: 6515 4146
Hyperspace @ Lavender
Address: 91A Lavender Street Singapore 338719
Opening hours: 9 AM-10 PM, Daily
Telephone: 6816 1998
Terrarium Building By The Fun Empire
Image retrieved from Terrarium Singapore
Have you recently attended a pottery workshop or pottery classes? These should be the craft workshops you should try next!
Having greenery around you can have many beneficial outcomes. Create a miniature garden for someone you care for today! Get to personalise the terrarium workshop by decorating it with figurines of your intended recipient's favourite animals or cartoon characters.
Have fun in this terrarium workshop, create your personalized garden in your very own bottle and practice art cultivation. Fun activities like these will strengthen the team building company, not only for corporate events for this is perfect for birthday parties too!
For corporate workshops, you get to be engaged during the story-telling component of the session! Get creative and put your thinking caps on as a team!
Set your theme and pick suitable figurines to convey a message to the rest of your colleagues in this terrarium workshop!
The Fun Empire HQ
Address: 5B Guillemard Road, Level 3 Wing Fong Building, Singapore 399685
Opening hours: 9 AM-10 PM, Daily
Telephone: 6515 4146
Hyperspace @ Lavender
Address: 91A Lavender Street Singapore 338719
Opening hours: 9 AM-10 PM, Daily
Telephone: 6816 1998
Candles are great as a decorative piece, or to create a warm and cosy ambience in the house. It also makes for a great gift! Looking for some activity ideas for a bridal shower? Candle Making workshop is the answer.
Gel candle making is one of the most popular creative workshops in Singapore amongst ladies. For those who want to relax after a long day, just light a candle and put on a sheet mask. This candle-making workshop will definitely calm your mind, body and soul.
The Fun Empire HQ
Address: 5B Guillemard Road, Level 3 Wing Fong Building, Singapore 399685
Opening hours: 9 AM-10 PM, Daily
Telephone: 6515 4146
Hyperspace @ Lavender
Address: 91A Lavender Street Singapore 338719
Opening hours: 9 AM-10 PM, Daily
Telephone: 6816 1998
Join a clay making workshop for an opportunity to mould clay into miniature versions of your favourite food! It is one of the creative workshops that are great for all ages! As clay making is safe and easy to do, many have opted to engage this creative workshop for their event.
Suitable for private birthday parties, corporate workshops, and parent-child bonding sessions!
Some of the items you can choose from include Miniature Bread, Miniature Fishball Noodle, and Miniature Laksa. You can even opt for the Dangling Bread Earring workshop if you are hosting a hen's party. Get to wear quirky and cute matching earrings with your girlfriends after!
The Fun Empire HQ
Address: 5B Guillemard Road, Level 3 Wing Fong Building, Singapore 399685
Opening hours: 9 AM-10 PM, Daily
Telephone: 6515 4146
Hyperspace @ Lavender
Address: 91A Lavender Street Singapore 338719
Opening hours: 9 AM-10 PM, Daily
Telephone: 6816 1998
6. Wine Appreciation
For those of you who are on the lookout for more premium workshops in Singapore, the wine appreciation workshop provides educational and insightful private corporate workshops. There's no need to head to a vineyard to appreciate wine.
After attending such corporate workshops, you will have a deeper understanding of the history of red and white wines, and how wines are made in different parts of the world. There will also be a sharing of which vintages have the best wines.
The highlight of their team-building workshops is when you get to taste a range of red and white wines. Brainstorm and try to grasp the concept of how to pick out tasting notes in each wine as a team. With cheeses for you to pair with, you get to have the full experience of a wine-tasting workshop.
7. Perfume Making
Scents can be very sentimental and may bring back many vivid memories like reminding you of a special place, time, or person. Create your own distinctive fragrance in perfume making creative workshops in Singapore and stand out from the crowd!
Take part in the jelly bean exercise to challenge your sense of taste and smell, and learn more about the science behind perfume making. You also get to take a simple personality test to discover the concentrates that best speak to you.
If you do not wish to make a perfume for yourself, why not show your loved ones that they are treasured by concocting a customised aroma for them!
8. Flower Arrangement Workshop
Arranging flowers is a great way to relax and enjoy each other's company. Our flower arrangement workshop not only promotes team building, it helps you develop an aesthetic eye for shapes, colour and artistic coordination.
Work together with your friends and colleagues to create beautiful floral centrepieces for your home and office.
The great thing about flower arrangement is that it can also be done in groups.
Arranging flowers as a group allows the group to develop creative ways to do so together, fostering cohesiveness amongst team members, which is a brilliant activity for a team bonding session.
In expressing creativity together as a group, team members can get to know more about how each other and their creative processes.
9. Latte Art Workshop
Ever wondered how those beautiful designs on your warm cups of latte were created? Get your steady hands ready, as the experts are here to impart their knowledge and skills to you!
Practice makes perfect, so start out with simple designs and stay calm when doing the latte art pour. If you are looking for a little friendly competition, go for their team-building workshops.
Teams can compete to determine who has best picked up their new skill!
TCR Cafe & Academy @ Upper Thomson
Address: 205 Upper Thomson Road, Yew Lian Park, Singapore 574345
Opening Hours: Mondays to Sundays: 9.30 AM – 6 PM, Closed on Wednesdays
Telephone: 9182 0798 (Workshop Enquiries)
10. Knitting and Crocheting Workshop
With just some yarn and needles, the possibilities of creations are endless! Take your pick from scarfs, beanies, mittens, bags, or a soft blanket to keep you warm and fuzzy during a cold day.
Get to use a variety of different coloured yarns of your choice to knit a practical item for everyday use, or as a gift to show someone you care. It might take some time to knit your first creation and get it right, but take it easy and be careful not to prick your fingers.
Once you get the hang of it, your next few projects will be smooth and breezy! Go for their corporate workshops to pick up a new practical skill as a team!
Wish I Were Stitching
Address: Unit 03-12A (beside staircase), LTC Building B (formerly Lion Industrial Building B), 12 Arumugam Road, Singapore 409958
Opening Hours: Mon – Tue: Closed, Wed – Fri: 12 PM- 7 PM, Sat & Sun: 12 PM – 6 PM
Telephone: 6841 4380
11. Music Jamming
Flow to the rhythm and get jazzy with music jamming team building workshops in Singapore! Coordination is an extremely crucial element required in music jamming, as it is easy to spot mistakes in the rhythm when any member goes off-beat.
Creating a beautiful harmony together unifies everybody involved, it's absolutely the best feeling and most memorable experience!
Team Music
Address: YMCA Orchard, Level 1, Learning Hub, 1 Orchard Rd, Singapore 238824
Opening Hours: For more information, contact Team Music
Telephone (Whatsapp only): Eugene (9841 4711) / Daniel (9731 7467) / Isaac (9721 3579)
12. Slime Making Workshop
If you are on the search for fun creative workshops in Singapore for a kids birthday party, slime making has been all the rage! Kids will have an amazing time while engaging in sensory play with the different colours to see and textures to feel.
It is great even for young kids as the instructions given are simple to follow, and there is an abundance of ways for them to get creative with slime!
My Discovery Crib
Address: For more information, contact My Discovery Crib
Opening Hours: For more information, contact My Discovery Crib
13. Urban Farming Workshop
Most of us are accustomed to the city life in Singapore where everything is fast-paced. Whatever food we need can just be picked up at the grocery store in 10 minutes or less.
Urban farming provides us with an opportunity to take a step back and learn more about food security and sustainability. You also get to learn how to grow your own resources, which is a useful skill to have and a soul-enriching experience!
If you are looking for some educational and meaningful school programmes or corporate workshops, try urban farming!
Edible Garden City
Address: 60 Jalan Penjara, Singapore 149375
Opening Hours: For more information, contact Edible Garden City
Telephone: 8817 4054 (text only)
14. Resin Art Jewellery Workshop
Put on a delicate and uncommon piece of jewellery for one final touch to complete your look! In resin jewellery making creative workshops, you get to create your own piece of jewellery from scratch using resin art and preserved flowers.
From necklaces, earrings, and rings, pick a piece of jewellery that you tend to wear often and design your unique accessory to best match your outfits!
Resin Play
Address: 1 Jalan Berseh, #02-28C, New World Centre, Singapore 209037
Opening Hours: For more information, contact Resin Play
15. Chocolate Making Workshop
Chocolates are readily available anywhere and can be easily purchased whenever you want to, but why not opt for something unconventional?
Discover the hard work put into artisanal chocolate making instead, and sign up for a chocolate making creative workshops today! Gift your significant other the perfect valentine's day or anniversary present made with lots of love, patience, and cocoa beans!
Great for team building workshops as well, as sweet treats put everyone in a good mood!
Fossa Chocolate
Address: For more information, contact Fossa Chocolate
Opening Hours: For more information, contact Fossa Chocolate
16. Knitting and Crochet Classes
Attend a knitting and crochet workshop, where you'll be introduced to the basics and vital knowledge of sewing. Try your hand at designing your very own apparel!
For knitting classes, you will learn:
Introduction to the various types of yarns and needles.
(How to choose the correct yarn and needle size for each project)
How to hold the knitting needles and yarn
To begin a project by casting on and subsequently finishing it by casting off
Basic stitches such as knit and purl, and how to identify them
Basic pattern/chart reading
Identify and fix dropped stitches and other common mistakes
Knitting using circular needles or double pointed needles
Sewing, finishing and weaving in ends before completing a project.
For crochet classes, you will learn:
Introduction to the various types of yarns and needles.
(How to choose the correct yarn and needle size for each project)
How to hold the crochet hook and yarn
Various methods of starting a crochet project.
(Example: chaining with a ship knot or magic circle, or loop)
Basic stitches
(ike, sc, dc, hdc, treble, fdpc, bpdc, slip stitch, etc.)
Fix and identify common mistakes in existing projects
Pattern and chart/symbol reading
Sewing, finish up and weaving in ends, before completing a project.
Check out the list of classes on her site at Cocovine today!
17. Tea Appreciation Workshop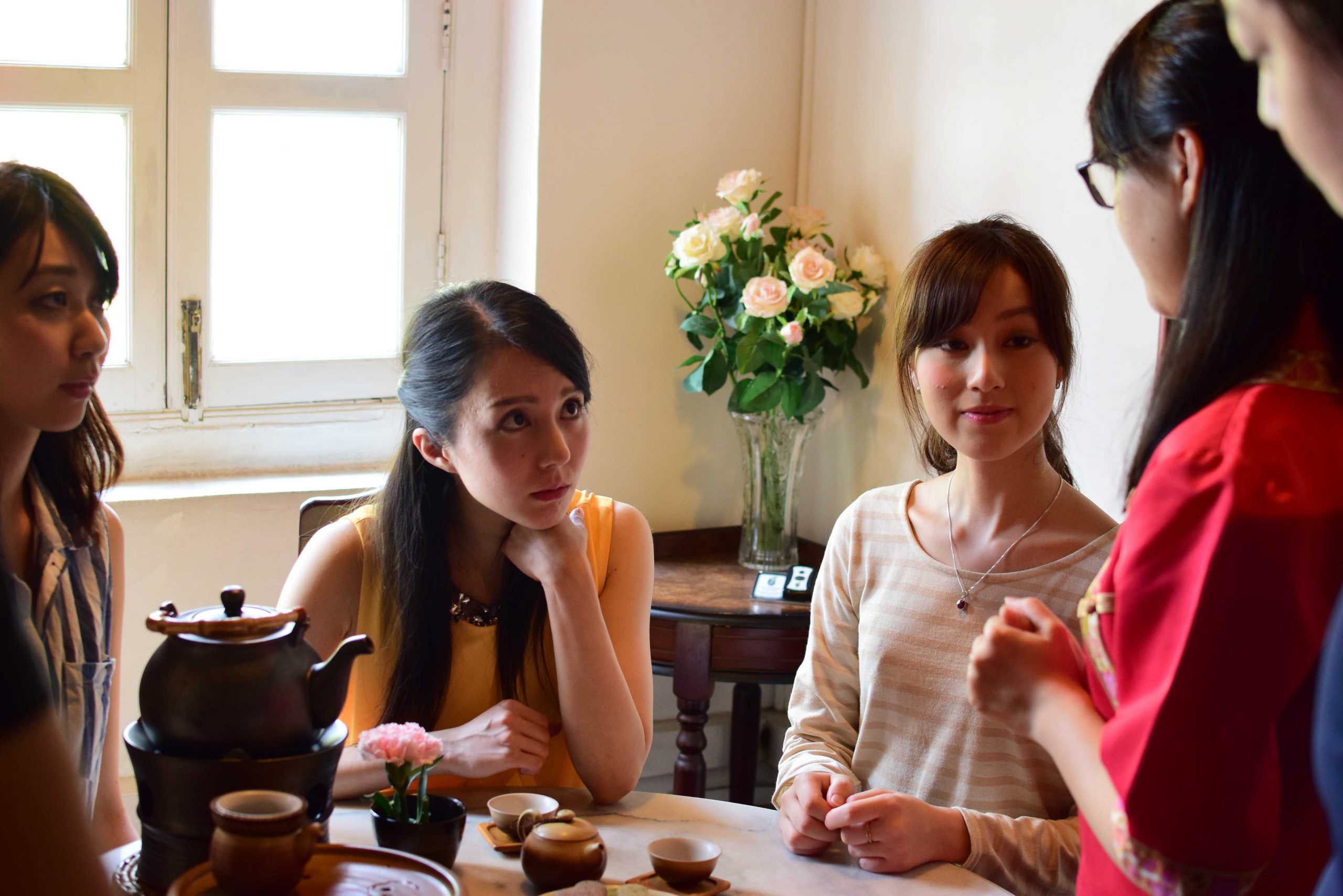 Experience such fun tea appreciation creative workshops to understand the beauty of tea. It will be an enriching session, as you get to learn more about tea culture as well as how to brew and appreciate a variety of teas.
Besides that, they do organise corporate workshops as well! If traveling down to their tea house is too much of a hassle, they can head over to your office too!
Address: 9 Neil Rd, Singapore 088808
Opening hours: 11AM – 9PM, Daily
Telephone: 6226 1175
18. Brush Calligraphy
If you found yourself re-watching calligraphy videos and are mesmerized by the nice cursive lettering, you can now join a brush calligraphy workshop! You do not require any prior experience in calligraphy and everything that you need will all be provided!
The skills that you have learned from this creative workshop will definitely be put to good use! You can design birthday cards or wedding invitation with your beautiful and elegant brush strokes! These corporate workshops are also suitable if your group is looking for a chill and relax session.
Address: 3007 Ubi Rd 1, #06-444 Ubi Industrial Estate Singapore 408701
Opening hours: 7PM – 10PM, Mon – Fri & 10AM – 4.30PM, SAT
Telephone: 8189 4281
19. Lip Balm Workshop
Yes, you heard it right! A lip balm workshop is currently one of the latest workshops in Singapore! You will be learning how to make your own lip balm with the use of organic ingredients!
They are free from artificial flavouring and preservatives too! The special lip balm recipe is suitable for normal to cracked lips! The creative workshop is made safe and easy to pick up!
Address: 03-17 Jln Sultan, Singapore 199018
Telephone: 6314 2196
20. Soap Making Workshop
Have a shot at making your own handmade soap from scratch! You get to experience and learn the process of soap making.
They provide natural ingredients that are rich in antioxidants and helps to moisten and nourish all skin types! You get to also personalise your soap too!
Address: 81 Ubi Avenue 4, #10-19 UB. ONE, 408830
Opening hours: 10AM – 12PM, 2PM – 4PM, Daily
Telephone: 9885 6285
21. Tapestry Weaving Workshop
Have you ever wanted to weave your own tapestry? The Tapestry Weaving Workshop by Craft Atelier offers you a fun experience on a Schacht Easel Weaver.
This excellent loom is meant to be used in more than one way. It's also a display frame with detachable support that flips out from the back so you can show off your work on a surface.
Address: 58 Joo Chiat Place, Singapore
Opening hours: Book Workshop Here
Telephone: 8669 5794
Workshops
We hope you have gained more insight into the different fun workshops in Singapore! With such a wide variety to choose from, there will surely be one suitable for your upcoming event! Also, it is the perfect activity for team building Singapore workshops or a fun time with your friends!
These best art workshops will give you all the basics in this team building workshops, workshops like miniature clay art, candle making workshop, art jamming, paper making workshop, leather workshop, calligraphy workshops, sewing classes and more!
For more ideas on what to do for your next team building event, here are 70 Unique and Fun Team Building Games in Singapore For 2022.
Ready to book an event or want to find out more? Click here to enquire now!
Frequently Asked Questions
What Are Workshops In Singapore?
Workshops in Singapore are fun activities and creative classes that allow you to learn new skills or simply try your hand at something new. There is a wide range of workshops available, from soap making and candle making to calligraphy and pottery workshop. These fun craft workshops make for a great team building activity, corporate events or even a fun day out with friends.
What Are The Benefits Of Attending Craft Workshops In Singapore?
Craft Workshops in Singapore, such as Leather Workshop and Pottery Workshop, offer you the chance to learn how to create your own handcrafted lifestyle products in a therapeutic session. If your childhood dream was to get crafty and make your own products, start your learning journey with one of the many craft workshops available in Singapore today!u003cbru003eu003cbru003eFunEmpire offers some of the best craft workshops in Singapore. For a full list of craft workshops offered by FunEmpire, simply contact us today!
What Can I Expect From A Craft Workshop?
Each workshop will differ slightly, but in general you can expect to be given all the materials and tools you need, as well as guidance from trained facilitators or instructors. At the end of the workshop which typically lasts no more than a few hours, you will take home your own handmade items as well as learn a new skill!
Our Team Is Based In Different Areas. Are We Able To Have Online Classes Instead?
Yes! FunEmpire, Singapore's leading events u0026amp; team building company offers virtual workshops where all materials are delivered straight to your doorstep. You will be able to spend quality time with your team members/loved ones without needing to be in the same place physically! Some of FunEmpire's unique workshops include online versions of the best craft workshops such as Leather Workshop, Art Jamming, and more!