Confinement Nanny Singapore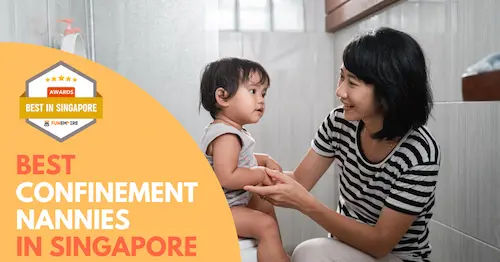 Confinement nannies are specially trained to take care of pregnant women and new mothers during the confinement period (usually 40 days).
The best confinement nanny agencies in Singapore include Super Nanny Services, PEM Confinement Nanny Agency, TSM Maid & Confinement Nanny Agency, and NannySOS.
When selecting a confinement nanny agency in Singapore, take into account factors like their experience, pricing, and feedback from past clients.
In Singapore, confinement nanny agencies provide postnatal care, newborn baby care, nutritious confinement meals, and valuable guidance throughout the confinement period.
In this blog post, we will recommend the Best Confinement nannies in Singapore.
Quick Summary
Best confinement nanny agencies in Singapore include Super Nanny Services, PEM Confinement Nanny Agency, TSM Maid & Confinement Nanny Agency, and NannySOS.
When choosing a confinement nanny agency in Singapore, consider factors such as experience, cost, and reviews from previous clients.
Confinement nanny agencies in Singapore offer postnatal care, newborn baby care, nutritious confinement meals, and valuable guidance during the confinement period.
Consideration Factors When Choosing A Confinement Nanny In Singapore
Professional Qualifications & Experience: Choose a confinement nanny with professional qualifications and experience in post-natal care and baby-care. Ensure that she has the necessary knowledge to provide quality care for you and your newborn.
References & Reviews: Ask for references from the confinement nanny of her previous clients to ensure she is suitable for the role. Read reviews online to gain more insights on her service quality and trustworthiness.
Service Package: Confirm with the confinement nanny of the service package she will be providing, such as meals and post-natal massage services.
Cost: Check the cost of engaging a confinement nanny to ensure it is within your budget range. Compare different packages from various confinement agencies for the best deal.
Availability: Ensure that the confinement nanny is available during your required dates or consider an alternative if she is unavailable.
Compatibility: Establish a good rapport with the confinement nanny to ensure compatibility between you and her. This will help to make your post-natal journey smoother and more enjoyable.
Location & Travel Cost: Consider the location of the confinement nanny for her convenience, as well as the travel costs to and from your home.
Hygiene: Ensure that the confinement nanny is able to maintain good hygiene standards in your home, such as regular cleaning of the confinment room and other areas she will be working at.
Safety: Make sure that the confinement nanny is aware of your home's safety regulations and is able to follow them. Ask her about her experience in handling newborn babies safely.
Best Confinement Nanny Singapore
1. Super Nanny Services
Super Nanny Services understands your needs and will help you through your recovery.
Confinement nanny are here to provide the best care for mothers & babies and help to reduce post-natal stress so that mothers can recover their vitality sooner and smoothly after childbirth.
Their confinement nannies are dedicated, trained in Singapore by a Senior Lactation Consultant (from Thomson Medical Centre) and with years of experience, they have helped and advised many first-time mothers as they go through the confinement period, bringing with them a special touch and personal care.
From the moment mother and baby arrive home, their confinement nanny will be with you every step of the way right through to the celebration of your baby's full month party.
Super Nanny Services is there to make your postpartum experience a restful and enjoyable experience so that quality time can be spent with your baby.
Key Differentiators
Extensive training and strict evaluation conducted in Singapore by Senior Lactation Consultant. Plus, all their confinement nannies have at least three years of experience caring for mothers and babies. From changing diapers, burping your baby to bathing and caring for baby, with Super Nanny Services, you have the comfort of knowing your newborn is in good hands.
Their confinement nannies are honest, reliable and professionally trained to practice high standards for baby hygiene and safety. Knowing what to do at the right time and being efficiently will bring you a peace of mind. Besides, they promise to be there with you throughout the entirety of your confinement.
Complimentary gifts for you when you book a nanny with them. Free 30mins home visit by their certified Lactation Consultant to guide first-time mothers on how to get baby to latch effectively. Plus, they have all the add-on services ready to make your confinement journey as enjoyable as possible from pre-natal & post-natal massage, lactation, baby massage to customised TCM herbs, herbal baths and more.
Client Testimonial
Nanny Karen is amazing in handling baby. She is super confident and knows what is to be done and expected out of her. She understands baby cues so well and helped changing baby schedule and sleep pattern drastically. We have had 3 nannies in the past but Nanny Karen was exceptionally the best in all ways. Extremely hygienic and strict with cleanliness. She is very kind, caring, loving, helpful and always told us funny stories and experiences. Always smiling and jolly person. She knows her job very well and always gave us so many useful tips and advices. She helped us in giving suggestions for baby shopping and sharing shopping links. She is very trustworthy and extremely organised person. She made sure that everything around baby is very clean and tidy. It has been such an incredible and wonderful experience knowing Nanny Karen and watching you help our baby girl, Nysha grow in every way. We truly admire the way you loved and took care of her, from even smallest to big things. We know it is not easy to look after an infant, but you seem to make it so relaxed whether its feeding, latching, sleep, bathing, laundry, cleanliness, general care, etc.

Tanisha
2. PEM Confinement Nanny Agency
PEM Confinement Nanny Agency has over 23 years of expertise in the area of nanny confinement. They're the largest in Singapore, with experience caring for more than 15,000 moms and babies.
Furthermore, their in-house training is one of Singapore's best, with specialists assisting nannies in better caring for mothers and infants. Furthermore, they provide assistance with breastfeeding, hygiene practices, and confinement diet planning.
Key Differentiators
Award winning agency
Hassle-free booking
Professional confinement care
Client Testimonial
Auntie 云珠 #1816 was recommended by my cousin. She is very dedicated with her job and took good care of my little one. She put in effort in the food presentation and her cooking is definitely superb. She wakes up at 6am daily and start preparing all the necessary ingredients for the day. She is always able to calm my little one in all situations and I feel safe leaving my little one with her. Thank you!

Xin Ye Koh
3. TSM Maid & Confinement Nanny Agency
| | |
| --- | --- |
| Key Services | Child care agency, Confinement nanny |
| Address | 623 Aljunied Road Aljunied Industrial Complex, Singapore 389835 |
| Website | https://tsmnanny.com/ |
| Phone | +65 6337 1793 |
| Email | inquiries@tsmnanny.com |
| Operating Hours | Weekdays: 8AM–5PM |
The TSM Maid & Confinement Nanny Agency offers loving care for parents and their infants. They hire capable foreign domestic workers from neighboring states such as Indonesia, the Philippines, and Burma.
To ensure that the ladies are able to care for both mother and child, they have all been carefully trained before being assigned to either parent. Their intensive care also includes confinement herbal tea, pre-and postnatal consultations, and postnatal massages to assist with mums' recovery.
Key Differentiators
Approved by Singapore MOM
Ensure high-quality services
Reasonable prices
Client Testimonial
I was extremely lucky to have been assigned an excellent nanny – Christine, from TSM. After having read and heard of many horror nanny stories online, I was delighted that Christine fitted right in with us. She was a great cook, loved our baby and took care of him like her own, particular about cleanliness (she mopped the house daily, and cleaned the kitchen twice daily after lunch and dinner preps), and dedicated (she would wake up in the morn on her own to bring him downstairs for jaundice sunning without us having to remind her). She definitely made it much much easier for me as a first-time mum!

Toh JY
4. NannySOS
NannySOS is a Singaporean confinement care service that employs experienced nannies and babysitters. Their program includes confinement baths for the mother, laundry washing, food preparation, and other domestic tasks with careful attention and full commitment.
All of their nannies are fluent in English and Chinese and have a minimum of 5 years of experience. Check them out if you're looking for a confinement nanny in Singapore that knows how to care correctly.
Key Differentiators
One Stop Service for Your Well-Deserved Postpartum
Give assurance and advice guide to mothers
MOM Licensed
Client Testimonial
Thank you Nanny SOS for 阿友's confinement service.
Special thanks also to Juztin for accommodating baby's unexpected early arrival.

Daddy and I were able to rest well. 阿友was very careful with handling our preemie, took good care of baby and mummy, and very proactive with house chores.
She also cooked very delicious and nourishing meals throughout my confinement period.
Would highly recommend Nanny SOS and would love to engage 阿友again for our next pregnancy.

Sammy Siew
5. Gladys Care 1987
In 1987, Gladys Care started as a single-father confinement nanny and mother of seven children. Her devoted concern for parents and newborn babies spread quickly, prompting the need for confinement services.
They are second-generation nannies who continue to assist and satisfy the needs of new moms and newborn babies with care, dedication, and affection. They are here to ensure that you may focus on regaining your health and strength during the confinement recuperation period, ensuring a pleasant and calm post-natal recovery at your doorstep.
Key Differentiators
At Home Babysitter
Customized Traditional Pre or Postnatal Confinement Diet
TCM Baby & Toddler Relaxing Anti Colic Massage
Client Testimonial
I have engaged Gladys Care's services for all my 3 babies and have never regretted my decision. Gladys is extremely responsive and adds a personal touch touch to her service. She knows each of her nannies well and does a through of ensuring that they are experienced and credible. In addition, Gladys herself has helped me with my breastfeeding journey for all my 3 babies. Due to her expert lactation services, I had more than enough breastmilk to meet the needs of my babies. If you are seeking help for the post natal period, I will not hesitate to recommend Gladys Care.

Jamie Shen
6. Caregiver Asia
In Caregiver Asia, they have more than 150 confinement nannies to select from, all of which have over four years of expertise.
Caregiver Asia's confinement nannies are well-trained and educated on how to care for babies, as the firm is recognized for offering high-quality services. As a result, their confinement nannies are competent in baby care as well as assisting and teaching new parents.
You can be at peace with Caregiver Asia. They provide three confinement meals each day and assist you with breastfeeding and preparing a special confinement bath for you. A competent confinement nanny in Singapore might also help you with basic home keeping chores such as sweeping, mopping, and washing laundry.
With a MOM-approved organization, you can relax and know that the entire process will be smooth.
Key Differentiators
Professional local caregivers
Specializes in wheelchair transport
Offers Coaching and counselling
Client Testimonial
Thank you CaregiverAsia for the fast turnaround. Stephanie did an amazing job and found a lovely caregiver for my grandmother. Definitely recommend this service to anyone who needs help. 5 stars for them!!!

Lay Yong Koh
7. Confinement Angels
The celebrities' choice is Singapore's top confinement nanny business, Confinement Angels. Their objective is to provide parents with complete peace of mind by meeting the highest standards in newborn care, sanitation, and safety measures.
Allow the most experienced confinement nannies in the industry, who have passed a rigorous 88-hour course and been subjected to the most thorough audits, to handle every aspect of your confinement.
Key Differentiators
Celebrities' Choice of Agency
Annual Blood Test for Nannies
Guaranteed Arrival of Nannies
Client Testimonial
Our Nanny, Susan was super awesome! She was always pro-active in helping our baby and family! My confinement with her was a breeze with her cooking awesome meals! Her cooking was super good i love it! She is also flexible and easy to get along. Would super recommend her for those who need a confinement nanny! Will find her again for my second child!

Cheng Yu Ying
8. Nanny Now Confinement Agency
With Nanny Now Confinement Agency's professional confinement nannies, you can be certain that both the concerns you worry about and the ones you haven't yet will be taken care of.
They will assist you in crossing the first few months of post-pregnancy stress, concerns, and anxiety so that both you and your beloved one are well cared for!
Key Differentiators
24 Hour Baby Care
Confinement Food
Confinement Bath
Client Testimonial
Agency was great in helping me to arrange a nanny during this tough time! Especially also very helpful since I ended up delivering my baby much much earlier than expected.

Since my husband and I are not locals we did not know what to expect during my confinement period, but we had a very good experience. Despite the language barrier our assigned nanny (Lee Hong Geok) was great and really cared for our baby a lot during her time with us and good in general all around the house.

Lina Yim
Confinement Nanny Singapore
There you have it! We know the struggle of choosing the right confinement nanny and how important it is. The confinement period can be tough, and you need someone who can provide support and guidance.
In this blog post, we have recommended some of the best confinement nannies in Singapore. We hope that this will help make your decision easier. If you have any questions, feel free to contact us!
Looking for more interesting articles to read? Check out more of our blog posts here:
Frequently Asked Questions (FAQ)
If you have any questions about confinement nanny agencies in Singapore, you can refer to the frequently asked questions (FAQ) about the best Confinement Nanny Agencies in Singapore below:
What are the best confinement nanny agencies in Singapore?
The best confinement nanny agencies in Singapore include Super Nanny Services, PEM Confinement Nanny Agency, TSM Maid & Confinement Nanny Agency, and NannySOS.
What is a confinement lady?
A confinement lady, often referred to as a confinement nanny, is a professional who assists new mothers during their postnatal recovery period, also known as confinement. They help with baby care, cooking nutritious confinement food, and performing basic domestic chores.
How can I find an experienced confinement nanny in Singapore?
To find an experienced confinement nanny in Singapore, you can reach out to reputable agencies like the mom licensed agency. These agencies offer professionally trained confinement nannies who have ample experience in handling newborns and assisting new mothers.
What services are included in a confinement nanny service?
A confinement nanny service typically includes taking care of the newborn, cooking delicious confinement food, performing basic domestic chores, and providing support to the new mother. Some agencies also offer free confinement consultation to ensure you get a suitable confinement nanny as per your needs.
How can I ensure that I hire a good confinement nanny?
To ensure that you hire a good confinement nanny, look for agencies that provide professionally trained confinement nannies, offer a free confinement consultation, and have positive reviews. You should also consider your personal comfort with the nanny.
What is a free confinement consultation?
A free confinement consultation is a service offered by some confinement nanny agencies where they understand your needs and preferences to match you with a suitable confinement nanny. This helps ensure a good fit between the family and the nanny.
What is a suitable confinement nanny?
A suitable confinement nanny is one who fits well with your family's needs and preferences. They should be experienced, professionally trained, able to cook delicious confinement food, and perform basic domestic chores.
Can I hire a freelance confinement nanny?
Yes, you can hire a freelance confinement nanny. However, it's important to ensure they are experienced and trained. Hiring through a mom licensed agency can provide more assurance regarding their professional skills.
What does it mean by professionally trained confinement nannies?
Professionally trained confinement nannies have undergone specific training courses that equip them with the necessary skills to provide excellent care for new mothers and newborns. This includes knowledge about baby care, cooking nutritious confinement food, and managing basic domestic chores.
What is a mom licensed agency?
A mom licensed agency is an agency that has been licensed by the Ministry of Manpower in Singapore. This license ensures that the agency follows all regulations set by the government, ensuring that you receive reliable and professional services from such a good nanny.
Additional Useful Articles
If you are looking for other useful guides and articles about Confinement Nanny Agencies in Singapore, check them out below: