Clothing Brands Malaysia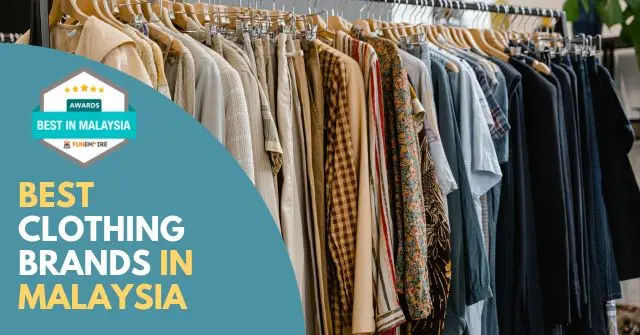 Looking for the best clothing brands in Malaysia? Look no further! In this blog post, we will list the 9 Best Clothing Brands in Malaysia. From established names to upcoming designers, we have you covered. So what are you waiting for? Read on to find out more!
1. Pestle & Mortar
Since its founding in 2010, Pestle & Mortar Clothing has served as a reflection of the wearer's lifestyle, culture, and country of origin. Their aesthetics pay respect to the elements of South East Asian childhood that we find comforting.
Key Differentiators:
High quality products
Excellent customer service
Great deals
Customer Testimonial:
"Love it! Good Quality. Will buy again."

Asyran Laidin
2. RARE Clothing
The Kuala Lumpur-based streetwear clothing center RARE Clothing has grown to become a destination for travelers who share a passion for the style. Numerous people on the list of clients are from Singapore, Brunei, Indonesia, the United States, Europe, and the Middle East.
Key Differentiators:
Discounts and promotions
Strong brand
Great offers
Customer Testimonial:
"Five stars."

Awie Vergaya
3. Kiz Urban
Kiz Urban views urbanwear as a way of life, a lifestyle, and an identity rather than just another "trend" or mere article of clothes. It is a way of life that, in Kiz Urban's opinion, brings together a wide range of countercultures, including artists, musicians, dancers, and anybody else who is creative and like-minded. It also exposes the individual to an environment free from discrimination.
Key Differentiators:
Great collections
Various choices
Fair price
Customer Testimonial:
"Superb quality and design."

Stanley Yeoh
4. The Swagger Salon
The Swagger Salon began as an online retailer of streetwear in 2010, and in 2014 it unveiled its first physical location at 37, Jalan Gurdwara, 10300 George Town, Penang.
Key Differentiators:
Great brand
Various options
Fair price
Customer Testimonial:
"Cool stuff amazing absolutely recommend."

Mohd Hariz
5. Tarik Jeans
Tarik Jeans concurs with you and shares your burden. With that in mind, Tarik Jeans has decided to reduce the cost of all of their jeans to RM150. There are numerous pieces to satisfy all of your likes. They are hoping that by making this effort, Malaysians will be able to wear new pants during this trying period.
Key Differentiators:
Affordable
High quality products
Exquisite experience
Customer Testimonial:
"Personal Designed denim. One of the few established in Malaysia right near to Paradigm Mall, Petaling Jaya. Give a call to them before you visit."

Megga Nathan
6. Idotshirt
Idotshirt is made up of a group of designers who are always testing new seas and painstakingly honing their skill. They make sure that each product meets your standards. Each product is expertly cut and meticulously manufactured using only the finest materials to meet the exceptional standards of street wear, delivering maximum comfort and a flawless fit.
Key Differentiators:
Original concept
High quality products
Great deals
Customer Testimonial:
"Best customized t-shirt."

Cheng Berberlimss
7. Rexagon
The most significant items in your wardrobe are probably the items you wear every day. With a selection of their standard logo tees, graphic tees, shorts, beach shorts, polo tees, cargo pants, casual suits, and explorer caps, Rexagon integrated aspects of earth, rock crystal, forest, and technology.
Key Differentiators:
Creative designs
Great deals
Various options
Customer Testimonial:
"Clothes quality is very good. Clothes are very expensive too."

Denny Ng
8. Attack Apparel
Malaysian clothing company Attack Apparel has been creating products since 2009 that are inspired by ambition. They might not have the biggest brand in the world, but as long as they can manage to be both little and amazing, that will do.
Key Differentiators:
Great offers
Humble but strong brand
Excellent products and services
9. feedclothing
A large selection of premium clothes is offered for sale by feedclothing. Both full price and discounted prices are offered for their products on their website and Whatsapp, respectively.
Key Differentiators:
Great products
Fair price
Promotions and discounts
Clothing Brands Malaysia
Many of the brands offer great deals and promotions, making it easy to find stylish clothes at an affordable price. Malaysians can also look forward to original concepts and creative designs from some of the top brands in the country.
Since you have made it to the end, it would be great if you could check out the awesome articles that we have written for you! Maybe, it will help you add more fun to your daily lifestyle.