Massage KL Selangor
One of the best ways to relax and rejuvenate your body is massage. Indeed, massage therapy has become one of the most popular forms of relaxation today. It helps relieve stress, increases blood circulation, promotes muscle relaxation and reduces pain in muscles or joints. There are different types of massage therapies that you can try out including Swedish massage, Thai massage, Shiatsu massage etc., but not all massages are created equal. So here's a list for you – 7 Best Massage Spots in KL & Selangor!
1. Liang Xin
Key Services: Swedish and Thai massage services
Address: 28 Jalan Bukit Bintang, Level 1, Wisma Bukit Bintang, 55100 Kuala Lumpur
Phone: 06-0361 856898
Operating Hours: 10am-12am daily
Liang Xin is one of the most popular massage services in Kuala Lumpur. Every massage session at Liang Xin Spa is designed to meet the individual needs of the client with a comfortable massage environment. They offer a total body massage that includes Swedish massage, Shiatsu massage, reflexology massage, deep tissue massage, Thai massage etc.
2. Infinite Image Bandar Baru Klang
Key Services: Meridian Body Therapy
Website: http://www.infiniteimage.my/
Address: Lorong Tiara 1b, Bandar Baru Klang, 41150 Klang, Selangor
Phone: +60 3-3341 9177
Operating Hours: 10:30am-7:30pm Monday to Friday, 10am-7pm Saturday, 10:30am-5pm Sunday
This massage centre offers massage with the use of massage oil treatment. They have an array of massage styles including Swedish massage, Thai massage and Shiatsu massage. The massage therapists are highly trained with extensive experience in massage therapy. They are capable of providing relief from not just physical pain but emotional stress as well.
3. Reborn Massage
Key Services: Foot reflexology and traditional Chinese massages
Address: 29-2, Jalan Radin Anum, Bandar Baru Sri Petaling, 57000 Kuala Lumpur, Wilayah Persekutuan Kuala Lumpur
Phone: +60 3-9057 1099
Operating Hours: 10:30am-11:30pm Monday to Saturday, 10am-11pm Sunday
Reborn specializes in foot reflexology and traditional Chinese massages. Their Tui Na Therapeutic Massage is a natural, non-invasive treatment that can help with the treatment of various ailments, including musculo-skeletal issues such as lower-back pain, frozen shoulder, slipped disc, and fractures.
Reborn also offers a variety of additional services, such as 4-in-1 Massage, Children's Reflexology, and Ear Candling. They also offer more conventional treatments such as Cupping (Ba Guan) and Scraping (Gua Sha), according to Traditional Chinese Medicine.
4. Nova Reflexology
Key Services: Offers professional Thai body massage and done certified experienced thai and Sabahan girl
Address: E-3-1, Jalan Serai Wangi M 16/M Alam Avenue 2, Seksyen 16, 40200 Shah Alam, Selangor
Phone: +60 11-1229 5422
Operating Hours: 11:30am-10:30pm Tuesday to Sunday
Nova Reflexology provides massage therapy and wellness to clients. They offer massage therapy such as Swedish massage, deep tissue massage, Thai massage and Shiatsu massage. Other services available include reflexology, sports massage, detoxification massage, foot massage and ear candling.
5. Amante
Key Services: Signature warm oil therapy
Address: 1st Floor, 28A, Jalan Telawi, Bangsar, 59100 Kuala Lumpur, Federal Territory of Kuala Lumpur
Phone: +60 3-2287 9089
Operating Hours: 11am-8pm Tuesday to Sunday
Why not pamper yourself with a manicure/pedicure treatment while you're at it? Amante, which was established in 2005, is a one-stop wellness facility that caters to individuals of all ages. With seven locations throughout the Klang Valley, Amante provides an outstanding therapeutic experience at affordable prices.
The Signature Warm Oil Therapy, which is a composed treatment that incorporates hot stone therapy and deep tissue massage, features natural warm essential oils that increase the therapeutic effects of massage. Deep relaxation and circulation improvement are provided by using natural warm essential oil infusions to enhance the therapeutic affects of massage while also enhancing your inner well-being.
6. Hammam Spa
Key Services: Hammam and Gommage massage and body treatment
Website: https://www.hammamspas.com/
Address: Solaris Dutamas, 50480 Kuala Lumpur, Federal Territory of Kuala Lumpu
Phone: +60 3-6201 0881
Operating Hours: 10am-10:30pm daily
Hammam is a Moroccan-style Turkish Bath located in Publika, the first in South East Asia. Hammam's interiors are lavishly decorated with a stunning Middle Eastern aesthetic, including bright mosaic tiles, copper lanterns, carved woodwork, and water fountains.
The most popular treatments at Hammam Mendy include the 45-minute Hammam and Gommage, in which your whole body is scrubbed with a mitten and traditional Moroccan black soap, as well as aromatherapy massage – a combination of deep pressure massages and sensual oils to rejuvenate your body.
7. Thai Odyssey
Key Services: Traditional massage, herbal therapy, and reflexology treatments
Website: http://thaiodyssey.com/
Address: Lot 401D, Level 4 Suria KLCC, Persiaran Petronas, 50088 Kuala Lumpur, Wilayah Persekutuan Kuala Lumpur
Phone: 603-7688 5588
Operating Hours: 10am-6pm Monday to Friday
Thai Odyssey is a well-known spa brand that has outlets all across Malaysia. Thai Odyssey specializes in traditional massage, herbal therapy, and reflexology treatments – all administered by professional Thai masseurs.
The peaceful islands of calm in the otherwise bustling metropolis are found inside Thai Odyssey, which is adorned with exquisite Thai décor and furnishings. The warm, dimly lit settings, including soft Thai music and the aroma of herbal medicines, provide a haven for individuals wanting to get away from it all. Traditional Thai massage, Aroma-Oil massage, and many other therapeutic services are offered in this spa!
8. Urban Retreat Spa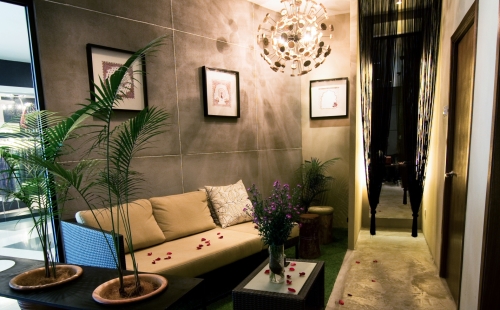 Key Services: Deep Tissue Massage, Pregnancy Massage, Aromatherapy Massage, and Lymph Detox Massage
Website: https://urbanretreatspa.my/
Address: second floor, 1 Mont' Kiara, L2-15, 1, Jalan Kiara, Mont Kiara, 50480 Kuala Lumpur, Malaysia
Phone: +60 17-881 3299
Operating Hours: Monday to Friday, 11am-8pm, Saturday to Sunday, 10am-8pm
moms-to-be, including their Pregnancy Massage – a gentle and customised massage to reduce areas of stress, strain, and fluid retention.
They also provide more mainstream massage treatments such as Deep Tissue Massage, Aromatherapy Massage, and Lymph Detox Massage, all offered at affordable prices. Simply head on over to Urban Retreat Spa and select the best treatment to fit your needs.
9. HerbaLine
Key Services: Facials and skincare-related treatments, body massages and foot paraffin
Website: https://herbaline.com.my/
Address: 28 Jalan Anggerik Mokara 31/47, Kota Kemuning, 40460 Shah Alam, Selangor Darul Ehsan, Malaysia
Phone: +(60)3 – 5121 5055
Operating Hours: Monday to Sunday, 10:30am – 8:30pm
You've probably heard of this spa chain before. HerbaLine has grown in popularity as a go-to location for a spa treatment, with several locations across the nation. HerbaLine's specialty is its facials and skincare-related procedures, but it also offers other services such as body massages and foot paraffin (designed to soften the skin).
If you're looking for a relaxing and rejuvenating spa experience, look no further than HerbaLine. Whether you need to unwind after a long day at work or simply want to pamper yourself, HerbaLine has something for everyone. So what are you waiting for? Head on over today and treat yourself.
10. Vita Spa
Key Services: Facial, body and massage treatments
Website: https://vitaspa.com.my/?20210921
Address: Vita Spa @ Solaris Lot 7, 1st Floor Jalan Solaris 4, Solaris Mont Kiara 50480 Kuala Lumpur
Phone: +603 6203 6383
Operating Hours: Open daily from 10.00 am to 9.00 pm
Providing a comprehensive list of facial, body, and massage treatments, Vita Spa combines the best of Asian and western influences in developing its signature body treatment. You'll have a lot of fun selecting your favorite massages at Vita Spa, which features all the services you'd expect from a high-end spa: Swedish Massage, Thai Massage, Deep Tissue Massage, Javanese Lulur Scrub, Vitamin C Body Mask. Facial treatments are also available at Vita Spa.
Massage KL Selangor
If massage is on your mind, there are seven massage spots in KL and Selangor with the most popular services. The massage therapists at these spas offer a range of bodywork treatments to suit all budgets and needs – from Thai Odyssey's traditional massage to Nova Reflexology's signature warm oil therapy. What type of massage do you prefer? Do you want deep pressure or relaxation-focused techniques? Let us know! We're happy to help you find the best therapist for your specific need.
Did you enjoy reading this article? Click the links below to read similar articles:
What is a Massage treatment?
Massage is a type of treatment that uses hands-on techniques to manipulate the soft tissues of the body. Professional masseuses use their fingers, palms, elbows, knees, feet, or a device such as a wand to massage the person's muscles and other soft tissues. Massage can be applied with pressure, friction, vibration, shaking, or pulsation.
What are the benefits of Massage?
Massage has many benefits, including:u003cbru003e-Relaxing tense musclesu003cbru003e-Improving circulationu003cbru003e-Boosting the immune systemu003cbru003e-Reducing stress, anxiety and makes you feel relaxedu003cbru003e-Helping to relieve pain and relieve tensionu003cbru003e-Promoting better sleep qualityu003cbru003e-Improving joint mobility
What are the prices of Massage treatments?
The prices of Massage treatments vary depending on the spa, but it usually starts from around RM100++.
Which Massage treatment is best for me?
There isn't a single Massage treatment that is best for everyone as each person's needs are different. However, some of the most popular Massage therapies include Thai Massage, One hour foot Massage, and Aromatherapy Massage. You can speak to the spa therapist to see which treatment would be best for you.