Virtual Travel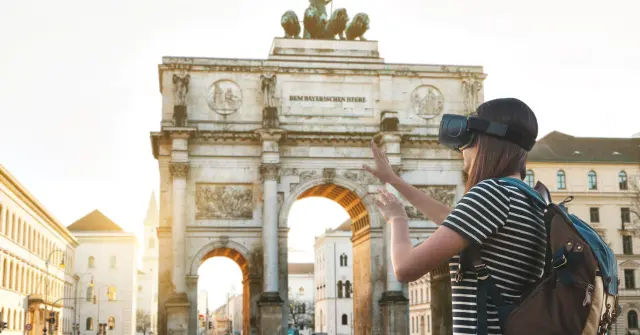 There's no need to leave the comfort of your home to explore the world. With virtual travel, you can see all sorts of amazing places without ever having to step outside.
And the best part? It's all available through your computer or smartphone! In this blog post, we'll discuss the benefits of virtual travel and how you can get started today.
1. Visit multiple destinations a day
Virtual Travels offer a unique opportunity to explore the world from the comfort of your own home. With just a few clicks, you can visit multiple destinations a day and get a closer look at iconic landmarks, natural wonders, and hidden gems.
You can also learn about different cultures and traditions, all while experiencing the thrill of travel vicariously. Best of all, virtual travel is accessible and available to anyone with an internet connection.
So whether you're curious about the world around you or simply looking for a new way to escape the everyday grind, be sure to check out some of the best virtual tours around the globe (internet).
2. Safe and Covid-19 friendly
There's no denying that travel broadens the mind. Seeing new places and experiencing different cultures is both exhilarating and eye-opening. However, in the current climate of Covid-19, many people are reluctant to venture far from home.
Fortunately, there's a great alternative to traditional travel – virtual travel. By exploring the world online, you can enjoy all the benefits of travel without leaving your home.
Virtual travel is safe and Covid-19 friendly, making it the perfect option for those who want to explore but don't want to risk exposure to the virus. You can also save money by avoiding expensive airfares and accommodation costs. Plus, you can experience multiple destinations in a shorter time frame – something that's impossible to do when physically traveling.
And with so many amazing websites, apps, and virtual tours available, you're sure to find something that interests you.
3. Carbon-friendly way to travel
Carbon emissions from transportation are a major contributor to climate change, so finding ways to travel without using fossil fuels is essential.
Virtual travel is one carbon-friendly way to explore the world. By definition, virtual travel is travel that takes place in a simulated or virtual environment. This can be done in a number of ways, such as using virtual reality headsets, 360-degree video, or even simply by looking at photos and videos online.
It is much more Carbon-friendly than traditional travel since there is no need to use planes, trains, or automobiles. It just might be the perfect way for you to explore the world without harming the planet.
4. Save on travel costs
While there are some who argue that virtual travel is not as good as the real thing, there are many benefits that make it worth considering.
For one, it can be a great way to save on travel costs. Instead of spending money on airfare and hotels, you can simply put on a headset and transport yourself to any location in the world.
Additionally, virtual travel can be a great way to explore dangerous or difficult-to-reach places without putting yourself at risk. Whether you're curious about climbing Mount Everest or scuba diving with sharks, there are now opportunities to experience these things without ever leaving your home.
5. Learn about other cultures without leaving home
There's no doubt that travel is enriching. It broadens your perspective, teaches you about new cultures and customs, and allows you to see the world in a whole new way. But let's face it – travel can also be expensive. And sometimes, it's just not possible to pick up and go.
With virtual travel, you can explore the world without ever leaving home. You can learn about other cultures, see amazing landmarks and landscapes, and even visit far-flung places that you might never get to in real life.
You can explore new places at your own pace and without having to worry about things like weather conditions or language barriers.
6. Gain new skills by trying new activities from each tour
Virtual travel is a great way to learn about new cultures and see amazing places without the hassle of packing and planning a trip. You can even try out new activities from each tour, like cooking a local dish or learning a new dance. And best of all, you can do it all from the comfort of your own home!
7. Abundant visual information
A virtual tour has the unique function of informing you about everything there is to know about your destination. When we put it into Google street view from within, you will have access to information regarding their culture and history.
But also, make sure that you are availing high-quality and attention-grabbing tour. The tour's visuals will also answer most of your questions.
8. Accessible on multiple devices
We are now living in a technological age, and technological progress continues to accelerate. Smartphones have become the norm among the world's people, giving them easy and immediate access to the internet.
In addition, virtual travel has a number of services that work with mobile phones and tablets, including Google street view within, where the tour can be integrated.
Virtual Travels You Must Try!
1. Food Quest
FunEmpire's Food Ninja is a virtual reality game that lets you experience the sights and sounds of different cuisines from around the world. The game is designed to be interactive and engaging, with a series of mini-games that teach you about the ingredients, cooking methods, and history of each cuisine.
As you progress through the game, you'll unlock new recipes and learn about the culture behind each dish. Whether you're a foodie or just looking for a fun way to learn about different cultures, FunEmpire's Food Ninja is a must-try!
2. Icons of Singapore
FunEmpire Icons of Singapore is a virtual travel experience that takes you on an exploration adventure through different eras of Singapore's history. The 360° live clues, Treasure Hunt, Virtual Amazing Race and Virtual Escape Room Experiences are all fun ways to learn about Singapore's past and present.
FunEmpire Icons of Singapore is a great way to bond with friends and family while learning about Singapore's rich culture and history.
Virtual Travel
Virtual travel has exploded in popularity in recent years due to the amazing technology that now exists. With a webcam and an internet connection, you can explore the world from the comforts of your living room.
And as we all know by now virtual travel offers many benefits, so what are you waiting for, contact FunEmpire now to experience virtual travel like no other!
Check out more interesting blog posts about team building, gatherings, and celebrations down below: