Aircon Servicing Singapore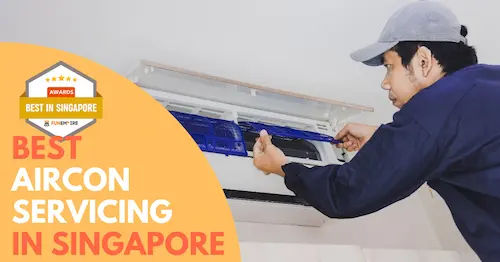 Aircon servicing in Singapore is crucial for surviving the hot, sunny island.
The best aircon servicing companies in Singapore include Airmaxx Aircon, ACOOL, AirCool, StringsSG, and Newway.
When selecting an aircon servicing company in Singapore, take into account factors like the company's knowledge, customer feedback, and affordability.
In Singapore, aircon servicing companies offer a range of services, such as routine maintenance, repairs, installations, chemical cleaning, and troubleshooting for AC units.
Discover the top aircon servicing companies in Singapore, committed to providing optimal cooling and comfort for your living or working spaces.
Key Consideration Factors
Reputable and reliable: Ask friends and family if they have had any experiences with a particular aircon servicing company or read online reviews to get an idea of the quality of service.
Cost of the services: It's best to compare prices between different companies in order to get an idea of what you should expect to pay for a quality aircon servicing job. Be sure to ask about any additional fees or charges that might be involved in a particular package, as well.
Read through the aircon servicing contract before signing it: This will help you understand exactly what services are being provided and what your rights are in terms of guaranteeing quality workmanship. A reputable company should be willing to discuss any concerns or questions that you may have about their services.
By taking these steps, you can ensure that you are getting the best aircon servicing in Singapore.
Best Aircon Servicing Singapore
1. Airmaxx Aircon
With its air-conditioning installation, repair, and maintenance services, Airmaxx Aircon strives to provide Singaporeans with the best value for money possible. Its specialists are skilled and experienced in a variety of manufacturers, including Daikin, Fujitsu, and other household names.
Key Differentiators
Free aircon service consultation
Discounted prices for multiple AC units and services
Three schedule options for routine maintenance
All week availability with extended hours
Client Testimonial
Staff is friendly and knowledgeable.
Staff will advise any extra servicing is required. For example, top up gas.
Engaged their service for two locations and both required to top up gas which the previous air-con
company didn't advised at all.

pier tan
2. ACOOL
Acool Singapore is a prominent aircon servicing in Singapore and they specialize in air conditioning servicing and repair. They have been providing unmatched aircon servicing in the region for years with the mission of providing our customers with a quality lifestyle.
When you find that the aircon is not cold enough, the aircon smells strange, dripping water and various problems, please find an aircon technician as soon as possible. Even though there are many aircon services companies in the market, but people always like to find familiar technicians. Why? Because what customers want is honest, experienced and quality service!
So, if you want to service your aircon, you can find Acool SG! Acool SG have been in business for a long time and is favoured by many customers.
Key Differentiators
Experience
Reliable
Affordable
3. AirCool
Aircool is one of the trusted aircon service companies in Singapore for more than 10 years. 5000+ valuable customers. They do the AC services for colleges, homes, offices, schools, HDB Flats in Singapore for flexible pricing.

Their technicians have 15+ years of experience in the aircon industry so they can easily install the Aircon and also can easily solve all complicated AC problems. They provide a minimum 30 days workmanship warranty for all kinds of AC services that they offer. There will be no hidden cost.
Key Differentiators
100% guaranteed that they can solve all your air conditioner repair and aircon service problems.
30 – 90 days workmanship warranty available.
Quick customer response within 24 Hours.
Client Testimonial
I've recently installed a Daikin system 3 aircon with Aircool, Reasonable price and quickly installed too, thanks.

Daniel Joseph
4. StringsSG
StringsSG offers the most affordable aircon servicing in Singapore based on your service requirements and location.
StringsSG is the only dynamic online booking solution in Singapore that helps to get you the best suitable service. Their modern platform offers web and mobile apps to make your Aircon servicing frictionless.
Their Platform Offers:
Real-time Quotations
Cheap Pricing
Fast Booking and Confirmation
Service Guarantee
Secure Payment
How it works?
Open a Request – Open a request with your requirements like – the number of air con units to be serviced, type of servicing etc. Confirm the calculated pricing when prompted.
Connect – You will be instantly assigned a technician. Use the chat system of the platform for further discussion.
Service – The aircon technician will be at your place on the requested service date to get the servicing or repairing done.
Pay Securely – Once the job is complete, make the payment via your StringsSG account. You can choose to pay by Credit/Debit card, PayNow, Google Pay or Apple Pay.
They have been operating in Singapore since 2018 and served thousands of satisfied clients.
Key Differentiators
SMART Pricing – To get you the best quotations, their artificial intelligence driven platform does real-time cost calculation based on your service requirements. There is a 91.2% chance that their cost calculation may offer the cheapest aircon servicing in Singapore. Enjoy handsome discounts when you book with them!
SMART Booking – After you submit an Aircon servicing request, their instant-search system starts locating nearby professionals who fits your servicing requirements. Your confirmed pricing is sent to potential service providers who will accept the job.
SMART Secure Payment – You only make the full payment after the servicing is complete. Your payment through the StringsSG platform is secured by the trusted Transport Layer Security (TLS 1.3) and reliable networks like Visa, Mastercard, AMEX, PayNow, Google Pay and Apple Pay.
Client Testimonial
I have always used StringsSG app for other services. I also got my personal trainer from the platform. The aircon service booking is also good and very fast. It works like Grab or GoJek. I like that my credit card is charged after the servicing is complete. On my last booking, the technician also found out that the gas level was low, so he helped to refill.

Nur Fatimah Roseleen
5. Newway
With more than thirty years of extensive experience, Newway is one of the most reputable air conditioning specialists in Singapore. Newway dedicated to providing you with high quality as well as cost-effective solutions, over a wide range of integrated air conditioning services.
As a leading company, Newway has developed a distinctive competence that enables them to deliver integrated, scalable, as well as robust solutions that are beneficial for you. Moreover, they have high expectations for themselves and are committed to responsible business practices that embrace their guiding values. Regularly, processes are reviewed to optimize performance as well as safety standards. Notably, the many accolades, as well as awards we have won over the decades, reflect Newway's culture of high performance.
Key Differentiators
Firstly, they used Probiotic HydroClean Technology. An air conditioning maintenance service that uses an all-natural probiotic solution as well as a pressurised water blaster to thoroughly clean your air conditioner.
Secondly, since 1987, Newway has served many high-profile clients such as Addidas, Audi, Changi Airport Group, Citibank and many more!
Thirdly, Newway's experts are legitimately certified as well as licensed. They have also won several awards such as the 2013/2014 SMEs Asia Awards Singapore and the 2013 Building and Construction Excellence Awards.
Client Testimonial
I am very impressed by the way your company as well as personnel handle the customer. The two gentlemen who went to our home last Saturday were very professional. They performed their job without any complaints and no time was wasted. I am so pleased to smell and see how clean our air-con unit afterwards that I forgot to asked their names. My girlfriend said that the air-con looks whiter and cleaner than before.

Anyways, thank you for everything and I am glad I tried your service. I will be recommending your services to my friends and colleagues. Actually, it should be highly recommended.

Eric Vidallon | Resident
6. Coolcare Aircon
Cool Care is one of the reliable Air Conditioner Companies in the sector of aircon Industries. Their company is the largest supplier of aircon conditioners in Singapore. They provide professional aircon Installation and aircon services through an HVAC specialist.
Their company is also certified by UEN of Singapore. Furthermore, their technical experts are also 100 % BCA-certified. Their experts will provide the excellent performance of aircon needs that'll definitely meet anyone's expectations for aircon installation and aircon services.
Key Differentiators
Experienced technicians will easily disassemble your previous air conditioner and install a new aircon.
Flexible pricing
Quick customers response
Client Testimonial
I've recently installed a Daikin system 4 and system 2 in our office, your technicians are proper installers, thanks to Coolcare. Definitely recommended for commercial installation.

Google Reviews
7. Good Cool
Good Cool has more than 15 years experience in aircon services. They provide normal aircon service, chemical service, chemical overhaul and condenser normal service. They are also a specialist on all types of air con installation, repair and maintenance.
Key Differentiators
Provide professional and quality aircon services.
Best price, prompt and reliable services.
Provide warranty for all of our services.
Client Testimonial
Prompt response to our emergency situation whereby the AC broke down out of the blue. The repair was completed earlier than expected. And they decided to install and clean our AC a day before the appointment date which we were grateful for as we couldn't sleep well without AC. Now our AC is as good as new. Thank you very much for the efficient service!

Wendy Tan (Google Reviews)
8. Wei Wei Air-Con Engineering
Wei Wei Air-Con Engineering is one of the leading air-conditioning as well as service companies in Singapore. With more than 25 years of experience in the industry, Wei Wei Air-Con Engineering is able to provide quality aircon servicing, repair, chemical wash, and maintenance for your air-conditioning needs.
Key Differentiators
Firstly, 25 years of experience
Secondly, Quality service
Thirdly, Well-trained staff
9. City Cooling Engineering
The aircon is one of the most faithful appliances that a home or a company can have since the chances of it breaking down are almost zero. However, aircon requires periodic maintenance for proper operation that can offer you greater hygiene, energy savings, and cost reduction. As a result, there are companies selling and installing air conditioners offering maintenance service as well as repair of their installed products. IN this case, City Cooling provide a wide range of aircon services in Singapore.
These services are offered at competitive prices for commercial aircon as well as residential aircon. In fact, City Cooling's services are focused on maintenance according to the new Regulation of Thermal Installations in Buildings (RITE), which allows them to offer the best aircon service in Singapore.
Key Differentiators
Firstly, they are experienced
Secondly, they are professional
Thirdly, conscience advice
Client Testimonial
Very professional and informative team. Had some issues with my compressor and after checking, found out that it was the thermistor that was faulty. The guys tried to rectify it without any cost (by swapping the thermistor to another one that wasn't in use), but unfortunately, the whole set was faulty. Made another appointment, and they turned up on time, fixed it promptly and also assisted to resolve some minor issues with the AC. Great service.

Jonathan Ling
10. Yeobuild Homecool
Yeobuild HomeCool serves as an established, all-around Heating, Ventilation, and air conditioning (HVAC) company in Singapore. Yeobuild HomeCool prides itself on being one of the few air conditioning companies to use the powerful promise of technology in delivering excellent overall air conditioning service.
The team provides a range of services from survey and installation, repair, as well as service for all air conditioner types and brands. Yeobuild HomeCool provides its seamless services to both public and private residences –Private Condominiums, Housing, and HDB flats.
Presently, Yeobuild HomeCool has established its expertise with its 41 years of experience in delivering home care services in Singapore. In fact, all of their technicians have the technical knowledge in giving your air conditioners the care it needs. They all are well-experienced in checking as well as servicing each air conditioning brand's systems. Their professional technicians will always be here to help you – their customers – out!
Key Differentiators
Firstly, they aim to build a genuine relationship with you. Notably, YeoBuild Home Cool take pride in our work to ensure that you would breathe only fresh air from their air conditioning unit.
Secondly, they strive to be transparent by providing service reports as well as photos for the service we provide. If an additional cost is required, they will inform you upfront before doing their job! In addition, there are no hidden fees or unnecessary repairs recommended for your home's air conditioning unit's maintenance!
Thirdly, they get the work done with technical expertise. Moreover, they strongly believe in their capabilities which allows them to offer guaranteed coldness after their servicing. They will deliver the things that they have promised.
11. Airple
AIRPLE specialise in the installation, maintenance and repair of air conditioning units. They serve both residential as well as commercial properties.
AIRPLE packages include cheap, promotional rates if you service 3 units as well as above at a low price per unit for more savings. In fact, they lend their expertise to check various aircon parts such as evaporator coil, air filter, and drainage pan, as well as test the working condition of your air conditioning unit. Hence, you can put your trust in AIRPLE's technicians to ensure your aircon unit is in tip-top condition.
Key Differentiators
Firstly, the highest-rated aircon vendor on Carousell
Secondly, genuine testimonials from real-time customers
Thirdly, 10 years of experience
Client Testimonial
Cleaning of 5 aircon units was thorough and swift! Workers arrived on time! They are also fair in business, no hard selling. Based on the assessment no additional work required, so we only needed to pay for the general cleaning. Will definitely engage their service again!

Joanedwin
12. SoCool Aircon Servicing
Presently, SoCool Pte Ltd is one of the most well-known aircon servicing companies in Singapore, which offers quality aircon services at reasonable prices. Experienced technicians, punctual appointments, and professional and sincere customer service are what will make you happy with SoCool.
A prominent aircon servicing in Singapore, SoCool specializes in air conditioning servicing as well as repair. In addition, they have been providing unmatched aircon servicing in the region for years with the mission of providing customers with a quality lifestyle. Using up-to-the-minute practices and methods, their services are reliable as well as effective. Ranging from aircon overhaul to chemical wash, they are capable of catering to the different needs of customers!
Key Differentiators
Firstly, their aircon specialists are available 24/7, to ensure your air conditioner issue is taken care of at your convenient time and as quickly as possible.
Secondly, whether your air conditioner is a popular Mitsubishi model or a non-popular Midea or Gree unit, rest assured that an experienced technician will service it the right way.
Thirdly, applies to service workmanship for all services.
Client Testimonial
IMPECCABLE SERVICE!

I contacted SoCool Pte Ltd to do aircon servicing. The booking experience was fast and pleasant, as the customer service officer was prompt and responsive. When i requested for the appointment to be brought forward, they accommodated w/o hesitation and the technician came earlier than expected. When their Technician Boon was here, he informed that there are some issues with the ducting and ceiling works, hence he was unable to proceed with the servicing. However, he was very professional throughout and even provided advice on how the ducting / ceiling works should be done. Boon is very patient and knowledgeable in his field of work, which is impressive as well.

Despite that no works are being carried out, SoCool did not charge us anything for the transportation and advice provided, which we truly appreciate the goodwill gesture. I will definitely recommend SoCool to all my friends, they are simply the best!

Superfemme (via Google Reviews)
13. Marvellous Aircon
Excelling in the field of air conditioning, Marvellous Aircon combines the latest equipment with highly-trained technicians to provide you with outstanding aircon service. With over 10 years of experience in the industry, Marvellous Aircon is an extremely reliable service in Singapore, as well as a large customer base.
Key Differentiators
Firstly, Marvellous Aircon will provide you with the fairest and lowest quotation for every service. Need to service a couple of units, but worried about the price? Marvellous Aircon allows you to service your first unit at $40, and any subsequent unit for just $15. There are also multiple unit deals for a chemical wash service and aircon overhaul.
Secondly, staffed with a 24/7 help desk team, Marvellous Aircon is willing to assist you with any queries at any time. Whether you are dealing with a faulty unit or would like to enquire about their prices, you can do so at any time by giving the team a quick call or message.
Thirdly, whatever the brand, service, or query, Marvellous Aircon will do their best to accommodate your needs, as they are experts in dealing with various brands and service requests.
Client Testimonial
Always responsive and quick to help when needed. Highly recommend them as your servicing and aircon management service. Thank you Marvellous for taking care of our aircons ❤️

Jasrin Singh (via Facebook Reviews)
14. 338 Aircon
338 aircon provides affordable reliable aircon repair as well as cleaning services that are wallet-friendly. 338 aircon uses its own mobile app to track technician jobs via photos, customer signatures, and instant invoicing so everything is one click away. Hence, experience the difference in aircon servicing enabled by tech by booking your servicing with 338 aircon today.
Key Differentiators
Firstly, cheapest in market @ $3 units $50 for general servicing
Secondly, technology-enabled with our own mobile app and portal for technicians
Thirdly, Saturdays slots available up to 9pm
Client Testimonial
Very professional service. Reached on time and was able to explain the process. My aircon was more than 10 years old and I was deliberating on whether to replace the aircon unit because it encountered intermittent leaking problems and in one room where I use it regularly, the aircon isn't that cold. Thank goodness I was advised that I can still use my aircon but to step on the frequency in servicing my aircon and what it covers to maintain the condition of the air-conditioner. So I signed up for the regular service package which I thought was reasonably priced since I can save much more as I no longer need to replace my 4-unit aircon.
15. SmartCool
Presently, Smart Cool SG is a professional aircon servicing contractor in Singapore. They mainly provide aircon services and installation in Singapore. Smart Cool SG has been operating in Singapore since 2018, where we have grown to become one of the renowned aircon contractors in Singapore. Smart Cool SG are committed to providing a full range of aircon solutions to all customers in Singapore, such as general aircon services, aircon installation, aircon chemical wash, aircon gas top-up, aircon repair services, aircon part-replacement, and aircon maintenance.
In addition, Smart Cool SG has a team of aircon specialist who is ready to solve your aircon issues, as well as all of their aircon technicians, are highly trained to provide quality services. Smart Cool aims to provide you with fruitful a/c advice along with the best doable solutions, as well as ensuring your air conditioning work well is always their responsibility.
Key Differentiators
Firstly, quality and effective
Secondly, affordable and economical
Thirdly, experienced & skilled A/C contractors & technicians
Client Testimonial
The technician was very knowledgeable and was patient with all my questions. The installation was done quickly too. Did a thorough cleanup after the job was done.

Adrian Goh
16. Letscool Aircon Engineering
Letscool offers a high-quality Aircon service as well as installation in Singapore. Their aircon service includes general wash, chemical wash, chemical overhaul, steam cleaning, and gas top-up for all brands. They also install a new Aircon as per your requirement to your residential and commercial places. Our technical experts are experienced in the aircon industry, so they will easily handle the complex issues in your aircon too.
Letscool also offers a yearly servicing contract to both commercial as well as residential clients with flexible pricing. With 25+ years of experience in the aircon industry, they aim to install and maintain your aircon properly.
Key Differentiators
Firstly, long warranty for servicing and installation
Secondly, support all brands as well as direct dealers of top brands in Singapore
Thirdly, no hidden costs
Client Testimonial
Great sales, great service, great job! Chewy helped advise the best placements for the aircon which really helped a lot for new house owners like me. Her workers were really good and professional as well as they shared the best placements for the trunkings to hide as much casing as possible.

Anonymous
17. Everyworks Aircon Servicing
Everyworks Singapore gives you the quickest solution to resolve all home maintenance issues faced by the busy modern individual. Fast response, fast arrangements as well as quality workmanship at reasonable and affordable prices! As a leading trusted service provider in Singapore, they have served over 20,000 customers delivering outstanding service standards with hundreds of highly-rated reviews on both Google and Facebook for their professional plumber, electrician, aircon servicing technicians and handyman teams.
In fact, they strive to provide a one-stop solution with a hassle-free booking experience. You will be able to book various home services brands that are under the Everyworks network of services. These brands include DW Aircon Servicing Singapore, Mr Plumber Singapore, Daylight Electrician Singapore, as well as A1 Handyman Singapore.
Key Differentiators
Firstly, as a first-time customer, you will get to enjoy a 50% discount when signing up for their quarterly aircon servicing promotion. Call them to find out more!
Secondly, book multiple home services brands from one platform. Apart from aircon services, you will get to book other professional home services that fall under the Everyworks brand.
Thirdly, you can just simply send a photo of the issue(s) faced via WhatsApp to receive a transparent and honest quote from them.
Client Testimonial
Workmanship wise, the contractors are efficient and fast. They make sure they removed the 4 aircons safely and carefully, and they're very professional and meticulous. Even though they borrowed our hammer and ladder, that is fine as it shows they willing to ask for help when needed. Besides, it helps makes things faster. We're also impressed that they came over with bubble wrapping for the transfer.

At my friend's house, they took the extra mile to unload the items all the way into her storeroom, instead of leaving them at gate.

Thank you Everyworks Aircon for such excellent service, and i will definitely engage you guys again next year for the aircon installation when my sister received her BTO keys!

Thank you once again and may you all be blessed all of you with good fortune all year.

Nur Asri
18. Aircool & Cool
Aircool & Cool prides themsleves on being a one stop service company for all their client's needs. Their goal is to provide the highest quality of installation services along with their outstanding customer service.
Aircool & Cool strives to go above and beyond their client's expectations. They provide a full spectrum of work of any level of complexity. Their team consists of highly qualified professionals, who have been in the industry for no less than 10 years. They have gained extensive experience while solving the most complex technical and organizational tasks, what allows them to provide their clients with the best service. All in all, Aircool & Cool ambitiously strives to be the go-to company for Air-conditioning services in town.
Key Differentiators
Firstly, Aircool & Cool is a one stop Aircon servicing company.
Secondly, Aircool & Cool's team comprises of highly qualified professionals with at least 10 years of experience.
Thirdly, Aircool & Cool is able to solve the complex technical and organizational Aircon servicing tasks.
Client Testimonial
I've been engaging Aircool and cool aircon services for regular servicing of my indoor and occasionally the outdoor units. They provide quality services to ensure the air con units meets the required servicing and not over-providing services to earn the money out from the customers.

The customer service from Aircool and cool aircon services Pte Ltd is also efficient that the team will arrange the schedule and come in within the agreed time. During an event of unforeseen circumstances, they will inform in advance to mitigate the unnecessary waiting from the customer.

Last but not least, some air con servicing company provides cheaper rate but poor quality services. Aircool and cool aircon service Pte Ltd provides quality service with reasonable rate with no hidden or additional charges.

Seah Sze Leong (Google Review)
19. AireControl
AireControl has been providing air conditioning and climate control services in Singapore for more than 20 years, so you can be certain that your equipment will be well cared for. They specialize in repairing circuit boards, which entail several days of in-house testing to ensure the circuit board lasts a long time.
Key Differentiators
0% installment payment plan if you use your DBS or POSB card to pay
15% off a one-time general service when you book one month in advance
Great deals
Client Testimonial
Booking was easy and convenient. Admin calls to confirm appointment. Technicians are professional, work fast and are very knowledgeable. Highly recommended!

Angela Lee
20. Cool Horizon
Horizon Air is one of Singapore's most reputable service provider of air conditioning units. They employ only trained and skilled specialists to guarantee high-quality service, making them well worth the money. They also provide a comprehensive selection of AC maintenance, and can handle everything from repairs to installations. For more than one unit, discounts are available, as well as the option to purchase a membership for their services.
Key Differentiators
25 Years Experience
Aircon Servicing
Aircon Chemical Wash
AIRCON REPAIR/ AIRCON TROUBLESHOOTING
Client Testimonial
So Happy with my Purchase! Unit is so fresh AC installation was perfectly good. Kudos to the seller and installer! Very Accommodating. If you guys looks for Split type and installation I recommend Cool Horizon!

Vin Crzz
21. Aircon Astiquer
Aircon Astiquer distinguishes out from the competition by employing ChemJET and HydroJET technology, which uses pressurized water and alkaline coil cleaner to dissolve stubborn gunk. This air conditioning technology aids in the removal of all residue and germs, resulting in a more thorough cleaning for your air conditioner.
Key Differentiators
Excellent service
Professional and capable of solving problems effectively
Various services
Client Testimonial
So impressed with the service (including education rendered to explain how my room and lifestyle influences aircon upkeep!), the technology and the thinking behind it all. Thank you so much! Will definitely be a repeat customer. Highly recommended.

Stephanie Tan
22. Aircon Servicing Singapore
Aircon Servicing Singapore has been offering the greatest level of care for aircon servicing in Singapore for years. Their experts have decades of expertise and promise to provide the finest quality of service to all consumers.
Key Differentiators
Full-service aircon servicing
30-day workmanship warranty
Excellent service
23. Cool-Aire
Many of their previous and regular clients consider Cool-Aire to be one of the finest aircon servicing firms in Singapore for over 10 years. When it comes to aircon maintenance, they provide everything: from basic servicing to troubleshooting. You may rest confident in the knowledge that their crew of expert aircon experts is capable of servicing all types and makes of air conditioning equipment.
Key Differentiators
Comprehensive aircon servicing
30-day workmanship warranty
Great deals
Client Testimonial
The team was patient and knowledgable. They were very professional and gave us an honest assessment of the matter. It was a breeze to set up an appointment and they were very efficient. Kudos to their excellence.

audrey fong
24. National Home Helper
You can avoid the trouble of looking and comparing home assistants by turning to National Home Helper. National Home Helper can connect you with qualified professionals for aircon servicing as well as a variety of other house repairs in any country.
Key Differentiators
Wide and varied directory
You can visit the website 24/7
Various offers
25. Infinity Air
Infinity Air is a heating and air conditioning (HVAC) maintenance company that specializes in aircon repair and installation. They are likewise recognized for providing one of the finest HVAC services in Singapore.
Key Differentiators
Wide range of aircon services
Can work on residential, commercial, and industrial aircon units
Specialises in aircon installation
Client Testimonial
Prompt response from their team when I contacted them! Excellent service orientated crew that I'll recommend to anyone who's looking to service their aircons! 5 stars all around!

Chua Jieen
26. Aircon Brothers
Aircon Brothers is an aircon servicing business that was formed with the goal of delivering hassle-free and rapid aircon repairs in mind. Because of its lightning-quick servicing method, Aircon Brothers has been a lifesaver for Singaporeans who lead busy lives. Many people consider them to be one of Singapore's finest aircon servicing businesses because of this.
Key Differentiators
Wide range of aircon services
Easy online booking system
Accepts credit cards for payment
27. Purer Fresher Air
Purer Fresh Air is a BCA-registered air-conditioning service provider. Since 2001, they've been an air-conditioning service provider for residential, condominiums, commercial, and government procurement projects.
Key Differentiators
Wide variety of aircon services
100-day workmanship warranty for water leaks and same part failures
BCA-registered service provider
Client Testimonial
Very professional service. They have an online booking platform which allows you to choose when its best to call them over for servicing. And they are punctual. They have service windows of 2 hours but are usually done before that. Staff are very professional and would give you advice on how to optimally plan your cleaning schedule. They do not 'hard sell' their services and always give their customers space to make their own decisions.

Raihan Jumat
28. Aircon-Service
Aircon-Service is one of the most reputable airconditioning repair businesses in Singapore, specializing in commercial and industrial customer accounts. They have a lot of expertise repairing a range of aircon models after ten years in the business.
Key Differentiators
90-day workmanship warranty
24/7 aircon servicing
Wide variety of aircon services
29. Daikin
You can get aircon servicing for Daikin air conditioners from them, which starts at $28-$38 per fan coil, depending on the package you choose. Preventative maintenance service, a thermistor replacement, and a 10% price cut on labour and Daikin spare parts are all included in the basic bundle. There are no extra expenses for the premium package, with labor or Daikin spare parts being free, as well as a free room sanitization treatment and free access to the Daikin air purifier.
Key Differentiators
Wide variety of services
No additional charges on labour
Various offers
Client Testimonial
Good place to buy aircon spare parts.

shiva shankar
30. Xool Aircon Experts
Xool Aircon Experts offers a convenient online booking and payment system to enhance client experience using technology. They provide a comprehensive range of aircon services at reasonable costs for different types and brands of aircons.
Key Differentiators
Wide range of aircon services
Instant online booking and payment system
After-service clean-up
Client Testimonial
Easy to book and make payment. Punctual and friendly staff, would recommend

Andrew Wines
31. Helpling SG
Helpling's aircon services are highly regarded by locals and immigrants in Singapore. They're ideal for individuals who don't want to deal with multiple contractors for quotes and appointments.
Key Differentiators
Wide range of aircon services
Fuss-free bookings
3 months warranty for aircon cleaning services
Yearly/bi-yearly package
Workmanship guaranteed
Client Testimonial
This is my first time engaging Helpling. Cleaning was done professionally and clean. Hope to have more great experience with Helpling! Thank you.

Rachel Daisy Cheong
32. Billy Aircon Servicing & Repair Singapore
Billy Aircon is a well-known and highly regarded air conditioning company based in Christchurch. With 25 years of expertise, they are known for their experience with air conditioning installations, repairs, maintenance, and chemical overhauls. In 2003, with a staff of 5 people, the business has grown to 26 expert technicians over the course of six years.
Key Differentiators
25 years in the industry with 26 professional technicians
Performed over 200 aircon installations
Fast responses and efficient services
90-day workmanship warranty
Free follow-up services within 7 days after your appointment
Client Testimonial
Brendon Lai did an awesome job identifying the issues just by a single glance into all my 3 wall mounted AC units and one compressor and solving my leaking issues immediately by gas cleaning all the pipes, chemical cleaning the cooling coils and chemical cleaning the compressor. He accommodated requests to separate bills for basic servicing to me and chemical/pipe cleanings to my landlord. Even got some knowledge after the process as he was willing to share his. Smooth process overall and would definitely recommend his service from Billy Aircon!

Dickson Chin
33. Oasis Aircon
One of the most well-known aircon servicing companies in Singapore is Oasis Aircon. With a distinguished and lengthy list of clients, ranging from Fortune 500 businesses to government agencies, you can be confident that they are one of the finest aircon servicing firms in Singapore.
Key Differentiators
Wide range of aircon services
30-day workmanship warranty
Public liability insurance up to $1,000,000
Client Testimonial
Great service. Gio from Sales answers emails promptly, so it's easy to schedule the servicing appointments both for few days and few months in advance.

Lovro Vrček
34. 7Days Aircon Servicing
7Days Aircon Service is a high-quality aircon servicing firm in Singapore that is committed to ensuring that you have optimum indoor comfort and convenience while dealing with the harsh hot and humid climatic conditions of this industrial nation.
Key Differentiators
18 years of experience
Competitive prices
Chemical cleaning
Client Testimonial
My Aircon in one of my rooms were leaking. Desperate measure needed for a technician to come down immediately but I was very impressed that this company is able to dispatch their staff down on the same day. After checking each of my Aircon, they would inform me if there is any additional service or maintenance required. Overall I am happy with their services and I have engaged them twice to service my Aircon which I will continue to do so.

Ivy Poh
35. Cold Max Aircon Service
Aircon Chemical Cleaning is an expertise of Singapore's Cold Max Aircon Services Pte Ltd. They have a team of skilled specialists that provide services for Aircon Chemical Cleaning. They aim to deliver the greatest aircon solutions that are both efficient and affordable, with their dependable maintenance and pricing.
Key Differentiators
Quick response and service
Services several brands
Great deals
Client Testimonial
The 2 technicians were very careful when they dismantled the FCUs, washed the cooling coil (see my mucky before and shiny clean after photos) fins very thoroughly and cleaned up the work area after finishing up. Very pleased with the service quality. Thank you.

Loo Tee Hui
36. LS Aircon Servicing
The team of skilled experts at LS Aircon Servicing are committed to providing punctual and high-quality services. They apply the same level of attention and rigorous SOP to every sort of project, whether it's residential or commercial.
Key Differentiators
Transparent transactions
Exceptional customer service
Over 30,000 serviced aircon units
Client Testimonial
Excellent service. It's very rare to comeby a company that provides good service and at a reasonable price. Thank you!

Lance Ong
37. Airconpros
Airconpros is a company that can't be overlooked when it comes to airconditioning services. This small firm has been in the business for more than five years, delivering high-quality aircon services such as steam cleaning, chemical rejuvenation, chemical wash, and repairs on a regular basis.
Key Differentiators
Licensed and authorised company
Highly skilled and knowledgeable technicians
Online booking is available
No hidden charges
Client Testimonial
Amazing experience, qualified staff with great experience, reasonable costs and staff was humble and soft talking. Overall experience was great

Preet Duggad
38. Sure Cool
From installation and maintenance to repairs, Sure Cool gives a thorough selection of air-conditioning services. Considered one of the finest in Singapore, they are constantly on the lookout for the quickest and most efficient methods to address your AC issues.
Key Differentiators
6 Years of Experience
Simple appointment booking process
Great deals
39. CC Air-con Engineering
CC Air-con Engineering is one of the most experienced aircon servicing firms in Singapore. They have a long history in the business and specialize in home repairs. They've worked in the field for many years and have a staff of service professionals that are highly qualified. They aim to offer timely and expert services to their customers.
Key Differentiators
Many years of experience
Punctual, professional, and responsible teams
Skilled service technicians
Warranty available for certain services
Client Testimonial
The service was excellent. Both A/C tech guys Loon & John was extremely efficient and a good pair working as a team. Also Loon was sharing suggestions and was also explaining the Do's & Don's. Value for money plus it's cheap. And they also clean the area after every works has done for every unit.

Steven Venod
40. Maxicool Services
Maxicool Services is a well-known air conditioning repair company with over 15 years of expertise in the sector. They distinguish themselves from the competition by providing blower removal cleaning services and free online diagnosis to their customers.
Key Differentiators
Wide range of aircon services
Blower removal cleaning
Free online diagnosis
Client Testimonial
Jason is professional, punctual, polite and experienced. During servicing, some leaking was detected. He found the problem, presented my options matter of factly without being pushy nor try to oversell the results. Great experience overall!

Justin Ng
41. Fixwerks
Fixwerks offers cost-effective and comprehensive air conditioner repairs for a wide range of problems, including malfunctions, leaks, temperature issues, and loud coil noises. Their repair experts are trained to work with all major air conditioning brands and types in Singapore.
Key Differentiators
High-quality aircon services at competitive rates
Experienced in all types of brands and models for domestic appliances
Prompt and reliable services
Client Testimonial
Firstly the service was excellent and professional by well trained staff. Furthermore i made an accidental excess payment of 3K S$ which was refunded within a day with superb courtesy.

Sunil Dhar
42. Econcool SG
Econcool SG has a long history of providing excellent air conditioning services in Singapore. The firm provides a wide range of possibilities, including routine maintenance, repair and troubleshooting, chemical overhaul, installation, gas top up, and part replacement.
Key Differentiators
Offers emergency consultations
20 years of experience in the Singapore aircon servicing sector
Caters to residential, commercial, and industrial clients
Client Testimonial
Thank you EconCool SG for giving such wonderful aircon service experience in Singapore. I can't believe I can find such a professional ac service company on Internet.

hu sang
43. Mastercool Aircon Service Singapore
Mastercool Aircon Service recognises the importance of proper repair and maintenance of air conditioning units. This is why they promise to only deliver the best aircon services in Singapore to its customers.
Key Differentiators
Wide range of aircon services
Instant online booking and payment system
After-service clean-up
Client Testimonial
Good service. Got early appointment. My Aircon was pretty dusty. They serviced it very clean like i bought a new aircon. Worth the price

Suraj Sajeev
44. Skyzone Aircon
Skyzone Aircon is a company that strives to deal with air conditioner concerns by offering cost-effective and efficient solutions through its comprehensive service. Whatever the problem, you can count on SkyzonAircon to provide a solution.
Key Differentiators
Wide range of aircon services
90-day workmanship warranty
Free estimates
Client Testimonial
A really great company. Engineers are always on time, polite and professional. Couldn't recomment more

Nick Brandon
45. iAircon
iAircon is the ideal company to call if your air conditioner has been leaking nonstop and you're at your wit's end. They are known by many to be one of Singapore's top aircon servicing businesses, employing PowerJet Wash cleaning method.
Key Differentiators
Wide range of aircon services
PowerJet chemical washes and overhauls
Promo for first-time customers
Client Testimonial
This is my third AC which was installed by iAircon. The installation was carry out with professionalism of the first order and with a five stars all the way.

William Roy
46. CleanWorthy
CleanWorthy thinks that pricing for cleaning and maintenance services should be clear. We consider CleanWorthy to be one of the finest air conditioner servicing firms in Singapore for all of the reasons listed above.
Key Differentiators
Wide range of cleaning services
Easy and convenient booking experience
Various offers
Client Testimonial
Clean worthy was very responsive, reliable, and detailed. They found significant issues that other vendors did not. Highly recommend.

Sebastian Unger
47. Luce Aircon
With clients including Aston Martin, Boeing, and Cotton On, Luce Aircon is one of the most reputable air conditioning repair companies in Singapore. Their experienced specialists can also perform chemical washing, chemical overhauls, gas tank refilling, repairs, and installation in addition to basic maintenance.
Key Differentiators
30-day workmanship warranty
From $15/unit for general servicing
Great deals
48. Whissh
Whissh provides a variety of cleaning services, including house cleaning, office cleaning, laundry services, aircon cleaning, electrical works, and perhaps the greatest disinfection services in Singapore.
Key Differentiators
Eco Friendly Company
One-Stop Service Provider
Trained Crew
Client Testimonial
Whissh's team is very prompt when responding! It took only 1 day from inquiry to cleaning! The thorough report they organised after the clean was very comprehensive. I'm satisfied with their cleaning and will engage them in the future! Thank you team!

Aurelia Tan
49. LK Brothers Aircon Engineering Pte Ltd
LK Brothers Aircon Engineering is one of the leading and most reputable air-conditioning servicing companies in Singapore. In 2009, the firm was founded, and it has remained dedicated to providing exceptional professional air-conditioning services ever since.
Key Differentiators
Wide range of aircon services
90-day workmanship warranty
Free inspections
Client Testimonial
Wonderful service by Mr Kheong & Mr Chong from LK Brothers. They were punctual, thorough in their work and professional throughout. There are many aircon servicing companies out there but LK Brothers is definitely a reliable option. Their boss Leslie is also very helpful and friendly.

Jules Tan
50. SG CITY AIRCON
SG CITY AIRCON is an aircon servicing company in Singapore that believes in always doing more than is required. They provide professional skills and knowledge in air conditioning services, offering excellent service at reasonable and affordable prices. They also do not charge additional service charges.
Their excellent customer service team responds to customers quickly, helping them meet their needs and solve problems in an efficient manner. Not to mention, their team of servicemen are polite, responsible, and punctual as well.
Looking to get the aircon in your HDB, condo, landed property, or office serviced? SG CITY AIRCON is the best aircon servicing company around!
Key Differentiators
Affordable prices, no hidden fees
Reliable and skilled team of servicemen
Compliant with Building Thermal Installations Regulation
Client Testimonial
Good service, technician are responsible.

Sharon
51. DW Aircon
Presently, DW Aircon Servicing Singapore provides an extensive range of Aircon Services including Aircon Servicing, Aircon Repairs, Aircon Installation of best aircon brands, Chemical Overhaul, Gas Top-up, Aircon Leaking Water, and Aircon Not Cold Fix, and more. Moreover, they have a team of professional technicians who are equipped with vast knowledge as well as experience in the Aircon industry. With 10 years of experience in the industry, DW Aircon has completed thousands of aircon works for both residential (Landed, Condo, and HDB) and commercial.
Notably, they are a highly recommended aircon company in Singapore, with many delighted customers as well as reviews over the years on Google and Facebook. In addition, they offer a fast as well as efficient service to serve any of your aircon needs! Hence, contact them at +65 8241 0032 via WhatsApp or call us at +65 6909 2200 for transparent quotation and honest pricing for all your aircon needs.
Key Differentiator
Firstly, you will receive a 50% discount when signing up for their quarterly aircon servicing promotion. For more information, contact them at +65 8241 0032 via WhatsApp.
Secondly, appointment can be arranged via WhatsApp. A 30-day workmanship warranty is also provided for aircon services.
Thirdly, DW Aircon is constantly looking into the latest technologies to improve on the quality standards we bring across to their clients.
Client Testimonial
The cleaning process was very efficient as well as fast . I was given a thorough explanation and useful tips regarding the aircon maintenance . The staffs were very friendly and professional. Felt very assured and confident with the service throughout the whole process. Highly recommended!

Edwin Teoh
Aircon Servicing Singapore
And there's our list of the best aircon servicing companies in Singapore. Generally, we recommend getting your aircon unit looked at at least once every 4 months, especially if you're a heavy user. Of course, any repairs or cleaning costs you may incur depends on the frequency of use, air quality as well as temperature amongst other factors. If your beloved AC unit starts acting up, we hope we've helped you find your go-to aircon handyman.
Want more interesting topics to read? Check out some of our blog posts down below!
Frequently Asked Questions (FAQ)
If you have any questions about Aircon Servicing in Singapore, you can refer to the frequently asked questions (FAQ) about the best Aircon Servicing in Singapore below:
Additional Useful Articles
If you are looking for other useful guides and articles about aircon servicing in Singapore, check them out below: